White Button-Downs Are The Ultimate Fall Transition Piece, According To Gigi Hadid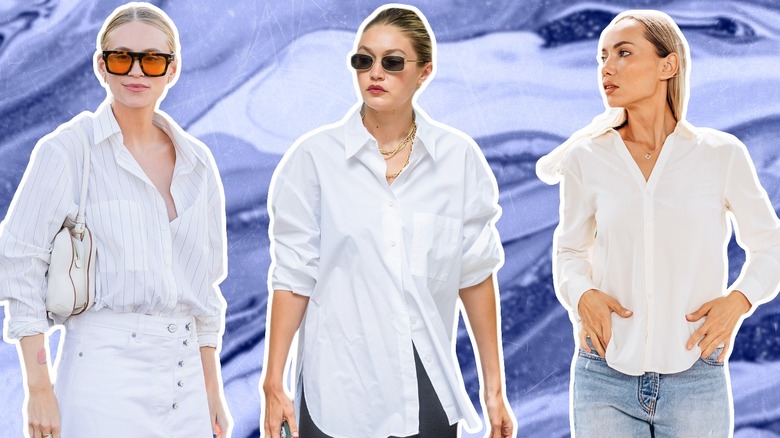 Static Media/Shutterstock/Getty
Gigi Hadid is more than just a sought-after model, entrepreneur, and mom; she's also a high-fashion trendsetter. Strutting down the runway for some of the most chic brands in the world, the model has picked up a thing or two when it comes to fashion. Thankfully, this allows us to see some upcoming trends in use. On August 11, the model rocked a white button-down in New York City that was a seamless blend of chic and casual — and made for the perfect transitional piece to take the summer wardrobe into fall.
The white button-down has come a long way from being an everyday officewear essential. Just look at TikTok — #whitebuttondown has amassed over 13 million views, with fashion vloggers and content creators putting together looks with the crisp staple. This item is a must-have for each closet year-round since it's versatile and practical. Add accents or remove hemlines to make it your own, but either way, the white button-down needs to be in your closet. For transitioning your wardrobe from summer to fall, this garment is more than a basic; it's the ideal piece to give your look more structure and polish without losing the airiness of the summer season.
Button-down with style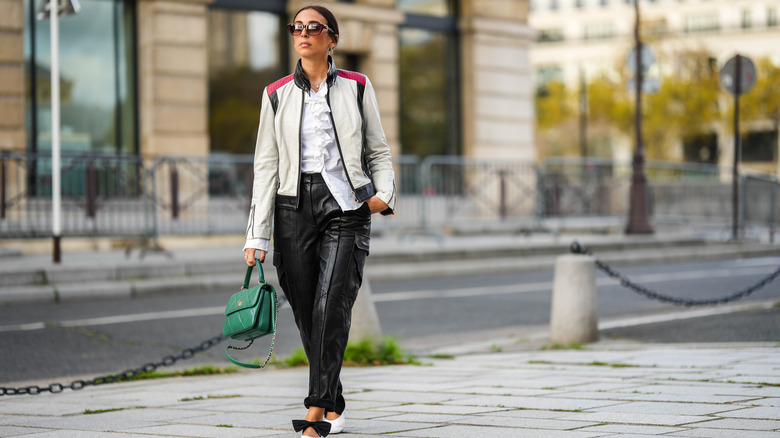 Edward Berthelot/Getty Images
A plain white button-down is essential for your closet, but one with flair is even better. To level up your button-down for fall, you want to add accents that will give it more impact. These accents can include ruffles, lace, studs, or embellishments. Any accent that can take your white button-down into a statement top is ideal. Not only will this twist on the classic piece help differentiate your look, but it will help avoid looking too business casual.
Layered top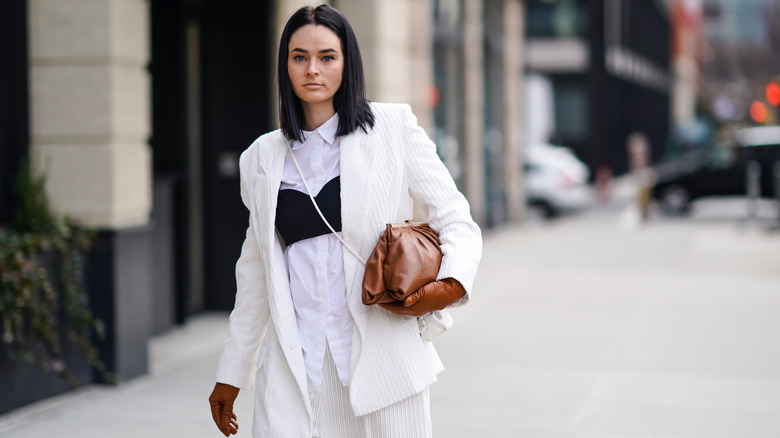 Edward Berthelot/Getty Images
A button-down is helpful for showcasing a chic bralette or top underneath. Leave the button-down unbuttoned, and you can showcase your favorite lingerie or undergarment under it. For an unexpected twist, you can even layer it on top of your button-down. Use suit vests, sweaters, or bra tops over your button-ups to combine styles in one look. You'll still get the professional look of a white collar with all the fun of a layering piece.
Extravagent sleeves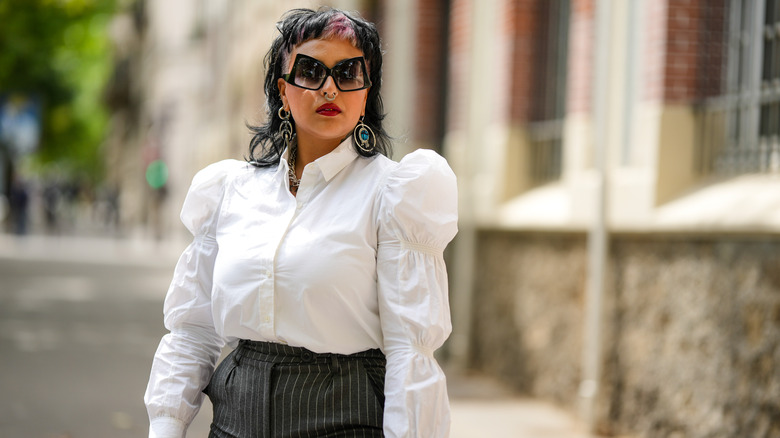 Edward Berthelot/Getty Images
While accents on the body of your button-down are fun, adding volume and style to your sleeves takes it to an even higher level. We already know that puffy and voluminous sleeves are some recent fashion trends to extend their reign. Adding them to your favorite button-downs gives you a more Victorian-inspired look that gives a nod to haute couture. Adding some whimsy to this serious piece helps play up silhouettes and designs of your fall 'fits.
Wear it cropped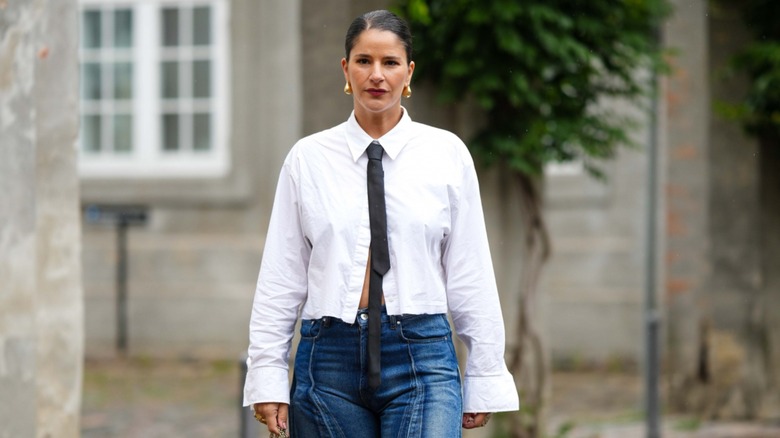 Edward Berthelot/Getty Images
Although the fall season usually brings oversized designs and longer hems, there's nothing wrong with rocking a cropped white button-down if that's your go-to look. Paired with higher-waisted bottoms, it can help play with proportions stylishly. A cropped white button-down can help those looking to style high-waisted bottoms in a way that's not overwhelming but still looks polished. No matter the length, white button-downs will look sophisticated and modern.
Tuck it in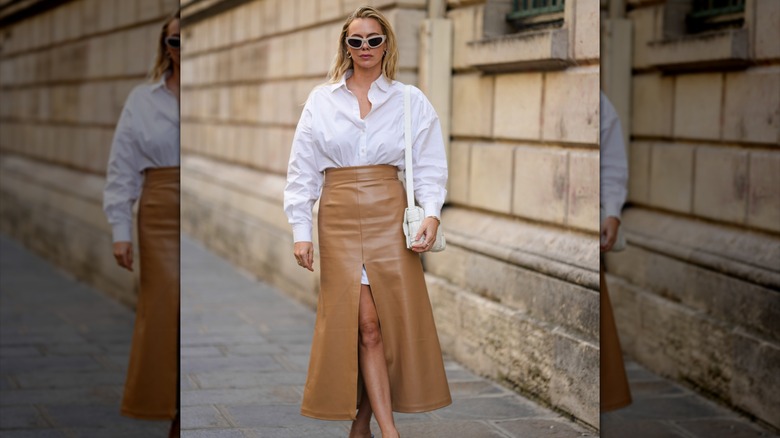 Edward Berthelot/Getty Images
To look even more put-together in your white button-downs, you may want to tuck it in instead of leaving it out. Folding in any top, specifically one as sophisticated as a button-down, will give you a more elevated outfit. Rocking the tucked-shirt look is an easy way of upgrading your button-down, no matter the price tag, which helps your transitional 'fits seem more intentional and stylized.