Emma Stone's Favorite Perfume Is The Classiest Floral Fragrance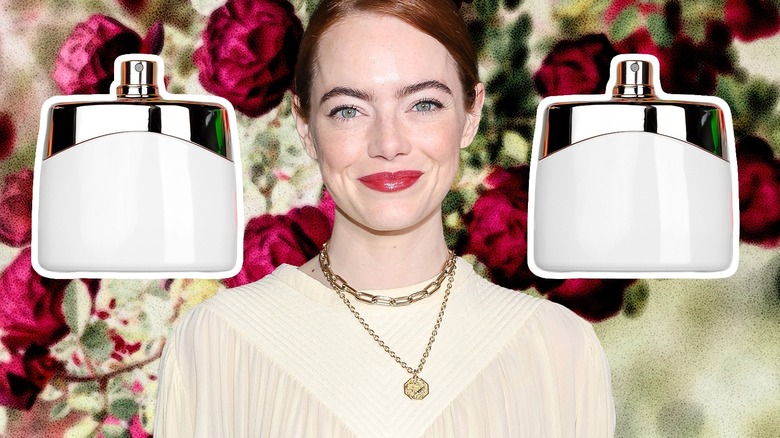 Static Media/Shutterstock/Getty
Like many other pop culture-obsessed folks, we love to speculate about our favorite celebrities. We imagine what Beyoncé's after-performance routine is like or how Katy Perry makes dinner. Sometimes, our imaginings are spot on. But most of the time, we're way off, like when it comes to the scent that Emma Stone loves and uses.
Stone has played a diverse range of roles, from her time as Gwen Stacy in "The Amazing Spider-Man 2" to her appearance as Cruella de Vil in the eponymous live-action movie. While this might lead some to believe that her fragrance tastes would be just as eccentric, Stone surprised us by going with the classics: a delicate, floral scent.
According to Harper's Bazaar, Stone loves Chanel's Les Exclusifs de Chanel Gardenia perfume, which retails for between $225-$450. The perfume, which Chanel describes as a "fresh and sensual" scent, is available at stores like Selfridges and Harrods and comes in multiple sizes.
What does Les Exclusifs de Chanel Gardenia smell like?
Les Exclusifs Gardenia was created in 1925 by Gabrielle Chanel and Ernest Beaux, Chanel Fragrance's first director. Its aim was to mimic the delicacy of the camellia while embodying the floral profile of the gardenia. The perfume boasts several floral notes, with orange blossom as the top note and tuberose, jasmine, and gardenia as the middle notes. Its base notes are a mix of sweet and woody scents with coconut, vanilla, sandalwood, vetiver, and patchouli.
Thanks to its slightly citrusy but mainly floral profile, Les Exclusifs de Chanel Gardenia is an excellent choice for anyone who wants a sensual yet zesty scent that isn't overpowering, and the reviews agree. One verified reviewer on the Chanel site stated that the perfume "would be suitable for summer evening dinner/cocktail party dates with friends since the sillage isn't too overwhelming. I can see myself wearing it to bed as aromatherapy. Love this one!"
However, a few other reviews mentioned that while the perfume's sillage and note combination are unique, it has no staying power. One verified purchaser on the website wrote, "Love the fragrance for about 5 minutes, then nothing".
Layering Les Exclusifs Gardenia and alternatives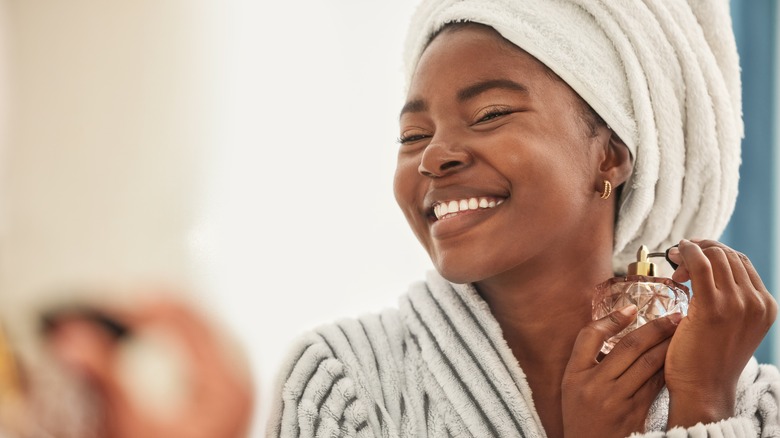 PeopleImages.com - Yuri A/Shutterstock
As previously mentioned, Les Exclusifs Gardenia is a classy and sensual scent with notes of tuberose, jasmine, and patchouli. These floral notes pair well with fruity or citrusy notes like bergamot or mandarin to balance them and add depth to your scent. But you'll want to be light-handed with layering your Les Exclusifs Gardenia with these perfumes as you still want the floral notes to be prominent and not overpowered by the other fragrances. To layer, you also want to remember to moisturize your skin so the scents stay on for much longer.
Now, Les Exclusifs Gardenia is an excellent addition to your shelf, but the price tag for a perfume that many reviewers claim does not last may be more than you want to pay. While no fragrances can perfectly match Chanel's airy scent, you can get pretty close to the feel with other gardenia-based perfumes like Cartier's La Panthère Eau de Parfum Spray, which retails for $144 and features gardenia and musk, or Estee Lauder's Private Collection Tuberose Gardenia Eau de Parfum Spray, which retails for $180 compared to Chanel's $220 for the same amount of product.