Plenty Of Fish Wants You To Embrace Your True Self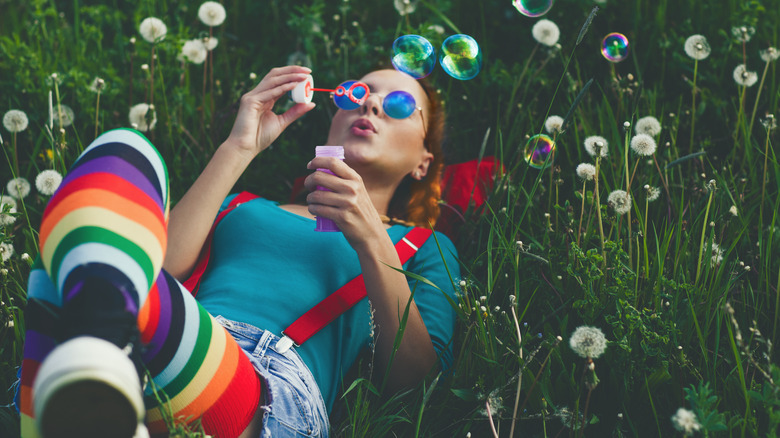 Jasmina007/Getty Images
When you're trying to find a new relationship, or even a new fling, the last thing many singletons want to do is be themselves. Playing hard to get and making yourself seem cooler than you are have long been the moves of choice for those trying to impress potential dates. However, dating website Plenty of Fish has discovered through a 2023 study that things are changing, at least when it comes to the younger generations, per Global Dating Insights.
Among Gen Z and millennial Americans, 70% believe in revealing the truth about themselves on a first date, even when that means disclosing potentially cringe-worthy information. In fact, a similar percentage consider being their authentic selves early in the dating process to be an "important step in getting to know a potential partner." In line with the study, Plenty of Fish public relations manager Eva Gallagher confirmed that the website is totally behind single people being more upfront with their dates and matches: "In a world where so many people feel pressure to present an ultra-manicured version of themselves, we applaud singles saying yes to being more real." Luckily, being more real is a simple process; it just requires a little courage!
How to embrace your true self on a date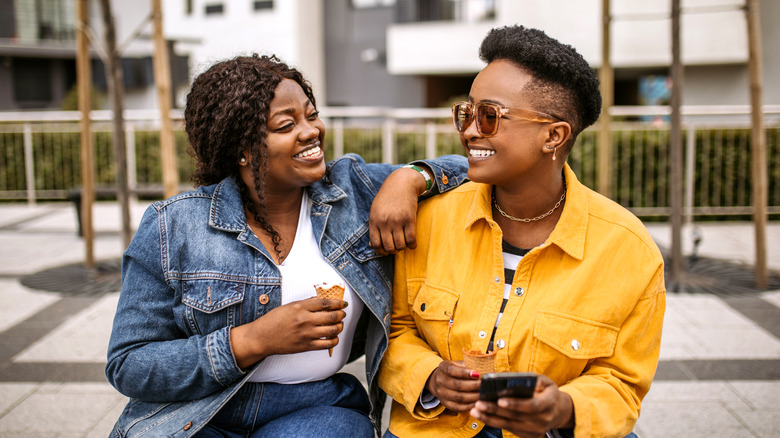 Hobo_018/Getty Images
The study conducted by Plenty of Fish found that young daters are embracing themselves by accepting and sharing information that they might have once been embarrassed about, such as traditionally geeky or uncool hobbies and interests. "Sometimes, we just need to get out of our own way, so let's embrace the real us — the wonderful, awkward and sometimes cringey parts that make each of us unique," Eva Gallagher said. If there's something you might have shied away from being honest about, consider sharing it with your date. So you collect stamps or are still obsessed with One Direction. Those quirky details just might set you apart from the crowd and attract the person who's perfect for you.
Additionally, you can embrace the real you by being honest about what you actually want from your date. Forget playing hard to get and be real about your intentions. It may sound embarrassing, but finding the courage to be vulnerable can actually make you more attractive (via The Atlantic). And in any case, fortune favors the bold. While opening up about your cringey quirks may actually help in your search for love, it may not be a good idea to disclose absolutely everything straight away.
Is there anything you shouldn't share up front?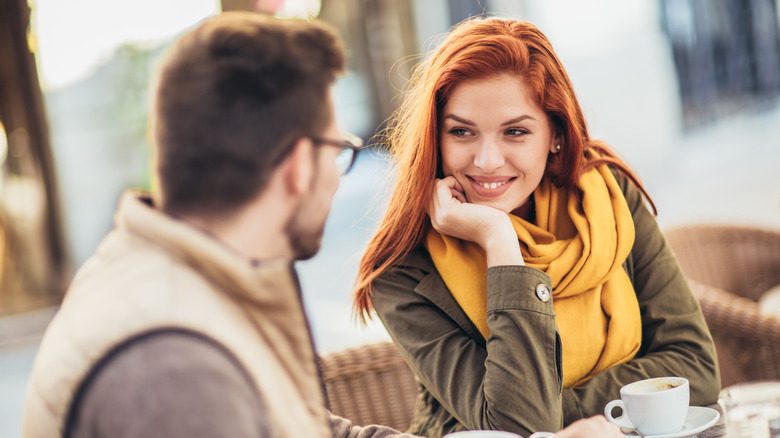 Jovanmandic/Getty Images
Talking about your less-cool qualities on a first date can come across as fearless and charismatic, but there are still some things that are better revealed in good time. Speaking to Today, dating expert Erika Ettin revealed that overly gushing about your feelings, for example, is a first-date mistake. Be clear about your real-life intentions, but don't tell your date that you've already fantasized about marrying them. Similarly, avoid venting about your ex or your previous heartbreaks, as this can make you seem more negative than you are. If you are asked about the past, Ettin advises still being honest with a line such as, "I'm happy to share that information once I get to know you a little bit better."
Meanwhile, matchmaking website Ideal Introductions also recommends keeping conversation light on a first date and avoiding being "too intense," as heavy discussions can be exhausting and unenjoyable. The same applies to early conversations when you're first getting to know someone. However, like Plenty of Fish, the matchmaking website does endorse opening up about your unique interests. Along with the fact that you likely light up when you talk about your passions, even if they're not cool, this is also a good way to determine compatibility. If a potential love interest is going to judge you for still liking One Direction, you're better off knowing as soon as possible. No one needs that kind of energy in their life.