The Stunning Style Transformation Of Khloé Kardashian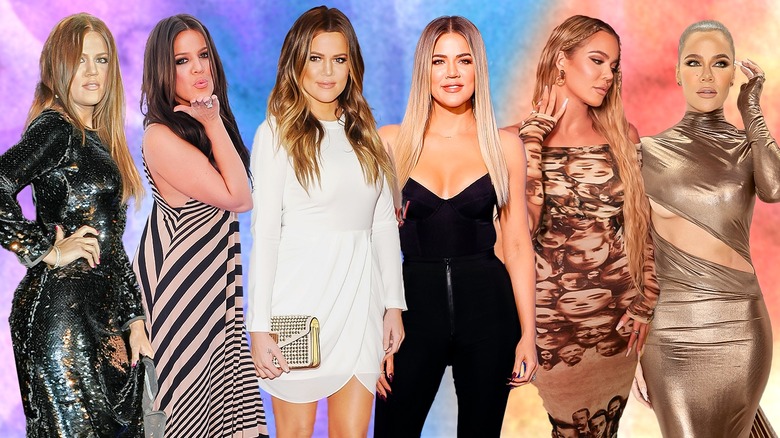 Static Media / Shutterstock
There has been an abundance of highs and lows in Khloé Kardashian's life since her famous family splashed onto the scene. "Keeping Up with the Kardashians" landed on television back in 2007. As the show started growing in popularity, the Kardashians' worldwide popularity began blossoming along with it. Her sisters Kim Kardashian, Kourtney Kardashian, Kendall Jenner, and Kylie Jenner have all experienced the drama that comes along with living life in the spotlight. With more than 311 million followers on Instagram, Khloé is certainly one of the most influential reality TV stars of this generation. A few scrolls on her Instagram page showcase just how luxurious and elegant her lifestyle really is. 
If you're willing to take the time to scroll back on her Instagram feed, you'll also notice how her fashions have drastically transformed over the years. Khloé's style has always been noteworthy and enticing, but that doesn't take away from the fact that it's undergone significant changes. There have been some years when Khloé preferred dressing in bright colors and patterns compared to other times when she was spotted more in darker shades. Khloé Kardashian was in animal print dresses at one point, and she later started rocking exercise gear as she focused on her fitness goals. Here's a full breakdown of the star's stunning style transformation from the moment she became famous until now.
2007: Khloé Kardashian was often spotted in all-black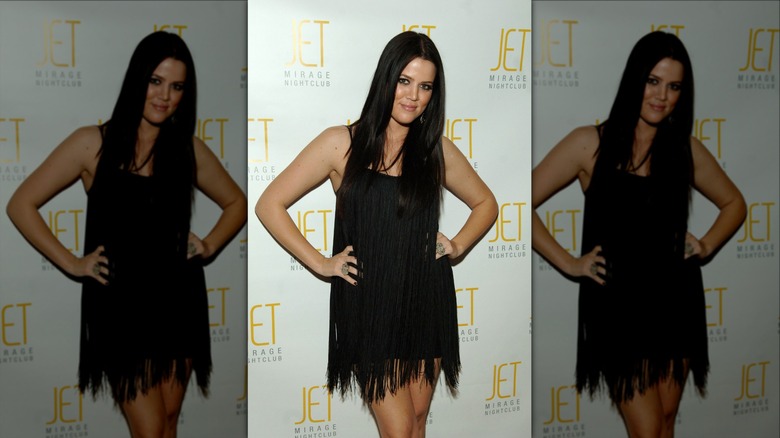 Denise Truscello/Getty Images
The hit reality TV show "Keeping Up with the Kardashians" turned the entire Kardashian-Jenner clan's life upside down. At the time, Khloé Kardashian was often in all-black attire. She wore black dresses, black tops with black jeans, and any other variation of her favorite black staples. Her hair was also incredibly dark the year her family catapulted into superstardom. It's no secret that black is often viewed as one of the most flattering colors a person can wear. There's a reason the little black dress is a necessary staple in your closet. 
Black also happens to be a color that can be reassuring. Since Khloé Kardashian is significantly taller than both Kourtney and Kim, her choice to wear so many all-black outfits allowed her to better fit in with her sisters and not stand out in a dramatic way. But just a couple of years after the series premiered, Khloe told Female First, "I'm very confident. I try to take anything and turn it into a positive. I'm 5'10, and girls are like, 'why do you wear high heels?' and I'm like, 'because it's fun!' You have to embrace whatever you're given ... I just have to make myself feel comfortable."
Although this was her style craze back in 2007, wearing black clothing remains a favorite for many of us.
2008-2009: Moving into bright colors and patterns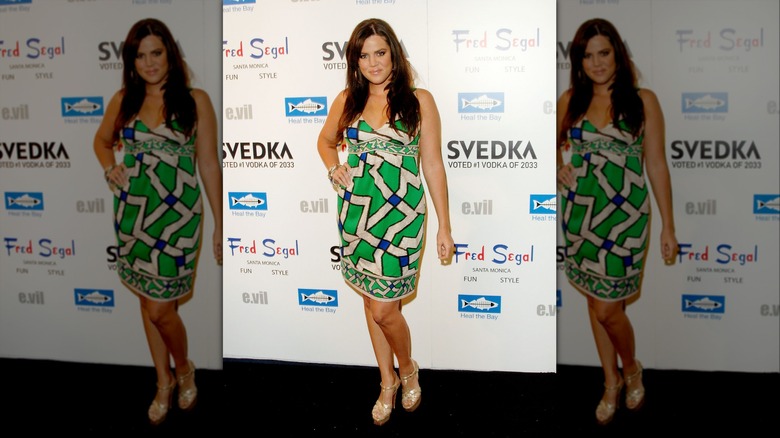 Jon Kopaloff/Getty Images
By the time 2008 and 2009 rolled around, it appeared that Khloé  Kardashian was far more comfortable wearing brighter colors to different public events. She was photographed wearing white, orange, and other eccentric patterns throughout those two years. While plenty of people claim that black is the classiest color a person can wear, having the confidence to rock bright colors and patterns says a lot about the way you view yourself. During these years, Kardashian showed the world how comfortable she was in the skin she was in. 
Keep in mind that 2009 was the year she posed nude for PETA for the organization's "I'd Rather Go Naked Than Wear Fur" campaign. Post-photo shoot, she told E! that she'd dropped 20 pounds, which appeared to boost her confidence. "I actually was in a bikini on camera!" she said. "I've never done that and I wouldn't have ever thought to do that. And I have to admit, I was still insecure ... I've just got to tone up more, but I never would have done that before — ever."
2010: The reality star slipped into formfitting dresses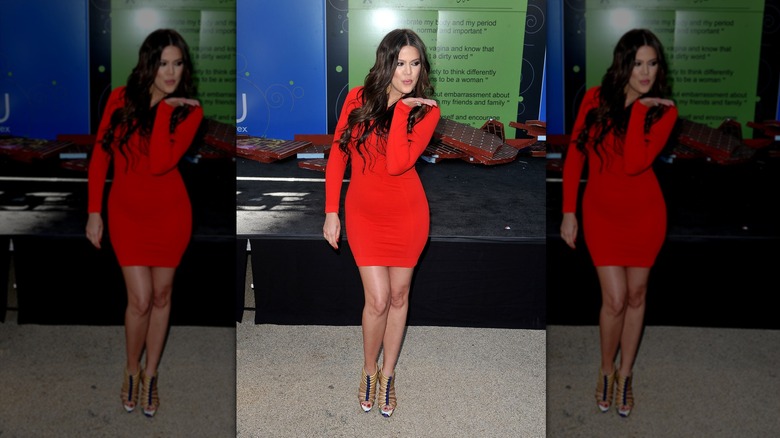 James Devaney/Getty Images
Loving her appearance continued into 2010, which is the year Khloé Kardashian wore more formfitting dresses than ever. The reality TV star didn't shy away from wearing outfits that hugged her curves and showed off every detail of her physique. This was the year that "Keeping Up with the Kardashians" dived into its fifth successful season. Kardashian faced several hardships, including losing the 7-carat engagement ring she received from Lamar Odom. She also found out brother Rob Kardashian was hooking up with her best friend, Malika Haqq. 
On top of that, Khloé was still running the Dash Boutique with her sisters. Hopefully, picking out the trendiest and most formfitting dresses from her closet whenever she had red carpet appearances was a pleasant way to distract herself from all of her stressors in 2010. One of the formfitting dresses she wore that year was bright red. It was skintight all over and it hugged all of her curves. The bright red minidress had long sleeves, keeping her a little more modest on top, but it was short enough to stop halfway down her thighs. She accessorized with a pair of colorful high heels, large dangling earrings, and her massive wedding ring.
2011-2012: Prints and patterns had Khloé Kardashian in a chokehold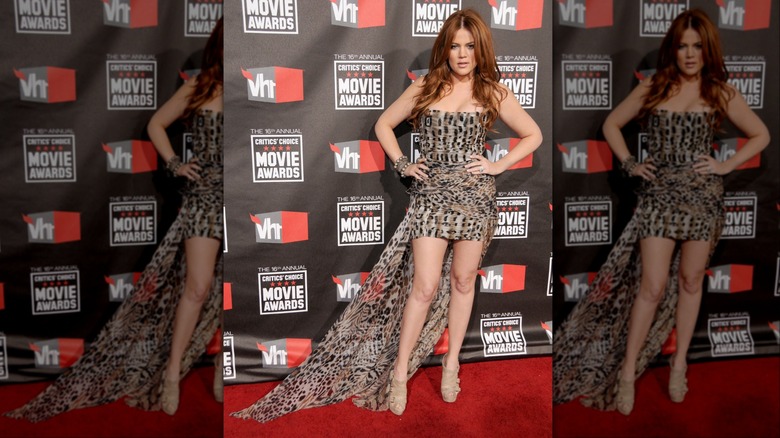 Gregg Deguire/Getty Images
There's a lot to be said about outfits covered in different prints and patterns. It's not for everyone, but if it's something you can truly pull off, you likely have that "it" factor. That "it" factor is certainly something Khloé Kardashian had between 2011 and 2012. She was spotted wearing animal prints and patterns during plenty of her outings. Animal print was common for her during this timeframe. Her ombré hair started looking noticeably lighter, with brown highlights toward the tips.
However, she was still struggling with self-image, as she explained to Love magazine (via New York Daily News): "I'm the ugly sister. I'm the fat one ... I have had those mean things said about me at least twice a day for the last five years." On her blog that year, she admitted, "My weight is always going up and down, and I'm always fighting that, and I think that no matter what I do, I'm never going to look good enough to everybody else."
These statements contrast with the confident image she presented, as documented above.
2013: She embraced elegance as a newly single woman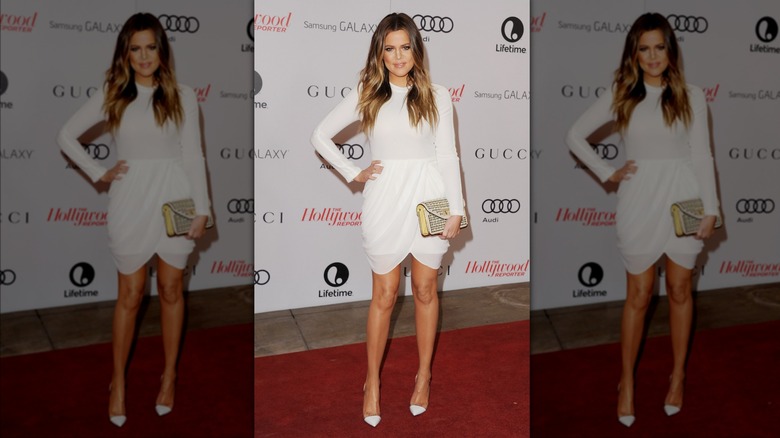 Jon Kopaloff/Getty Images
Khloé Kardashian went through a major life transition in 2013 when she filed for divorce from Lamar Odom. As a newly single woman, her fashion sense took a turn in a wonderfully positive direction. She began embracing elegance in a significant way with her clothing choices. She dyed her hair a little bit lighter, and the outfits she started wearing were true representations of chicness and sophistication. In 2013, it seemed Khloe was doing her best to put her best foot forward regarding her style choices. 
In an interview with Time Out, she explained her love of vintage fashion, saying, "Sometimes vintage is fun, and I got this Gucci gown at a vintage store that I know would have been probably over $1,000 if it was at Gucci but in the vintage store it was only like $140!" She added, "It's fun to mix highs and lows! I even love to go to the Topshops and the H&Ms of the world. I don't think it's realistic for everyone to buy high designer."
At the Hollywood Reporter's 22nd Annual Women in Entertainment Breakfast, she wore a chic white dress. The skirt had an extra layer of fabric starting over her midsection and dangling down over her thighs. She accessorized with a pair of simple white closed toes heels and a gold purse covered in sparkling gemstones.
2014: The revenge body journey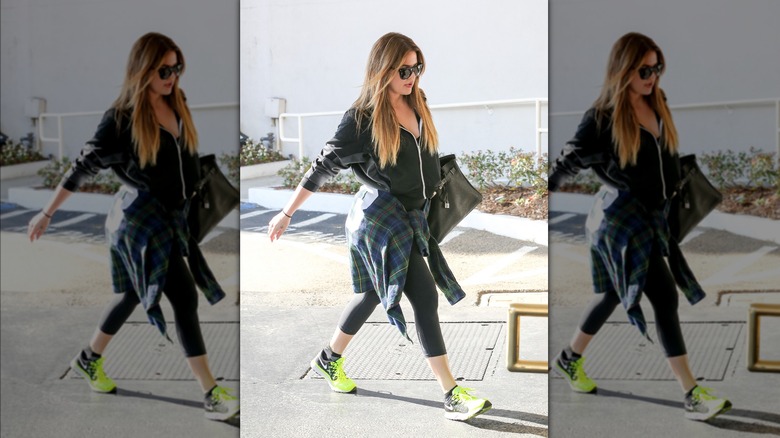 Bauer-griffin/Getty Images
This was a transformative year in Kardashian's life. In 2014, she briefly dated French Montana, and it appeared that she truly started honing in on her revenge body journey while her divorce from Lamar Odom was stalled. She was often spotted wearing casual fits and fitness gear on her way to and from gym workouts. This was also the year she turned 30 years old. As she told Cosmopolitan U.K. at the end of 2013, she was in need of a fresh start. "In the past year I think I've lost around 30 lbs, and I'm feeling good. I've worked very hard on my body so I think now I can sex it up a little! My 2014 mission is to wear a crop top with jeans," she shared (via Radar Online). 
As evidence of her focus on fitness, here she's spotted wearing black leggings, a black hoodie, and a dark flannel tied around her waist. Fitness goals can only be achieved when a person is willing to get up, get dressed, and make some serious changes. That's exactly what Kardashian understood at the time, and her wardrobe reflected that.
2015-2016: Edgier outfits meshed with her blonder hair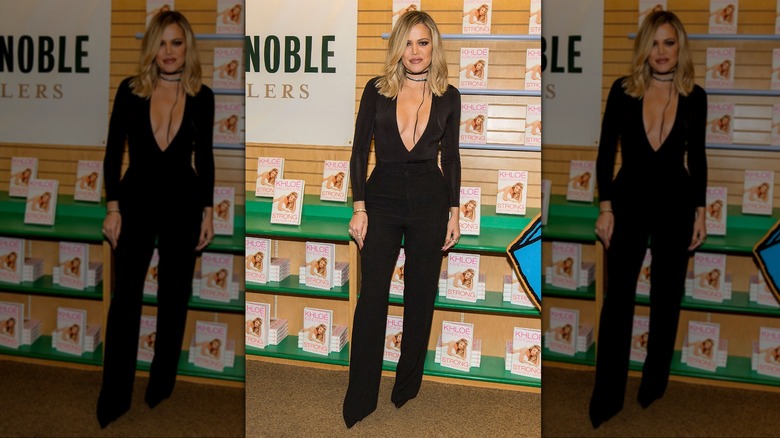 Daniel Knighton/Getty Images
It's safe to say that Khloé Kardashian was totally feeling herself in both 2015 and 2016. Her hair was a lot lighter and blonder, and her outfits were often a lot edgier. By edgy, we're talking about some incredibly low-cut tops and dresses. Kardashian seemed to be more comfortable than ever with strutting her stuff in front of paparazzi cameras. The femme fatale vibe certainly fits the mold for Kardashian at this time. This isn't the first time Kardashian experimented with lighter-colored hair, either. 
In a 2016 interview with Harper's Bazaar, she shared that she only felt comfortable showing her legs, what she called her body's "skinniest part." However, she began to feel more confident and accepting, while showing a lot of skin wasn't necessary. "I will wear a turtleneck bodysuit and jeans and feel really good. That, to me, is effortless sex appeal," she said.
In previous years, she dabbled with lighter highlights of red, honey, blonde, and brown. Starting in 2015, though, her hair became significantly lighter than ever before. One of the edgiest outfits she wore was at the book signing for her autobiography "Strong Looks Better Naked." Kardashian wore a skintight bodysuit with a deep V-neck that cut down just a couple of inches above her belly button. The bodysuit offered loads of visible cleavage. She accessorized with several rings, a gold bracelet, a couple of choker necklaces, and a pair of pointy-toe black heels.
2017: A sleek aesthetic was set in motion for Khloé Kardashian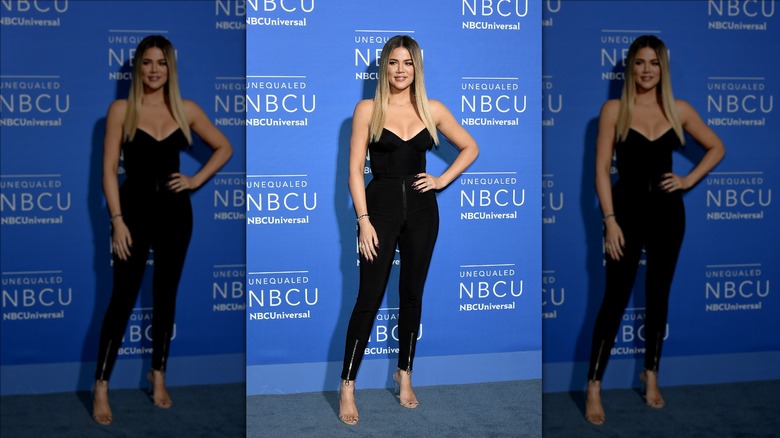 Dia Dipasupil/Getty Images
In 2017, Khloé Kardashian launched a reality TV show called "Revenge Body Khloe." She supported contestants with their plans to shed weight as a way to get over their relationships and heartache. It's something she resonated with following the finalization of her divorce from Lamar Odom the year before. 
Meanwhile, Kardashian started looking like a total Barbie girl, especially noticeable in her hair color. Her long, blond locks were reminiscent of Barbie's famously colored tresses. High heels, skin-tight outfits, and flawless makeup were all part of Kardashian's standard 2017 appearance. She told Glamour how she maintained her figure. "There's nothing more frustrating than having all your fitness and diet efforts sabotaged by bloat. Those baby abs will never see the light of day if they're hidden behind water retention, honey!" she shared, giving the magazine some tips on what to eat to avoid the dreaded bloat. 
At an event in New York City that year, Kardashian wore a bodysuit that showed off all of her curves. The outfit was strapless with a low-cut dip at the top for cleavage exposure. The reality TV star finished off the look with clear high heels. In keeping with the light hair theme, her ombré blond locks got even blonder and brighter at the ends.
2018: She pulled off pregnancy chic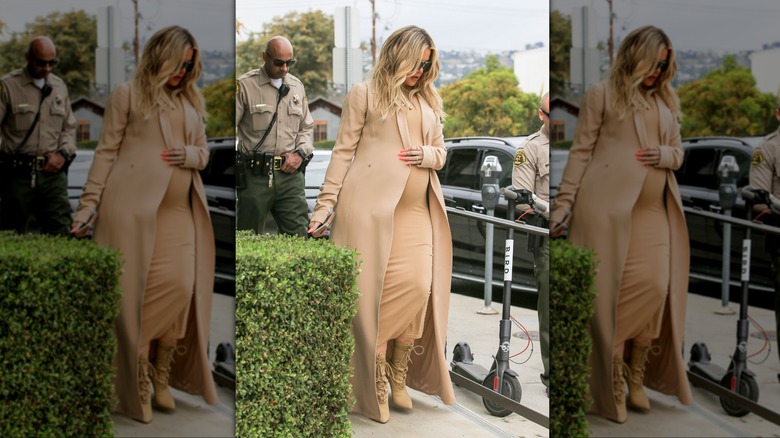 Bauer-griffin/Getty Images
Khloé Kardashian is the mother of two children she shares with Tristan Thompson: True and Tatum. While her son was born in 2022 after being carried by a surrogate, she experienced her own pregnancy with True back in 2018. In typical Kardashian fashion, she shared the news on Instagram, along with bare belly pics. Throughout her pregnancy, Kardashian made sure her fashion choices were perfectly on point. She always looked classy, confident, and well-put-together, which is impressive considering that she was dealing with Thompson's cheating scandal. 
Post-birth, Khloé Kardashian was back to work and focused on her Good American line. In an interview with Who What Wear that year, she talked about the inclusivity of the brand and reassured shoppers who might be afraid to go public in their bike shorts. "Women should be unafraid to try any trend and should wear whatever makes them feel good, even if someone else would consider it a styling 'mistake,'" she said.
And in an end-of-the-year Instagram post, she wrote, "This year I faced my challenges by trusting myself, not always in my decisions but in my ability to overcome whatever I was being tested with. I now know I am a conqueror, I am stronger than I ever could have imagined, and no matter which obstacle I face, I will always overcome it."
2019-2020: Khloé Kardashian's style was the epitome of glitz and glam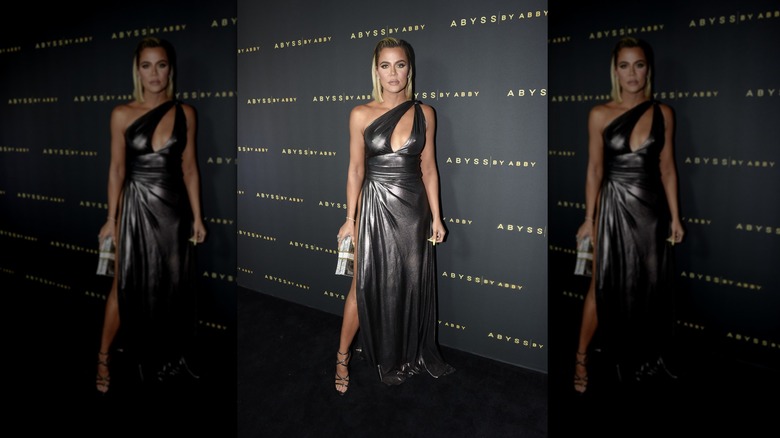 Vivien Killilea/Getty Images
Two of the best years to reflect on Khloé Kardashian's style history are 2019 and 2020. Leading up to the pandemic, Kardashian was always dressed to the nines in some of the glitziest and most glamorous dresses. Whenever she had red carpet appearances, it was safe to assume she was going to show up and show out. This was also the time when she rocked shorter hair that stopped right at her shoulders.
Despite her fabulous style, there was still some turbulence, as evidenced in another end-of-the-year Instagram post. She captioned a video in part, "2019, I'm happily saying goodbye. They tell you that you shouldn't look back but I'm going to suggest that you do. Be brave, look back and reflect on your past year; Or the past decade! It's okay to remind yourself of what you went through and what you overcame." The caption ended, "2020 I welcome you with all of my heart!!"
Of course, 2020 was the start of even more difficulties for people around the world. When Khloé Kardashian contracted the coronavirus, it was (naturally) a storyline on the family's reality show.
2021: Her style grew fiercer and sexier, even while she was masked up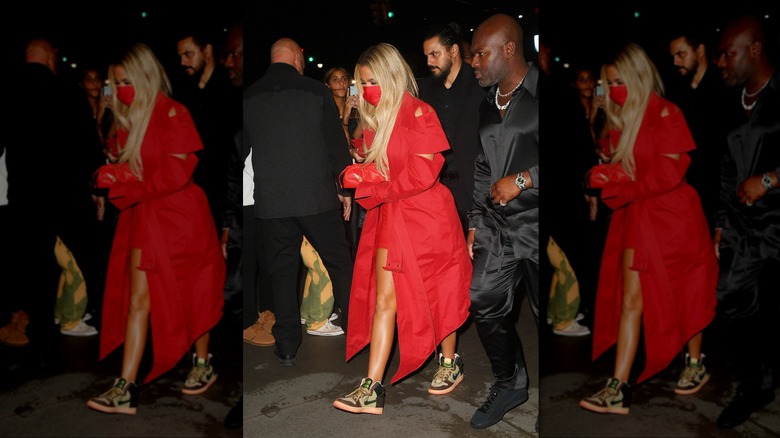 Mega/Getty Images
Nearly everyone was masked up in 2021 as a result of the COVID-19 pandemic. Despite hiding half of her face with a mask for health and safety reasons, Khloé Kardashian's style still grew fiercer and sexier that year. On one occasion, she was spotted wearing a bright red minidress with a matching red trench coat. She was out and about for a night on the town in New York City with Corey Gamble and Scott Disick by her side. The rest of her famous family wasn't spotted by the paparazzi, but her outfit was enough to steal the show anyway. 
However, she faced criticism for seeming to only post Photoshopped images of herself online. "I'm not going to lie, it's almost unbearable trying to live up to the impossible standards that the public have all set for me," she wrote alongside a video on Instagram (via the Los Angeles Times). She followed up with another video in which she only sported a pair of underwear. "This is me and my body unretouched and unfiltered," she said. 
While fans were quick to support her throughout the Photoshop drama, Kardashian felt the need to address her critics.
2022: Model vibes going strong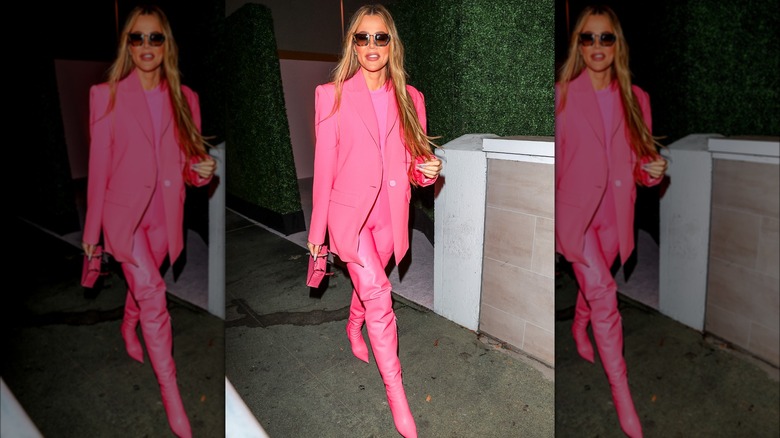 Rachpoot/bauer-griffin
Diehard fans of the Kardashian-Jenner family are well aware that Kendall Jenner is the sister who built a career for herself as a model. Still, Khloé Kardashian started giving model vibes in 2022 in a manner that could've rivaled Jenner's career. Although Kardashian never walked on any runways for Victoria's Secret like Jenner, the model-esque gowns and dresses she wore in 2022 should've been enough for her to receive an invitation. 
But she also expressed her love for a girly color. In an interview with Elle, Kardashian said, "I'm super, super excited that Barbiecore is a thing and that pink is everywhere. I'm a fan of the color. It adds vibrancy and life to the normally all-black wardrobe people gravitate to in the fall. Don't get me wrong, I love black as a core staple, but having a pop of pink here and there is fun." She added, "I'm a boot girl ... I love thigh-highs. I feel ... just sexy."
2023-present: Khloé Kardashian as a blond bombshell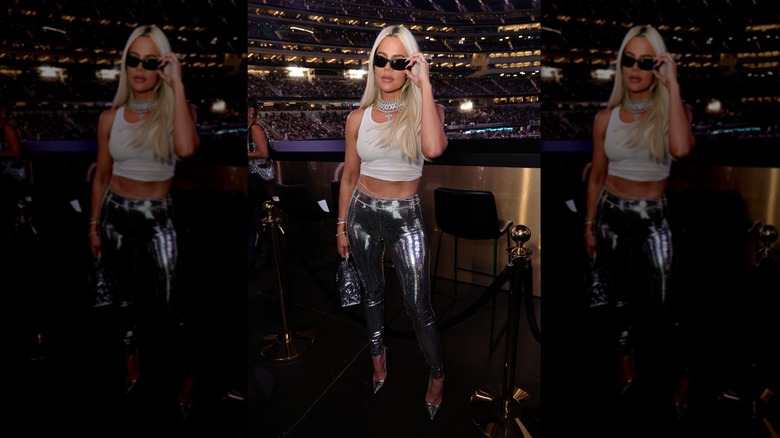 Kevin Mazur/Getty Images
2023 was a good year for Khloé Kardashian. Her appearance as a full-fledged blond bombshell was well-received across social media platforms. Kardashian's Instagram posts alone rake in millions of likes and comments from fans who are obsessed with her vibe. Whether she's posing for her Good American fashion line or snapping selfies with her children, she looks divine. Another example of Kardashian's blond bombshell aesthetic can be found in any of the photo shoots she's done for her 2023 Fabletics fitness gear collaboration.
As she explained in an interview with Cosmopolitan in 2023, "I always choose an outfit that makes me feel good and gives me a boost when I workout. I like for my athleticwear to reflect that sentiment. That may mean a bright vibrant set on days when I'm feeling tired and need a little motivation." In another interview with Marie Claire that same year, she and mother Kris Jenner broke down their different approaches to fashion, with Khloé sharing, "When you look good, you carry yourself well. I try to pick outfits that make me feel confident."