20 Best Waterproof Mascaras You Can Find At The Drugstore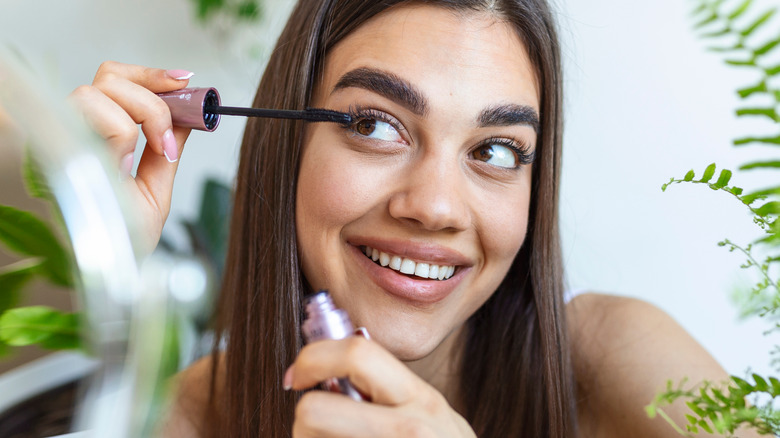 Photoroyalty/Shutterstock
We couldn't imagine going through our daily beauty routines without mascara. According to Makeup.com, mascara was actually one of the first types of makeup people ever used, but it was initially meant more for protecting wearers' eyes than defining them. Fast forward to today, and mascara is one of the most beloved beauty products in the industry.
When we searched #mascara on Instagram, over 11 million posts popped up, and we weren't even surprised. Mascara is such a helpful product that, of course, people talk about it on social media. Just think about the L'Oréal mascara that has taken over TikTok!
There are so many different mascaras available that the choices may seem overwhelming. However, it's a good idea to look for waterproof options. Not only does this help narrow the search, but wearing waterproof or water-resistant mascara will help prevent you from having to worry about your makeup getting messed up while spending the day at the beach or having an emotional evening. Luckily, we've found the 20 best waterproof mascaras you can find at the drugstore so that you won't break the bank for beautiful lashes.
How we selected the best drugstore waterproof mascaras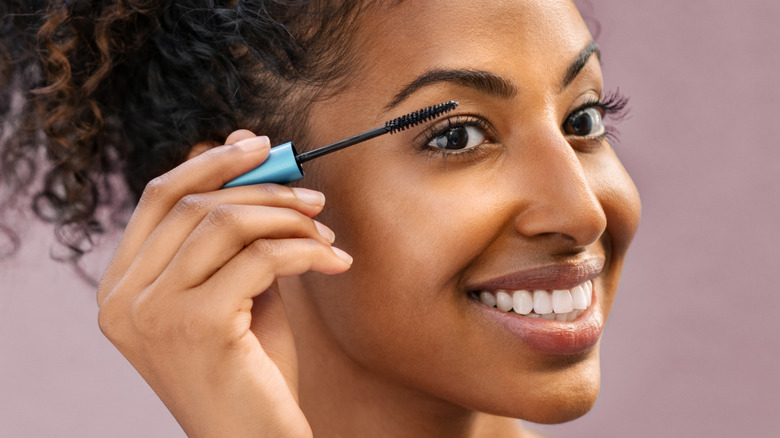 Rido/Shutterstock
When choosing waterproof mascaras for drugstore prices for this roundup, we didn't just curate a list of random products we found on the internet; our readers deserve the absolute best, and that's what we strive to find for you. First off, we understand that different shoppers look for various qualities when searching for the right mascaras. That's why we conducted our search based on different subcategories. Not only did we focus on finding the best affordable waterproof mascaras in general, but the best options for shoppers looking for specific features, such as the ability to last for long periods or even add a pop of color to your lashes.
Plus, we made sure to look at each mascara's rating and read user reviews as part of our research. Ultimately, we're very excited about these excellent mascaras, especially because they've never let us down.
Best overall
Customers won't stop raving about one of Maybelline New York's mascaras. This mascara is popular because it lasts for long periods without getting messed up. It's even marked as Amazon's choice.
This affordable mascara has 4.5 stars on Amazon with over 20,000 ratings and counting. One happy customer even described this product as the "BEST MASCARA EVER!" Meanwhile, another said, "Finally, a mascara I can wear all day that does not flake off."
The Volum' Express The Colossal Waterproof Mascara by Maybelline New York is available on Amazon for $5.60.
Best long-lasting
If you want a waterproof mascara that will stay on all day at work and all night at the club, No7 has a mascara that's so durable it even has "long wear" in its name. This product is particularly great because it never shows signs of wearing off, even after crying or sweating a ton. To take those lash-enhancing tubes off, all you need to do is put a pad of cotton drenched with water against your lashes for half a minute.
The No7 Mascara Stay Perfect Waterproof Long Wear Tubular Black is available at Target for $8.99.
Best for volumizing lashes
We know how desirable voluminous lashes are, so we selected two mascaras for adding more volume to your lashes. First off, a well-liked mascara by Maybelline New York has been one of our favorites for a while. The New York Lash Sensational Sky High Waterproof Mascara is so volumizing that it even gives off the vibe of a lash lift.
This mascara has 4.5 out of 5 stars on Amazon, with over 87,000 reviews, where one person wrote: "Buy it ASAP!"
Moreover, Maybelline's the Great Lash Washable Mascara is one you don't want to miss. This product features powerful bristles for impressive additional volume on your lashes. Coming in a vibrant pink and green tube, it's no wonder why this volumizing mascara is a cult favorite. Plus, you can't beat its affordable drugstore price; this Maybelline mascara is undoubtedly a steal.
The Maybelline New York Lash Sensational Sky High Waterproof Mascara is available on Amazon for $8.53.
The Maybelline Great Lash Washable Mascara is available at Target for $5.49.
Best for lengthening lashes
We also included two top mascaras for length, as long lashes are a famously popular beauty standard. To start, we learned about one of these items in a YouTube video by Mixed Makeup, a YouTube channel with over a million subscribers. According to Mixed Makeup, L'Oréal's Unlimited Length and Lift Mascara lengthens and curls your lashes, and its bristles are perfect for enhancing each lash.
This next mascara, Wet n Wild Mega Length Waterproof Mascara, is also recommended by Mixed Makeup's YouTube video, so you just can't go wrong with it. According to Byrdie, this waterproof mascara makes your lashes look super long, comes off easily, and is insanely affordable. Its formula additionally features vitamin E, which is beneficial for your eyelashes.
The L'Oréal Unlimited Length and Lift Mascara is available at Ulta for $13.99.
The Wet n Wild Mega Length Waterproof Mascara is available at Wet n Wild for $3.79.
Best for darkening lashes
If you truly want to make your eyelashes stand out, you should look for a mascara that not only lengthens or volumizes your lashes but also makes them significantly darker. This mascara is known for its accentuating features. It's very dark but doesn't clump, and it goes on incredibly smoothly. Therefore, it's sure to darken your lashes. Macy's even described this waterproof mascara as "blacker-than-black," making it perfect for ultra-dark eyelashes.
The Urban Decay Perversion Waterproof Mascara is available at Macy's for $22.10.
Best for a pop of color
We love using colorful mascaras for a fun, modern style, so we had to include some of the best to this list. Wearing purple mascara is a great way to complement any eye color, so everyone should consider investing in a purple mascara. This waterproof purple mascara because it's not toxic, lasts for long periods, and is easy to take off.
The Maydear Waterproof Gray Purple or Dark Purple Color Mascara is available on Amazon for $9.99.
Up next, this mascara is a vibrant blue, and it is durable and enhances your lashes with ease. The cobalt blue color can make anyone's eyes appear more intense, and it's the perfect item for nights out or fun events such as music festivals.
The L'Oréal Paris Makeup Voluminous Waterproof Mascara in Cobalt Blue is available on Amazon for $5.53.
Luckily for anyone who prefers to rock a green lash look, this mascara is also in stock in a green hue. Whether you have green eyes and want your lashes to match your eye color, or you're looking for a product to add some unique contrast to your brown, blue, or grey eyes, you can't go wrong with this item.
The L'Oréal Paris Makeup Voluminous Mascara in Deep Green is available on Amazon for $7.12.
This last colorful mascara option is for beauty fanatics who want a one-of-a-kind, head-turning look. Deep burgundy is a great option for someone who wants something a bit edgier. Whether you're going for an alluring Halloween look or you want to make burgundy your new signature style, this mascara is intriguing.
The L'Oréal Paris Makeup Voluminous Mascara in Deep Burgundy is available on Amazon for $5.36.
Best for sensitive eyes
We know how hard makeup shopping can be for people with sensitive eyes, so we made sure to include more than one option for this category. After all, you shouldn't have to suffer pain or irritation for enhanced lashes! You don't have to worry if you have sensitive eyes because the Covergirl LashBlast Volume Waterproof Mascara in Very Black will define your lashes without irritating your eye area.
Up next is another excellent waterproof mascara for sensitive eyes. Almay's Multi-Benefit Mascara won't get in your eyes and has no fragrance; it shouldn't bother your eye area whether you have extra sensitivity or wear contacts. The formula even features keratin, which can benefit your eyelashes.
The Covergirl LashBlast Volume Waterproof Mascara in Very Black is available on Amazon for $5.69.
The Almay Multi-Benefit Mascara is available at Walmart for $7.47.
Best for curlier lashes
This mascara features vitamin E to help you have healthier lashes while it does its magic. The waterproof formula will volumize and lengthen your lashes, as well as curl them to make your eyes look bigger and more pronounced. With this mascara, you can save yourself some time when getting ready by ditching your lash curler.
The Pixi By Petra Lash Booster Waterproof Mascara is available at Target for $15.
Best cruelty-free
If you're an animal lover, we know the perfect cruelty-free, vegan product for you that will beautify your lashes, so you'll get the best of both worlds. Everyone loved CoverGirl's LashBlast Waterproof Volume Mascara, so they came out with a clean edition of this beloved product. Not only is it great for enhancing your eyelashes, but it's easy to apply and take off, too. Wearing mascara has never been easier.
The CoverGirl Lash Blast Clean Volume Mascara is available at Walmart for $7.97.
Best for actual lash tinting
Do you want a waterproof mascara that can help darken your lashes even after you take it off? This mascara can actually make your natural lashes darker after only one week!
The unique mascara has an impressive 4.3 out of 5 stars at Walmart, with over 1,800 reviews. One happy customer confirmed that this product is worth all the buzz, writing: "The hype is real!"
The Revlon So Fierce! Big Bad Lash Mascara is available at Walmart for $7.47.
Best for bottom lashes
If you're on the hunt for the best mascara for your bottom lashes, this mascara is a must-try. Specifically designed for enhancing your lower lashes, this water-resistant mascara features a skinny brush, making it appropriate for working with your bottom lashes. Plus, the formula doesn't feature any Parabens, and it wasn't tested on animals. I think we can all agree that that's a plus.
The Pixi by Petra Lower Lash Mascara Black Detail is available at Target for $11.
Best for no clumps
We know exactly how frustrating it is when you've applied your mascara, put on a full face of makeup, and are all ready to go out after selecting the perfect outfit — then, your mascara starts clumping and gets all messed up. You won't have to worry about that happening with this mascara; the formula will help make your eyelashes more distinct without smudging, making applying it a breeze.
The CoverGirl Peacock Flare Waterproof Mascara is available on Amazon for $6.99.
Best for swimming
If you've been searching for a waterproof mascara that's really waterproof — to the point where you can wear it in the pool or ocean — look no further than this mascara. Not only will the mascara enhance your lashes beautifully, but its formula will help keep your eyelashes healthy and features sunscreen, making it perfect for swimming on a hot summer day.
The Eyeko LondonBeach Waterproof Mascara is available on Amazon for $24.
Best false-lash effect
As much as we adore mascara, we know that very few mascaras can produce the same amount of drama and intensity you get from false lashes. But with this mascara, you'll get that glamorous false-lash look without having to deal with actual fake eyelashes and lash glue. The product works so well that it's one of Amazon's most popular mascara options.
The Essence Lash Princess False Lash Effect Waterproof Mascara is available on Amazon for $4.99.