The L'Oréal Mascara That Has Taken Over TikTok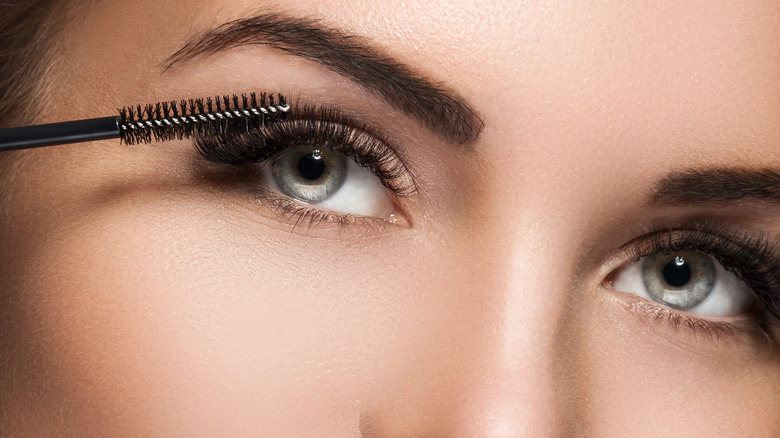 BLACKDAY/Shutterstock
When was the last time you bought a beauty product that you hadn't seen on Instagram or TikTok? Before TikTok, we mostly chose skincare and makeup products based on models in ads, and often, they didn't live up to our expectations. TikTok has the power to convince us to part with our money because it shows everyday people using beauty products — and how they really look, which makes it pretty easy to make a decision regarding if they're worth your time or money. 
TikTok reported that 49% of its users have discovered something new on the platform, and they are 1.5 times more likely to buy products they see there. They are often drugstore brands or affordable dupes of high-end products that work like magic and have gained millions of hits. For instance, take Clinique Almost Lipstick in Black Honey, which was launched in 1971 but went viral on TikTok in 2021 with over 242 million views, with the product constantly selling out (via Glamour). On this, celebrity makeup artist Neil Scibelli told the outlet, "The hybrid gloss and lipstick finish literally adjusts to individual skin tones." Naturally, this shade looks good on everyone.
Another popular beauty product is Maybelline Sky High Waterproof Mascara, which went viral on TikTok with over 240 million views because it gives lashes ridiculous length and volume, appearing like you're wearing false lashes (via Today). However, for those who prefer a natural look, there is one perfect L'Oréal mascara match for you.
L'Oréal Paris Voluminous Noir Balm Mascara gives you major volume
Some people are gifted with naturally long, luscious lashes, while others depend on mascara for that effect. If you're looking for a mascara to give you longer, fuller lashes with mostly natural ingredients, you need to try L'Oréal Paris Voluminous Noir Balm Mascara. According to L'Oréal, this is its first "balm-in-mascara" made with 99% natural ingredients that don't "flake, clump, or smudge." It lengthens, volumizes, and separates your lashes and is safe for sensitive eyes. It retails for $12.99 at Ulta and is available in black and brown shades.
"This innovation comes in response to a big consumer trend: less can sometimes be more," L'Oréal Paris head of scientific communications Dr. Madison Godesky told Byrdie. In fact, this is because it only has 15 ingredients but can give natural-looking volume. This balm mascara already has over 26.2 million views on TikTok at the time of writing. Furthermore, this clean mascara has a four-star rating on Amazon, with one reviewer saying, "This mascara is a 'game changer' — LOVE it!" 
People are loving how it accentuates natural lashes without a dramatic effect and that it's not a pain to take off. It boasts five stars on Influenster, and one reviewer even said, "I forgot to take it off when I tried it. Went to sleep and did not wake up with raccoon eyes!" We definitely recommend washing all your makeup off before bed, though, even when using a mascara with millions of views on TikTok.
Beauty editors are a fan of this mascara's natural-looking volume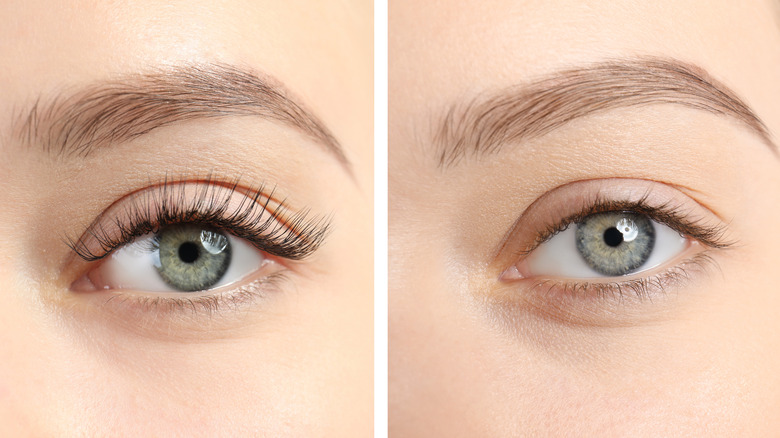 New Africa/Shutterstock
While Maybelline Sky High Mascara gives you the falsies appearance, that might not be the look for which everyone is going. Devon Abelman, a former beauty editor at Allure, loves how this mascara gives you "incredibly natural, low-key" lashes and is excellent for people who love the "no-makeup makeup look" (via Allure). She added that, with just one coat, her lashes looked longer like they are her own and compared it to the Belle or Jelly filter on TikTok. Meanwhile, senior Byrdie Madeleine Hirsch explained, "This mascara does everything you want it to." She added that just a few coats gave her lifted lashes with zero clumps, and while most of her other favorite mascaras can be a struggle to remove, she added that this one "came right off."
Good Housekeeping's Alexandra Friend said, "I am incredibly picky when it comes to mascara and have rarely found any on the high street that I love, but this is a revelation." She added that she loves how this mascara gives her longer, more defined lashes with a lift, and she highly recommends it. If you are looking for a mascara that is not over the top but does what it says, you might like this "a no-nonsense, just-make-my-lashes-look-better type" mascara from L'Oréal (via Coffee and Makeup). If your skin is oily, you might notice some smudging, but worth noting is that reviewers haven't reported any flaking. Ultimately, it appears that this product is one of the best mascaras for a longer-lashes look.