Here's How To Avoid A Face Mask Drying Out Your Skin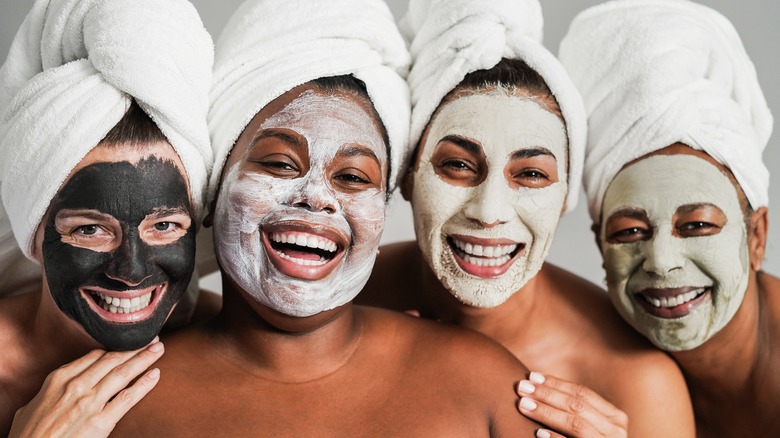 DisobeyArt/Shutterstock
We may receive a commission on purchases made from links.
When the COVID-19 pandemic first entered our lives, we were all forced to get creative when seeking out ways to pamper ourselves. Nature hikes through the woods replaced cycling at the gym, happy hours with friends were forced online, and spa trips to relax were substituted with DIY beauty sessions at home. Even though we've found a suitable replacement for nearly every one of our beauty needs, we still have to make sure we are using the products in the safest ways possible. This includes being careful with what we choose in terms of face masks.
Face masks are an easy product to incorporate into at-home beauty routines for ultimate pampering and relaxation, but using them incorrectly can have harmful effects on our skin (via Healthline). Beauty companies make specialized masks for specific concerns, and there are so many products from which to choose. There are face masks to draw out impurities in the skin, face masks to minimize blackheads, and even face masks to prevent acne. With the abundance of these masks on the market, many people are left wondering what the limits are of this at-home spa treatment.
How to keep your skin hydrated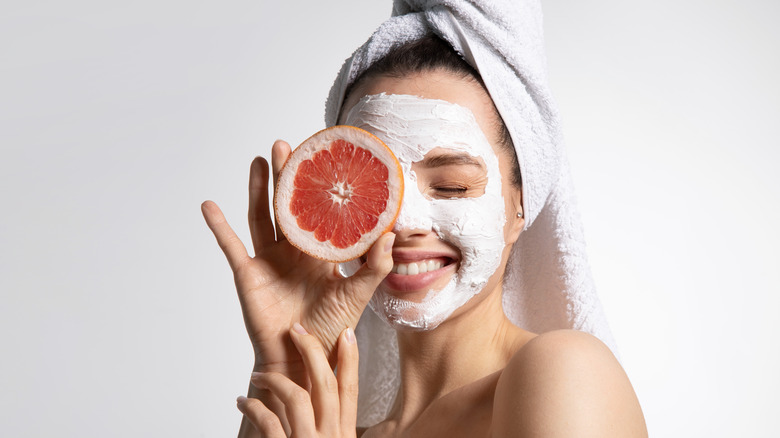 popcorner/Shutterstock
Most dermatologists recommend that people cleanse and moisturize their skin before they use a face mask. In addition, face mask users should also be sure to wash and moisturize their face once a mask is removed (via Honor Health). They should consider moisturizing with products that contain glycerin and hyaluronic acid to put back into the skin any properties that the mask may remove. Another suggestion is to buy face masks that are specifically made for hydrating skin. Look for similar ingredients to the moisturizers like glycerin and panthenol, but vitamin C is another beneficial ingredient as well (via The Derm Review).
If you're prone to dry, flaky skin, stay away from the clays and muds that can intensify the dryness. If you already have dry skin, opt for hydrating gels and even overnight masks (via Insider). These are designed to keep moisture in overnight, assuring you won't lose hydration in your skin. Because the skin is at the height of its regeneration period overnight, nighttime masks are the perfect choice to support your skin's natural hydration process.
Research the ingredients of your mask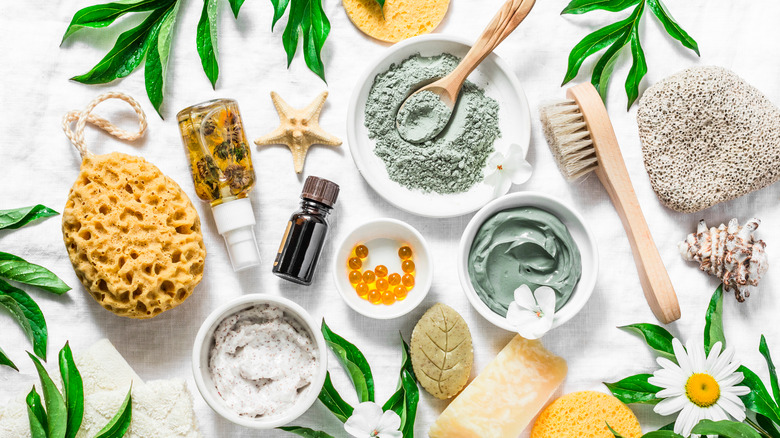 Kiian Oksana/Shutterstock
At-home spa fans should also limit how many times a week they are using a face mask. If you notice your skin is getting too dry, cut back on mask usage. Once or twice a week should be sufficient to reap the glowing benefits from your mask (via Honor Health). If you notice your skin becoming irritated from your face mask, stop using it, and look for a more naturally made substitute. 
When seeking out the best face mask for hydration, read reviews, look at the ingredients, and make sure they are from cruelty-free companies (via Healthline). Products like Youth to the People Superberry Hydrate or First Aid Beauty Ultra Repair Oatmeal masks are highly reviewed and affordable products that will help you hydrate your skin.
Whether you are using a cream, clay, powder, or gel, your face mask experience can be a calming one (via Healthline). As long as you monitor how long you keep yours on, how many times a week you are masking, and what ingredients are included, you can rest assured that your skin will benefit from the hydrated, gorgeous glow that face masks provide.