The One Color That Will Make Every Outfit Look Expensive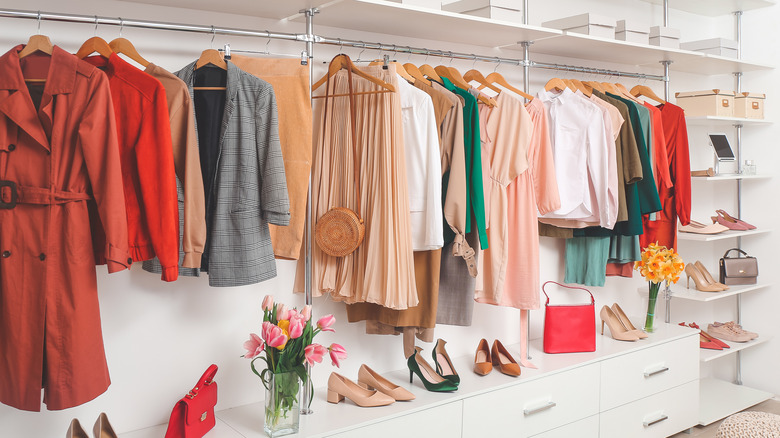 Pixel-Shot/Shutterstock
Color is a powerful instrument for communication that is able to elicit a wide range of emotions, and it can even impact your mood. As The Good Trade puts it, "The color of our clothing serves as a signal to others; it tells them who we are." For example, bright hues like yellow and orange can make you feel happier. Shades of red can be a sign of seduction, and blue hues can combat stress. Chocolate brown and charcoal can help you command a room without saying a word (via Glamour).
Depending on their personality and preferences, everyone has specific shades they reach for in certain situations. What would be your go-to shade if the message you're trying to convey is "simple yet thought-provoking" or "approachable yet high-class?" If your dressing goal is to make all average-looking clothes look luxe, there's a simple styling hack that can help you nail any look without having to pile on costly accessories and jewelry. With this one color, you can kick your style up a notch and feel like a million bucks.
White exudes chicness and confidence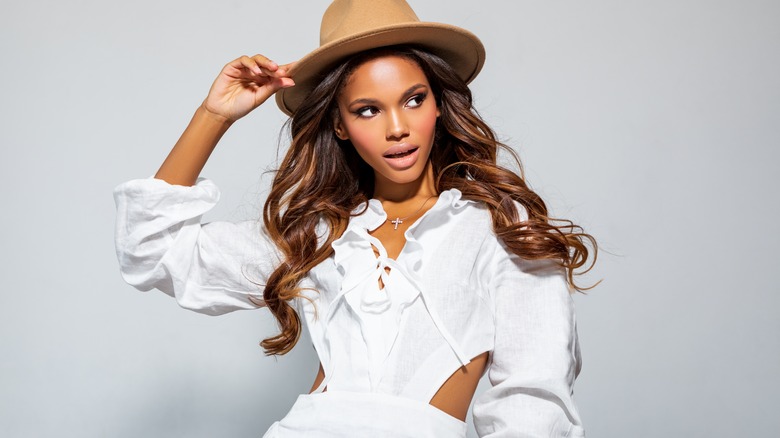 Sean Zanni/Getty Images
The award for the one color that makes every outfit look expensive goes to ... white. According to Gcensa, the impracticality of the color white is exactly what makes it look chic and luxurious.
White clothing has existed since ancient times, from Egyptian robes to Grecian tunics and Roman togas (via Mevrian). Modern-day devotees of the color white include brides, physicians, and the Pope, all of whom are easily recognizable by their all-white garments. The color also looks good on the everyday person because no matter your skin tone, there is a shade of the color white that will be complementary to your complexion (via What Every Woman Needs). 
According to Sage Moon, white clothing can also amplify your aura, making you radiate a strong sense of identity and a powerful presence. Very appropriate given it is also a symbolic color of women's rights, according to Greenwich Historical Society. During suffrage movements as early as 1913 to as recently as 2020 when members of the United States Congress wore white pantsuits to protest then-President Donald Trump, white is viewed as the color of solidarity for important causes. 
Style tips for wearing white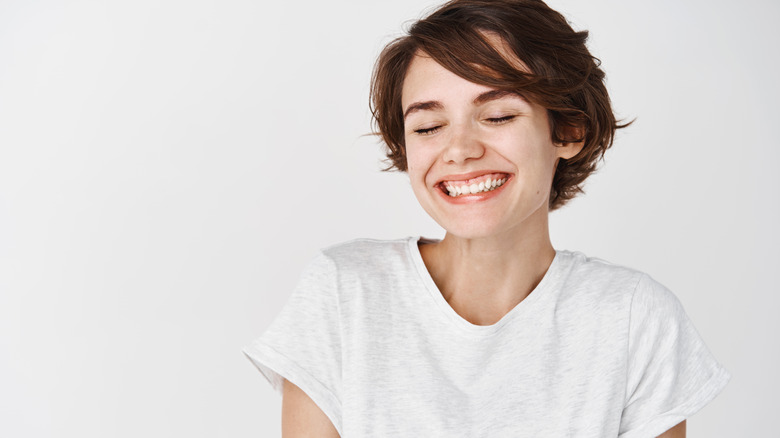 Cookie Studio/Shutterstock
White is extremely versatile. From white jeans to white sneakers and white boots, you can really experiment with the classic hue. 
A monochromatic white outfit is modern and cool, but you can also freshen it up with a pop of vibrant color, such as a red scarf or a green purse, to add a touch of personality and contrast. For a feminine look, StyleCaster recommends adding a pair of pointy-toe black pumps and a structured bag to your little white dress.
Fabric choice matters, too, according to image consultant Diana Pemberton (via Fashion for Real Women). "You can wear white all year 'round provided it's in a season-appropriate weight and fabric," she recommends. Opt for flowy, lighter fabrics like cotton in the summertime and stick to corduroys and wools in the winter. And skin-toned undergarments are a necessity.
A white t-shirt can be paired with everything from blazers and leather jackets to wide-leg trousers and mom jeans (via StyleCaster). No matter what look you're going for, or what season, you'll never go wrong with incorporating the color white.