The Summer Braid Look You're Going To Want To Copy ASAP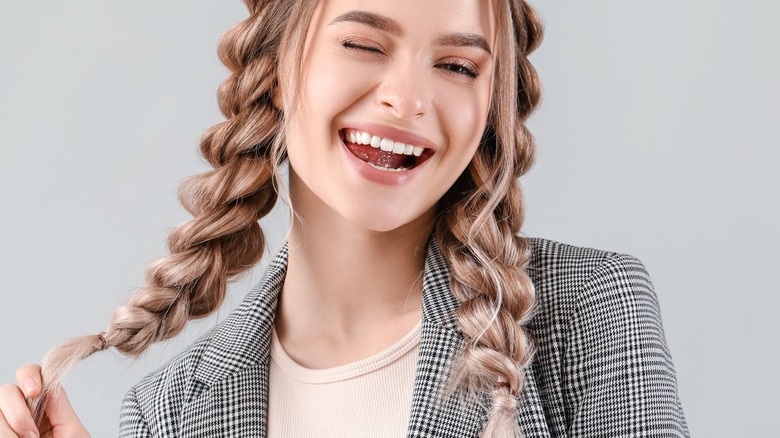 Pixel-Shot/Shutterstock
We may receive a commission on purchases made from links.
Braids are so much fun because there are so many different styles to explore. The possibilities are endless, from bold Dutch braids to adorable braided pigtails to intricate fishtail braids. And, of course, we can't forget the sleek side braid that's still ultra-popular thanks to the signature side braid Jennifer Lawrence flaunted in her famous portrayal of Katniss Everdeen in "The Hunger Games" (via YouTube).
Furthermore, the beautiful and talented Taylor Swift received millions of likes on Instagram when she wore her iconic blond hair in a French braid for a nature-inspired photoshoot to promote her "Evermore" album. Thus, celebrities seem to love experimenting with braids.
In 2022, another braid style has been trending, and it's a Y2K hairstyle that's making a comeback: the face-framing baby braid look. We've all seen how those Y2K-inspired face-framing tendrils have been resurging, so this is a braided spin on that girly early-2000s trend. If you like braids and face-framing tendrils, this hairstyle is a must-try.
Face-framing baby braids are everywhere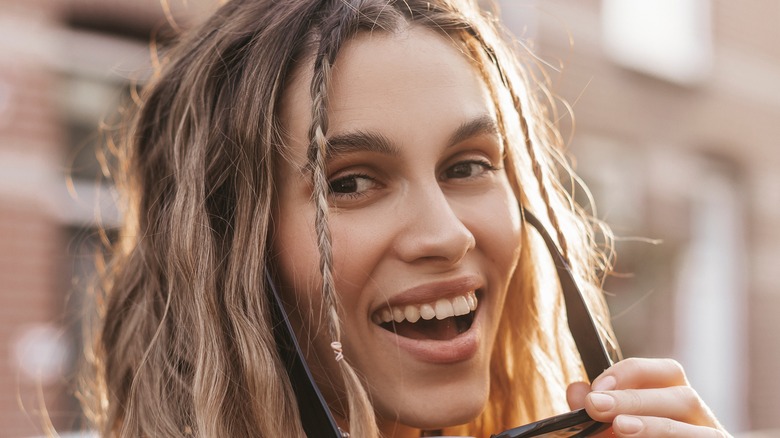 Ekateryna Zubal/Shutterstock
The baby braid look has been one of the hottest trends of summer 2022. After all, countless videos popped up when we searched #babybraids on TikTok, and we know that when people can't stop talking about any trend on TikTok, it's a significant one. Plus, some of the most highly-talked about celebrities we can think of have been rocking this trend. For instance, the gorgeous Hailey Bieber has worn the face-framing baby braid look on multiple occasions. In one adorable post, you can find the supermodel being affectionate with her famous husband while she shows off the baby braids in her wavy locks. Another time, she even styled the baby braid style with a trendy bucket hat (via Instagram), so it's no secret that Mrs. Bieber loves the baby braid look.
But Bieber isn't the only famous face flaunting the braided tendril trend. "Stranger Things" star Millie Bobby Brown showed off sleek baby braids as she put on shiny pink lip gloss in a glamorous Instagram post. The beautiful supermodel Gigi Hadid jumped on board this trend, too, with a long baby braid in front of the rest of her platinum blond tresses and a white backward baseball cap (via Instagram). Moreover, reality star sisters Kendall and Kylie Jenner rocked subtle baby braids in their luxurious dark hair as they promoted their collection for Kylie Cosmetics. Celebrities can't get enough of the baby braid trend!
How to create this look
If all the social media posts and celebrities have convinced you to try wearing face-framing baby braids, you should start experimenting with the trend. This hairstyle isn't too advanced, so if you're not experienced with styling hair, it's nothing to stress over. A YouTube tutorial by Color Wow Hair showed the steps to achieving this Y2K-inspired hairstyle for anyone ready to give it a chance. First, it's a good idea to blow dry and brush your hair and put in any products you use to help it look smooth and shiny as a baseline for this look. Next, take two sections in front of your face and braid them like you usually would braid hair with the three-section technique. Then, secure the slim braids with a hair tie, and that's it!
When securing your petite braids, it's best to use a clear, mini hair tie so it won't fall out or distract from the braids. The GOODY Ouchless Women's Polyband Elastic Hair Tie set is Amazon's Choice for this type of product; it even has 4.5 out of five stars and more than 15,000 ratings. You can purchase it for less than $5 on Amazon. Now, are you ready to explore the face-framing baby braid trend?