How To Get The Hotel Bed Feel At Home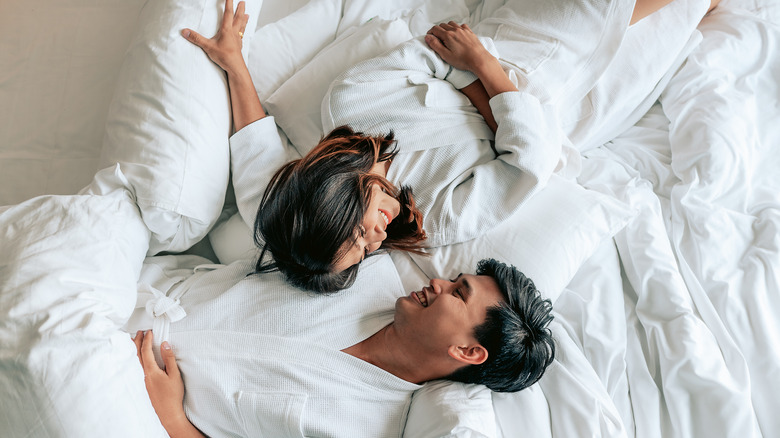 fizkes/Shutterstock
Whether you're traveling for work or for pleasure, there is nothing like the luxurious feel of a hotel bed. The soft, sinkable pillows, the crisp white sheets, and the gorgeous duvet covers. They all invoke feelings of bliss and comfort. 
The mystery as to how hotel beds are so comfortable somehow only adds to their appeal. And the letdown you feel at the end of a trip knowing you have to return to reality and to the beds in your own home is real.
Rather than continue to miss comfy hotel beds, try recreating the feel of them in your bedroom at home. It's actually easier than you would think, and you don't even have to spend an arm and a leg to do it. By focusing on a few key components, you can achieve the feel of a plush hotel bed every night and wake up feeling refreshed every morning.
The essential pieces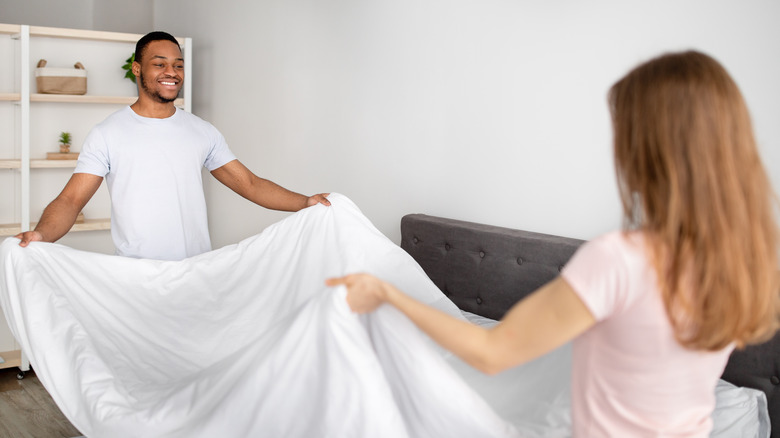 Prostock-studio/Shutterstock
When you think of hotel beds, your mind probably goes straight to what touches your body first: the sheets. When considering what type of sheets to purchase for your bed, thread count is the most important thing to consider. The Zoe Report recommends looking for sheets with at least a 300 thread count. The higher the thread count, the less the sheets breathe, so those looking for a cooler night's sleep should opt for a lower thread count. If you're really looking for a real hotel aesthetic, consider all-white sheets. In addition, try to purchase multiple sets so that you always have one on hand (via HGTV).
As for your pillows, if you are the type of sleeper who prefers to sink their head into a soft pillow at the hotel, look for one filled with down, according to The Zoe Report. For a firmer rest for your head, choose a feather-stuffed pillow instead. When it comes to duvets, goose-down or duck-down ones are the way to go for their soft but substantial feel. And while a duvet may be the most expensive part of your bedroom makeover, you'll be glad you made the investment when you snuggle in its cloud-like softness.
The finishing touch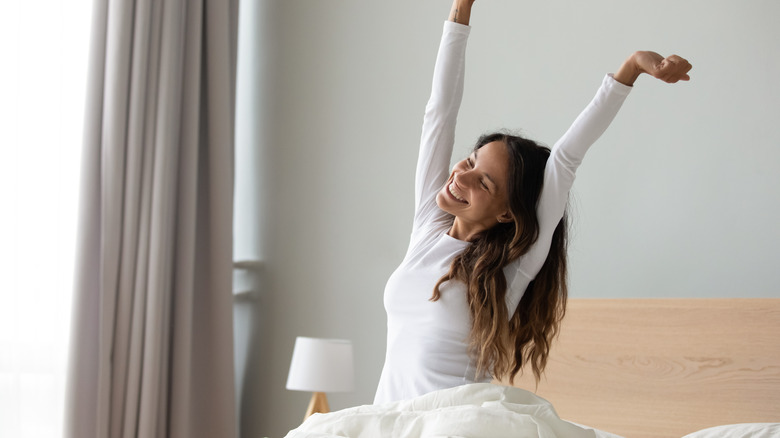 Day Of Victory Studio/Shutterstock
The last element that you may need to buy is a mattress. Mattresses can be wildly expensive, but if you're in the market for a new one, you may want to consider a statement bed to really add flavor to your room (via Style by Emily Henderson). Because your bed is probably the main focus of your bedroom, it makes sense to get creative with this final piece. 
When it comes to mimicking that fresh, clean hotel feeling, the care of your sheets and pillows matters. Try to wash your sheets every week and your duvet cover once a month, and add a little starch, Amanda Arling, president of the Whaler's Inn in Mystic, Connecticut, told The Zoe Report. And don't forget the famous hotel fold. "We tuck the ends taut as we can to remove all creases, which is what gives it that crisp hotel look," Brian Standley, director of rooms at the Beverly Hills Hotel, told The Zoe Report. "Make sure the duvet, sheets, and pillows are all as symmetrical across the mattress as you can get it."
It's easier than ever to get the feel of a hotel bed in your own bedroom. Begin your makeover with small changes to your sheets, pillows, and duvet comforters, and welcome that hotel experience into your very own home.