How To Protect And Revive Your Curls When Traveling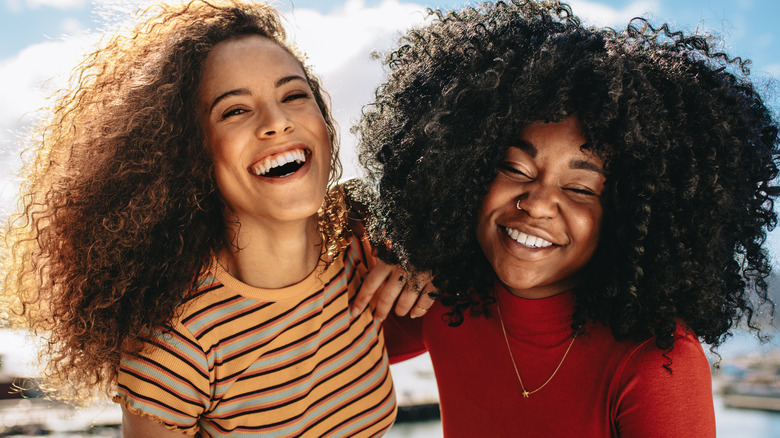 Jacob Lund/Shutterstock
When we think about traveling, our minds tend to first focus on things like finding the best deals on flights and accommodations and choosing which outfits we are going to pack. How we will keep our hair healthy on our trip usually isn't top of mind for most. But as it turns out, traveling may be great for the soul, but it's not always easy on the hair. Especially for those with naturally curly hair.
Advertisement
Spending hours at high altitudes in an airplane causes hair to dry out and produces annoying flyaways, according to Robert Eaton, creative director at Russel Eaton salons (via Layered). And fluctuations in humidity, sun exposure, and hard water can have a negative impact on the hair, trichologist David Salinger tells Body + Soul.
As a result, it's not uncommon to set out on a journey with bouncy, hydrated curls only to return from your getaway with a head full of frizz. Even if you can't keep up with your usual haircare routine while traveling, you can still maintain the health and look of your curly locks with the following tips.
Keep curls frizz-free and clean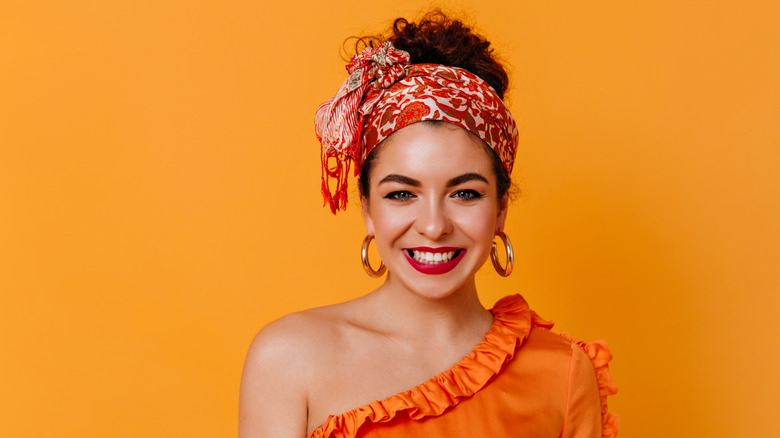 Look Studio/Shutterstock
To keep her curly hair in tip-top shape while flying, jet-setter René Daniella of Own By Femme tells Ouidad that she always wraps her curls in a satin scarf or headwrap to smooth frizz and retain moisture. Bonus: a cute scarf adds a stylish touch to your airport look. Combining a scarf with the pineapple technique — when you tie your hair up in a loose pile of curls on top of your head, mimicking the shape of a pineapple — prevents flattened ringlets and tangled knots that can occur from rubbing your head against an airline seat. Rene also suggests bringing your own silk pillowcase to use at your hotel. It will help minimize friction while you sleep and boost hair hydration, leaving you to wake up with soft, frizz-free hair.
Advertisement
As a good friend to any curly girl, dry shampoo can freshen the scalp by soaking up oil and sweat that can weigh curls down, according to Southern Living. If you're on the go and don't have time to wash regularly, dry shampoo is your best bet to keep your curls clean and rejuvenated.
Protect curls with a heat/UV protectant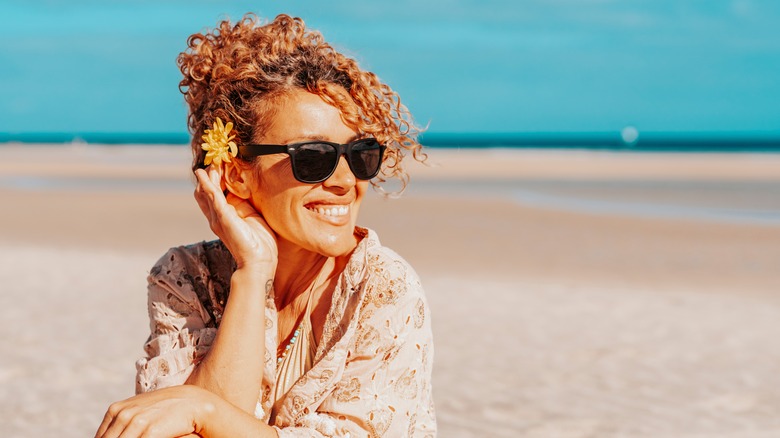 Cast Of Thousands/Shutterstock
Sunlight might feel good on the skin, but too much of it can cause damage, even to your hair. According to Papilla Haircare, sun exposure can make your hair so brittle and dry that it can't hold any curls or styles. If you'll be outdoors for long periods of time, always apply a heat/UV protectant spray to your hair before going out. The spray will shield your hair from damage from the sun and protect its cuticle structure.
Advertisement
Another way to protect your curls is to do a deep hair conditioning treatment a day before your trip, according to NaturallyCurly. Deep conditioning can hydrate your hair, boosting its elasticity and moisture content. You can hit the salon for the treatment or DIY it. To do so "apply the conditioner an inch or so below your roots, and work it down the hair shaft and into the ends. Cover with a plastic cap and let it sit on your hair for 20-30 minutes before rinsing thoroughly."
It's hard to enjoy your trip if you're dealing with a dry, damaged mane. Hopefully, the aforementioned tips can help you maintain the health of your curls so you can return from your holiday refreshed from head to toe.
Advertisement