The Blink-And-You'll-Miss-It Tarte Cosmetics Deal You Don't Want To Miss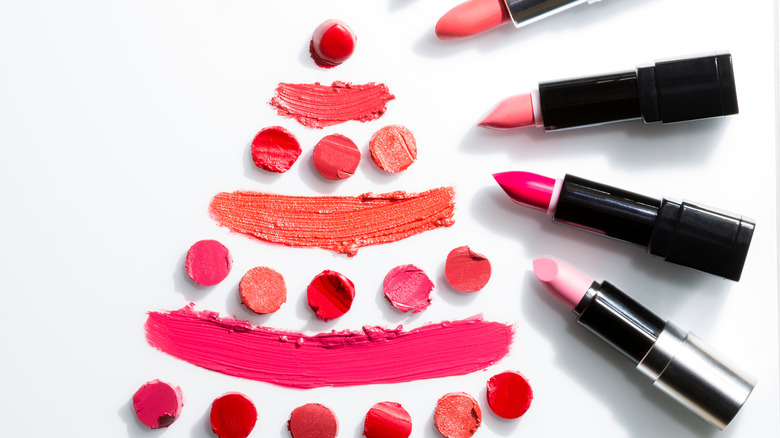 Charlotte Ulrich/Shutterstock
Santa's workshop has relocated to QVC. If you're getting a headstart on your holiday shopping (or are looking for an excuse to treat yourself), you're not going to want to miss out on this Tarte Cosmetics deal. As PETA notes, Tarte is renowned for its cruelty-free formulas and incorporation of natural ingredients. The brand's focus on quality can often lead to a higher price point. Fortunately, just in time for the colder temperature, QVC is hosting a massive deal on some of Tarte's most luxurious lip care products. 
We're all painfully aware of the chapped lips that accompany the holiday season. According to Daniel Glass, a dermatologist who spoke to The Guardian, this is largely due to the lips' keratin becoming inflexible in colder air. "Lips become sore, cracked and scaly," he explained. However, before you get caught giving scratchy kisses under the mistletoe, you can invest in these Christmas care packages.
QVC is offering a discounted lip care library
Everyone likes a shopping spree, so it's a happy coincidence that buying makeup in bulk can often save you quite a bit of money. Now, QVC has assembled a nine-piece lip library to make your large-scale choices easy. The package includes three lip balms, three lip plumps, and three lip cremes. Best of all is the price: QVC is retailing the library for $73, but currently has a Black Friday sale price of $62.96. With nine separate products included, that means you're getting each tube for less than $7. To put this in perspective, you should know that buying each product individually from Tarte Cosmetics would set you back a staggering $189! 
The nine products range in shades from blush pink to a deep berry — a whole rainbow of pinks that are sure to keep your holiday season merry and bright. And, just when you thought this couldn't get more perfect for gift-giving, wait until you see its packaging. The products are stunning in Christmas-colored tubes and packaging, making you feel festive as you put on your daily lip products.
These Tarte products make for perfect stocking stuffers
QVC seemed to know that its game-changing sale came just in time for the season of Santa Claus and presents hidden under the Christmas tree. Its exclusive library collection comes with stunning packaging that makes these products perfect stocking stuffers. In fact, each collection includes three gift bags, decorated with uplifting quotes. 
If you choose to give this collection as gifts, how you distribute the products is entirely up to you! Create a bag for each of the three product types, or mix and match them for a fun surprise. If you choose to keep the whole nine-piece collection for yourself, which we certainly wouldn't blame you for, the bags make them highly transportable and a decorative addition to your vanity. 
So, what are you waiting for? The collection has already garnered stellar reviewers, with one commenter sharing that they've been perfectly willing to pay full price in the past because "they're THAT good."