The '00s Eyeliner Trend That Is Making A Serious Comeback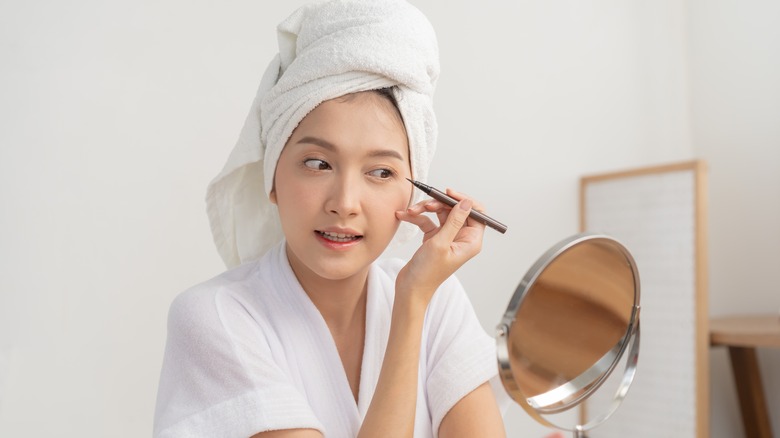 Kmpzzz/Shutterstock
There aren't many trends that have the ability to take over an entire year. However, the 2000s and 90s revival looks have completely transformed fashion and beauty trends. It's like everywhere we look the early 2000s have reemerged to rule everything from fashion to beauty. When it comes to beauty, it seems like the Y2K method has come to reintroduce nostalgic trends but better. Since beauty is constantly evolving and transforming, it's no secret that these nostalgic styles are being remixed to fit a modern era. However, if there's one thing that's certain, it's that the Y2K approach isn't going anywhere.
In fact, with so many techniques to choose from, it can be overwhelming. Luckily, Yanni Peña, a New York-based makeup artist, tells Bustle, "I love makeup that tells a story, especially if it's one where you're out all night and not home until the morning. This trend embraces your natural eyelid color and texture; glossy/oily lids, burst of fresh color, second skin qualities; diffused and melted, perfectly imperfect — your makeup is supposed to look a little smudgy, but not messy." Thankfully, if you want to achieve this version of Y2K, one of the most iconic eyeliner trends is coming back to serve serious business.
What to know about the waterline eyeliner trend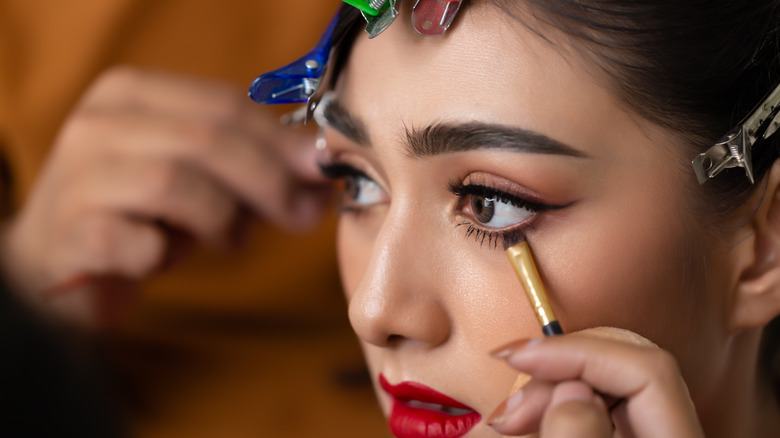 Nutlegal Photographer/Shutterstock
The nostalgic eyeliner trend is about taking advantage of every space available. In other words, if you want to make a major impact with your eyes, adding eyeliner to your waterline is one to make a statement. The waterline eyeliner trend consists of adding more intensity to the bottom of your eye to make it more focused. Luckily, there are many ways you can go about adding eyeliner to your waterline. As TikTok user, Kam Gregory demonstrates, going from white to black eyeliner will create varied looks.
Nowadays, however, the waterline eyeliner technique is about controlling your application and keeping it to a minimum. To make this trend look modern and elegant, keep your eyeliner strictly to a single, straight line. As we saw on actress Gemma Chan via Instagram, adding a small amount of eyeliner to your waterline can give you a stark makeup look. Chan's eyeliner combines a soft, barely-there smoky eye and winged liner for the ultimate nighttime look. In fact, combining your waterline eyeliner with another recent trend is another way you can update the nostalgic look.
How to apply waterline eyeliner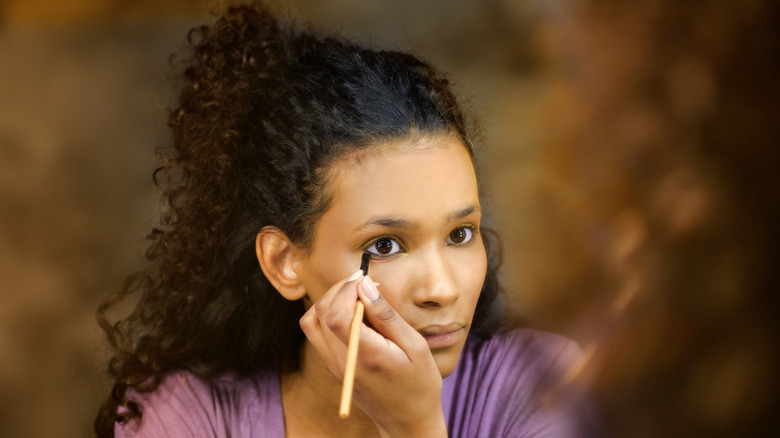 Photology1971/Getty Images
Unfortunately, applying eyeliner to your waterline isn't as easy as picking up any eyeliner and putting it on. Before you use any eyeliner at your disposal, there are a few factors you need to consider. For starters, Rimmel London suggests curling your eyelashes before even grabbing your eyeliner. The small hack makes the application simpler because it'll get them out of the way and give you a better view of your waterline. You also want to practice applying your waterline eyeliner before you head out for the day. If you aren't used to applying anything on the lower line, this could be uncomfortable in the beginning. Therefore, start by practicing your application at home to get familiar with the placement of your waterline.
The waterline can also be a sensitive area to add makeup, according to L'Oreal Paris. Because of the proximity to the eye, ensure that you pick up an eyeliner that's waterproof and safe for the eyes. It's not recommended to use liquid eyeliners, as they will run and could be harmful to the eyes. If your eyeliner is still running, regardless of the formula, try swiping a cotton swab over your lower line to absorb the extra moisture. If you're afraid of your waterline eyeliner running or smearing, add an eyeshadow of the same shade on top to act as a setting powder.