Tricks To Make Your Makeup Last All Day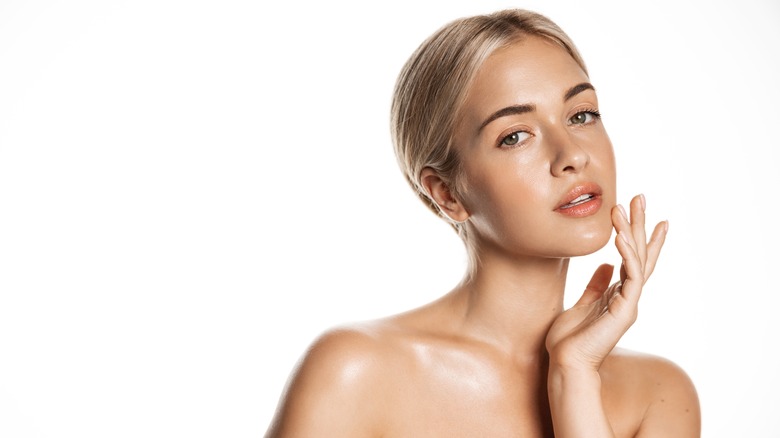 Lyubov Levitskaya/Shutterstock
There's nothing more frustrating than leaving the house with a gorgeous face of makeup only to find that your lipstick has worn off and your foundation has disappeared within mere hours. We can't always touch up our makeup throughout the day, so ensuring that it's long-lasting is important.
There are several reasons why your makeup may not last all day, including weather, skin type, and how much you're touching your face. Not using products that are made specifically for your skin's needs or not using the proper base and setting products with your makeup can also affect how long it will last.
Fortunately, there are a few ways that you can keep looking like you've just stepped away from the makeup chair all day long. Whether you love a fresh-faced, barely-there look or are hitting the town looking red-carpet-ready with a full face of glam, we've compiled some tricks to make your makeup last all day.
Prep your skin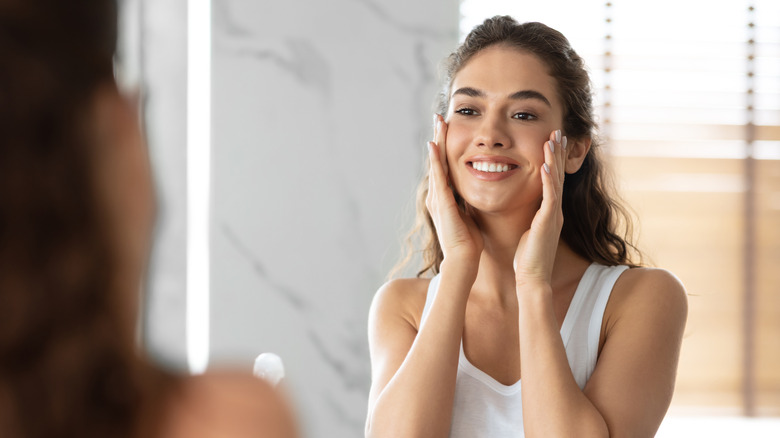 Prostock-studio/Shutterstock
Getting your skin ready for your makeup is just as important as the makeup you use. Your skincare routine can have a big impact on how long your makeup will last, which is why it's so important to prep your skin before you apply your makeup. Starting with clean skin should be a priority, but you'll also want to ensure you're exfoliating a few times a week to remove any dead skin cells or oil buildup on the surface. This could have a major impact not only on how smoothly your makeup goes on but also on how long it lasts. "Exfoliating your skin is one of the most important things you should do in general and especially before applying makeup," pro makeup artist Gabriel Almodovar told Makeup.com. "Exfoliation should only be done about twice per week. You need to let your dead skin cells build up before you can exfoliate them."
You'll also want to make sure you're moisturizing your skin before applying your makeup. Not only will this help keep your skin hydrated but it also helps your makeup apply evenly. And don't forget your lips when prepping your skin. A gentle exfoliant or scrub can keep your lips smooth and get rid of any chapped or flaking bits while using a regular lip mask, balm, or moisturizer can keep them primed for any lip product you choose.
Use a setting spray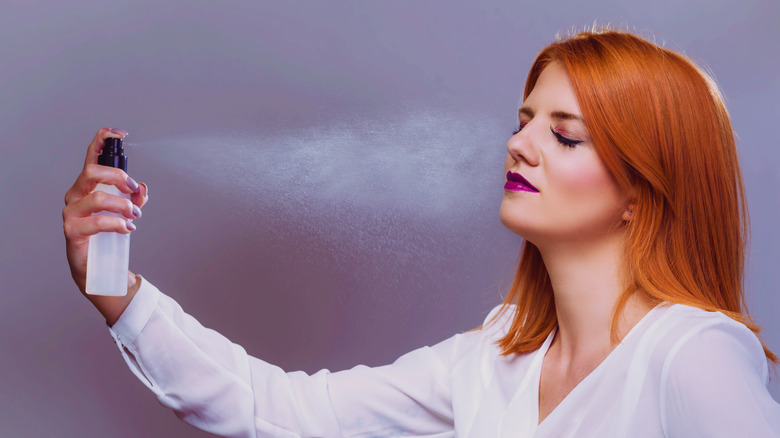 Lordn/Shutterstock
You may be accustomed to using a setting spray after applying your makeup to help set it in place and make it last, but did you know you can use your setting spray before you apply your makeup? TikTok user Rose Siard of Rose and Ben Beauty posted a video on TikTok explaining that using setting spray after you apply your makeup can actually "cause your makeup to crease, and even lift," which is not ideal. Instead, Siard suggests applying your setting spray just after you've applied your foundation and concealer. She recommends spraying a puff or sponge with the setting spray, then "press[ing] it into your foundation and concealer before it's set." Follow that up with your powder to "set your setting spray."
Other makeup artists concur that this method can aid not only in helping your product last longer but in helping it apply more smoothly too. "Lately, I've been setting my face with the Urban Decay All Nighter Long-Lasting Makeup Setting Spray between every cream product and I am shook with the results," celebrity makeup artist Shadi Malek told TZR. "It lasts all day and the way the powder sits seamlessly on top is flawless."
Use a setting powder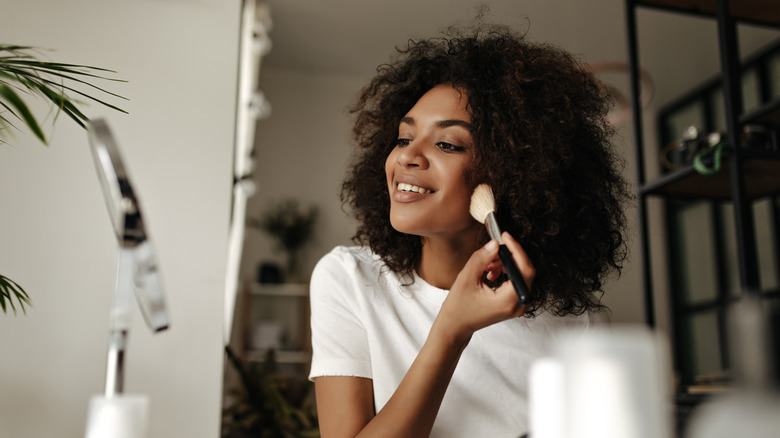 Look Studio/Shutterstock
Finishing your completed makeup look by applying a setting powder can help your makeup last longer and look better. "Setting powder's purpose is to hold makeup on all day and night," makeup artist Alexa Rae Johnson explained to Ipsy. "This powder soaks up excess oils in the skin as well as in liquid foundation products in order to hold liquid makeup on for a longer amount of time."
A setting powder can also be applied throughout the day as well, which is easier than having to reapply all of your makeup. It's also easier to simply carry your setting powder with you than your entire makeup bag. The powder is light and often translucent, so it won't feel like you're caking product on your skin. "Setting powder can be layered on top of makeup many times to control oil throughout the day," Johnson added. Take a powder brush and dip it into your setting powder then gently apply it to your face. If you have areas that are more prone to being oily, you can add an extra layer of powder there.
Use products that are tailored to your skin type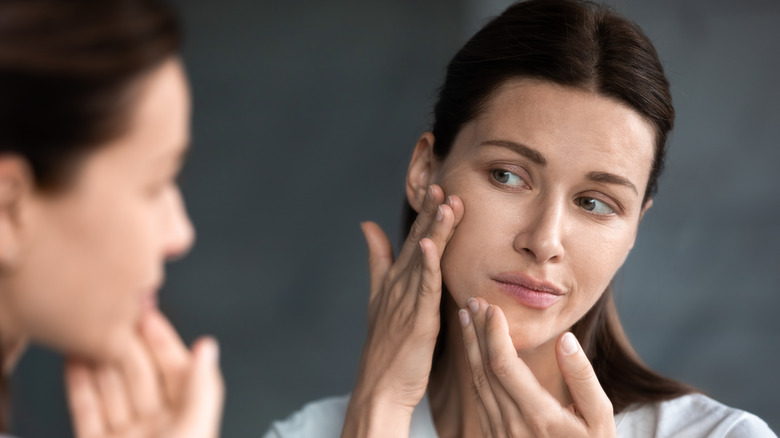 fizkes/Shutterstock
It's important to understand your skin type to ensure you're buying and using products that are tailored to your skin's needs. Whether you have oily, dry, or combination skin, using products made for your skin type can have a big impact on how well your makeup will go on and how long it will last. "The most common problem I encounter is people wearing foundation formulations that aren't suitable for their skin type," makeup artist Sophie Pasola told Cosmopolitan.
If you've noticed your makeup isn't lasting like you think it should, you may need to switch things up and try products that are specifically designed for your type of skin. Those with dry skin may need to search for a more moisturizing product or use cream-based products, while those with oily skin may need to invest in more powders and shine control products. Makeup isn't one-size-fits-all, so even if there's a new product that's gone viral that you need to try, know that it may not work for you simply because of your skin type.
Apply a second layer of concealer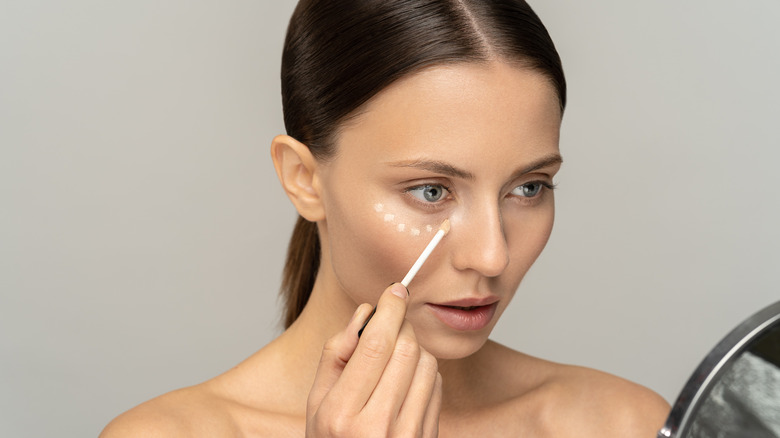 DimaBerlin/Shutterstock
Many of us use concealer to hide those odd imperfections on our skin or camouflage those stubborn dark circles under our eyes. "Whereas foundation goes all over the skin to even it out and make it look healthy, concealer is for targeted imperfections," celebrity makeup artist Melissa Murdick told Insider. However, one way to help your makeup last all day that you may not know about is to apply a second layer of concealer.
If you're someone who uses concealer when applying your makeup, makeup artist Ashely Gomila told Ipsy that applying concealer first, followed by foundation, and then layering another layer of concealer after that can help your makeup stay on all day. Ensuring you're using the right shade concealer for your targeted areas is key to creating a natural-looking finish, even with the second layer. "Look for pink colors if you're fair-skinned, salmon if you're medium-toned, and peaches and oranges if you're olive- or darker-complexioned," makeup artist Suzy Gerstein told Byrdie.
Use quality makeup brushes and sponges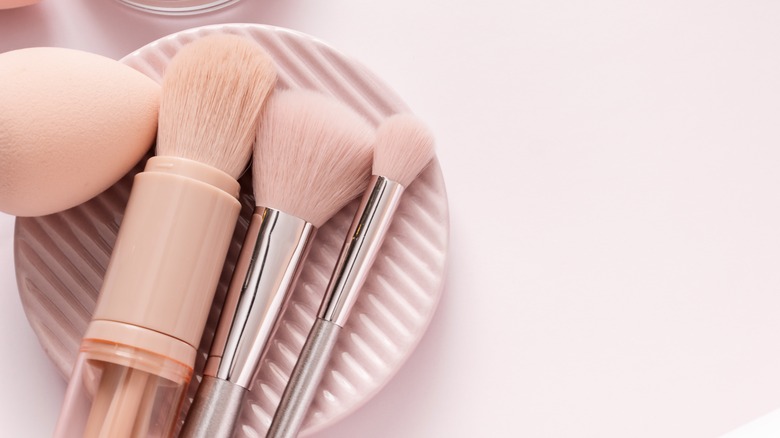 ZulyaGayn/Shutterstock
Using quality makeup brushes and sponges not only helps give you a professional-looking makeup application as well as ensure the proper use of your makeup, but it can also help your makeup stay on all day as well. Taking care of your makeup brushes is also important, which means cleaning them regularly and replacing them when they start to show signs of wear and tear, like losing bristles.
Quality brushes simply give you a better makeup application versus more inexpensive options. They allow your products to be applied more seamlessly and blended to perfection, allowing you to use less product and have less waste. So not only will your makeup last you all day, but you'll love how it looks, too. A good makeup brush is an investment that is worth it in the long run because if you take care of your brushes and wash them regularly, they will last you longer than an inexpensive brush you have to replace more often.
Layer your products properly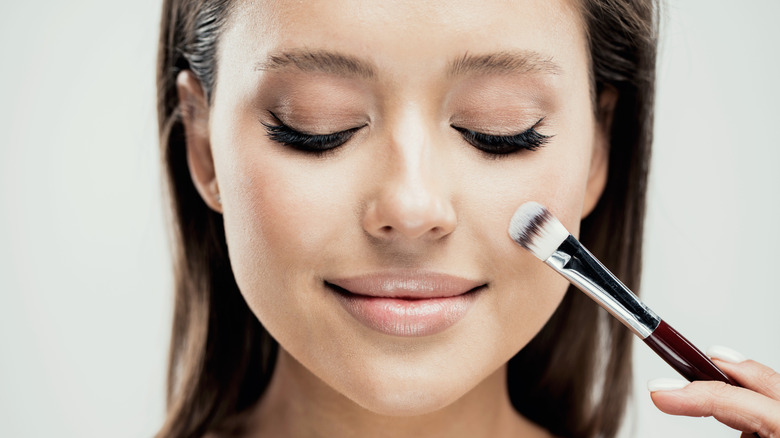 muse studio/Shutterstock
Not everyone is a pro when it comes to makeup application, but there are a few tricks that can help your makeup last throughout the day. One of those is knowing how to properly layer your products. Using concealer, foundation, powder products, cream products, and liquid products can be overwhelming, and knowing the proper order of when to apply all these products can make a difference in how long your makeup will last.
Start with your foundation, followed by concealer (or, as we mentioned above, you may want to try a double layer of concealer). Then, if you're using cream or liquid products, you should set them with a setting powder before applying the next layer of makeup. Setting any cream or liquid product with a setting powder before layering another product on top can make a huge difference in the longevity of your makeup. This applies to eye makeup as well.
Hydrate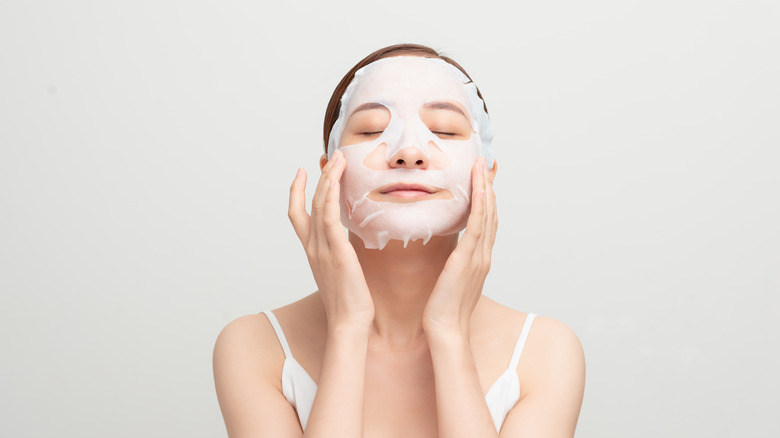 Makistock/Shutterstock
Properly moisturizing your face is important for healthy skin, but if you're looking to have your makeup last all day, you'll want to ensure your skin isn't just moisturized, but properly hydrated. Proper hydration doesn't just happen overnight and is the result of getting lots of sleep, limiting caffeine and alcohol, and drinking lots of water, but you can always give your skin a boost with a hydrating mask. "Prep your face with a hydrating mask, celebrity makeup artist Jamie Greenburg told Today. "It'll balance out your skin and get it makeup-ready."
Makeup icon Bobbi Brown agrees that hydration can help with your makeup lasting all day. "Nourishing dry skin with extra hydration prevents your makeup from flaking off and peeling during the day," she shared with MasterClass. A hydrating mask will work great before your makeup application, but you should also be looking for products that contain hydrating ingredients, especially if you suffer from dry skin. Brown recommends liquid foundations with hyaluronic acid for those with dry skin, while a powder foundation with salicylic acid and mattifying properties is great for those who are prone to oily skin.
Warm up your foundation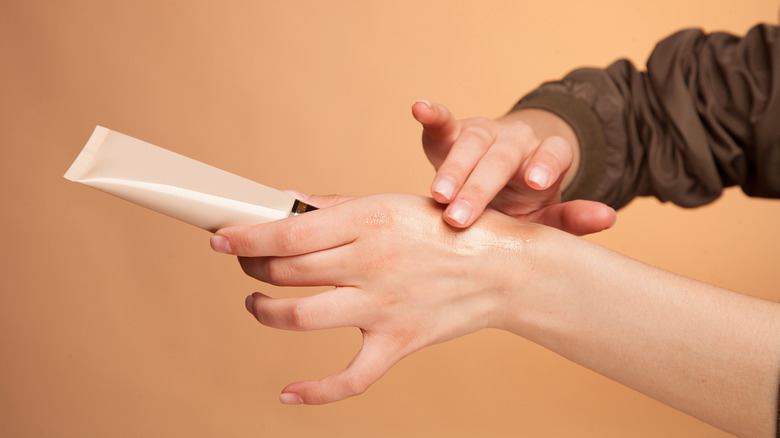 Sandratsky Dmitriy/Shutterstock
Regardless of whether you use a brush or sponge to apply your foundation, some makeup artists suggest that warming up your foundation using your fingers will give you better blending, which will increase how long your makeup will last on your face. "The warmth of your fingers warms the product up and the pressing motion allows the product to become part of your skin and not sit on top of your face," celebrity makeup artist Natasha Severino told NewBeauty. "By it not sitting on top of your face, the product is less likely to slip or transfer off."
Warming up your foundation by applying it to the back of your hand first, and using your fingers, or a brush or sponge, to warm it up a bit before applying it your face also thins out the product, allowing for better coverage. You'll want to buff the product onto your face instead of brushing it on to avoid streaking and give yourself a more natural look.
Check for expiration dates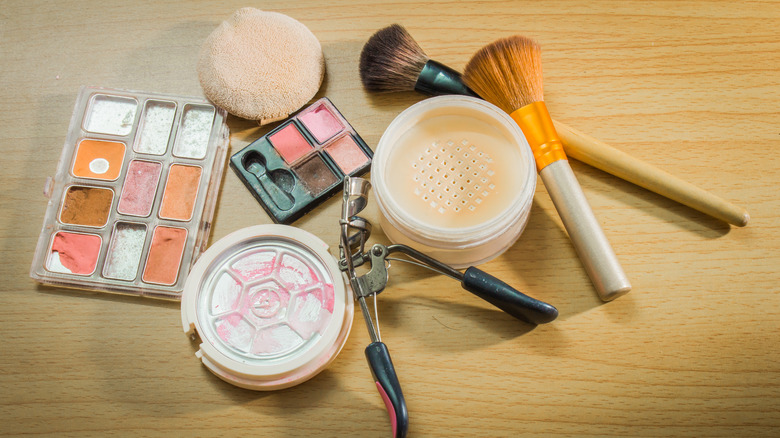 Turian/Shutterstock
You've probably heard about expiration dates when it comes to mascara or eye makeup, but all makeup products have them. Older makeup simply won't wear as well or last as long because it's past its prime, which is why it's important to check the expiration dates on all your products. Even makeup that hasn't been opened or used can dry out or even separate if it's past the expiration date.
Makeup that's been opened can contain bacteria if left too long which can be harmful to your skin. "Skin irritations such as rashes, bumps, and burning sensations can occur when using expired products," makeup artist Ashely Rebecca told Byrdie. "If you use mascara or eyeliner that's past its expiration date, you can experience swelling, itchiness, or redness. 
It's always a good idea to keep an eye on the expiration dates of your products and toss out anything that you've had for a while, or that looks or smells off. Not only can older products be harsh and irritating on your skin, but they just won't work as well as newer products.
Look for the long-wear label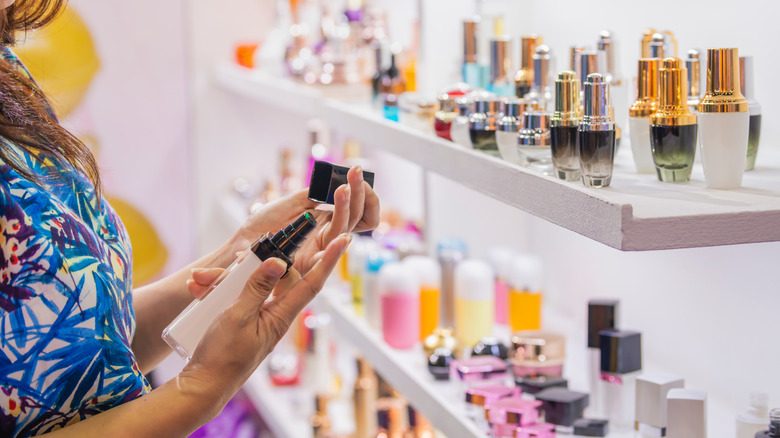 Shine Nucha/Shutterstock
If you need your makeup to last all day, you should be looking for products that have a 'long-wear' label. "Long-wear products are made with different formulas and ingredients to help keep the product on for dramatically longer than a traditional formula," makeup artist Mary Irwin told Well+Good. This can make a huge difference in products like lipstick and foundation which tend to wear off more quickly and more noticeably than other products.
Longwear products may not be ideal for everyone for everyday wear, especially if you have dry skin (they tend to contain less oil than their regular counterparts) but they can certainly perform well for those special occasions where you know you won't be able to be touching up your makeup throughout the day. Even if a long-lasting foundation or powder product doesn't work well for you, you can still invest in a long-lasting lip color or eye product.
Keep it light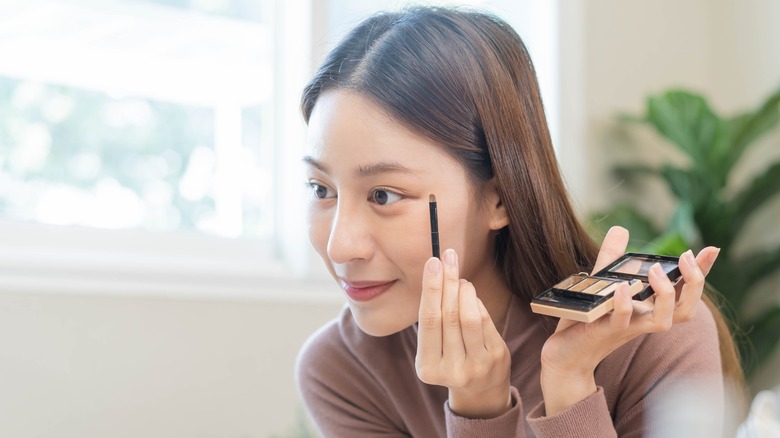 Kmpzzz/Shutterstock
Less is more when it comes to your makeup lasting all day. You may feel that adding a bit more foundation or eye shadow is necessary when you want your look to last from day to night, but some makeup artists suggest you should go lighter with your coverage. "The key thing is to keep it light," MAC's global senior artist Dominic Skinner explained to Cosmopolitan. "Lots of fine layers will last a lot longer than thick and heavy ones."
Celebrity makeup artist Jillian Dempsey agrees. "You also want to try to avoid suffocating the skin—that, I believe, is where everyone goes wrong," she told NewBeauty. "If you suffocate your skin by trying to cover it up too much with all of the products, you're going to have a losing battle." It can be tempting to layer on the products in the hopes that they will last all day, but you may just end up with blotchy, patchy, and uneven coverage.
Use an eyeshadow primer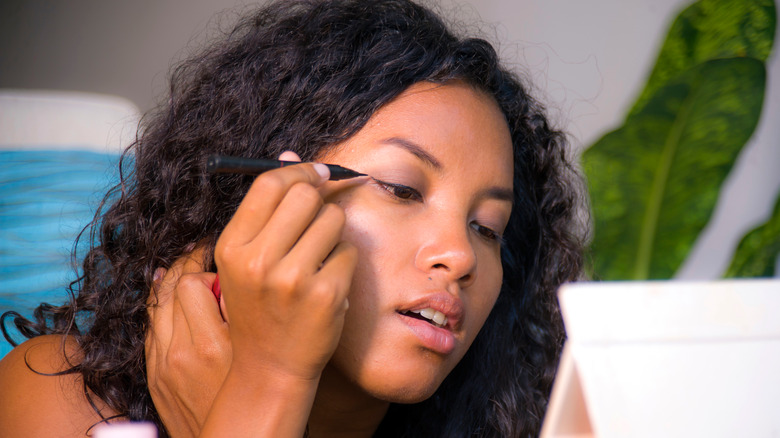 TheVisualsYouNeed/Shutterstock
Using a primer for your eyes is a crucial step in making your eye makeup stay put from day to night. Using one preps the skin on your eyelids to allow your makeup to glide on more smoothly, blend easier, and showcase the colors of your shadows and liners in the best way. An eyeshadow primer can also help prevent your eyeshadow from creasing and looking patchy.
"Eyeshadow primer is formulated to extend the life of your eye makeup while enhancing the colors applied on top," makeup artist Savannah St. Jean told Byrdie. "It's an incredibly necessary product but is often one of the most overlooked items to add to your makeup routine. It's best to apply after your skincare, but before your eye makeup." An eyeshadow primer can make a difference in your makeup lasting all day long. "Eyeshadow primer is pretty necessary if you are looking for your eye makeup to last more than a mere few hours," St. Jean noted.
Use a face primer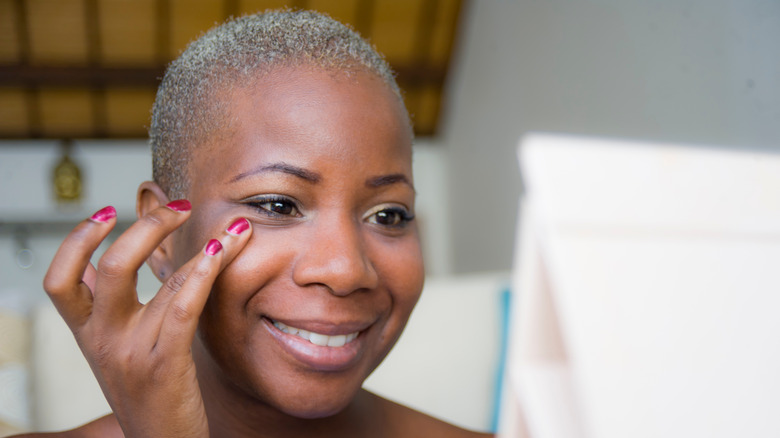 TheVisualsYouNeed/Shutterstock
When it comes to making your makeup last, using a primer helps prepare your skin by sealing in moisture, allowing your makeup to apply smoothly. Many different brands offer primers as part of their product lines, so make sure you choose one that is made for your skin type and has long-wearing qualities. A primer won't just allow your makeup to glide on your skin but it will also prevent it from being absorbed and wearing off quickly.
Lori Taylor Davis, the global lead artist at Smashbox told Well+Good that primers are "designed to extend the wear of makeup and improve skin over time." She also added that primers are great for warmer weather. "Summertime is the best time to wear primers," she explained. "They can help keep makeup in place from the summer humidity and heat." The good news is while primers work especially well in hot weather, they can extend the life of your makeup no matter how hot or cold it is outside. Using a primer before applying your makeup is a great way to ensure your makeup will last all day long and still look as amazing as did when you first applied it.