6 Piercing Trends You'll Want To Rock In 2023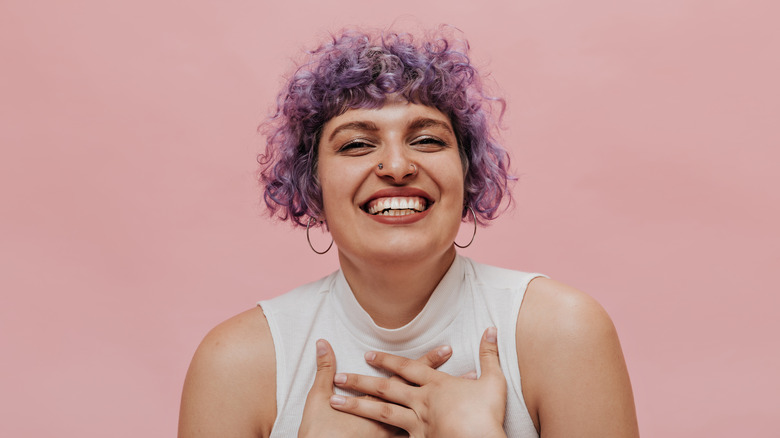 Look Studio/Shutterstock
Piercings have been around since ancient times and across just about every culture, but in recent years, they've seen a major upturn in popularity (via Tribu London). As body modifications like tattoos become less taboo over time, piercings are following suit, and what was once a punk statement is becoming a trendy way to add some extra bling.
Adding a couple of new piercings is a fun way to change up your look, and, for the most part, they're cheaper and less of a statement than a tattoo. As long as you properly clean your piercings and ensure that they heal properly, you can rock a new style, then remove them or switch up your jewelry if you're in the mood for a different look. In the last few years, we've seen a flurry of trends from curated ears to balanced double nostril studs, but 2023 is coming in with some fresh ideas to give you some inspiration for your next appointment at the parlor.
Eyebrow piercings
The early 2000s are back in style — thanks, 20-year trend cycle — and alongside butterfly tattoos and micro skirts, we're seeing the return of eyebrow piercing. Instead of the classic curved barbell, however, daintier, blinged-out jewelry and balanced placements are taking the stage. The idea of getting a facial piercing might be intimidating to some, but you can rest assured that it's actually a fairly low-pain process. It might hurt a bit more than a standard lobe piercing, but the soft skin and easily accessible area make it a simple spot to both pierce and heal.
Chain accents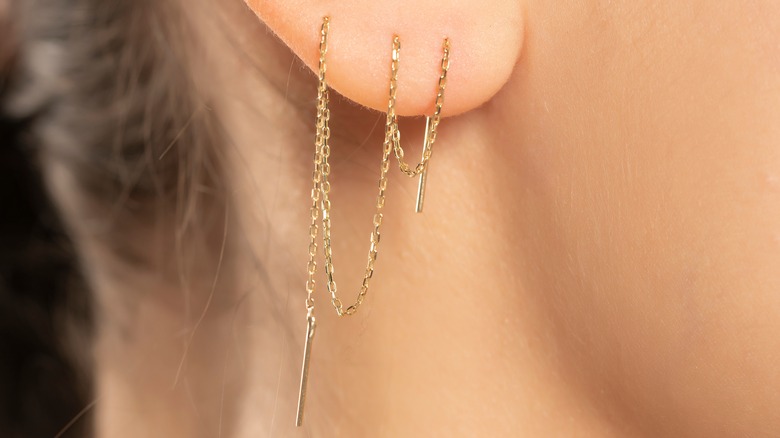 Vladimir Gjorgiev/Shutterstock
Chains have already been trending recently, but this year, we'll likely see more experimental looks that connect existing piercings or fill blank space on a curated ear. Often, piercings can feel a little disconnected, especially if they've been done over the course of several years or were placed too close together, and a chain is a great way to remedy that. If you're not looking to add any new piercings, take a simple cartilage or helix up a notch by adding a bit of length to your jewelry — it'll fill in any spots that look bare.
Offset lobe piercings
Typically, lobe piercings just follow the natural shape of the ear, eventually forming a connected line as you continue further up. Instead of sticking to this template, however, many piercers are utilizing as much of their client's lobe space as possible, creating zig-zag patterns or placing studs close together as a part of a fully customized look. This is great if you have larger lobes or are looking to balance out a piercing that was slightly higher or lower than ideal, and is part of a larger push towards personalized, curated looks that work with your anatomy.
Matching jewelry sets
As having a wide array of piercings becomes more common and acceptable, jewelry brands are catching on and are beginning to offer an array of designs in the same colors and styles so you can mix and match them to create your perfect look. Gone are the days of pulling jewelry from several different brands and praying it will all work together — now, you have the option to rock a full cohesive collection.
Septum piercings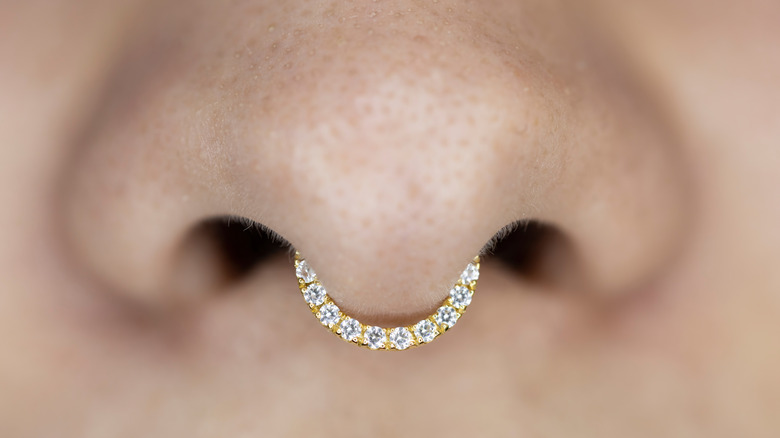 Kolidzei/Shutterstock
The classic septum piercing has been around for quite a while, but this year, its popularity will likely continue to rise thanks to endorsements from celebrities like Florence Pugh and Rihanna. It's an incredibly versatile placement that allows you to experiment with a wide variety of jewelry, and it can be easily hidden if you're still working with dress codes or want to take a break. Go for something blingy like a pavé clicker, or keep it classic with a sleek horseshoe hoop.
Belly button piercings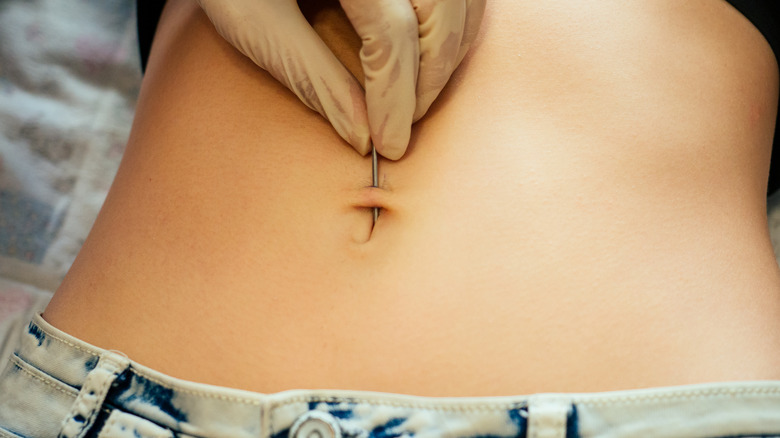 yurakrasil/Shutterstock
Belly button piercings took a brief hiatus because of the popularity of high-waisted silhouettes, but now that low-waisted looks are back in style, we'll likely see a resurgence in midriff-accessorizing bling, à la Britney Spears. If one of your 2023 goals is to build your self-confidence, a belly button piercing is a great way to help you along on your journey. With an accent as cute as that, you'll want to show off rather than cover up.