The Easiest Way To Ensure You Keep Up Your Workout Routine All Winter Long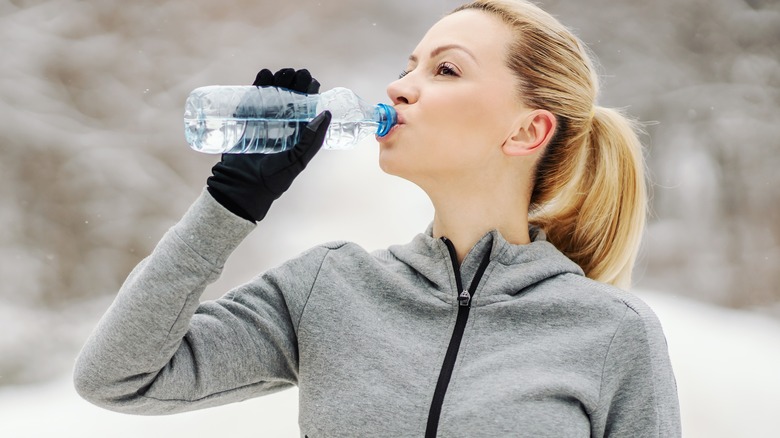 Dusan Petkovic/Shutterstock
Whether working out more is a New Year's resolution that you've made for yourself for the coming year or workouts are already part of your day-to-day routine, wintertime can affect even your best plans. From having to go outside in potentially inclement weather conditions to clearing your calendar for meet-ups with people you might not have seen in a long time, there's a lot that can seem as though it's standing between you and your fitness goals, and it can be easy to lose your motivation to get going.
The good news, however, is that winter doesn't have to derail your workout plans in their entirety. Though you might need to adjust what you're doing depending on what your workout entails and what the weather is like where you live, Harvard Health Publishing mentions that working out in colder weather can benefit your endurance if your body is already prepared for those conditions.
Move your workout indoors if needed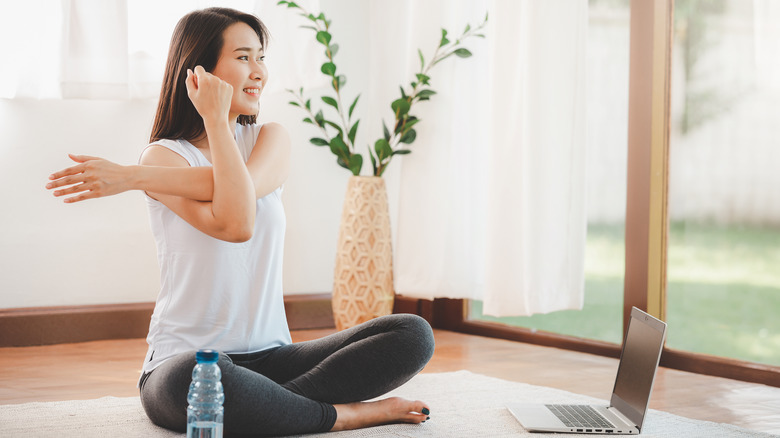 interstid/Shutterstock
You might be able to stick to some workout routines outdoors, but there's no shame in moving your workout indoors if the weather doesn't allow you to do what you usually would. There are many different ways to do this depending on the muscles you want to target, but ISSA-certified personal trainer Karisa Karmali suggested one good example to The Zoe Report, saying, "If you like running and you don't want to lose momentum, you can do squats (regular or sumo for a wider stance) and do them more rapidly to get your heart rate up. You can also use weights to replicate and train the same muscle groups that you would otherwise be training with during your usual outdoor activities."
If your normal workout routine happens to be indoors anyway, Jack Raglin, an exercise psychologist and professor at Indiana University School of Public Health-Bloomington, had some additional advice for Today: get to the gym if you can. (This, of course, is assuming it's safe for you to do so.) "Once you're there, the problem is solved. You're kind of committed to it. Once you've changed into your gear, once you've made the initial step, the rest of it is a lot easier," he explains. And who are we to argue with that logic?
Find an exercise buddy or a group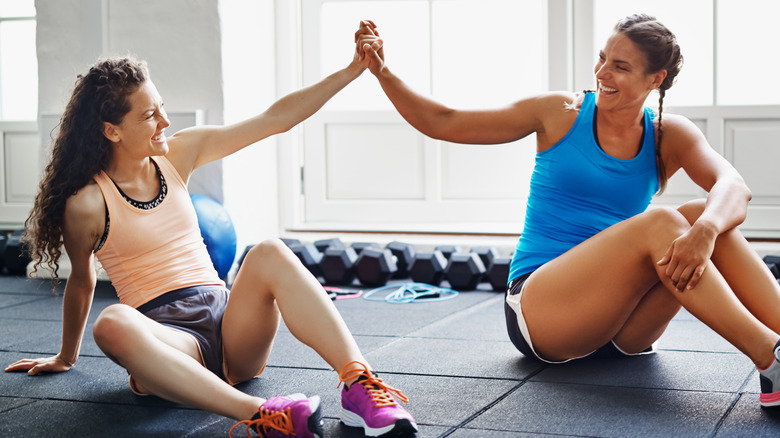 Ground Picture/Shutterstock
Another way to stay motivated about your wintertime workouts is to find yourself a buddy or a group who can help hold you accountable. In fact, Jack Raglin told Today about the thought process here, commenting, "I have to show up because they're there, waiting for me."
In addition to its suggestion of joining a team sport, Stylist noted that this tip can be helpful for those who aren't comfortable exercising alone in the dark. At the same time, you should understand the importance of wearing some form of high-visibility clothing if you will be exercising outside in the dark to ensure that you're more visible to others.
Not sure where to start when it comes to finding a buddy or a group? Search online or through social media for results near you, or ask people you already know. You may be surprised by the folks around you who are also looking for camaraderie.