The TikTok Secret To Perfect Lashes Is All In Twirling Your Mascara Wand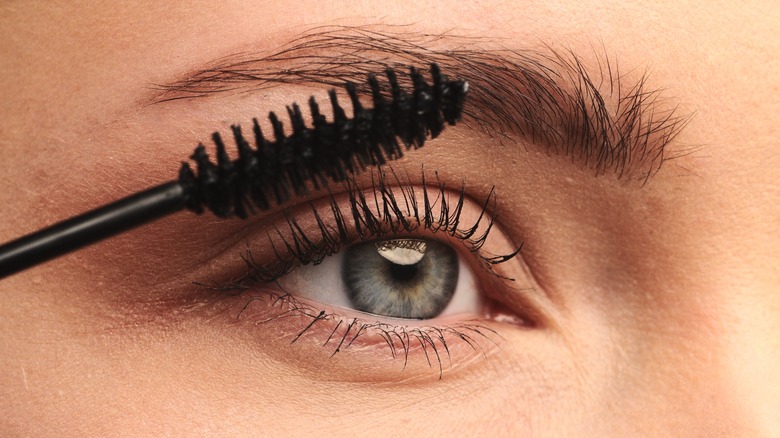 VALUA VITALY/Shutterstock
Everyone loves a good makeup hack and with platforms like TikTok, there are new tips and tricks coming out on the reg. From eyeliner tutorials to contouring suggestions, there's no end to the skills you can accumulate by jumping on these social media makeup tutorials. Mascara is a staple for most people's daily routine, for instance, so getting the ideal lift and volume is important. While choosing the right brand and formula is the first step toward luscious lashes, there's another trick out there you might want to add to your artillery. After all, according to The Cut, emphasizing your lashes can make the whites of your eyes and the darker circle that surrounds the iris pop — plus, if your eyes are the windows to your soul, why not decorate them with nice curtains... er, mascara?
Advertisement
According to a TikTok video posted at the end of 2022, achieving the longest lash comes down to a simple movement while applying your mascara. Instead of brushing upward in one swift motion, it's all about twirling. It almost seems strange that this wasn't how people were taught to use the brush in the first place, considering its a cylinder and can rotate easily. However, for whatever reason, this lesser-known trick has remained fairly unused. Until now, that is.
Give it a twirl!
Mascara wands were created to give users an easy application method. There are actually several different wand styles, including oversized brushes, hourglass designs, hooked or plastic bristle brushes, and even a spherical ball that focuses on sparse or dense lashes. According to Byrdie, each type offers a different look, ranging from long and feathery to voluminous and heavy. Yet while the wands might vary in shape and size, TikTokker @AliAndreeaMakeup's mascara hack works with them all. In her video, she begins by demonstrating how many people apply the formula, brushing up and blinking against the brush. She continues to stroke the mascara on, showing viewers how much time it takes to try and get a good amount of lift and volume.
Advertisement
Once she finishes with one eye, she switches to the other, still using the exact same mascara. This time, she applies the wand to the very base of her lash line, making sure it is flush. From there, she twirls the wand up and out away from her eye, twisting the wand slowly. With each twirl, she blinks against the brush to help adhere the formula to the lashes. Viewers can quickly see how much more length she gets from this method, and she explains that by starting at the base and twisting, you're getting the full extent of the lash with every swipe.
Lift and volume... vavoom!
Apparently twisting the wand against your lashes isn't the only time you should be applying this motion. Gabriel Cosmetics warns against pumping a mascara brush in and out of the tube because it will cause the formula to dry out more quickly thanks to air getting in. Instead, twisting to remove the wand will keep air from getting in repeatedly, and the brush will actually come out with a more evenly distributed amount of product. With the ideal amount on the bristles, Ali Andreea's trick will be even more successful and will most likely cause less clumping. Too much of anything can be a bad thing, and the same can be said for a lot of mascara on a brush — unless you're going for that spidery look.
Advertisement
Once she's finished with her twisting demonstration, Ali Andreea's lashes on that side looked much fuller than those on the other eye. The difference is so noticeable, it makes you wonder why this trick isn't more readily know. Forget fake lashes: all you need is a little "twist" on your regular routine and your eyes will instantly give "butterfly" vibes.