Lingerie Isn't All You Can Wear To A Boudoir Photoshoot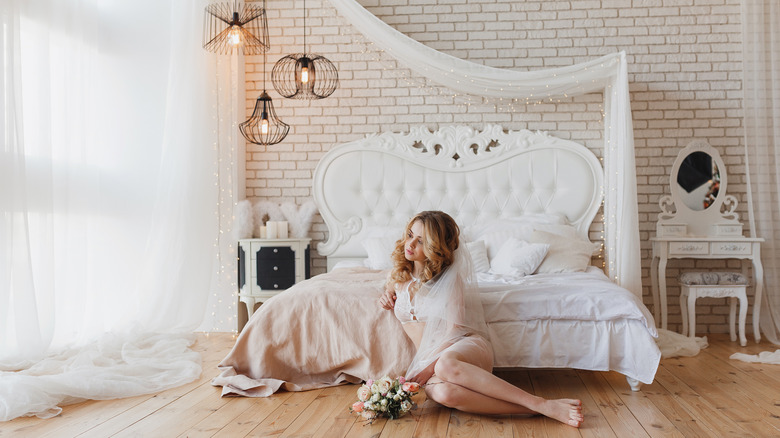 Oksana_bondar/Getty Images
Women (and some men!) are turning to boudoir photography to commemorate their sexy selves for posterity. Sometimes, this is done as a gift for a partner, but often it's simply a way for a person to acknowledge and celebrate their own beauty. Named for the French word which translates to mean "private dressing room" or "sleeping chamber," boudoir photography isn't limited to models. In fact, it's the perfect way for all types of people to permanently document themselves in a way that's typically considered sensual, yet classy. Porn, it most certainly is not.
Boudoir photography subjects typically wear clothes to one extent or another, although partial nudity (whether totally bare or by way of a sheer piece) isn't unheard of. And while a good old-fashioned teddy or bra and panty set always do the trick, a lot of people want their photos to more intimately reflect who they are at their core. So before you head out for a boudoir shoot, think seriously about the type of images you're hoping to create. Inquire about the potential for costume changes, too! Variety is the spice of life, and all that.
Menswear
Many people swear that there's nothing sexier than a woman in a button-down shirt and nothing else. This classic piece is a sure homerun in the boudoir setting, but don't forget about other manly items that can lend a sexy touch, like a fedora, bow tie, necktie, or suit jacket. Paired with something feminine, like cheeky underwear or high-heels, this look is a timeless, sultry winner.
Career-related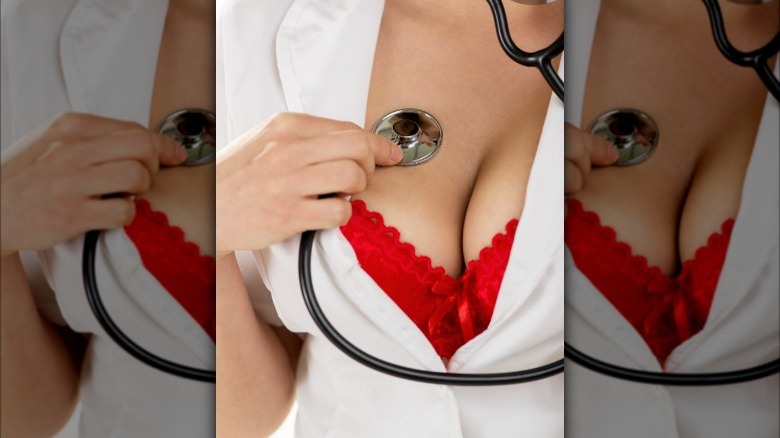 Milanmarkovic/Getty Images
If the sexy Halloween costume trend has taught us anything, it's that any career can be made attractive to the nth degree with a little bit of styling. Whether you're a doctor or a corporate star, consider incorporating that lab coat, briefcase, or another career-related item into your photo shoot. Just take care to make sure they stay private if you think your given employer or industry will take offense. There's no sense in losing a job over something that's supposed to be fun
Cosplay
Adults have found a very creative way to get around that whole Halloween-is-for-kids nonsense. Cosplay is becoming increasingly popular these days, with grown adults forking out serious bucks to dress up like make-believe characters. If this is your jam, pick your most sensual cosplay costume and rock it in the boudoir photoshoot.
Something sporty
Strong is the new skinny, right? If you or your partner have a passion for a specific sport, consider incorporating it into the shoot. This can be as simple as you tossing around a football while wearing heels and lingerie, or you could incorporate typical uniform pieces (think, boxing gloves and a silk robe) into the ensemble. Or, if you cheer for a certain team consider donning that jersey. No one will ever doubt your allegiance!
Hobby-specific
Along similar lines, boudoir photography is the perfect way to showcase not only your physical assets but also those passions that make you who you are. For example, ballet enthusiasts could wear a simple leotard or tutu to showcase their love of the art. Musicians can incorporate their instruments and pieces of typical performance wear into the overall vibe, or artists could get playful by donning a smock, beret, or other related items while playfully chewing on the end of a paintbrush.
Casual
If you're a down-to-earth kind of person, it only makes sense that the boudoir photos should reflect that. Perhaps your ideal look would be just a plain white t-shirt and panties, or cut-off shorts and a sexy tank. In fact, many people take their best photos when they're the most comfortable, so the natural you could absolutely wind up being the most sensual version.
Accesory-focused
Sometimes, all it takes is a well-placed accessory to add depth to a boudoir photo. Simple, but elegant items, like elbow-length or kid gloves, long strands of pearls, statement jewelry, and so on can help to emphasize your assets without detracting from them. If you're feeling playful, pop a tiara or a fascinator on for an extra layer of whimsy.
Kinky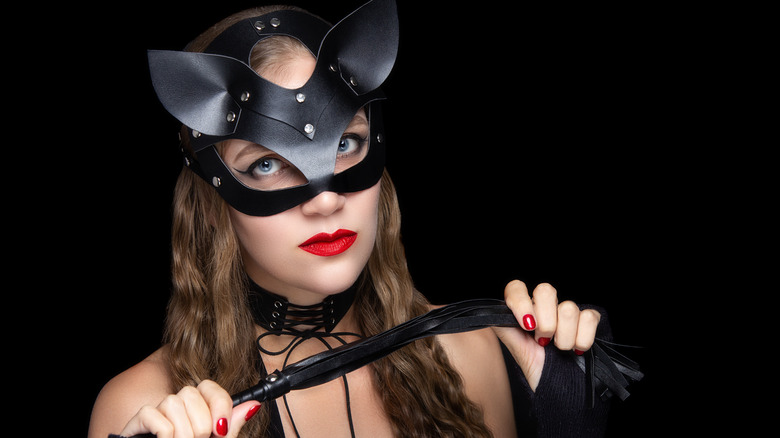 Ganna Gavenko/Getty Images
Boudoir photos are a far cry from porn, but that doesn't mean they can't push the envelope if that's what the subject wants. Break out your best bondage wear and showcase your inner dominatrix. Or, if you don't want to go full-tilt you can get the vibe without committing so much. Turn to corsets, harnesses, and accessories to achieve just the right hint of the look.
Sentimental
Just because the pictures are going to be sexy doesn't mean they can't tug at your heartstrings a bit, too. If you're looking for a bit of emotional value consider incorporating pieces that you have a special attachment to, like a bridal veil, concert t-shirt, or another vintage item. Depending on how you style them, these pieces can perfectly strike a balance between sensual and sentimental.