Are Colored Eye Contacts Safe?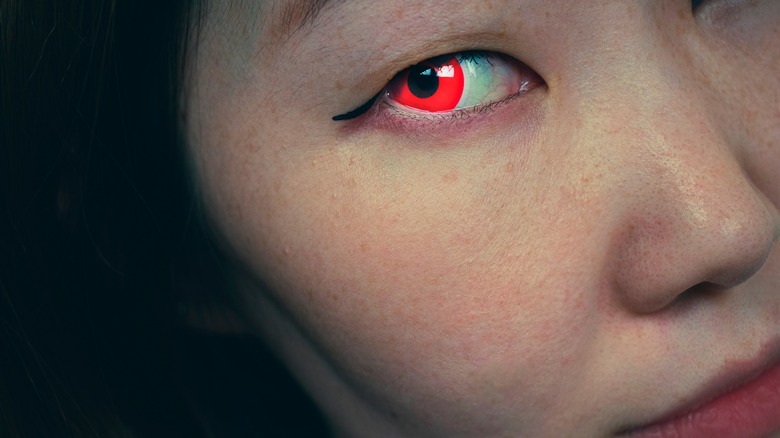 Yara Slep/Shutterstock
Colored contacts have revolutionized everything from everyday looks to Halloween costumes, and they do so with ease. Not only do colored contacts lend your look a dramatic flair but they also, for instance, help your Halloween makeup match your favorite cosplay character. From Maleficent with intoxicating green eyes to Princess Jasmine's deep-set brown eyes to Edward Cullen's ever-morphing vampire eyes, you can morph into these iconic characters and do your costumes justice with the help of colored contacts. So, what exactly are colored eye contacts? Fundamentally, there are two types of colored contact lenses: those that are designed for vision correction and those that are for aesthetic purposes only.
According to Bob Ham Eyewear, the iris, the pigmented portion of the eye, takes on a different shade when colored contact lenses are on. Even though the part of the contact that covers the iris is tinted, its core is colorless, so that the front of the pupil can still regulate the amount of light entering the eye as normal. Contact lenses, per a study published in the journal Materials, are typically made of polymer or silicone-hydrogel combined with other manufacturing technologies. Depending on the materials used in the production process, the three primary categories of contact lenses that you often encounter are soft, rigid gas-permeable, and hybrid lenses. The popularity of colored eye contacts is undeniable. How safe are they, though?
You need a prescription to buy colored eye contacts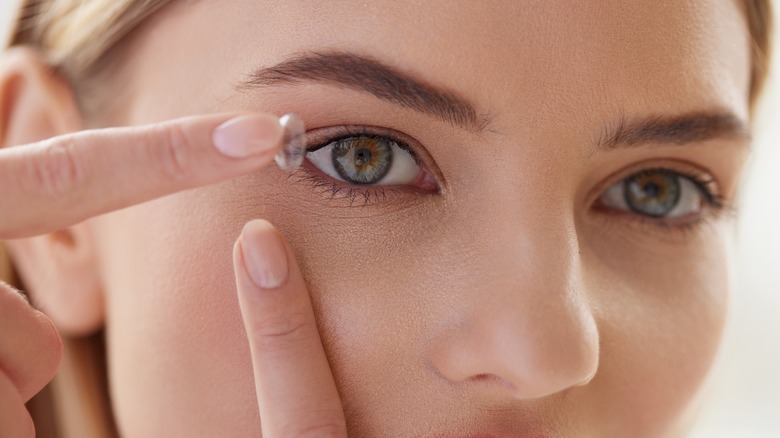 puhhha/Shutterstock
First of all, the U.S. Food and Drug Administration (FDA) lists decorative contact lenses as medical devices as opposed to cosmetics or over-the-counter finds. If you want to buy contact lenses, you often need a prescription. According to the FDA, you'll need to have your eyes checked by an optometrist or ophthalmologist to evaluate whether you need contact lenses. For instance, people who make good candidates for contact lenses are those with vision problems such as nearsightedness, farsightedness, astigmatism, and dry eyes. If your doctor sees that you need to wear contact lenses, they will write a prescription and offer you safety tips for finding contacts that fit your eyes.
The reason why you need to see a doctor before buying colored contact lenses is that if you're unlucky, you'll end up buying eye contacts that don't fit, give your eyes a bacterial infection, and deal you a blinding blow. Improperly sized lenses can lead to corneal abrasions, corneal ulcers, and potentially keratitis, the American Academy of Ophthalmology warns. Because the pigments used to add color make the lenses heavier and less breathable, colored contact lenses may also cause less oxygen to reach the eye. Eye injuries caused by contact lenses may need to be treated with eye surgery, such as a corneal transplant. Treatments don't always work, though, and colored eye contacts have been reported to cause blindness.
How to wear colored eye contacts safely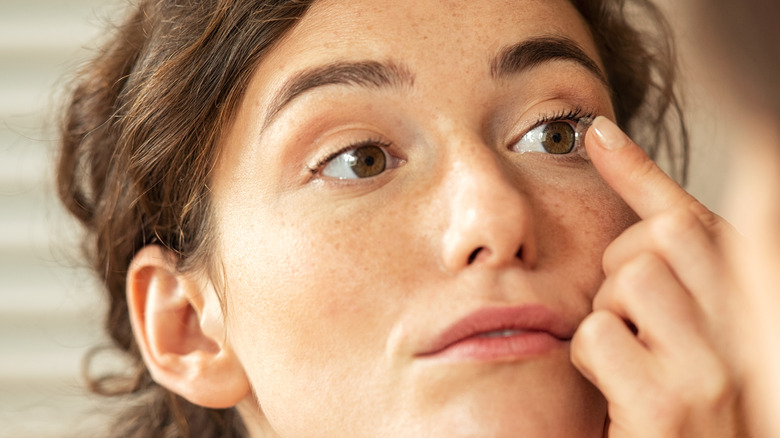 Rido/Shutterstock
Although wearing colored eye contacts comes with certain risks, you can still wear them safely if you follow the safety rules. Whether you set your sights on vision-corrective lenses or decorative lenses, you need to meet an eye doctor for eye measurements and a prescription, per WebMD. After obtaining a prescription, visit a reputable, FDA-approved vendor to buy contact lenses. Before touching your contacts or your eyes, always wash your hands thoroughly with warm water and soap and pat them dry with a clean towel. To keep your lenses clean, store them in fresh lens solution as opposed to used liquid. Before inserting the lenses, moisten your eyes with rewetting drops so the lenses can latch onto the surface of your eyes easily, and remember to reapply the drops every few hours to keep your eyes comfortable. No matter how lazy you feel, always take out your lenses before you shower, swim, or go to bed.
To avoid straining your eyes and protect them from infection, refrain from overwearing eye contacts. "One of the biggest problems with over-wearing or sleeping in the lenses is you're getting less oxygen to the eye," says optometrist Reecha Kampani (via the Cleveland Clinic). The reason being is the added oxidative stress from overwearing lenses can infect, inflame, and irritate the eyes, making them more defenseless against bacteria and pathogens. You might also want to replace lens cases once every three months to steer clear of pathogen buildup.