What Happened To Glow Recipe After Shark Tank? (Spoiler Alert: The Beauty Brand Is Huge)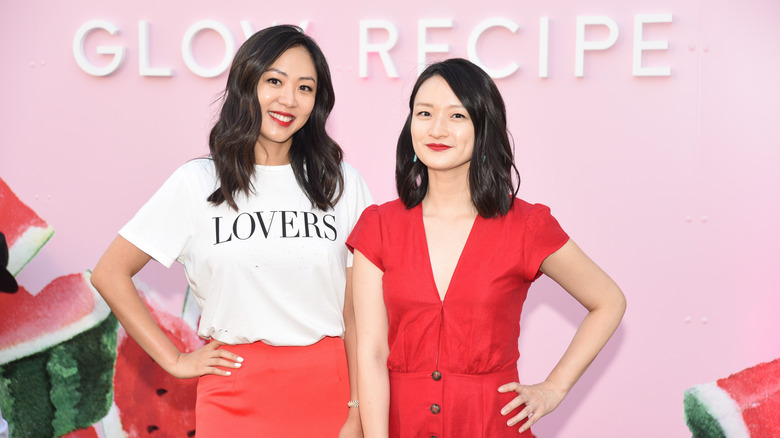 Lilly Lawrence/Getty Images
We may receive a commission on purchases made from links.
If you have been on social media during the past three years, you probably already know that skincare has blown up in popularity. As more people began to work from home, they focused more on what their bare skin looked like. They began testing out new products and brands to find the perfect routine for them. This caused beauty brands like Lainge, Truly, and The Ordinary to blow up on social media and an overall boom in the skincare market, with brands such as L'Oréal reporting an 18.9% increase in their active cosmetics sales, according to Cosmetics Design Europe.
One of our favorite skincare brands, with perhaps the most interesting backstory, is Glow Recipe. The brand uses social media to its advantage and even made an appearance on the hit show "Shark Tank," where Investors hear out business owners looking for funding. After an interesting few years, what happened to the beloved K-beauty-inspired brand? If you guessed that the beauty brand is bigger than ever, you would be correct!
What is Glow Recipe?
Glow Recipe is a skincare brand founded by Korean-American women Christine Chang and Sarah Lee. Glow Recipe claims it's the "go-to brand for efficacious skincare innovations that deliver clinical results and sensorial self-care moments." The brand strives to create the best of the best Korean-inspired skincare with clean formulas and promises to never use animal by-products, environmental hazards, or colorants. Sustainability is also a big part of the brand's mission, as Glow Recipe is officially carbon neutral, practices responsible sourcing, and uses eco-conscious packaging.
The Glow Recipe website allows customers to shop by their skincare concerns and even take a skincare quiz to determine which products may be best for them. While their unique formulas using fruity ingredients are what keep customers coming back, many are initially intrigued by the company's pretty packaging. This packaging makes it perfect for aesthetic TikTok videos, leading to more hype around the products. The brand has been well thought out in almost every aspect, making it a major success in the skincare market. Today, Glow Recipe not only has its own online store but is also sold in Sephora nationwide.
The brand's Shark Tank pitch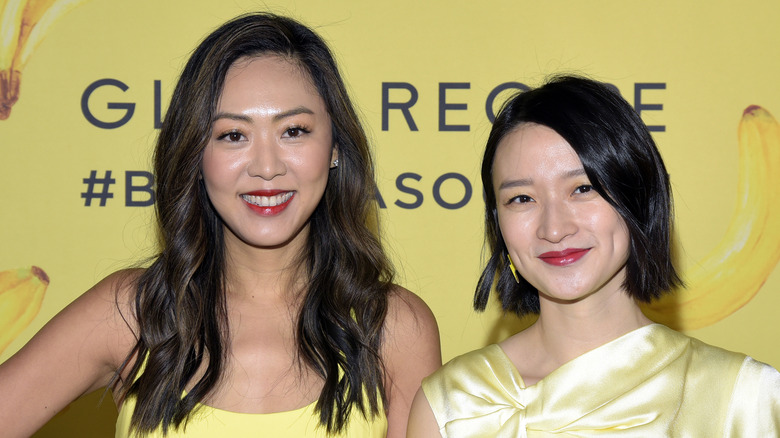 Michael Tullberg/Getty Images
The brand first came to national attention with an appearance on the hit reality television show, "Shark Tank." "Shark Tank" allows "Sharks" (aka investors) to make offers to business owners looking for funding for their start-ups. In 2015, Glow Recipe took their company to the Sharks, asking for $425,000 for 10% equity. At the time, the company had generated approximately $550,000 in sales and was focused more on curating popular K-beauty products rather than creating its own formulas. The owners of Glow Recipe, Christine Chang and Sarah Lee, brought samples of serums and beauty mists from the brand to show the Sharks and attempted to convince them of the power of their social media strategy.
Not all the Sharks were interested in their proposition, though. Lori Greiner was the first to turn them down, as she believed that anyone could do what Chang and Lee were doing, which makes for a competitive market. Mark Cuban also turned Glow Recipe down because he simply didn't know enough about the industry. Eventually, the Glow Recipe founders struck a deal for $425,000 and 25% equity with Robert Herjavec, though we now know that the deal never came to fruition. However, this didn't stop the company, as it nearly doubled its sales the next year and now has become a familiar brand in the skincare space.
Why has the company succeeded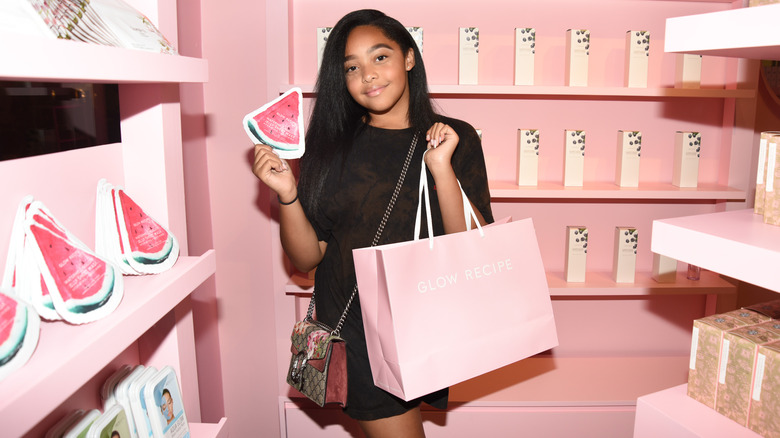 Lilly Lawrence/Getty Images
Why has Glow Recipe succeeded when other companies continue to flop? A Christine Chang told work-life, she and her business partner, Sarah Lee, did everything they could to ramp up their brand in the beginning, from writing emails to cold calling journalists to figuring out ingredients to use in the products. Yet, these are common practices for many new start-ups, so how did Glow Recipe make itself into a multi-million dollar brand?
Glow Recipe found a void in the market that their products could perfectly fill. Chinese and Korean beauty products were in the American market, but not in a way consumers truly understood for everyday skincare use. The brand brought these innovations to the forefront with simplified products. Luckily, they also had friends from their Korean beauty curation days to help when they had questions about formulation. Finally, the brand has a killer community-first social media strategy that brings its brand to the forefront of all the most popular apps. All of these factors combine to create the company's recipe for success.
Glow Recipe's social media strategy
The brand is now worth an estimated $100 million, and some of that success is due to its ability to stay "real." Although beauty ads were once full of celebrities and Photoshop, today's consumers are looking for untouched photos of real users. This is done through Glow Recipe's community-first approach to marketing on social media. Glow Recipe is always looking to hire people who use and influence the use of the brand as well as work with their customers, who have seen real results from their products. It's like the brand has a team of in-house influencers available at all times, even if they are in the accounting department.
Glow Recipe also works with some of the biggest influencers around, including beauty guru Mikayla Nogueira, who even collaborated with the brand to create her own essentials kit. Additionally, Nogueira also has an entire page dedicated to her favorites on the Glow Recipe website and has racked up millions of views talking about the brand on her TikTok account.
Fan-favorite products & engaging initiatives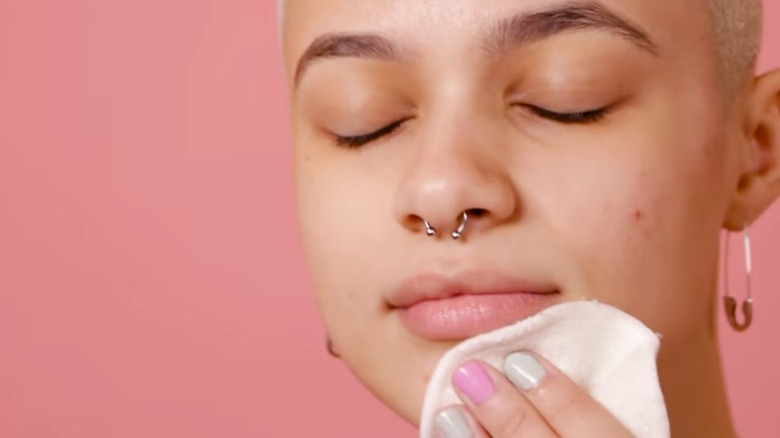 Glow Recipe/YouTube
Though every product seems to have a heap of positive reviews, if you are looking to try the brand for the first time, some products stand above the rest. One of the first products from Glow Recipe to go viral is now the best-selling product on the site. The Watermelon Glow Niacinimide Dew Drops reveal a dewy glow instantly that continues over time. This lightweight serum is suitable for all skin types and can be used before moisturizing or as a final touch to add an instant glow. With 4.4 stars out of almost 2,000 reviews on Sephora's website, fans rave about this product 
Another fan-favorite Glow Recipe product is the TikTok viral Watermelon Glow PHA+BHA Pore-Tight Toner. TikTok users such as @sociallynea rave about the product, as it's not only tightening and hydrating but also leaves the classic dewy finish for which Glow Recipe is known.
Finally, Glow Recipe is no stranger to partnerships — and very positive ones at that. In September 2023, the brand announced via Instagram a new skincare collection in collaboration with Children's Miracle Network Hospitals. Aptly titled the Skin of Your Dreams collection, the "limited-edition collection features artwork from CMN Hospital patients and celebrates their stories to serve as a reminder of their strength and inspiration," according to the Instagram announcement. What's more, the brand donated $50,000 — as well as $100,000 worth of products — to support the hospital network's Dance Marathon fundraisers.