Is Watermelon Skincare Worth The Hype?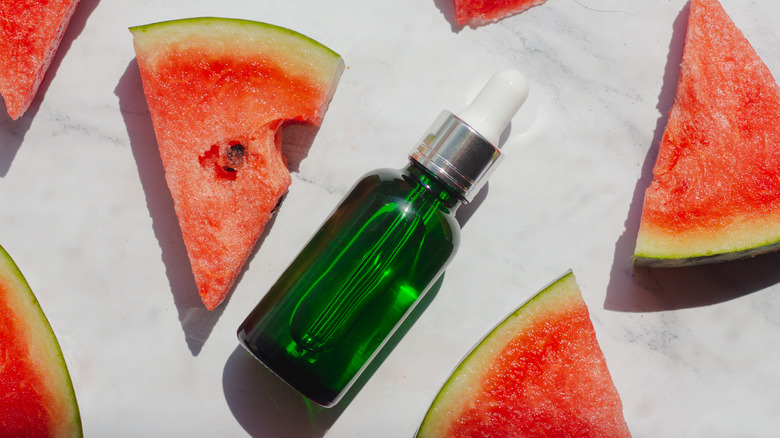 jajam_e/Shutterstock
Watermelon has long been the go-to fruit on a warm day. With its hydrating and juicy texture, it eventually made its way into skincare products. First introduced in the K-Beauty world, watermelon is the newest skincare trend to rock the industry.
According to Byrdie, when skincare brand Glow Recipe first launched its staple Watermelon Sleeping Mask, the product sold out in only five hours. After selling out, the waitlist reached almost 20,000 people. It's safe to say that watermelon skincare products are going nowhere anytime soon.
However, as we've seen with many skincare fads throughout the years, it's hard not to wonder if it's another passing trend. Like any new ingredient you choose to put on your skin, you should know if there are any benefits to adding watermelon to your skincare routine. So, is watermelon the newest marketing ploy in skincare, or is it the must-have ingredient your skin has been missing?
Benefits of watermelon skincare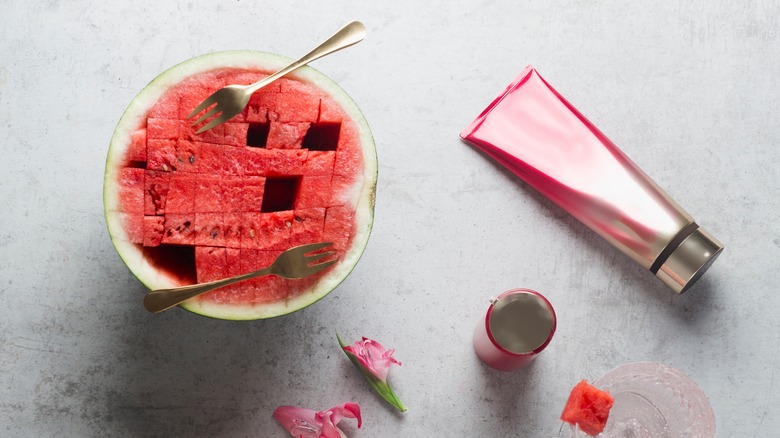 VICUSCHKA/Shutterstock
Like the fruit we eat, watermelon skincare contains hydrating properties that benefit the skin. Ipsy reports that watermelon is the perfect exfoliating ingredient. Because it contains malic acid, watermelon skincare helps shed dead skin cells while simultaneously hydrating your skin. Despite being an exfoliator, watermelon is still gentle on the skin, making it a less harsh way of shedding dead skin. In the end, you get a fresh, glowing complexion.
Another benefit of infusing watermelon in your skincare is its antioxidant properties. Like in nutrition, antioxidants are crucial in skincare to supply your skin with nutrients. According to Essence, the vitamins and antioxidants in watermelon help with anti-aging and protection against UV rays. Watermelon contains nutrients that can help with inflammation, collagen production, minimizing the appearance of pores, and skin brightening, too. All of these benefits are due to the natural properties that exist in watermelon. Combined with other skincare ingredients, it can be the perfect combination for glowing skin, and you can feel better knowing that you're using a natural ingredient.
Who should use watermelon skincare, and how?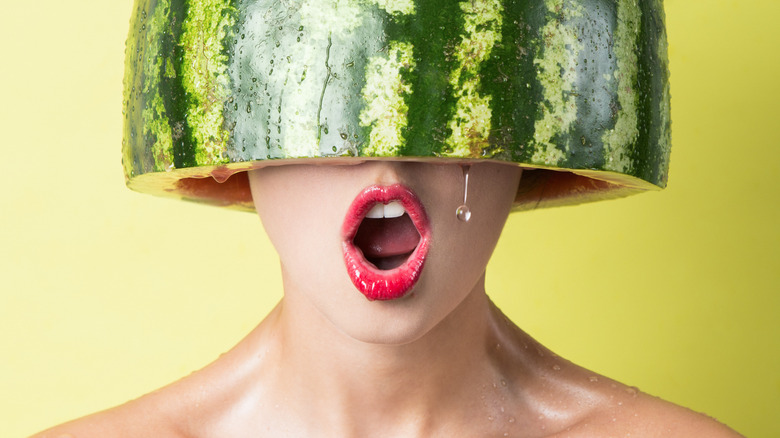 Unbelivbl/Shutterstock
Watermelon skincare is perfect for anyone who immediately wants to see less-irritated skin. Like any skincare product, there is a 30-day average before you can see long-term results. The most appealing part of a watermelon skincare product is the fact it's an all-inclusive ingredient. Because of its high water content, any skin type can use watermelon products. With the anti-inflammatory and exfoliating properties, anyone from sensitive skin to acne-prone skin can benefit. This ingredient is especially useful for those who might be experiencing stressed-out skin from hormones, travel, or stress (via Elle).
However, consumers should be careful when picking out their preferred watermelon product. Although watermelon combines well with other ingredients without affecting their efficiency, you should still be vigilant when purchasing. According to Dr. Annie Chiu, it's easy to be fooled by watermelon-scented products (via Fashionista). Chiu recommends researching that the product contains watermelon extract and comes from a clean source. Researching ensures you receive these benefits rather than just a watermelon-scented product.