Lime Green Is The Color On Everyone's Mind (And Clothes) This Spring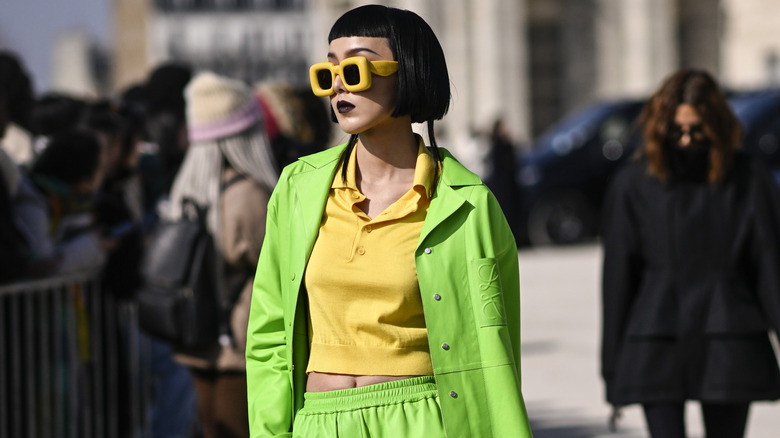 Daniel Zuchnik/Getty Images
Spring is just around the corner, and the fashion world is buzzing with new trends for the season. One of the freshest colors to make its mark on the runway this year is lime green. This vibrant and lively color has become a favorite among designers and fashionistas alike, as it adds a touch of playful boldness to any outfit. Lime green can be found in a variety of styles, from streetwear to high fashion. This hue can be spotted in everything from cozy sweatshirts to elegant dresses and even trending accessories. It's a versatile color that can be dressed up or down, making it perfect for any occasion.
Lime green is also being used in unique and unexpected ways in textured fabrics and bold prints. Designers are experimenting with different fabrics and styles to create standout pieces that are sure to turn heads. Whether you're looking to make a statement or just add a pop of color to your wardrobe, lime green is the color for you. Pair it with neutral tones for a subtle touch, or go all out with a head-to-toe ensemble. The possibilities are endless, and this trend is sure to add a little zest to your spring fashion. So if you're ready to embrace the fun and lively spirit of the season, be sure to incorporate some lime green into your wardrobe.
Muted lime green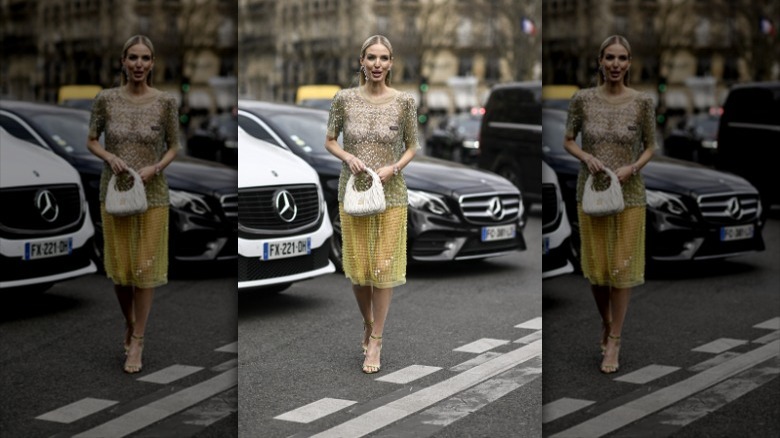 Daniel Zuchnik/Getty Images
Just because lime green is a bold and vibrant hue, it doesn't mean you necessarily have to wear it that way. Instead of sticking with the vibrant color, go with a muted or faded lime green that isn't as obvious as the natural color. This lime color is similar to a light shade of green that hints at the bolder hue. A muted shade is a great way to slowly introduce yourself to the color, especially if you aren't someone who gravitates to vibrant colors.
Monochrome lime green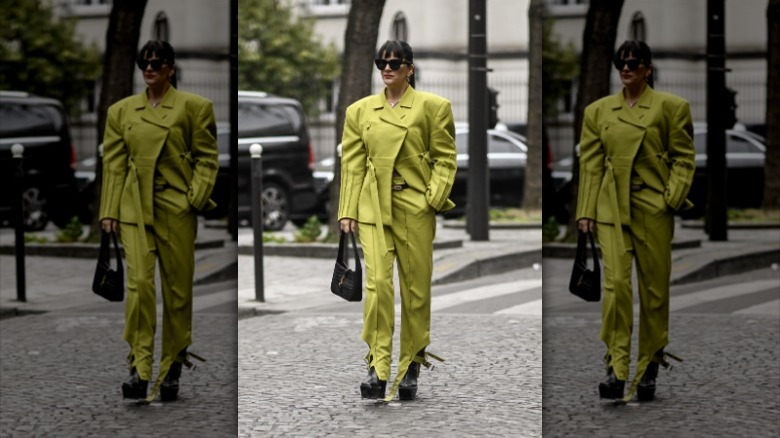 Daniel Zuchnik/Getty Images
If we've learned anything about spring 2023's fashion trends, it's that bolder is better. However, lime green can be a challenging hue to style with. The foolproof trick is to pair it with itself. Rock a head-to-toe lime green ensemble for a chic, bold look. With a monochrome look, you don't have to worry about combining colors. Simply opt for a two-piece outfit in the same shade of lime green, and you are ready to go. Monochrome styling is the best way to wear any bold shade and still look upscale and sophisticated.
Lime green and black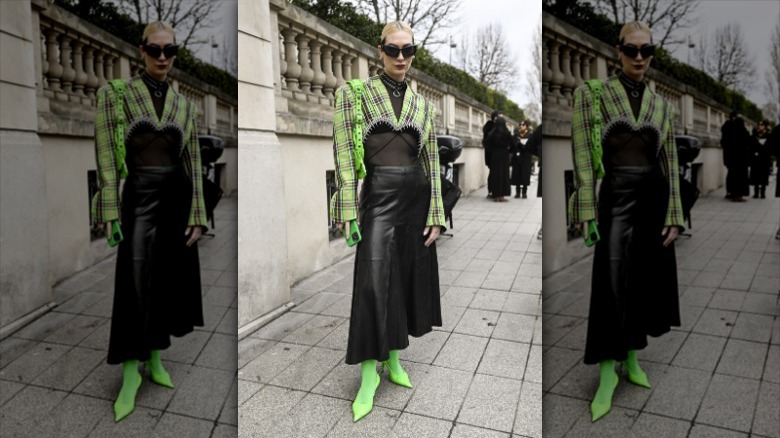 Daniel Zuchnik/Getty Images
When it comes to matching lime green with other colors, you can never go wrong with black. As always, black is a wonderful color to pair with vibrant hues to help them contrast and stand out. Because black won't distract from your lime green piece, you can ensure that you will still shine brightly. Introducing black into your look will help balance the bright green shade and create a more subtle look. Black is always a great shade to use for your accessories, as it will only help highlight your lime green pieces instead of clashing with them.
Small pops of color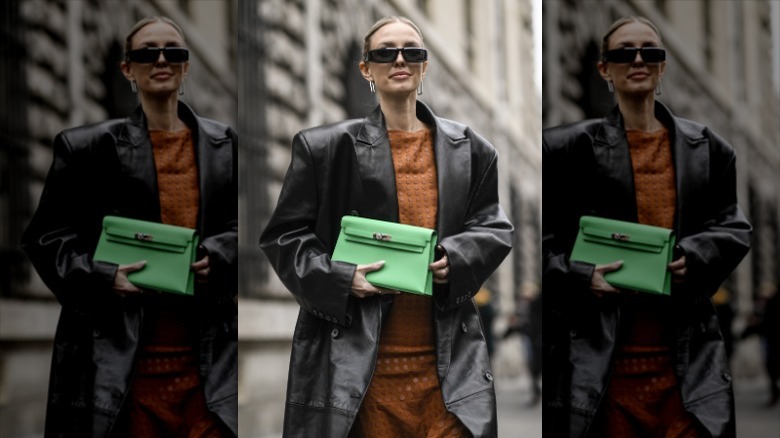 Daniel Zuchnik/Getty Images
The beauty of a bold shade like lime green is that you can easily incorporate it into any aspect of your look. If lime green clothing isn't your style, you can also opt for accessories in this shade for a trendy, modern look. Lime green accessories are a great way to introduce bold colors if you tend to have more neutral clothing pieces. These accessories, like bags or shoes, will help make a more dynamic and interesting look without distracting from the overall ensemble.
Mix up the trends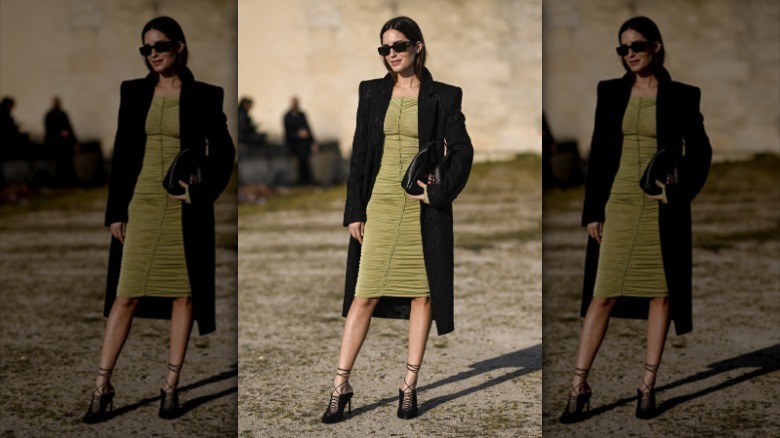 Daniel Zuchnik/Getty Images
Lime green might be an overwhelming color, but that doesn't mean you can't incorporate other subtle spring trends into your ensemble to match your shade. Trends like sheer fabrics or bubble hems are perfect designs that can add even more interest to a bold color like lime green. Because lime green is such a strong color, it can be challenging to add more trending styles to your look. Always keep in mind that you can opt for more comfortable shades of the hue or various textures to help incorporate it into your wardrobe.
Don't forget the bottoms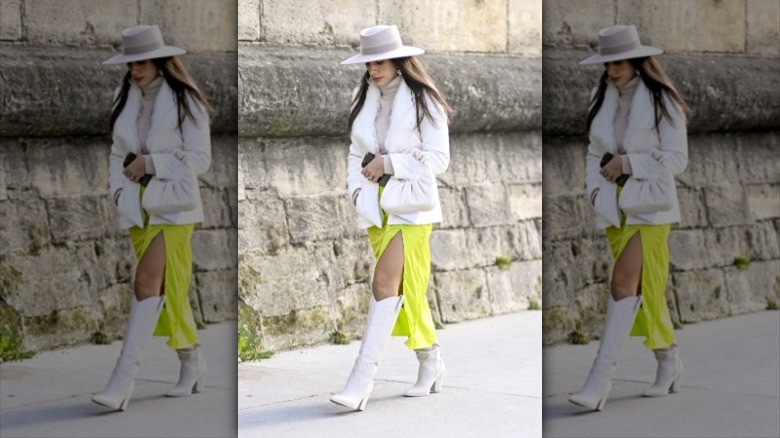 Daniel Zuchnik/Getty Images
While we automatically think about adding pops of colors to our blouses or accessories, our bottom pieces can also cause an amazing fashion moment. Incorporate lime green into your bottom pieces, like shorts or skirts, and flip the script with a neutral color on top. This altered combination helps to create a unique outfit. Although it might be less common to find vibrant bottoms, they're great fashion statement pieces that will last. Look for trending pants, skirts, or shorts to easily spot pieces in lime green.
Bring out all the stops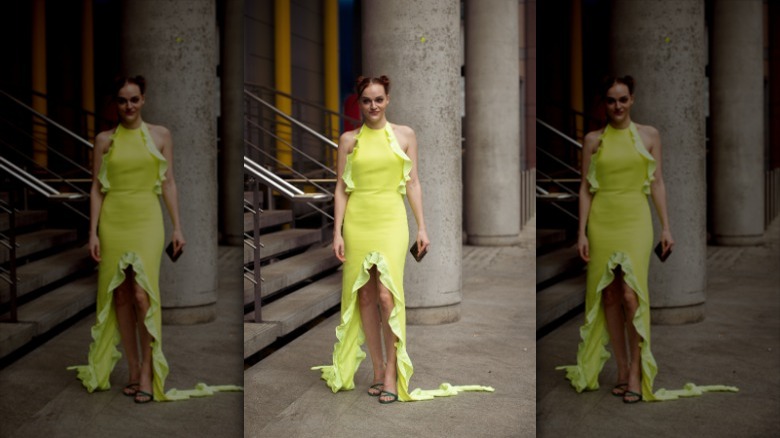 Raimonda Kulikauskiene/Getty Images
There are no rules when it comes to a color like lime green. Although it's a strong shade, don't feel restricted when it comes to styling it. Style your lime green piece with extravagant features like ruffles, bows, or other embellishments. Create an even louder fashion statement by combining all your favorite bold additions. Since you're already going to create a statement with your color, keep the momentum going by going out-of-the-box with your details.