Micro Wedding: How Small Is The Ceremony, And How Is It Different From Eloping?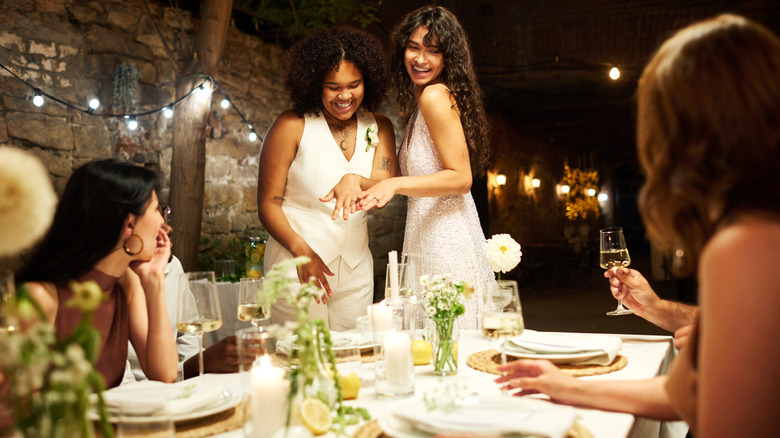 Shironosov/Getty Images
When it comes to weddings, more isn't always merrier. In theory, a wedding is just about two people celebrating their love with a formal ceremony. But in practice, it often takes a village to make a traditional wedding look like a wedding. Social mores, peer pressure, and the notion that your wedding is a once-in-a-lifetime event can make a couple feel like they must have a big, fat wedding so they can prove to the world they're the real deal. And it's not rare to see loved-up couples wiping out their savings just for a wedding only to get into conflicts over debts later on.
According to a 2019 poll conducted by LendingTree, 45% of newlyweds between the ages of 18 and 53 got into the red because of big wedding checks. Additionally, nearly half of all newlyweds attributed their decision to consider divorce to wedding-related debts. That goes to show it's hard to be happy when "happily ever after" comes with a hefty price tag for those who can't afford it. If you don't see the need to splash out on your marriage ceremony because you're saving for big purchases in the future, you might consider a micro wedding. It's small. It's budget-friendly. And it's different than eloping. 
What is a micro-wedding?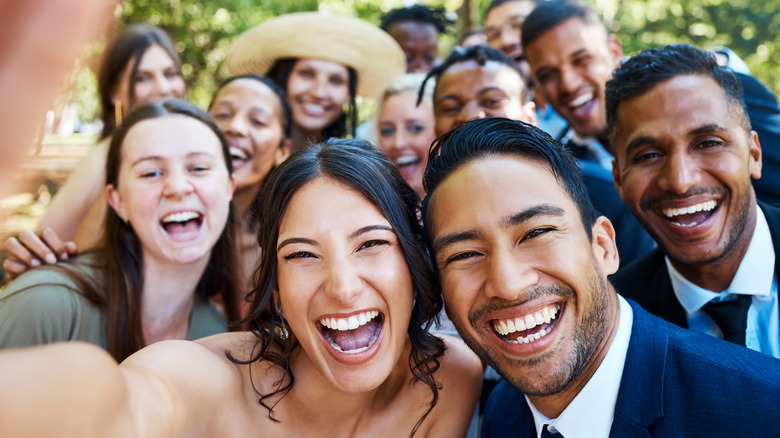 Peopleimages/Getty Images
According to Hitched, a micro wedding is one with less than 20 people. The people invited are the couple's immediate family members and their closest of friends. In terms of scale, micro weddings are smaller than intimate weddings, which are generally considered to receive anywhere between 30 to 60 guests. A micro wedding may or may not contain the elements of a typical wedding ceremony, such as cake cutting, bouquet tossing, and the first dance. It is up to the couple, though, to determine whatever elements they wish to incorporate into their special day to make it memorable for everyone who attends. Due to a smaller guest list, a micro wedding usually costs less than a typically-sized wedding.
According to Love & Lavender, a micro wedding costs anywhere from $1,500 to $10,000, while a regular wedding averages around $30,000 (according to a 2022 survey by The Knot). However, just because a wedding is micro doesn't automatically mean it is cheaper in all respects. It can still be an extravaganza if the couple wants to go big on quality. When the overall headcount goes down, there's potentially more room to splurge on yourselves and your guests. For instance, a micro-wedding couple that gets hitched abroad, serves their guests gourmet food, or hires famous artists to perform at the wedding won't necessarily pay less than a traditional wedding couple who tie the knot in a local park and have their guests bring their own hors d'oeuvres.  
Micro wedding vs. eloping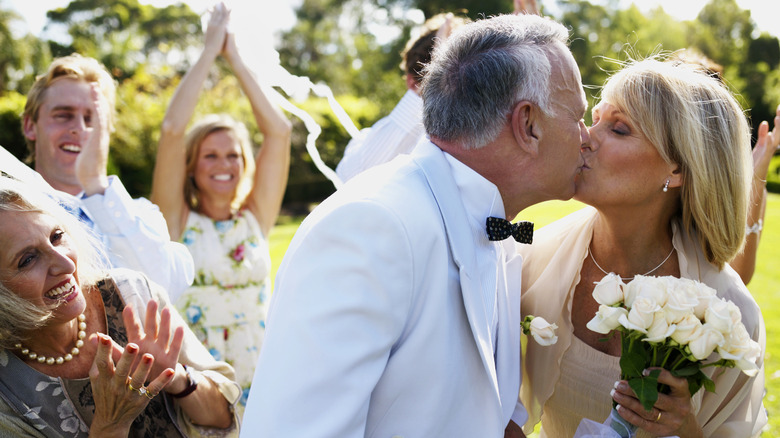 Marc Debnam/Getty Images
There's a major difference between a micro wedding and an elopement. Simply Eloped defines an elopement as when a couple ties the knot with either zero or just a few people in a muted fashion. There's complete freedom of choice and responsibility in an elopement wedding. You can turn your wedding celebration into an epic road trip far away from the madding crowd and it's still legit. But at a micro wedding, you'll still typically see the core elements of a traditional wedding on display. Everyone will still get dressed up, show up at a proper venue, make merry, and give speeches. The couple can still share those sacred moments of walking down the aisle and exchanging vows. 
The difference is that everything is more scaled-down and relaxed. The couple invites fewer guests, creates a more personalized experience for those in attendance, gets more creative with the set-up, and becomes forever partners without all the hullabaloo. Wedding planner Jove Meyer tells Brides: "With fewer guests comes less work, fewer opinions and people to please, less budget required, and more options in terms of spaces to celebrate." 
However, a micro wedding is not a viable option for everyone. If you have a large network of friends, dealing with disappointment from those who are not on the guest list can be challenging. But when that special day comes, you can just blame it on the budget, the venue capacity, or the founding fathers of the micro wedding concept.