Is Eloping Cheaper Than A Traditional Wedding?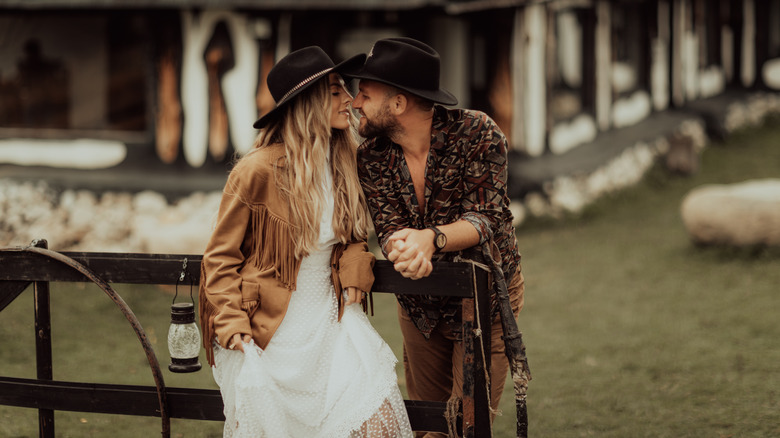 Doralin Samuel Tunas/Shutterstock
What did your dream wedding look like when you were little? An intricate arbor covered in vines, flowers, and balloons? You triapsing down the aisle drowning in a voluminous, Disney-quality gown? Tears streaming down the cheeks of your bridesmaids as the officiant pronounces you married? While that scenario is many little gals' legit idea of how "happily ever after" begins, times change and opinions alter. When you're grown up, your idea of a dream wedding may not be as fairytale-inspired as it once was, especially when adult concerns like inflation and rising costs weigh heavily on your every decision. Every detail that would be a dream come true for you can cost a bomb. That's why many people have decided to take the path of least resistance: elopement.
While the original meaning of eloping means getting married in a far-off place without getting parental consent, Wandering Weddings defines an elopement as "when a couple decides to celebrate their marriage with 10 or fewer people." Compared to a traditional wedding that usually involves dozens of guests and countless ceremonious trappings, an elopement is a shining beacon of intimacy and originality for couples seeking to get hitched in the most muted fashion possible. According to Simply Eloped, over 2,000 newlyweds used its elopement service in 2019 alone. So, is eloping really cheaper than a traditional wedding? Here are some insights.
It can be much cheaper than a traditional wedding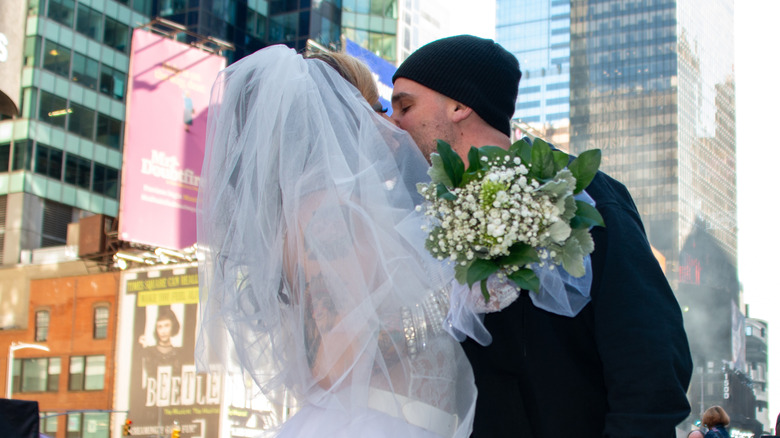 Alexi Rosenfeld/Getty Images
Per elopement photography firm Swell & Stone, most eloping couples spend an average of $5,000 to $15,000 on their wedding. This is significantly less than the average cost of a wedding in the United States, which is $33,000. It's hard to pinpoint the exact price of eloping because not all couples who elope necessarily skimp on comfort for their wedding. At the end of the day, how much an elopement costs all comes down to the activities and frills couples decide to keep and what they don't mind doing without. Beware: Make sure that you apply for a marriage license before eloping, as the process of legally getting married might be different for each state and country.
Per Adventure Instead, travel costs play heavily into eloping couples' wedding expenses and make it impossible to estimate their wedding budgets. Naturally, it costs more for couples to travel to far-flung locations, and book luxury cruises and lodgings, than it does to elope locally. Depending on the eloping couple's preferences, the amount of money they pay for decorations, the catering service, photography or videography, and wedding planning also vary vastly. Whether you're treating your elopement like a bucket-list trip or a star-spangled private event, here's how to do it right.
Tips on having a fulfilling elopement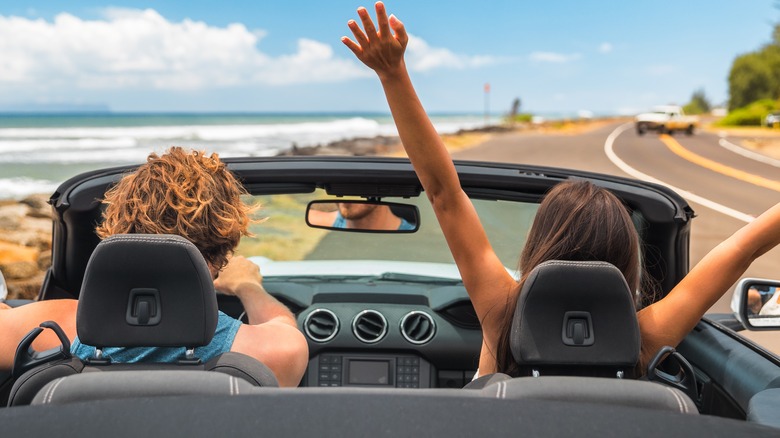 Maridav/Shutterstock
If you're considering an elopement, remember these three things: Do what feels right for both of you, toast with your family and friends later, and be careful whom you spill your elopement secrets to before the big day. This advice comes from newlywed Emily Hargreaves, who spent $35,000 AUD (about $23,000 USD) on her elopement, which included indulgent accommodation and a 10-day holiday in Tasmania (via ABC Everyday). That which is scandalous? Emily and her wife only informed their parents of their wedding a day after the ceremony. "It's always that thing: Do I ask for permission or for forgiveness?" Emily tells the news website.
If you plan to engage in outdoorsy activities like fishing or hiking on your big day, you'd better organize your itinerary for the day in advance and make a packing list for your trip, Willow & Wolf advises. Eloping differs from a regular wedding in that many couples tend to organize everything by themselves, with no help from the family or bridal party. To make it easier and to prevent blunders, you can hire an elopement planner to dot the I's and cross the T's.
Actually, the goal of keeping your elopement a well-guarded secret is to ensure that the day is all about how you want to celebrate your marriage and do what you actually like rather than following established norms. For example, you may wear streetwear instead of a conventional bridal gown or bridal jumpsuit, or eat popcorn and call it a wedding reception without anyone complaining. But if you don't mind spilling the secret, and feel your close family and friends truly support your actions, you can still include them in your plans.