The 2023 CMT Music Awards Swapped Glamour For Underwhelming Looks, And We're So Bored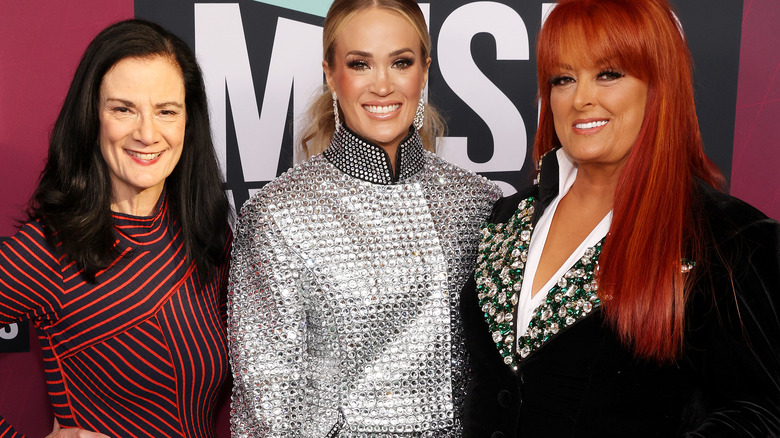 Rick Kern/Getty Images
While there were without a doubt some stunning ensembles at tonight's CMT Music Awards, we can't help but feel a gaping hole in our hearts where country glamour looks once reigned supreme. The classic, country fringe and dazzling, flared sparkle we all know and love seemed to be more of a rarity tonight. We're talking about the timeless looks of country legends like Reba McEntire and Dolly Parton, who just never seem to fail us with their vintage, cowgirl glam.
The bright splashes of yellow on the 2023 CMT Music Awards red carpet were certainly alluring and the nods to '70s fashion had us applauding, but we were also left wondering where all the fringe gowns went. Country glamour may not be everyone's cup of tea — and, again, there were some vibes at the awards this evening that we were definitely here for — but the lack of glitzed-up, western-inspired getups was something we couldn't simply dismiss. It simply doesn't quite feel like a country concert or awards show without some good ol' denim and fringe.
The vintage cowgirl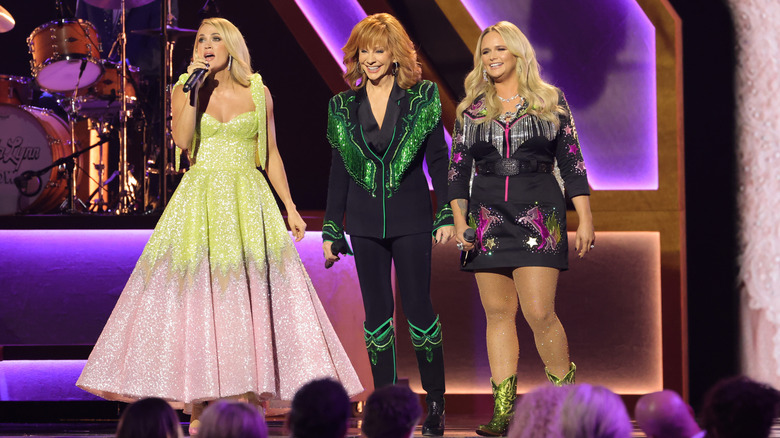 Michael Loccisano/Getty Images
Country icons like Dolly Parton and Reba McEntire remind us that glamour is meant to be, well, glamourous — and we can't forget fun. Almost no one has more fun than a gal in fringe. The more tailored looks of country glamour are not only incredibly pleasing to the eye but also embody the country-grown feeling we associate with the music genre. So, it's fair to say that we were a bit underwhelmed by the absence of country glamour during what is obviously a very country glamour moment. However, there were some renditions of the style that we thought worked beautifully. Lainey Wilson's boho-chic flared jumpsuit with a black cowboy hat was top-notch, for instance.
We would have loved to see something with a bit more country flare on Kelsea Ballerini, whose corseted dress was sleek and flattering but lacked the western sparkle we were hoping for. We have to say the same for Ingrid Andress, whose sheer '90s-inspired and spaghetti-strapped dress would've been a cute ensemble for a different occasion. When everything came together, we were left with a boring red carpet that started the awards show, which actually proved to be full of life, already six feet under.
Glamour was the exception tonight, not the norm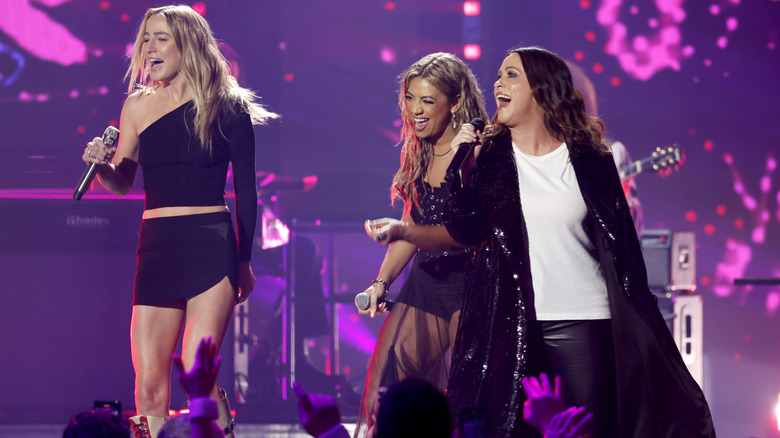 Jason Kempin/Getty Images
While we certainly enjoy a denim moment at a country awards show, we would've loved to see a less busy take on the jean ensemble worn by Priscilla Block. The classic denim vibe we were hoping for just didn't make it to tonight's red carpet. Something a bit more tailored would've fit the bill. Jennifer Landon's black leather getup screamed country, but it's the country glamour we just can't seem to find. Some fringe, flare, and sparkle would've done the trick. While LeAnn Rimes nailed the glamour with her silver, jeweled gown, we would've been over the moon for, perhaps, a long, flared sleeve — anything to amp up the western spirit. Reba McEntire simply wouldn't approve of what can only be described as shenanigans that were had tonight.
All in all, the evening proved to be a blooming success, and honestly, who doesn't love an awards show ripe with fashion hits and misses? Despite some of the more underwhelming looks, we're grateful for another Sunday evening view of the red carpet — but don't disappoint us next time, okay?