Your Ultimate Guide To Every Different Type Of Manicure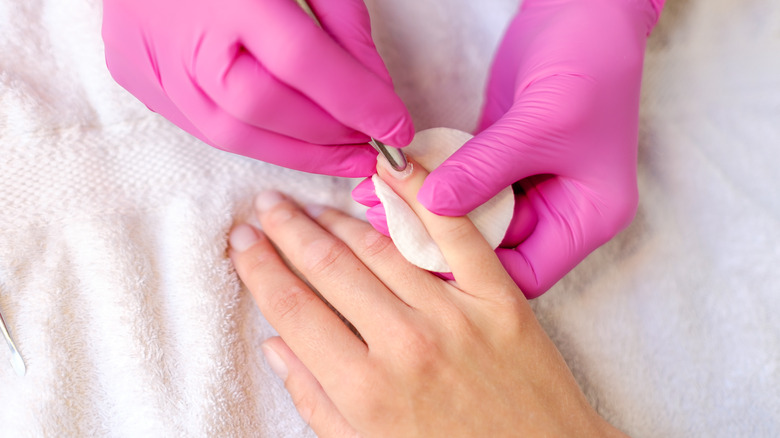 Kulniz/Shutterstock
We may receive a commission on purchases made from links.
Walking into a nail salon, the first question you must answer is "What type of service are you getting?" This question seems simple enough; you want your nails done. What you really need to determine is how you want them done and with what products. Today, the nail world is filled with options. Long gone are the days of so-so manis and Lee press-on nails. Multiple types of manicures exist, and, depending on the shape, length, texture, and durability you want, one of these types will be right for you. Most manicures use one of three nail-enhancing products consisting of traditional nail polish, gel polish, acrylic powder, or a hybrid of more than one. Acrylic is considered to be the strongest, basic nail polish is the easiest to remove, and gel is the most versatile.
Whether you want to surprise your nail technician with some new ideas or learn how to do nail extensions on your own, you'll have to become familiar with the latest nail enhancement products to discover how far manicures have come. Here, we break down 12 of the most-used nail application techniques to try out for your next mani.
Basic manicure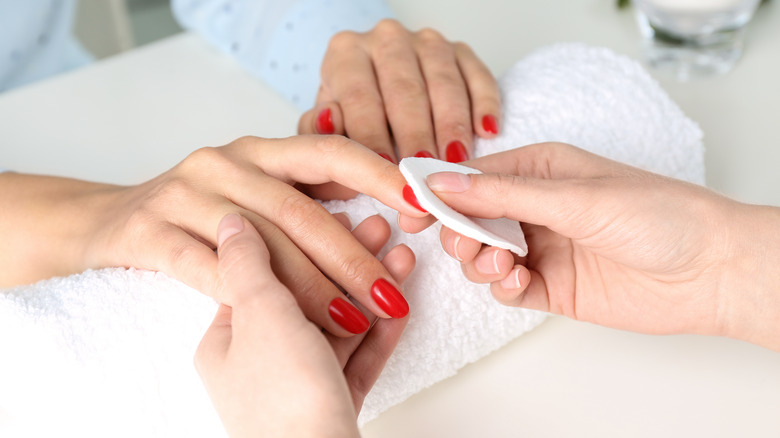 New Africa/Shutterstock
A basic manicure is one of the simplest services for your hands. It can be performed at home or the nail salon with regular nail polish and a few other tools. Also called nail varnish, classic nail polish is made with nitrocellulose and an acetate solvent, which makes the film-forming resin thinner and easier to apply. After some nail preparation that comes standard with all manicures, your nail tech will apply a base coat, two or three coats of nail polish, and a top coat, allowing the nails to air dry between each coat of polish.
At a salon, you can expect to pay $20 to $25 for a basic manicure. Often, the price varies depending on what's included in the service and whether you are getting nail art done, too. Basic manicures can be done at home for much less, as a bottle of basic nail polish costs between $5 and $15 at most stores. The quality of your nail polish usually coincides with its price. Keep in mind that a basic manicure typically lasts less than a week, even when done professionally, and you can always remove a manicure yourself at home. A bottle of pure acetone or nail polish remover and a few cotton balls will do the trick.
Classic gel manicure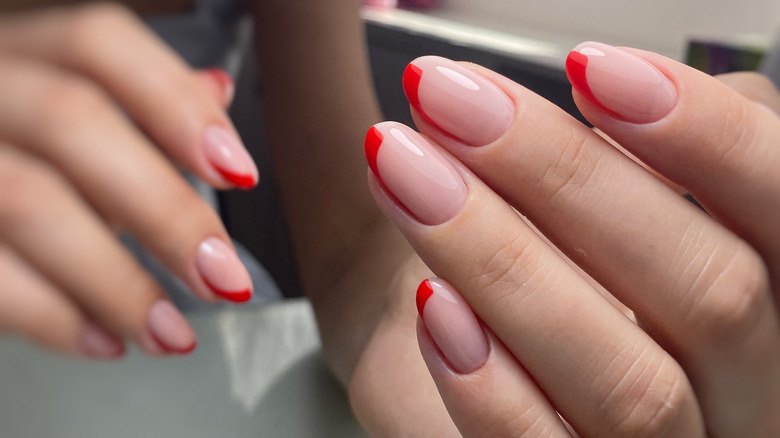 Vetrova-Noskova/Shutterstock
Classic gel polish is known for its instant drying ability under a UV or LED light. The gel is made with methacrylate monomers and photoinitiators that cure onto the nail when it's put under the lamp. Plasticizers are also a major part of gel polish makeup. When added, it allows the polish to flex with the nail and makes it more resistant to chipping. You can use gel polish at home. However, if you're inexperienced with nails, it's best to get a classic gel manicure from a professional. At the nail salon, you can expect to have your nails prepped with cuticle remover, isopropyl alcohol, and some light buffing. Afterward, the application is similar to regular nail polish. The nail technician will apply a base coat, a couple of coats of nail polish, and a top coat, setting your nails under the lamp after each one to dry.
The price of gel polish manicures can rapidly alter depending on the salon and the extra services you ask for. A classic gel manicure without designs is often about $35. Learning to do your gel nails at home is less expensive. You can purchase a kit with a lamp and multiple colors, such as the Modelones Gel Nail Polish Kit, for nearly the same price. Classic gel manicures done at home or the salon can last two to four weeks depending on your lifestyle. When the gel begins to chip, it can be removed with acetone.
Hard gel manicure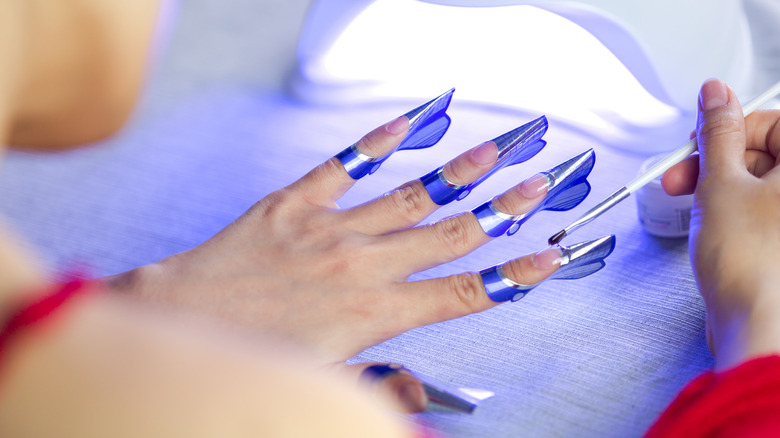 Tiwiplusk/Shutterstock
Hard gel, unlike classic, soft gel, is for adding extra length and strength to your natural nail plates. The product is easily identified before curing by its thick consistency that can be generously brushed onto the nail and formed into the desired shape. Hard gel is almost always applied at a nail salon because the application process is somewhat complicated. As usual, it starts with prep, which includes buffing, dehydrating, and priming. Then hard gel, also called builder gel, is applied, and nail forms may be used to add length depending on your preference. After this, the base coat, color, and top coats are painted and cured.
Starting at $80, hard gel manicures and gel extensions normally cost more than other strengthening and extension options. They can often cost up to $100 when you add length, designs, and additional services. Gel extensions involve more skill, patience, and separate products to complete. Thankfully, you can have them refilled and repainted a few times before needing a whole new set. Refills cost at least $40. Your hard gel sets should last three or four weeks between retouches. When it's time for them to come off, you should not do so on your own; trying to remove them yourself can leave you with weak and damaged nail beds. Hard gel is removed by filing the gel instead of using acetone.
Acrylic full set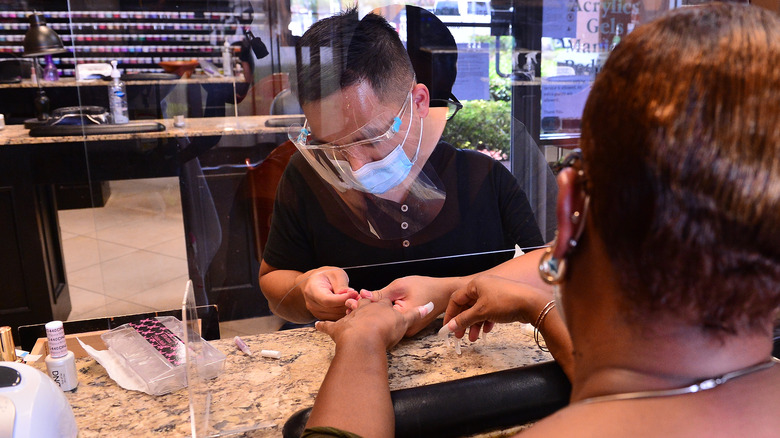 Johnny Louis/Getty Images
An acrylic full set is a common manicure that's also sometimes referred to as nail extensions. Acrylic full sets can be achieved with paper forms or tips that aim to lengthen your nails and form them into an oval, almond, stiletto, square, or coffin shape. Tips are more often used compared to paper forms. As the name implies, small nail tip-shaped pieces of plastic are glued to your natural nail. Then, beads of acrylic are brushed on, shaped with a file, and sometimes painted with gel polish. Only a trained nail technician can provide this service, as they are educated on the best ways to use the monomer, polymer powder, and other chemical compounds involved in the process while keeping your hands and nail beds free from harm.
A full set of acrylics is surprisingly affordable. However, as is the case with every other manicure in this guide, the price you pay is dependent on the salon you choose. A basic set is usually between $30 and $40, but adding gel polish, designs, or gems can push it closer to $60 or $75. Most likely, your acrylic nails will last four weeks if you care for them diligently, but, using them as tools, chewing on them, or soaking them will reduce their lifespan. When it's time for removal, we insist you go to a nail salon. Removal costs about $10, but the healthy and bare nails you get in return are priceless.
Acrylic fill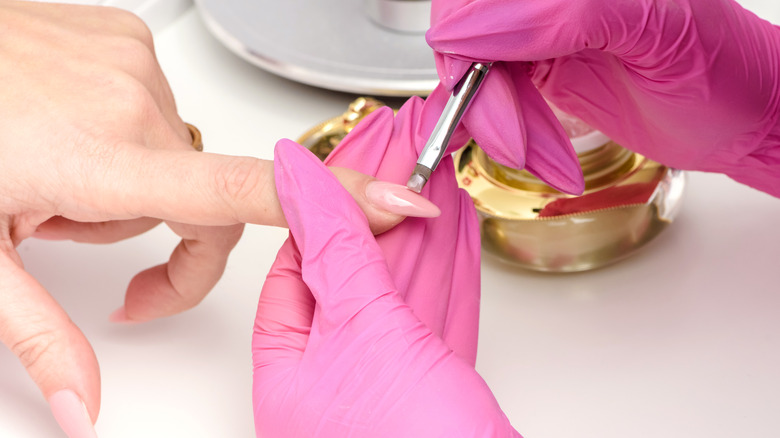 DR-PSD/Shutterstock
An acrylic fill is like a facelift for an acrylic full set. To keep your nails looking long and beautiful at a lesser price, you can pay to have your acrylic nails "filled" with more acrylic to cover your nail growth while filing down the length and changing the color. Fills are recommended every two to three weeks after getting a full set or a previous fill. Leaving your nails to grow out without getting a fill or removal is a good way to lose your entire nail plate by accident. Just like a full set, you must have a fill performed by a professional at a trusted nail salon. The process won't take long. With your acrylic nails still intact, the technician will file, fill in the area closest to your cuticle with acrylic, repaint the nails, and add a top coat.
Because this service is much simpler compared to most manicures, it should cost only $20 to $30. Still, most salons allow you to add a new color, designs, or other accents at the time of your fill, which can hike up the price. The removal of acrylic nails with a fill requires the same amount of effort as removing a full set because underneath is still a full set. It's likely to run you about $10 and often includes a hand massage and buffing to make your nails look good as new.
Acrylic overlay
As we've learned, acrylic, used for enhancing nails, is a polymer powder mixed with a liquid monomer. The two melt together on the tip of your technician's nail brush to form a bead that's attached through a process of patting, air drying, and filing. An acrylic overlay is, put simply, an acrylic full set without the length. Though acrylic nails are usually thought of as artificially long and uniquely designed, acrylic overlays are a thin layer of acrylic on top of your nail plates that can look extremely natural. Enhancing the nail this way gives it extra strength against environmental stressors and provides an even surface for nail polish and designs.
During this manicure, you can expect to go through some familiar steps. The nail professional will prepare your nails with isopropyl alcohol and primer before shaping the acrylic. As shown by Young Nails INC on Youtube, applying acrylic takes a practiced hand. They add a small amount of product to your nail and smooth it out before filing. Usually, an acrylic overlay costs only slightly less compared to an acrylic full set. You can expect to pay $45 to $60 for application and $10 to $15 for removal after two to three weeks.
Full-coverage soft gel tips
Full-coverage soft gel tips are a mouthful, so we'll call them soft gel extensions, although they are often referred to by their brand name, Apres Gel X. These are different from the other extension methods because the full-cover tips are made of soft gel. They are similar to regular press-on nails but are flexible and almost as strong as acrylics. Keep in mind that the process is still fairly new and is not yet widely available at all salons. Still, kits for this type of nail enhancement can be purchased via a few different websites including Amazon.
The process of doing soft gel tips at home versus the salon is mostly the same. It begins with diligent preparation of the nail beds and moves on to curing the soft gel tips to your nails, filing, shaping, and painting them. Kayli Boyle details each step in her YouTube video and adds that Gel X nails are likely the best way for beginners to learn to do their nails at home. With the right technique, they can last three to four weeks, and starter kits usually cost between $30 and $150. To remove soft gel extensions, the tips are cut off, the gel color is filed down, and the nails are soaked in acetone. After about 20 minutes, the gel can be gently scraped off the nail surface.
Polygel manicure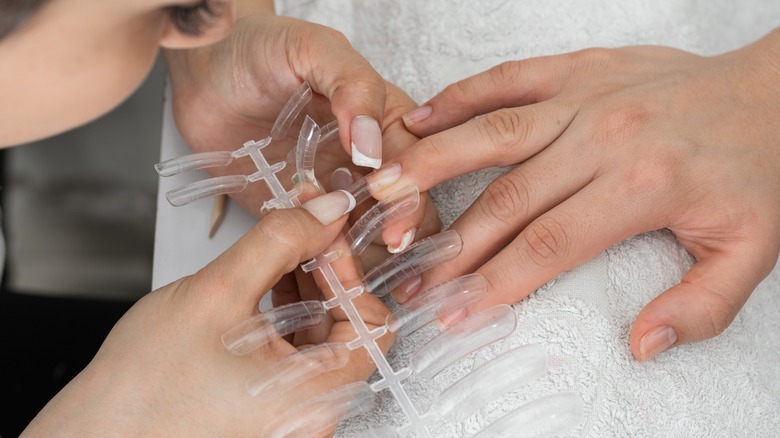 Maurotoro/Shutterstock
Polygel nails aren't really gel. Polygel is a hybrid product that sits between gel polish and acrylic. Typically, it involves dual forms, slip solution, and polygel tubes, along with dehydrator and primer for prep and gel polish or a top coat for finishing the nails. The hybrid concoction allows the extension to be durable, yet flexible, which reduces breaking or chipping. Like soft gel nail extensions, polygel can be done at the salon, but the process is no different if you decide to do them yourself at home. The most popular method for applying polygel nails uses dual forms, although you can use paper forms or tips. Mostly all polygel systems already have dual forms built into the kit. By filling the form with poly gel, smoothing it out with slip, and curing it onto your nail with an LED or UV lamp, the forms ensure identical and smooth nails every time.
At a salon, a polygel manicure with extensions costs $55 to $150 for a full set, and refills are frequently more than $80. Just like acrylic nails, your polygel set will need to be filled after two to three weeks to keep them looking fresh. Instead of filling, you could also get them removed, which simply entails trimming and filing them off completely, without acetone. If you're more interested in doing your own polygel nails at home, polygel kits start around $25 and go up in price depending on the brand and the tools included.
Dip manicure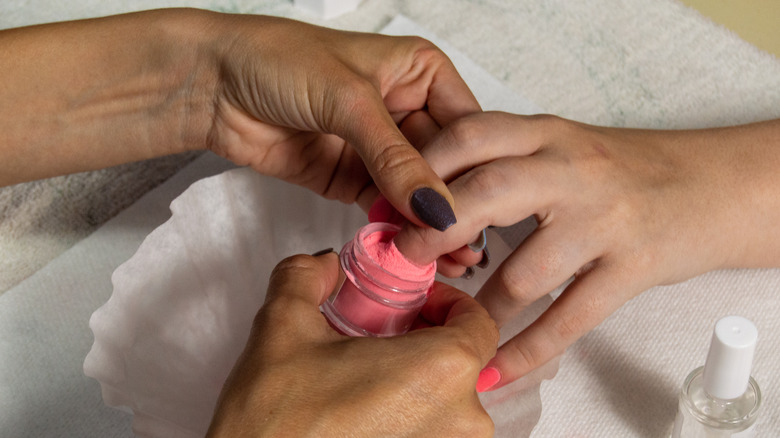 Neal Bryant/Shutterstock
Dip manicures are difficult to categorize. Like polygel, dip manicures are a hybrid most similar to classic polish and acrylic. They are most often performed at a nail salon but can be done at home if you're familiar with the products. The application uses acrylic-based powder and liquid activator to create the nail. It can be used on the natural nail bed or on top of nail tips to add length. Before starting, the nail is prepped with a bond solution and base solution to help the product adhere to the nail. After the dip powder and activator are used, the manicure is finished with a sealer. If you're a DIY queen, you might consider buying a kit such as the DipWell Easy Acrylic Dip System for approximately $55 on Amazon.
Dip powder nails are not all that expensive either, but there are different things to watch out for at the salon. Depending on the salon, a dip manicure costs around $30 to $50. Typically, these sets last three to four weeks if your nails don't grow all that quickly and you treat them with care. Once grown out, you can remove them by buffing the surface and soaking them in acetone-based nail polish remover.
Press-on manicure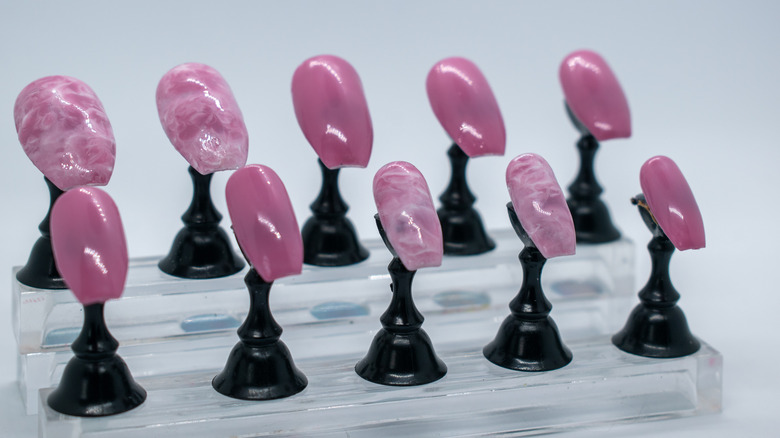 KerryDez Photography/Shutterstock
Press-on nails have been around for a while, but they've only recently been shown love again. If you knew about them back in the day, you may still call them Lee Press-On Nails. Lee was among the first brands to release these nail-shaped plastic disks, and they were certainly the most popular option in the '80s. Today, countless brands offer the plastic nails in a range of lengths, colors, designs, and prices. Even better, the market now includes some talented individual custom press-on sellers. These options provide press-on nail lovers with custom and hand-painted nails measured to customers' nail beds for the best fit. You can find them on Instagram and Etsy. Pre-designed nails aren't your only option either; you can also buy clear or colorless nails to paint yourself. One good choice is KISS's Full-Color Nails Kit.
Most salons don't offer press-on nail applications as a service, though it's easy to glue them on yourself at home. Plus, you can find seemingly endless tutorials online to show you the best way to do it. The cost varies more than does any other type of manicure. Some sets are as expensive as $100, while drugstore sets cost less than a cup of coffee. Depending on the quality of the set and how you treat your press-ons, they may last only one night or longer than a week. To remove them, just soak your hands in warm water and pop them off.
Shellac manicure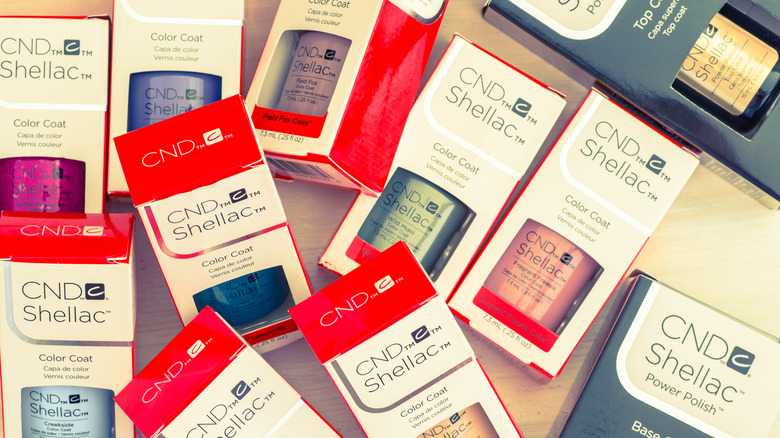 Photosiber/Shutterstock
CND (Creative Nail Design) Shellac is a type of UV-cured nail polish that is an entirely separate product and service from your classic gel manicure. Shellac is described as a blend of classic gel polish and traditional nail polish. Because Shellac is a brand name, there are other products as well, such as OPI gel polish, that are more or less the same product with a different name. Like classic gel polish, Shellac cannot be used for lengthening nails. It's durable, but not quite as thick, so it won't strengthen your nails as much as gel polish either.
Shellac manicures are almost always performed at a salon because it can be difficult to get your hands on the product without a beauty license. The process of applying the polish is no different from applying the classic gel. For this reason, Shellac manicures usually cost the same as a gel manicure, between $20 and $40. The nails should last longer than two weeks before the Shellac polish will need to be removed by filing off the top coat and soaking the nails in acetone.
Vinylux manicure
Vinylux is actually a name-brand nail polish system manufactured by CND (Creative Nail Design). Like regular nail polish, Vinylux polish can be done at home without a UV or LED lamp or many other tools. The Vinylux nail system consists of just two parts that include a color coat and a top coat. You do not use any base coat, as the polish itself is self-adhering. Something to note is that the top coat works specifically with the same brand of polish, so it won't make regular nail polish last any longer than usual. Used along with the Vinylux polish, the top coat makes your manicure strong, chip resistant, and protected against environmental stressors.
Unlike CND's iconic Shellac polish, Vinylux is widely available at Walmart, Amazon, and many beauty supply stores. Each color coat costs about $12, and the Vinylux Longwear Shine Top Coat is available for approximately $11. If you prefer going to the salon, many manicurists offer Vinylux manicures at varying prices. With good care, a Vinylux manicure should stay intact for a full week. When it does begin to chip or show signs of wear, nail polish remover and a cotton ball will take the polish right off.