What's The Difference Between Hard Gel And Soft Gel Manicures?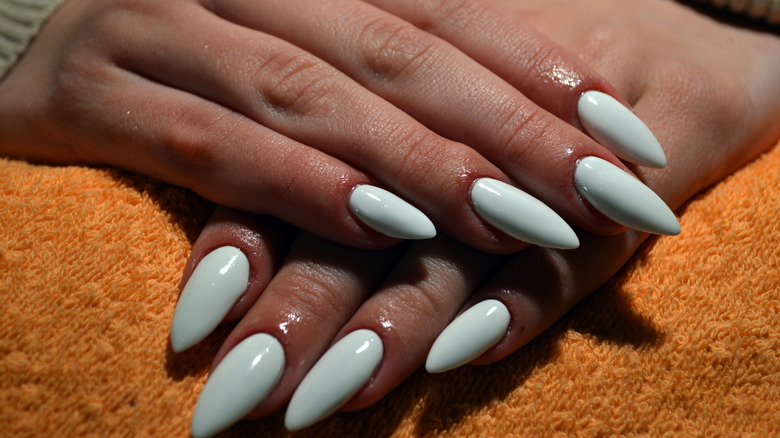 W_photography/Getty Images
Trending manicure styles are constantly changing, but it's clear that gel manicures have become one of the more popular looks on the nail scene. That said, one of the biggest mistakes you can make with your manicure is not knowing the difference between hard gel and soft gel. There are some additional considerations that come with gel manicures as a whole because of how they're applied and what they're intended to do, so knowing what look to ask for at the nail salon is more than just a cost consideration.
Advertisement
Per Makeup.com, not all salons will specify the difference between hard and soft gel manicures, and the two techniques can be combined in the same manicure, depending on the desired look. Hard gel and soft gel manicures also shouldn't be confused with Shellac, which DryBy co-founder Krisztina Van Der Boom noted to Refinery29 is simply a brand name that one company uses for its soft gel manicure products.
Hard gels and soft gels are different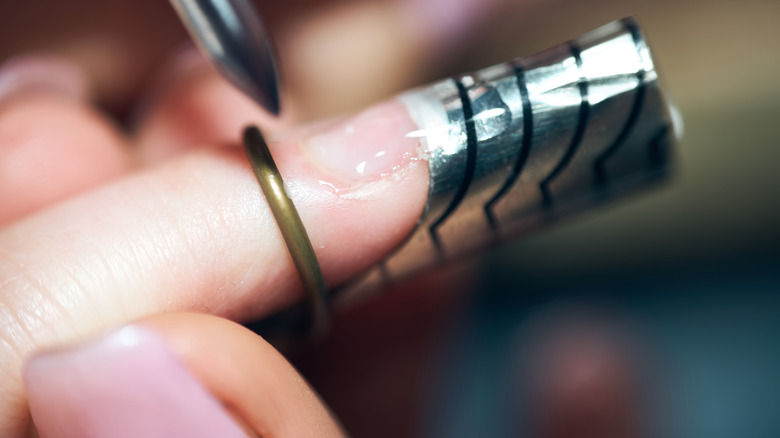 Radu Bighian/Getty Images
At a molecular level, hard and soft gels are different (via Sunday Beauty). Hard gel is stronger and must be removed by a professional, while soft gel can be removed with acetone and is more pliable. When asked about the difference between hard gel manicures and soft gel manicures, and which one is better, nail artist Mamié Onishi told Makeup.com, "In practice, both can be used for any nail type. Soft gel is flexible and durable, but hard gel is stickier and more useful for gel tip extensions and repair."
Advertisement
Krisztina Van Der Boom explained more to Refinery29 about how hard gel can be used to extend the nail and revealed, "A small template or guide is used in whatever shape you want to create, maybe super-long or coffin shape or whatever it is. When application is done, you remove the template and you have these hard gel extensions."
Nails magazine adds that there are some benefits to hard gels, particularly for those who like to get creative with their nail designs, since they can be used to craft three-dimensional elements that wouldn't be possible with a soft gel. However, soft gel is typically cheaper, costing an average of $45 per manicure (as opposed to $80 for hard gel). 
Gel manicures are typically safe to receive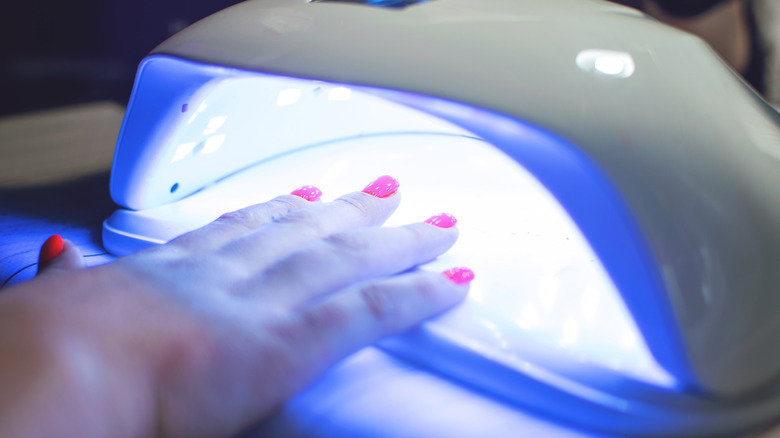 Iryna Imago/Getty Images
StyleSeat writes that gel manicures are safe overall but that not following instructions for their care and removal can cause problems for one's nail health. At the same time, the website notes, hard gels can be used to fix broken nails, so there is that to take into consideration. The use of UV lights in curing the gel manicures also shouldn't be an issue, StyleSeat states, but some salons do use LED lights as an alternative for those concerned about UV exposure.
Advertisement
For anyone who is pregnant or who might become pregnant, however, WebMD suggests exercising caution in getting gel manicures because there isn't enough information out there to determine whether or not they are harmful in pregnancy. There's no reason to despair about going without painted nails for months, though. Urologist and OB-GYN Karen Boyle, M.D., told Parents that ordinary manicures and pedicures are safe to schedule during pregnancy but that they could lead to nausea because of the chemicals used in the process.