The Ideal Bronzer Placements For A Sun-Kissed Look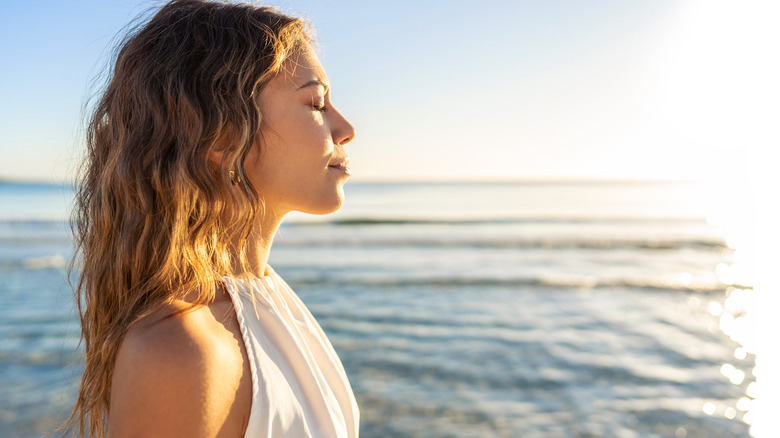 Robby Fontanesi/Shutterstock
Bronzer has come a long way since its origin. Once known as a one-color-fits-all, whole-face tint, bronzer is now a must-have makeup product for every beauty kit. It works on all skin tones and skin types, comes in a wide range of shades and formulas, and is ideal for livening up skin in an instant while giving the complexion a fresh and healthy appearance.
Advertisement
You may already know and love your bronzer, but are you hitting the ideal bronzer placements for a sun-kissed look? The right application with the perfect bronzing product for your skin delivers an authentic-looking glow and enhances your features. We've all seen bronzer go wrong — choosing a bronzer that's not cut out for you or applying it incorrectly can make skin look too orange, too dark, or even dirty. Yes, there are tips and tricks to make your bronzer game way more effective and gorgeous, all without sun damage or an unattractive cast. Learn how to keep your natural-looking glow going year-round.
Choose the perfect bronzer for your skin type and tone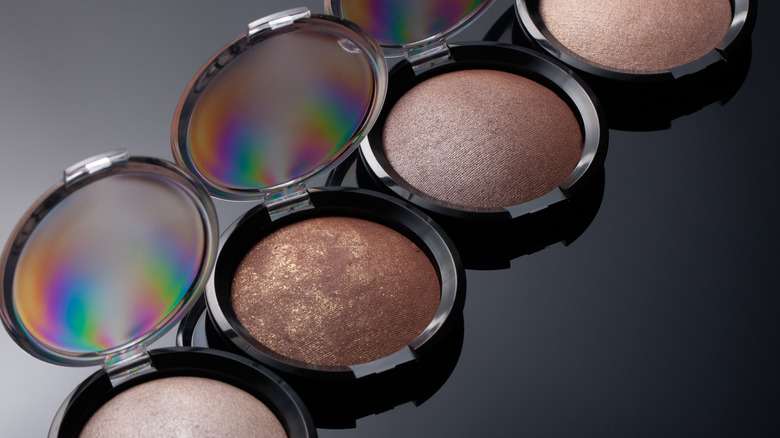 Fkis/Shutterstock
The whole natural glow thing? That's where choosing the perfect shade of bronzer comes in. Getting this step wrong is what creates a fake, unnatural look. Bronzer should be an enhancement and not overly visible. This means it should be a good match for your natural skin tone. When selecting the ideal bronzer shade for your skin, choose a bronzer that's one to two shades darker than your natural skin tone. Remember, you don't want to go too dark with your bronzer, as that can give an artificially tanned look. What you're going for here is your skin, only better.
Advertisement
It's also important to consider your skin's undertones. Those with cool undertones should opt for a bronzer that also has cool undertones, like rose or pink hues. For warm undertones, choose a bronzer with more golden tones. Neutral undertones should stick with a bronzer that has warm tones when looking to create a sun-kissed look. 
Powder bronzers are super easy to apply and work best for oily skin or if you're applying over a facial oil or cream base. Cream bronzer works well on dry skin or if you want a richer, more radiant look. Liquid bronzer is traditionally used on the entire face but can be strategically placed for a sun-kissed appearance. You can mix liquid bronzer with a dab of your moisturizer for easier application, but for the ideal sun-kissed look, we recommend cream or powder bronzers.
Advertisement
Start at your hairline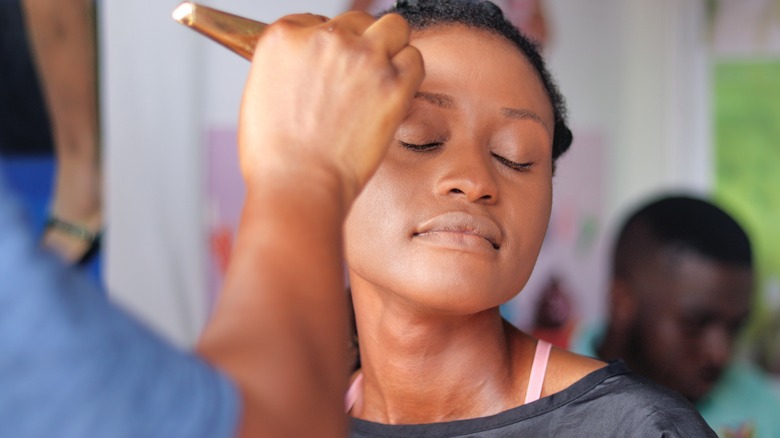 Nana Kakraba/Shutterstock
Before you get started creating your sun-kissed look, it's important to note that a light touch is key when applying bronzer. Remember, you can always add more if needed, but it's difficult to diminish the appearance of a heavy-handed application.
Advertisement
You've probably heard that it's best to think of where the sun naturally hits your face when applying your bronzer, but it's a bit more strategic than that. Starting at the point of your hairline above the inner corner of your eyebrows, move your bronzer brush along your hairline above your forehead outward to just above the outer edges of your eyebrows, blending in circular motions as you go. Small circles will keep you from ending up with the dreaded bronzer stripes. 
Brushes designed specifically for applying bronzer are typically thick and fluffy with a rounded edge — perfect for creating a natural application and blending in your product. If you are using a cream bronzer, press the product into the skin and blend with a sponge or your fingertips before blending with your bronzer brush.
Advertisement
Next is the brow bone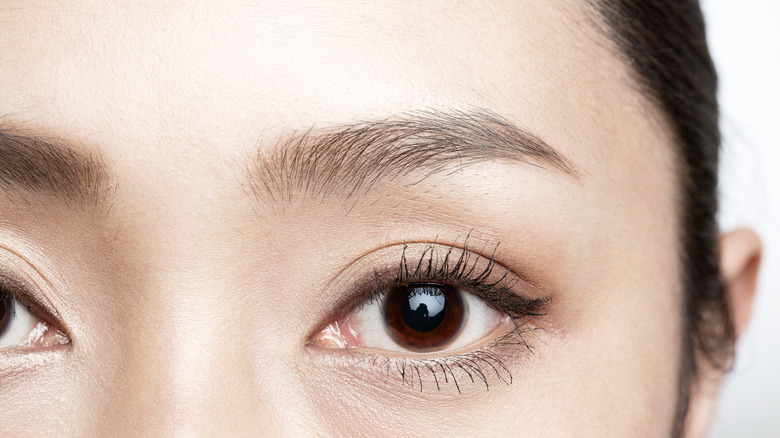 kei907/Shutterstock
When bronzing the brow bone, we are talking about the area immediately above your eyebrows, not your eyebrows themselves. Those will receive a sweet grooming (ideally, you'll create the best brow for your specific face shape) after you bronze.
Advertisement
Dust bronzer lightly over the brow bone on either side of your face, just above your eyebrows, using an extremely light touch and concentrating more on the outer edge than the inner. It's best to start at the outside corner of the brow and sweep inward. This ensures that the greatest concentration of product is at the outside edges. Cream bronzer works well here, making it easy to dab a small amount into place, then press into skin to blend. 
Going heavy-handed with the bronzer in this area can weigh down brows and create an overly hooded look on the eyes. Wondering if you should bronze underneath your eyebrows? While bronzer can sub in for eyeshadow (more on that in a sec), bronzing right under the brows can make the eyes appear sunken and hollow, aging the face and creating a more tired appearance.
Advertisement
Swipe onto eyelids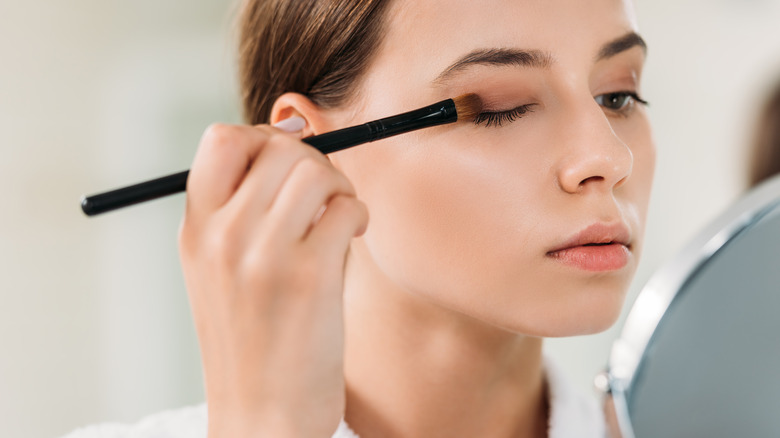 Lightfieldstudios/Getty Images
Using bronzer on your eyelids can be thought of in two ways: as a base for eyeshadow or in place of eyeshadow. If you plan to create a more elaborate eye makeup look, swiping a bit of bronzer onto your lids with your bronzer brush gives that summery glow. It also works as a nice primer for your eyeshadow of choice. 
Advertisement
If you want to try using bronzer in place of shadow, switch to a smaller eyeshadow brush for the application. Focus on putting bronzer on the outer corners of lids (in a V-shape with the point at the outermost edge) and along the lash line, then fill in with a lighter eyeshadow. Or for a super simple makeup look that screams just-got-back-from-the-beach vibes, use your bronzer brush to add a healthy hit of bronze to your lids, then finish with a touch of mascara. Whichever method you choose, you'll get the desired glowing effect. 
Don't forget the temples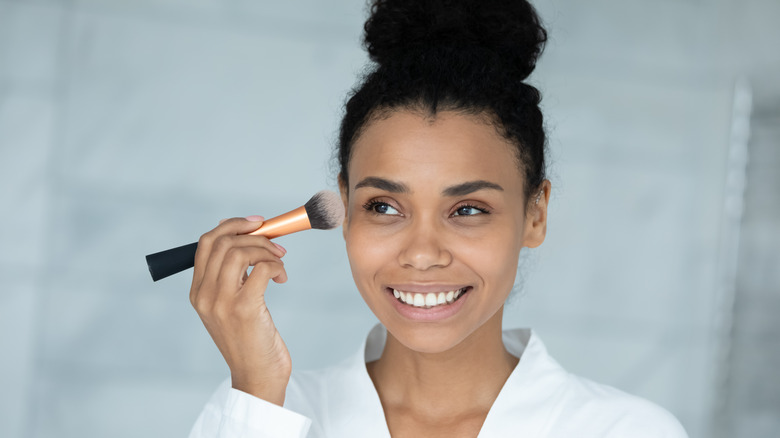 fizkes/Shutterstock
You already have your hairline, brow bone, and eyelids covered. Now, don't forget that tiny area right between your lids and your hairline — your temples. Once again, this is an area that requires a light touch with your bronzer — a dusting is plenty. It's also an area that can either bring out the best in your features when bronzed, or not so much.
Advertisement
Why would this area at the sides of your face need bronzing? It certainly isn't a spot the sun usually hits. Bronzing the temples is best for wider faces and those with a wider forehead, like a heart-shaped face. Adding a hint of bronzer to this area can make the forehead look smaller. The other side of that beauty coin is that bronzing the temples can make a thin face look thinner. It's especially wise to avoid applying bronzer to this part of the face if your temples already appear slightly sunken, as this will only enhance that appearance.
Cheekbones are essential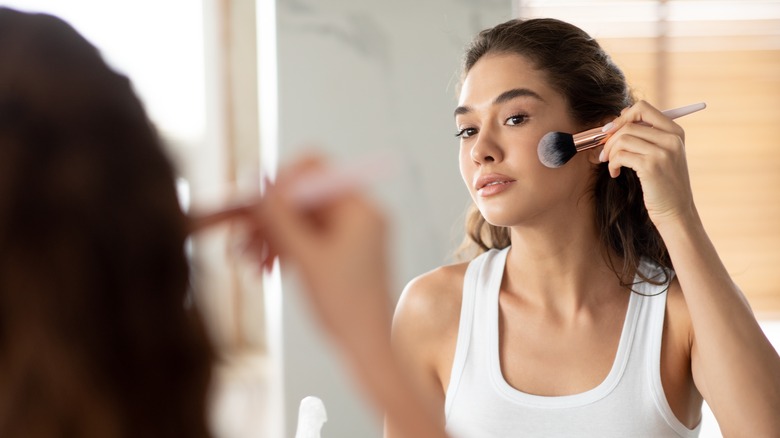 Prostock-studio/Shutterstock
Ah, the central feature of any face and the most sublime spot for applying bronzer. A sweet hit of bronzer on cheekbones is the absolute pinnacle of a naturally sun-kissed look. You can add bronzer to your cheeks before you apply your blush, opt for a dusting on top of your blush, or use bronzer as blush. Feel free to experiment with the type of bronzer you use on your cheekbones, as powder and cream bronzers offer different looks.
Advertisement
Applying bronzer just under your cheekbones near the outer edges of your face is a classic contouring trick that helps to add definition to the face. But since we are creating a sun-kissed glow, the tops of the cheekbones and apples of the cheeks are key bronzing zones. Starting at the apples of your cheeks, apply your bronzer and work outward at a slightly upward angle. Don't forget to blend well, no matter what formula you use. While those with an oily skin type usually want to avoid shimmer bronzer because it can make the face look greasy, the tops of cheekbones are a great place to apply a gentle touch of shimmer.
Now for the bridge of the nose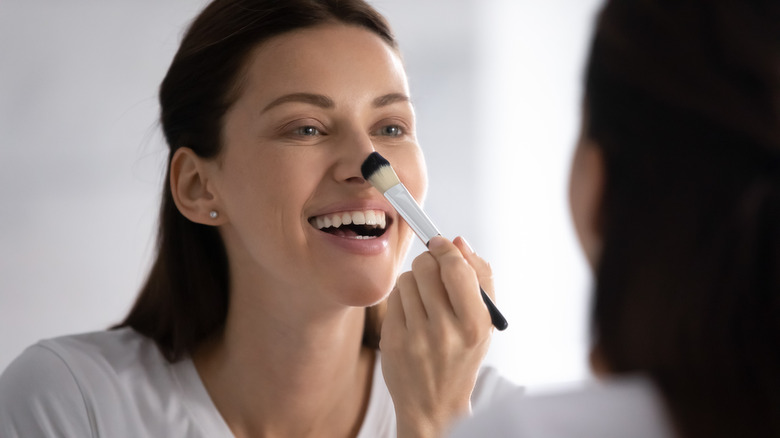 fizkes/Shutterstock
You've seen it before — an overzealous application of bronzer on the bridge of the nose can take any glow from natural to nuh-uh in an instant. It's important not to forget this area when applying bronzer because it's one of the parts of the face that naturally gets a lot of sun, making for the best sun-kissed look. But it must be subtle and well-placed. No stripes or solid lines, here, please.
Advertisement
A line on either side of the nose is typically the image that comes to mind when bronzing this area. But that's more of a contouring move. It's not that you can't or shouldn't contour this area, and you can certainly use a bronzer for that. But if it's a natural glow you are after, try applying bronzer (with a gentle touch) to the bridge of the nose, with an extra horizontal dusting right at the mid-center point. And, we beg you, whether you use powder or cream bronzer, don't forget to blend.
Touch on the chin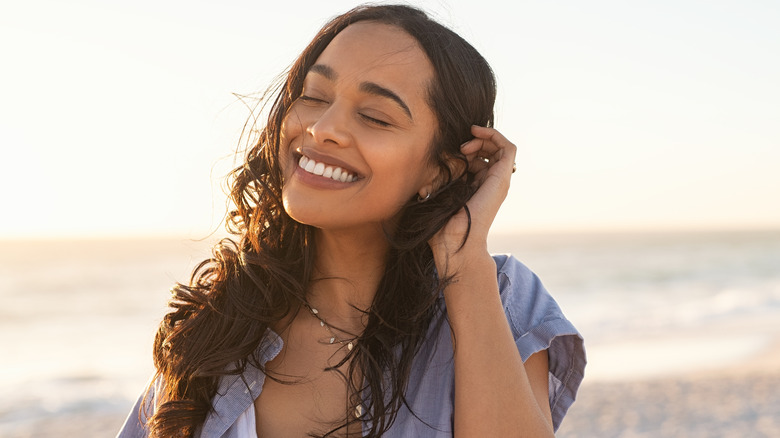 Ridofranz/Getty Images
To bronze, or not to bronze? That is the question when it comes to whether or not you should apply bronzer to your chin. Remember when we talked about placing bronzer on the high-point areas of your face, where the sun naturally hits while you are outdoors? Well, the chin is definitely one of those areas. So, the answer is, yes. It's totally a good idea to apply a touch of bronzer to your chin.
Advertisement
When bronzing the chin, using a powder bronzer is usually best as the skin on the chin tends to be more oily and a cream bronzer can settle in creases. Taking your bronzer brush, dust a light amount of product onto the tip of your chin. You may even want to use a shade lighter in color, depending on how dark a bronzer you are using. As is the theme with bronzer, don't overdo it.
Bronze the jawline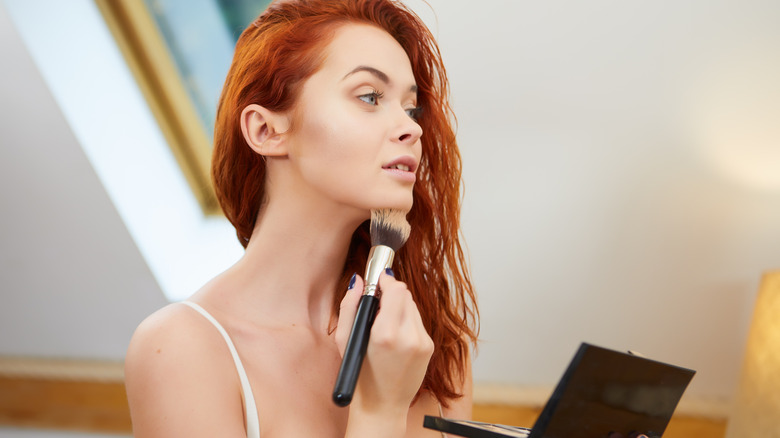 Zoom Team/Shutterstock
The jawline may not be the first thing that comes to mind when you think of a naturally sun-kissed glow. But applying bronzer to this area is essential in bringing out the best in your face and highlighting your features. Lightly bronzing the jawline adds definition and creates the appearance of a more toned and youthful face.
Advertisement
To get this placement just right, using your fluffy bronzer brush, run powder bronzer along the underside of your jawline. Start at the back edge of your jaw, right under your ear, and move along to underneath your chin area. Repeat on the other side of your jawline. While you can use a cream bronzer here, powder bronzer is much easier to apply to this area and lends a lighter, more subtle look. You are aiming to enhance your natural jawline, not create visible lines, so be sure to blend your product after application.
Shoulders come next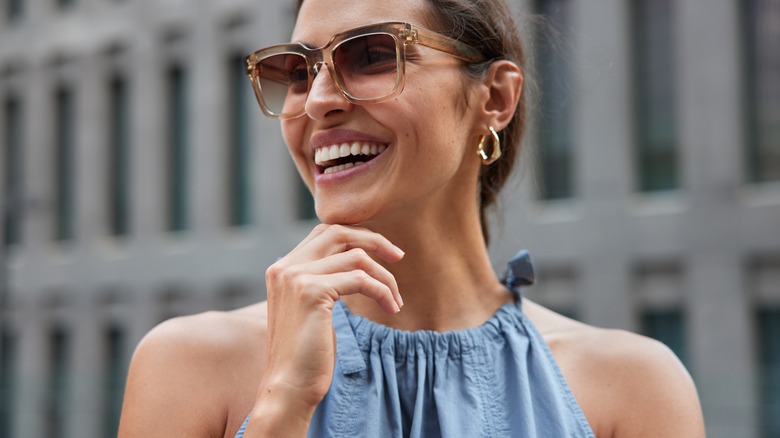 Cast Of Thousands/Shutterstock
Yes, there are areas of the body that come into play with ideal bronzer placements for a sun-kissed look. And shoulders are crucial, especially during warm weather months when you'll be showing them off. Have you been waiting to use that liquid bronzer you love? Well, this is where that works beautifully. 
Advertisement
Begin by exfoliating and moisturizing your skin for a smooth, flawless application. To bronze your shoulders, you can either pat liquid bronzer right onto your skin or mix a small amount of bronzer into your favorite body lotion and then apply. And if you love your powder bronzer, there is absolutely nothing wrong with using it on your body, too. For perfect placement, apply bronzer to the tops and sides of your shoulders, where the light would hit you if you were sitting out in the sun. This is also a great spot to add some highlighter or even shimmer to dress up your look.
Collarbones are key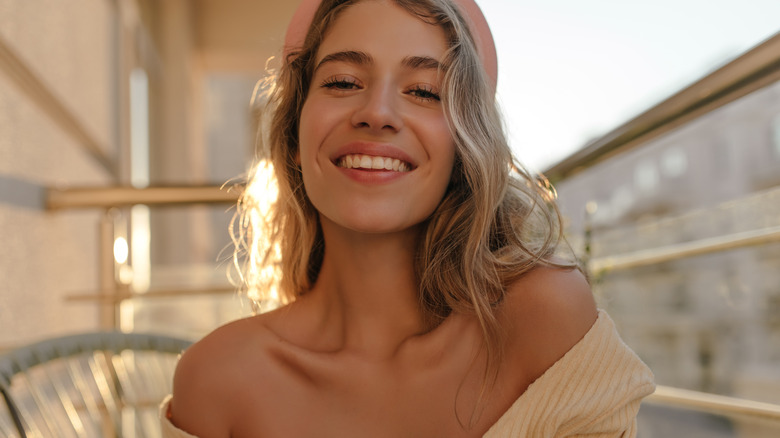 Look Studio/Shutterstock
Defining your collarbones can give your body a more toned appearance and make your shoulders stand out. One note, if your body is a darker tone than your face, be sure to choose a color of bronzer that is one or two shades darker than your facial bronzer for best results.
Advertisement
It's usually easiest to use a powder bronzer for this area, along with your fluffy bronzer brush, but you can use the liquid bronzer technique as you would when bronzing your shoulders. Start by applying a line of bronzer both above and below your collarbone on each side. Next, start blending from the center outward toward your shoulders. The end result should make your collarbones appear more sculpted. Go ahead and dust on a hint of powder highlighter or shimmer over both areas for a fun look. To really make collarbones pop, blend a dot of highlighter into the divots of skin between your collarbone and neck, then blend with a brush or sponge.
Décolletage for a sexy glow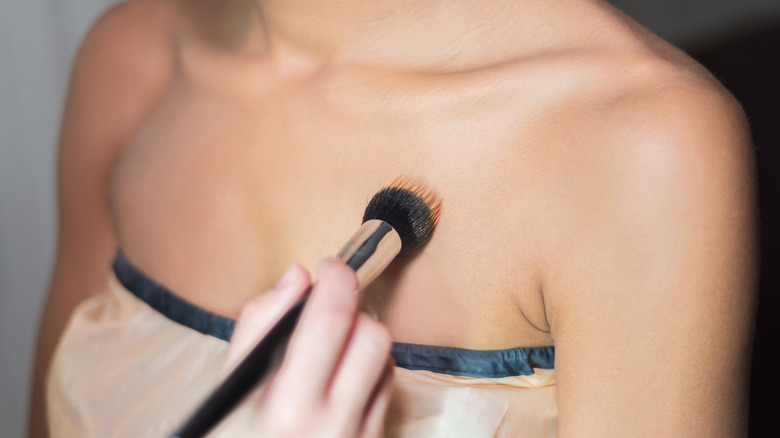 Olek Lu/Shutterstock
If it's a summery sun-kissed glow you are going for, you must not miss your décolletage. Make sure to use the same tone of bronzer on this area as you used for your collarbones for a seamless, natural finish.
Advertisement
As you did with your shoulders, make sure to gently exfoliate your décolletage and generously moisturize before applying bronzer. The skin on your chest is thinner than other areas of the body, so you want to ensure it is hydrated prior to bronzing to avoid any creasing or caking. You can use liquid, cream, or powder bronzer in this area. Start by applying bronzer from the middle of your chest in a V-shape, moving from the center in an outward and upward motion. Blend well and finish by applying a dusting of bronzer in a vertical line at the middle of your chest, blending slightly.
Finish with highlighter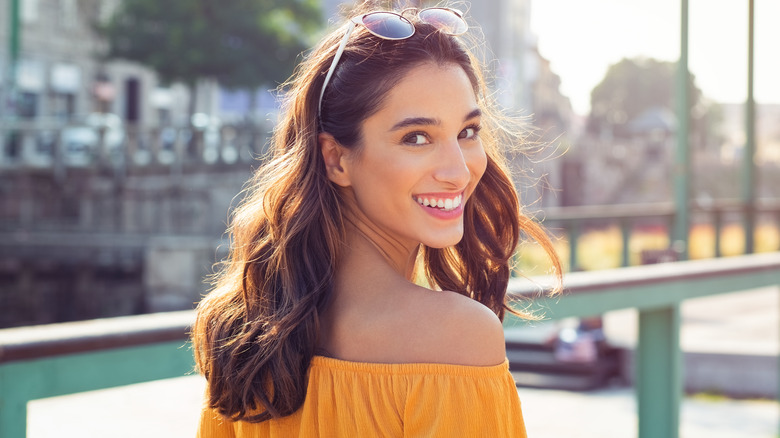 Ridofranz/Getty Images
We have one more trick to add to your new year-round bronzing routine. And this is where you'll want to grab your highlighter or shimmer bronzer. You may already have placed a bit of shimmer here and there, or highlighted an area or two. But take a moment to stand back and look in a mirror. Are there areas that you'd like to stand out more? 
Advertisement
Start by applying a hint of highlighter (a little goes a long way) to small areas of the face and body that you'd like to highlight. The center of your nose, cupid's bow, under the arch of your brows, the tips of your shoulders, and the lower center of your décolletage. If you feel your bronzer is too dark in certain areas, try blending a bit more. If that doesn't work, a dab of highlighter blended over top will lighten and brighten the area.