The Best Type Of Makeup Brush To Apply Bronzer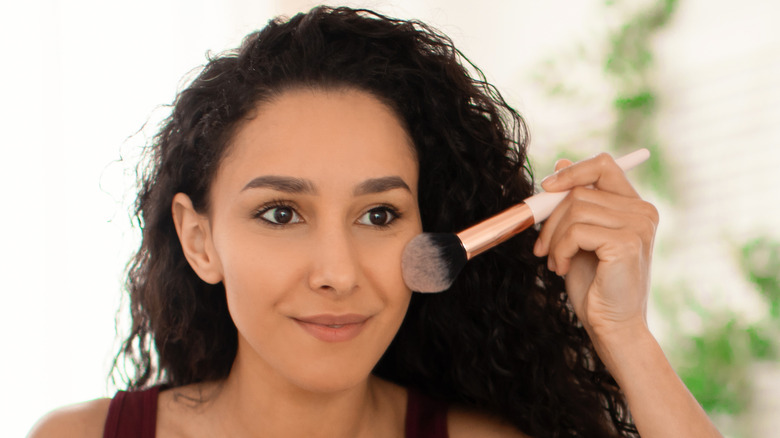 Prostock-studio/Getty Images
When it comes to makeup brushes, there is certainly no lack of choice. While there is no officially confirmed number to measure how many different types there are, it is estimated that there are around 40 types of makeup brush that exist globally, per The Skin Games. That's a lot of brushes — and a lot of brushes equals a lot of options. For anyone who isn't a seasoned makeup pro, it can be very easy to select the wrong brush for the job. Some people even use the same brush for several different products. However, while it is easy to do, you won't be getting the best performance out of your product like this.
For example, foundation requires a flatter, larger brush, while an eyeshadow brush should be smaller. There are even specific types of makeup brushes for beauty products like concealer and bronzer. When it comes to bronzer in particular, the best type of brush depends on whether you're using a cream or powder formula. Cream bronzers work best with synthetic brush hairs, while powder bronzers are better paired with natural hair brushes. 
Bronzer brushes for cream vs. powder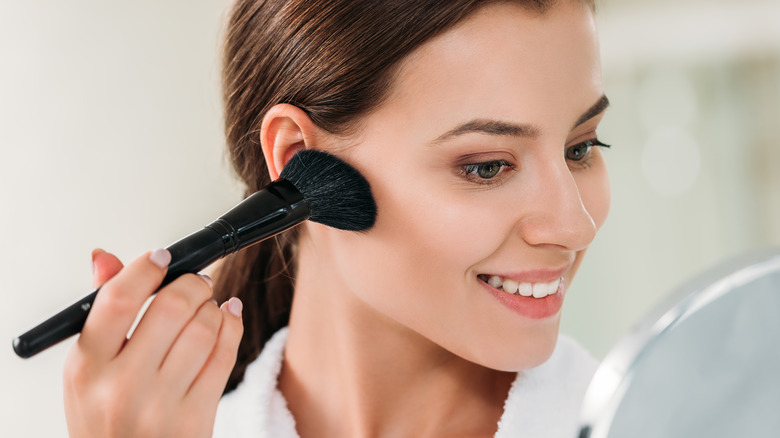 LightField Studios/Shutterstock
Into the Gloss explains that synthetic hair brushes work better with cream bronzers because these formulas tend to be greasy, and it's healthier to apply them using synthetic materials. On the flip side, natural hair brushes complement powder formulas because they can grip small particles of pigment and spread them out evenly, per Adore Beauty. Each hair type will help distribute the product perfectly onto your skin and prevent excess waste.
Director of Artistry and Education at Kevyn Aucoin Nick Lujan told Marie Claire that you should select a fluffy brush that allows for "[diffusion] over a large surface." However, he also adds that cream bronzers will need a "tighter bristled" brush compared to one that you would use for a powder product. Likewise, angled and flat brushes also work well to create a flawless finish. Once you are armed and ready with your new brush, you'll need to practice using it. Now, we'll take a look at how to apply bronzer using such a specialized tool correctly.
How to apply your bronzer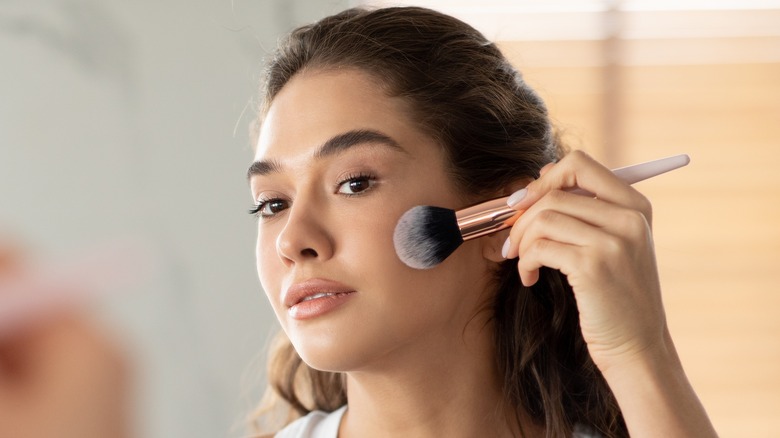 Prostock-studio/Shutterstock
Applying bronzer is relatively easy, and you should be able to get the hang of it in no time. To start, apply the product in your usual areas, such as just under your cheekbones or around the contours of your nose. This product is usually best applied to the natural contours of your face where the skin might be one or two shades darker. Gently blend it in until you feel as though your look is perfected. However, you can also experiment with various other techniques. When it comes to using your bronzer brush, practice makes perfect, and it may take a few tries before you are entirely accustomed to the process.
After, you can set your look with a setting powder or alternatively, build upon your current look with blush and eyeshadows. The world is your oyster! One important thing to note is that you should always apply bronzer on top of your foundation, as this will help the color to pop. You don't want to end up dampening the pigment of the product by applying layers of makeup over it.