How To Apply Bronzer Like A Total Makeup Pro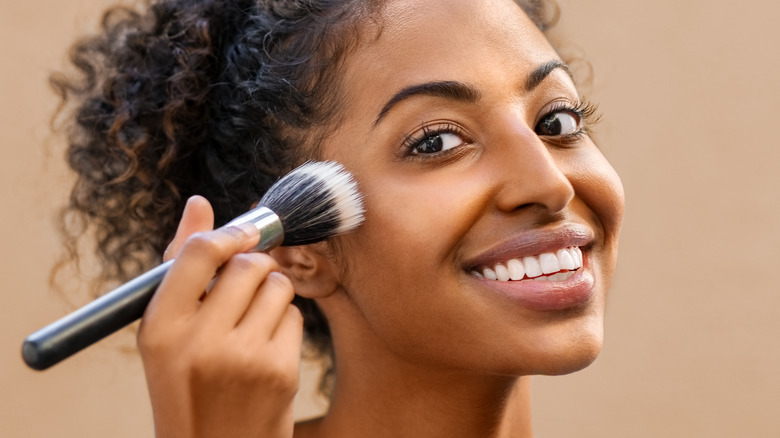 Rido/Shutterstock
We may receive a commission on purchases made from links.
A successful makeup look always has warmth, looks full of vitality, and has radiant dimensionality. Bronzer is the one product that can lend itself to all the above, making it a staple product for its flexible versatility. Bronzers got their popularity in the early 2000s when tanned luminous skin reigned supreme amongst socialites like Paris Hilton and Nicole Richie, who popularized the sunkissed, just-got-out-of-the-tanning-booth aesthetic (via L'Officiel). According to beauty historians, bronzing was the precursor to the ever-prevalent highlighting and contouring that dominates Instagram and Tiktok feeds today. Before we knew how to sculpt and accentuate, we were buffing out bronzer to create a lustrous tanned visage. 
Advertisement
Bronzer isn't just for fairer skin tones looking for a tan, per Rose Inc. Medium to darker skin tones can use bronzer to add warmth back into the face and bring a smoldering glow to a look. It can play up cheekbones, accentuate jawlines, and add richness to any makeup routine. Now, here's how you can do it with ease.
Pick the right shade for your skin tone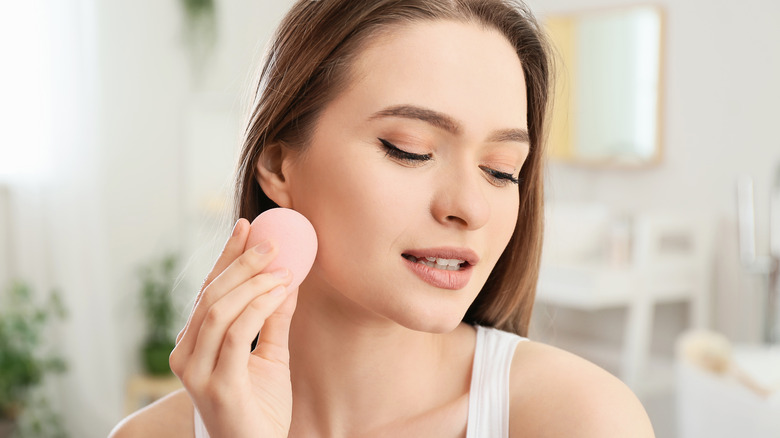 Pixel-Shot/Shutterstock
No matter your skin tone, bronzer is meant to add natural warmth and dimensional glow back into the skin. According to makeup experts at Maybelline, it can also double as a contour depending on where you place the product. When choosing your shade, take into consideration your skin tone and also the final effect you're looking for. If you're looking more for a contour effect rather than a sunkissed glow, MasterClass suggests choosing a deeper shade that is more matte with fewer flecks or less shimmer. 
Advertisement
It's also important to consider your skin type. For example, if your skin is on the drier side, you may want a liquid bronzer or one blended with a moisturizer to create a dewier hydrated effect. When choosing the right bronzer shade, makeup experts at Coco & Eve suggest that those with cooler undertones use peaches and lighter tans and those with warm undertones use warmer mochas and golden browns. Those with deep skin tones can even bring in a bronzer that has red and burgundy undertones to bring in a rosy radiance.
Use it to warm the face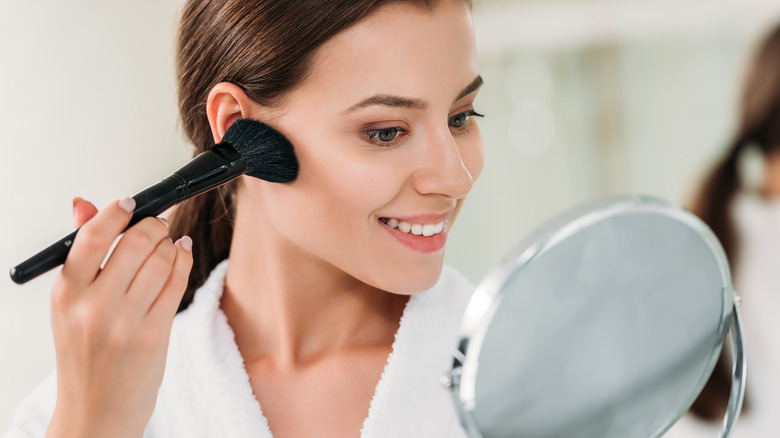 LightField Studios/Shutterstock
Using bronzer should feel like you instantly gave your face a gentle glow up. When applying it, use an angled blush brush or a clean fluffy brush that can cover lots of areas on the face. Makeup experts at Maybelline suggest starting with the cheekbones right above the hollows of the face to begin warming the face up. Continue applying the product along the hairline, brushing upward toward the forehead. You can then run the brush back down along the jawline to snatch the area under the chin. This area should create a silhouette similar to the number three, going from the forehead back inward along the cheekbones and then along the jawline.
Advertisement
Makeup artists at Marie Claire also suggest applying any excess along the chest and collarbone to ensure a consistent bronzed color down the neck and body. Of course, you need a good product, too. Fresh on the scene in bronzer makeup is Glossier's Solar Paint, which acts as a whipped gel infused with the brand's Desert Milk, a micro-emulsion of plant oils and botanicals that also nourishes and hydrates as it warms and contours. Finally, don't be afraid to use bronzer in the colder fall and winter months when most people tend to lose a lot of their color. It's a great way to continue that summer glow and feeling of sunshine when there is none.