The Best Eyebrow Shape For You Based On Your Face Shape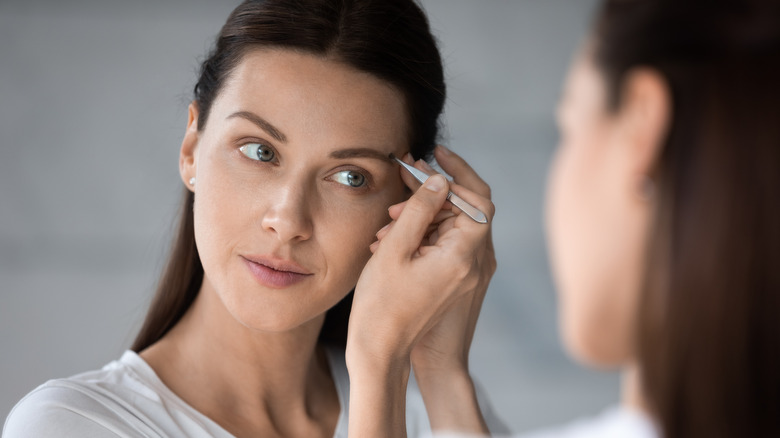 fizkes/Shutterstock
Let's face it, not everyone can be born with Cara Delevingne's brows. But one beauty trick sure to enhance your overall look is to choose the best eyebrow shape for you based on your face shape. Think of shaping your brows as getting the most flattering haircut for your face. The ideal shape can show off your best features, frame your eyes, slim your face, and lift your cheekbones. Your brows' appearance can even make you look younger and more awake, bringing out the best in your face. The flip side of that magic is that the wrong brow for your face shape can do all sorts of things you don't want — like make a wide face look fuller, a narrow face look thinner, eyes look droopy, and more.
The first step in choosing your best eyebrow shape is to determine your face shape. Maybe you already know which face shape you have, or maybe you need a little help. We have the answers. Find out which face shape you have and which brow shape will look best on you. To help you get your best brows, we've got tips on creating your brow look, what tools you'll need to do that, and troubleshooting for any brow issues (plus, when it's best to see a professional). 
Determine your face shape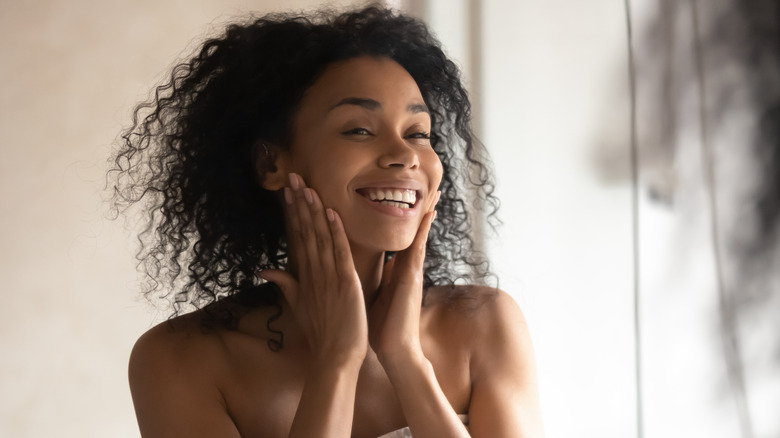 fizkes/Shutterstock
There are seven face shapes: oval, round, heart, diamond, triangle, oblong, and square. Even if you know your face shape, don't skip this part. It can help you zero in on how to get the best eyebrow shape for you based on your face shape and where you might be going wrong when creating your brow look. The most precise way to identify your face shape is the measurement technique. Sound like a lot? We've got you — use this handy face-shape calculator.
Each face shape also has a few defining features. An oval face is usually longer than it is wide, with a rounded jawline and chin and cheekbones that are slightly wider than the rest of the face. A round face is shorter, features are softer, and the forehead and jawline are roughly the same widths. Heart-shaped faces have a narrow chin, and the cheekbones are the widest part of the face. Diamond faces are similar to heart-shaped but also have a narrow forehead. A triangle-shaped face has a narrow forehead, wider cheekbones, and the jawline is the most prominent feature. Oblong faces, otherwise known as a long face shape, have a forehead, cheekbones, and jawline that are close in width. And a square face also has roughly the same forehead, cheekbone, and jawline measurements, but unlike the oblong face, this face shape is as long as it is wide.
Tools you need to sculpt brows for your face shape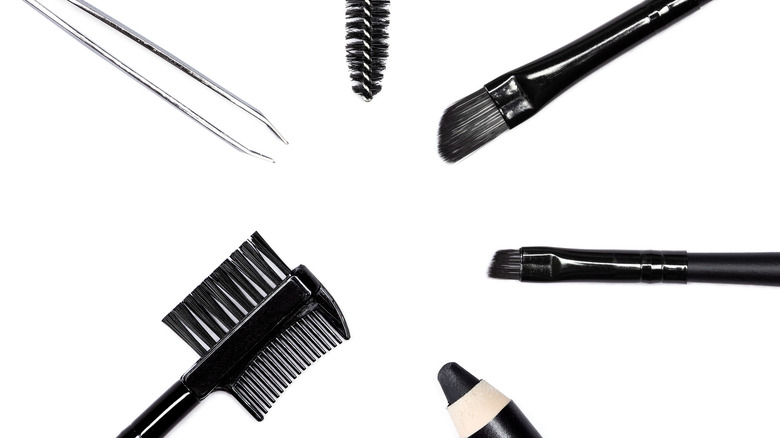 JAYANNPO/Shutterstock
Creating your brow look at home is totally doable. Just make sure you have the proper tools and products ready before you begin. Here are the items you will need: slanted tweezers, brow scissors, a spoolie brush, and a brow pencil, brow powder, or brow gel of your choosing.
Let's talk about product types. Brow pencils are great for shaping the brow and adding definition. Think of precise lines and angles when using a brow pencil. Brow powders are applied with a brush and have a super soft, natural look. Brow gels deliver the most intense look and are great for filling in and thickening eyebrows.
When choosing your product type (or a selection of all, why not?), it's important to select the appropriate color to flatter your face. Go too dark and risk overwhelming your face. Go too light and your brows will probably disappear. The easiest way to get a natural look is to pick a hue that is close to your hair color. Those with blonde hair are safe to go up to two shades darker than their hair color. If you have dark brown, black, or red hair, it's usually safe to choose a color that is one shade lighter than your hair color. What about gray hair? Start with a lighter brown tone, so you don't end up overwhelming your face with an overly dark color.
Best eyebrow shape for an oval face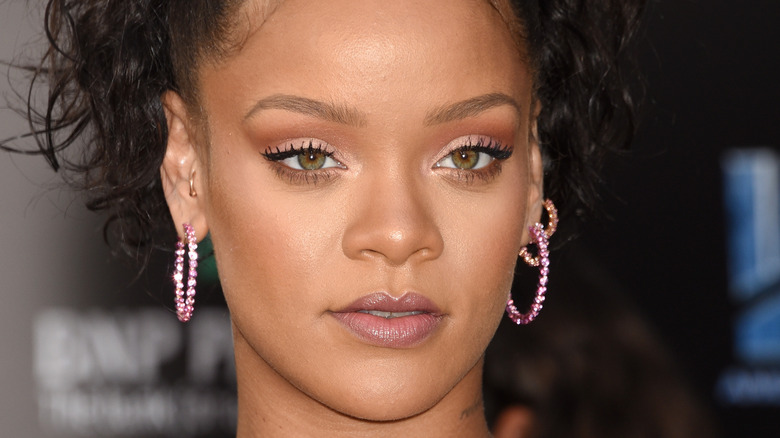 Ga Fullner/Shutterstock
An oval face has fairly balanced proportions, with the cheekbones on this face shape tending to be the widest area of the face. Celebs Rihanna, Beyoncé, and Charlize Theron all have oval face shapes.
The balance and symmetry of an oval face shape mean it can handle almost any eyebrow shape. Basically, if you have an oval-shaped face, you have options. Still, you are going for the most flattering brow look for your features. Opt for an angled brow with a soft arch, making sure you don't create too high an arch, as this will add unwanted length to your face. It's also best to keep the arch nearer to the outer edge of the brow versus the center. If you want to create a softer look, keep the bottom of the arch straight, and fill in the top of the arch with product.
Your best look for an oval face shape will most likely be your natural brow shape. Meaning, stick with your natural arch, but clean up any strays around the edges with tweezers. An oval face can also pull off a fuller brow. Once you have the brow shape you like, feel free to fill in your brows with your product of choice. As for length, stay within your natural length, keeping in mind that a longer brow will make the face look thinner, and a shorter brow makes the face look fuller.
Best eyebrow shape for a round face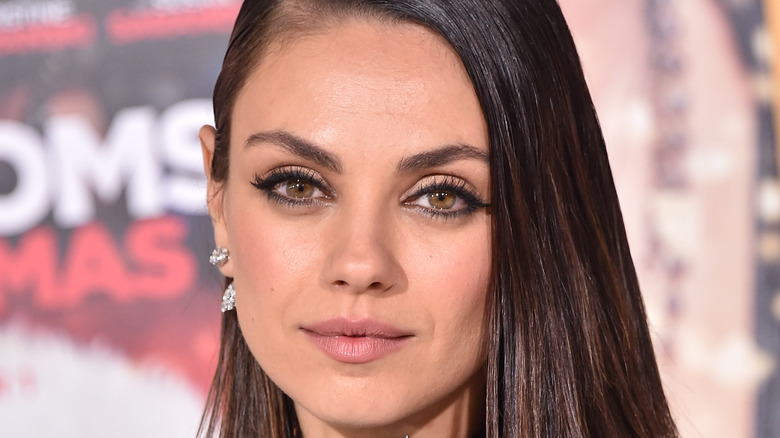 DFree/Shutterstock
This face shape has softer, balanced features similar to an oval face shape. But a round face is shorter than an oval face. Think Mila Kunis, Hayden Panettiere, and Gabrielle Union.
The key here is to add length to the face and a slimming, elongating effect like you would with the perfect bangs for a round face. Do this by creating a brow with a sharper, more angled arch and a pointed tail. An arch that is closer to the end of the brow can make the face look more narrow and visually lift the eyes. Keeping the brow on the fuller side will steer you clear of the overly severe, perpetually surprised look. That said, if you have super fine features (and those with a round face often do), don't go with an overly thick eyebrow. As a rule of thumb, stick within your natural brow thickness, filling in any sparse areas. Be sure to brush brow hairs upward when styling, and make the darkest part of your brow the arch by adding depth with your chosen brow product.
Best eyebrow shape for a heart face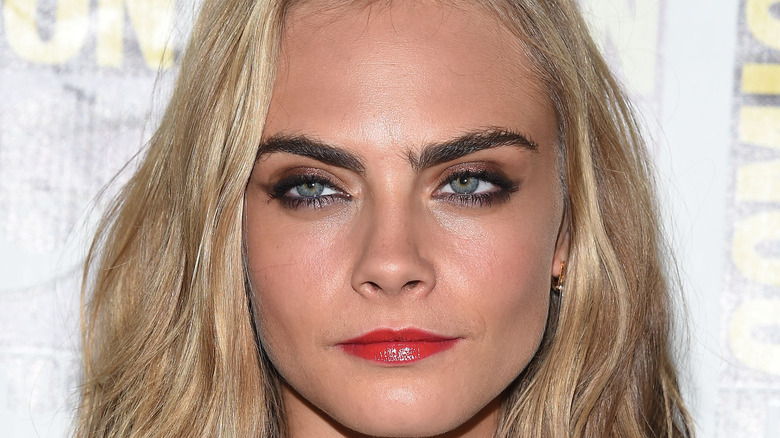 DFree/Shutterstock
Like a round face shape, the cheekbones are usually prominent with a heart-shaped face. But this face shape also has a bit wider forehead and a narrow, often pointy chin — like the shape of a heart. Cara Delevingne, Zoë Kravitz, and Scarlett Johansson have a heart face shape.
The difference between a round face and a heart-shaped face when crafting your best eyebrow shape is to create a softer arch, much like the best brow look for an oval face shape, because a sharp arch can make a pointed chin look longer. But like the round face brow, go for a thicker, fuller brow. Be sure not to create a brow that is too long for a heart-shaped face. The idea is to give the look of a more narrow forehead, and a long brow can make the forehead look wider. But, because the widest part of the face is the forehead, those with a heart face shape can pull off thick, fluffy eyebrows without overwhelming the smaller features of the rest of the face. Go ahead and fill in your brows with your favorite product, and use a spoolie to create a fuller look.
Best eyebrow shape for a diamond face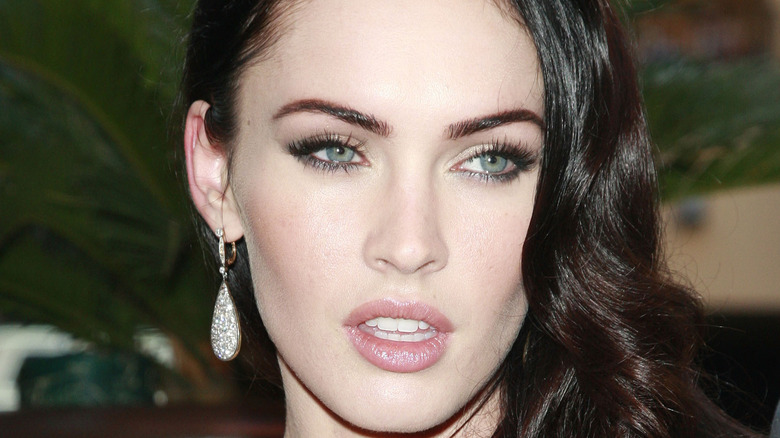 Joe Seer/Shutterstock
What's the difference between a diamond face shape and a heart-shaped face? The diamond-shaped face is similar in features, but the forehead is narrower than the cheekbones. For example, celebs with diamond-shaped faces are Zendaya, Vanessa Hudgens, and Megan Fox.
To soften the widest part of the face — the cheekbone area — try an eyebrow with an angled arch. With this look, the arch starts closer to the outer edge of the brow, rather than right in the center, and tends to angle up slightly at the end instead of flicking downward. This face shape can handle a dramatic brow, which helps to visually widen the forehead. To create the appearance of a shorter face or to add a softer look (say, if you have strong features), add a bit of a curve to your brows. As for the thickness of brows with a diamond-shaped face type? Go for a medium-thick brow and, lastly, add a bit of length to the ends of brows with a brow pencil to balance out the chin and jawline.
Best eyebrow shape for a triangle face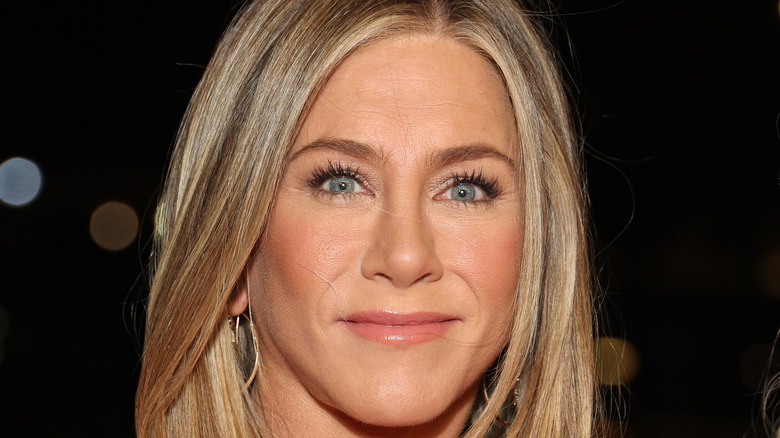 Pascal Le Segretain/Getty Images
Basically, a triangle face shape (also known as a pear face shape) is the opposite of a heart face shape, with a strong, wide jawline that tapers to a more narrow forehead. Celebs like Timothee Chalamet, Meghan Markle, and Jennifer Aniston all have triangle-shaped faces.
The key to creating the best eyebrow shape for a triangle-shaped face is to keep brows on the long side. A brow that is too short will make the forehead look more narrow and bring more attention to the chin and jaw. The arch for this face shape should be soft, low, and elegant. Avoid straight brows, and keep an S-shape in mind when creating an arch, which angles subtly upward and dips slightly before the arch. A thick, bold eyebrow will add balance to the face, whereas a thinner brow can cause a triangle face to look heavier along the jawline. Use a pencil to create the shape of your eyebrows, and fill them in with brow powder (if you want a softer, more matte look) or gel if you'd like a bolder look.
Best eyebrow shape for an oblong face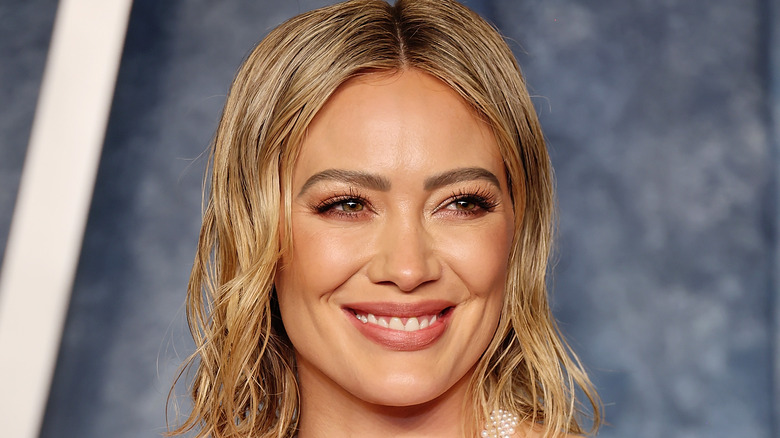 Amy Sussman/Getty Images
Similar to an oval face, an oblong face shape is symmetrical in width. But an oblong face has a length that is almost twice as long as the width of the face. Hillary Duff, Liv Tyler, and Hilary Swank are examples of oblong face shapes.
The idea behind creating a flattering brow for an oblong face is to keep the brow shape fairly flat and straight, so you aren't adding more height to the forehead with an arched brow. A straighter brow will visually shorten the face. If you naturally have a delicate arch, emphasize it. That will help to widen the face. But stay away from an overly arched brow, as it will only make the face appear longer and thinner. This face shape can handle a longer brow, too. Adding a bit of length to the tail of the brow adds width to a long face. When primping brows, think thick and fluffy. Fill in brows with your product of choice, and use a spoolie brush to add fullness.
Best eyebrow shape for a square face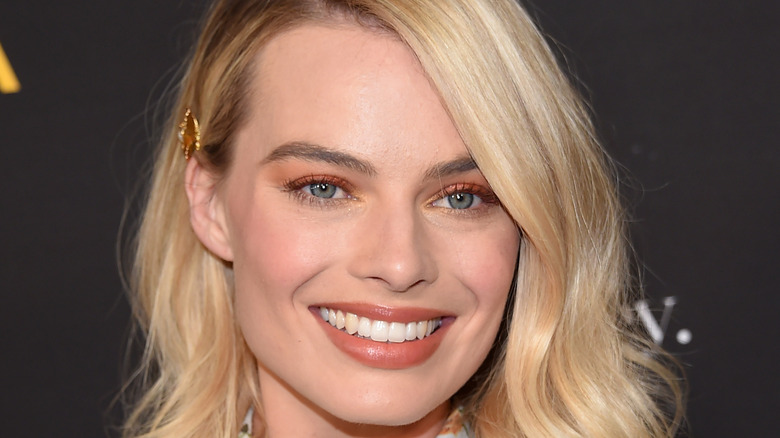 DFree/Shutterstock
Much like an oblong face shape, a square face has fairly equal width measurements. The difference is that the width of a square-shaped face is roughly the same as the length. Olivia Wilde, Margot Robbie, and Selena Gomez are examples of celebrities with a square face shape.
The goal when crafting the best eyebrow shape for a square face is to enhance the eyes and brows. This face shape is usually more angular, so you are looking to create a softer appearance that narrows the jawline and lengthens the face. You can do this by drawing hairlike lines along the lower edge of the brow with a pencil for a softer look than a brow gel provides. A square face can handle a bold brow, but stay away from sharply angled arches, as that can accentuate the angles of your face. Instead, opt for a high, smoothly curved arch, keeping the highest point of the arch near the center of the brow, and add a bit of rounded length to the ends. When filling in your brows, stay within your natural brow thickness, adding a touch of color with your brow product for your perfect brow look.
Filling in sparse brows and taming unruly brows
Evgeniia Zakharishcheva/Shutterstock
The best look on any face shape is always closest to your natural brow. The idea is to bring out the best in the brows you have, but some extra maintenance is still required.
If your brows could use some grooming, start by brushing brows upward with an eyebrow brush or spoolie brush. Next, carefully trim above the brow line with your eyebrow scissors. Remember, less is more when trimming brows. Now, pluck strays from between brows, at ends of brows, and under arches. One rule of thumb when it comes to plucking: Only remove hairs on the top side of the brow, as taking too many hairs above the brow can leave you with an unnatural eyebrow shape.
While too bold a brow can overwhelm delicate features, nothing topples your brow game faster than sparse-looking eyebrows. Before you commit to a more permanent eyebrow filler, try your hand at creating a full brow right at home. You can outline your brows with a pencil and then fill them in, or simply fill in your brows with a powder or gel to add some depth. As the finishing touch, apply a dab of concealer just under your brows to create a smooth and defined eyebrow look.
When to see a professional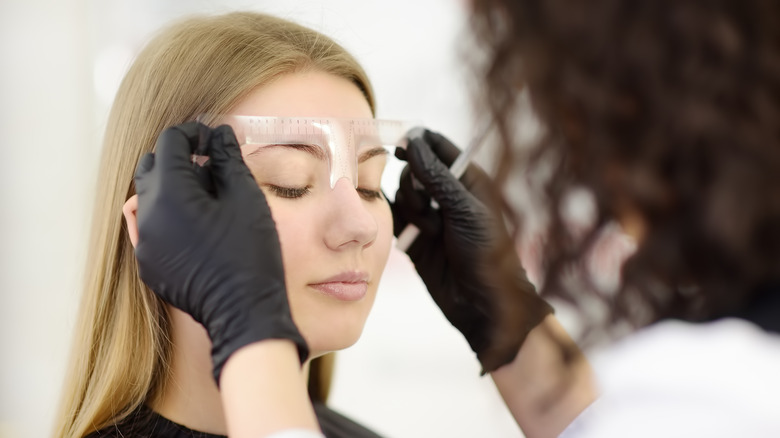 Maria Sbytova/Shutterstock
Whether you're not into the DIY brow, you're struggling to get your look just right, or you would simply rather have a professional take on the task, there are a few important things to know before you go.
First, read reviews for the brow artists you are considering. Do you like the end results of the brows they've created for others? Are they skilled in using the tools you prefer (wax, threading, etc.)? Next, leave your brows alone. It's best to go to your appointment au naturale, so the stylist can see what they're working with. So, step away from the tweezers and wait until your appointment to address any strays or shaping. Once it's time for your appointment, be crystal clear with your brow artist on what you want your brows to look like. Show them a picture of brows you love, or bring a picture of a younger you (pre-tweezing), so they can see your brows in their natural state.
And, finally, once you have nailed the best eyebrow shape for you based on your face shape, back away from the tweezers, scissors, and wax. Most stylists prefer you avoid touching your brows between appointments. Plucking hairs is a slippery slope, and you don't want to mess up your fabulous shape. Tweezing a straggler is usually fine, but for best results, put the mirror away and get on with your day.