What's Lemon8 & Is It The TikTok Replacement We'll Need If The App Gets Banned?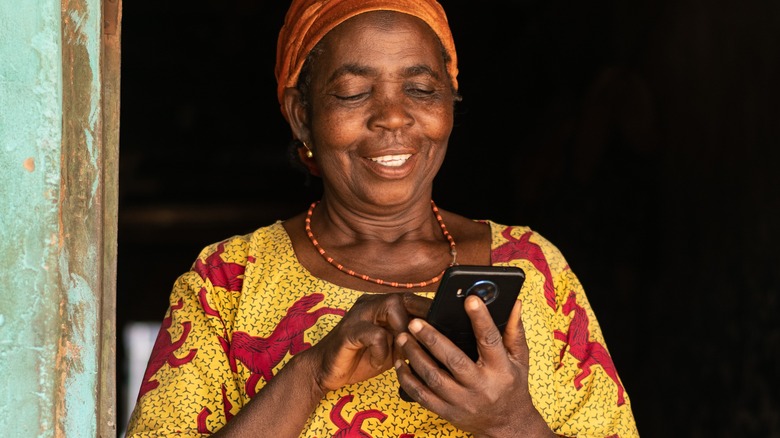 i_am_zews/Shutterstock
It's not looking so good for TikTok at the moment. With security concerns being cited as the major issue, multiple countries have already banned the video-sharing application from their official government devices — and the United States is one of them. And it does not look like the U.S. government plans on stopping there. It seems as if Congress is making renewed efforts to follow India and completely ban TikTok for all Americans.
This potential ban will not only mean bad news for the chart-topping app and its owners — but also for thousands of content creators, businesses, product marketers, and millions of viewers who tune in every day and depend on it to stay connected.
So naturally, TikTok users are now trying to find viable substitutes for the app, just in case. But they might not have to look too far for one because ByteDance, the very company that created TikTok, has a similar app making waves on the Internet at the moment.
Meet Lemon8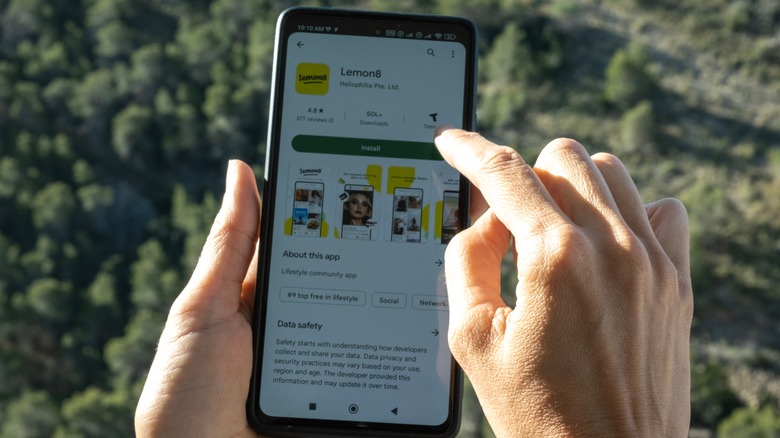 Veja/Shutterstock
Nope, it is not a new drink from Starbucks. Dubbed "TikTok's Sister App", Lemon8 is a photo and video-sharing platform initially created by ByteDance to compete with Instagram.
It was initially launched in the Spring of 2020 and released to Asian social media markets including Japan and Thailand, and it has been downloaded over 17 million times globally since then. Japan alone has accounted for more than 35% of Lemon8's lifetime downloads, becoming its biggest market.
Now it also seems like it's gaining traction in the West as well. The app has been downloaded in the U.S. more than 650,000 times in the past week and a half itself, catapulting it to the number one spot on the list of top lifestyle apps on the App Store.
So it is definitely on the path to popularity, but should you download it? Is it the next big thing or just another temporary fad? Let's analyze the facts, see how it compares to TikTok, and discuss whether it could be able to potentially fill the gap TikTok might leave.
The user base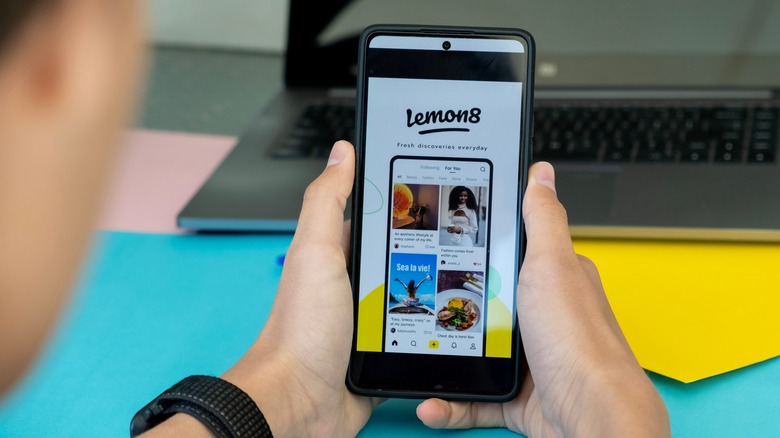 Veja/Shutterstock
How does the current user base of Lemon8 compare with that of TikTok's? Well, the target audience is strikingly similar with Lemon8. The app is seemingly trying to attract mostly young millennial and Gen-Z women to its platform by prioritizing fashion and beauty content.
Since Lemon8 is still in its infancy at the moment, it has a long journey ahead of it to come even remotely close to the 1 billion monthly active users TikTok attracts. But 5 million monthly active users in 2022 is definitely a statistic worth bragging about, especially considering that it was only used in Asian markets then. It's safe to assume that the number has only increased since the app was launched ('unofficially') in the U.S. and the U.K. last February.
With ByteDance already trying to lure TikTok creators to Lemon8 before its formal release in the U.S. (and also paying them to promote the app to their followers on TikTok), it seems like there is no other direction for the number of users of Lemon8 to go but up.
The features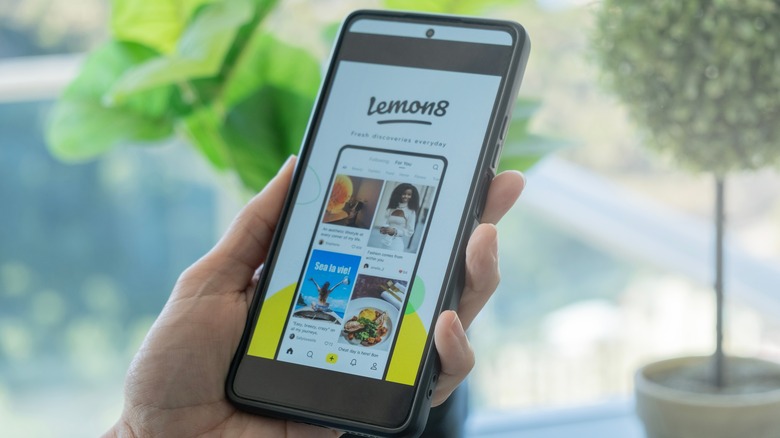 Veja/Shutterstock
There are several striking differences between the user interfaces of Lemon 8 and TikTok.
The first one is how you view content. While TikTok uses the hugely popular vertical scrolling feature to suggest cool content for you to watch, Lemon8 uses a more Pinterest-esque approach to help you find content. The "Following" and "For You" pages do exist here as well. But Lemon8's "For You" page has different topics ranging from Fashion to Travel that — if chosen — present you with a unique feed based on that topic.
The content you post on Lemon8 is displayed in a similar manner to Instagram, with similar styles used for captions, comments, "likes", and hashtags. The app also offers you the ability to edit your posts with features reminiscent of the graphic-designing tool Canva. Another big feature of Lemon8 is its templates. The app offers numerous templates you can use when posting photos and writing captions.
The app also offers an Instagram-like "Explore" page sorted by various categories filled with loads of aesthetically pleasing content.
What the content looks like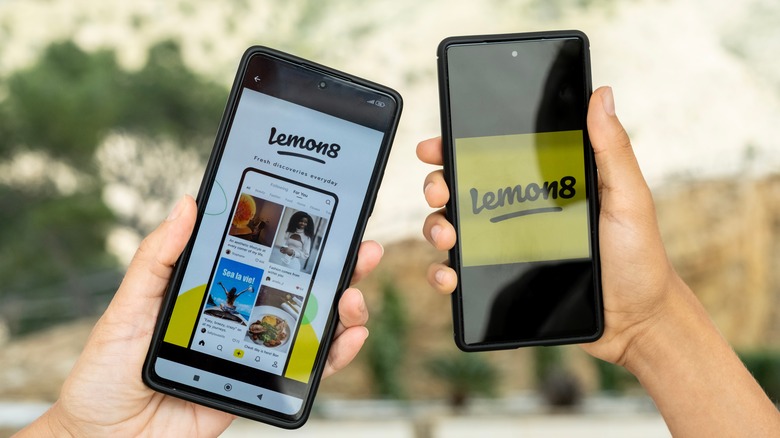 Veja/Shutterstock
The type of content that usually shows up on Lemon8 isn't so drastically different from the content on TikTok. The main topics by which content is sorted are the ones you would expect from a typical lifestyle app, i.e, Beauty, Fashion, Travel, Food, Wellness, etc. According to Forbes, the most popular content on the app at the moment goes along the same lines too — with outfit ideas, nail inspiration posts, workout tips, and meal recipes being the standouts.
It's the form of the content that differentiates mostly from TikTok. While TikTok is first and foremost a video-sharing application, Lemon8 is primarily a still photo-sharing app. It allows video sharing as well, but it limits you to posting just one at a time. Videos are also not featured on the app as prominently as photos, which stresses its status as more of a replacement for Instagram than TikTok.
Privacy concerns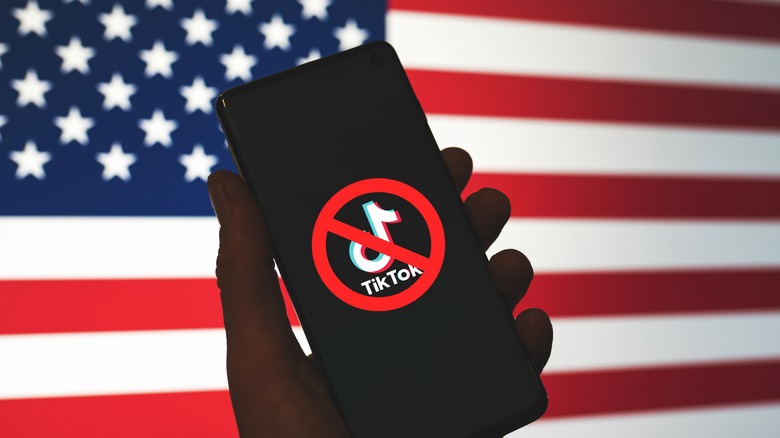 salarko/Shutterstock
Privacy really should be a bigger concern, since TikTok is already under scrutiny for how it utilizes its user data. Since Lemon8 also shares the same parent company, it seems inevitable that it will also come under the same scrutiny.
The Tiktok website explains "We share the categories of personal information listed above with service providers and business partners to help us perform business operations and for business purposes..." The Lemon8 website states, "We also share your information with business partners, other companies in the same family of companies as Lemon8, content moderation providers, measurement service providers...".
Seems pretty straightforward does it not? Until it's not, because this is a hugely controversial subject. With Lemon8's links to TikTok, privacy concerns are likely to surface regarding Lemon8 too, in the same capacity as TikTok — or even maybe even greater.
So when using Lemon8, you should make sure you take the same data security measures you take with all other apps. You may want to avoid giving the application access to your location, contacts, microphone, etc.
Monetization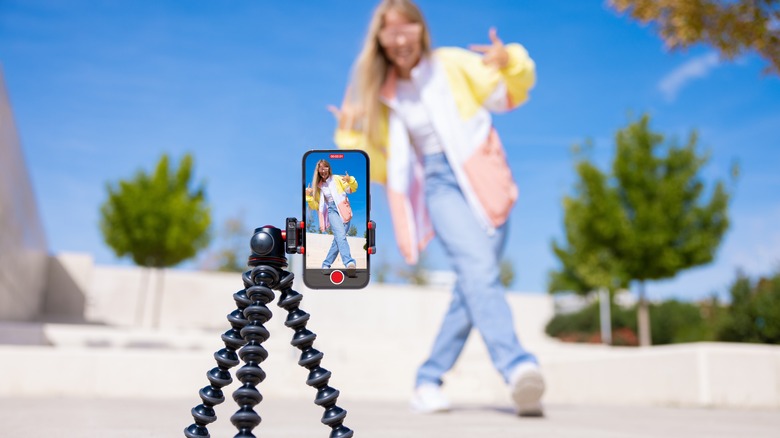 Kaspars Grinvalds/Shutterstock
Creators earn money from TikTok in multiple ways. These range from the compensation received from the Creator Fund based on the number of views they get to money received from various brand sponsorships. According to a report from Influencer Marketing Hub, for every 1000 views a creator gets, they are compensated with an amount of around $0.02 and $0.04.
Since Lemon8 is still in its early stages, it is probably too soon for users to be thinking about monetization. But as we mentioned earlier, Lemon8 is offering to pay certain creators to post on its app in a bid to increase users before its official launch in the U.S.
The New York Times confirms this by revealing that Lemon8 compensates certain influencers and content creators when they post on the platform while adhering to some pre-set guidelines. These include parameters like posting at least ten times a month and captions exceeding 150 words for each post.
So can Lemon8 replace TikTok?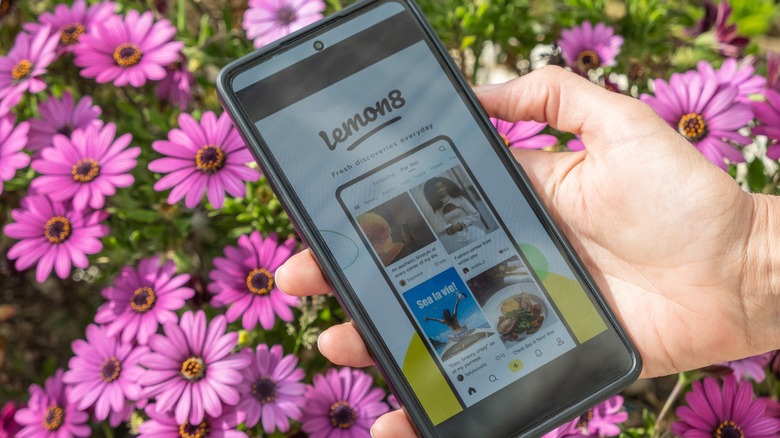 Veja/Shutterstock
While being considered by many as a direct replacement for TikTok, Lemon8 still misses the mark by some distance because of its greater focus on photo sharing than video sharing.
But if worst comes to worst and TikTok does end up getting banned nationwide, it still is a pretty decent cushion to fall back onto. The idea of posting on a fresh, new, and fast-growing social media platform should also be an appealing one for all aspiring content creators due to the sheer size of the opportunity it presents (think Pewdiepie with YouTube).
And also, since ByteDance wouldn't be eager to lose its U.S. user base, there's a chance that they would modify Lemon8 to mimic the video-centric nature of TikTok if it ever comes to that. In the same context, the possibility of Lemon8 facing the same issues that TikTok is currently facing should be considered as well.