Women's Underwear: The Ultimate Guide To Each Type Of Undergarment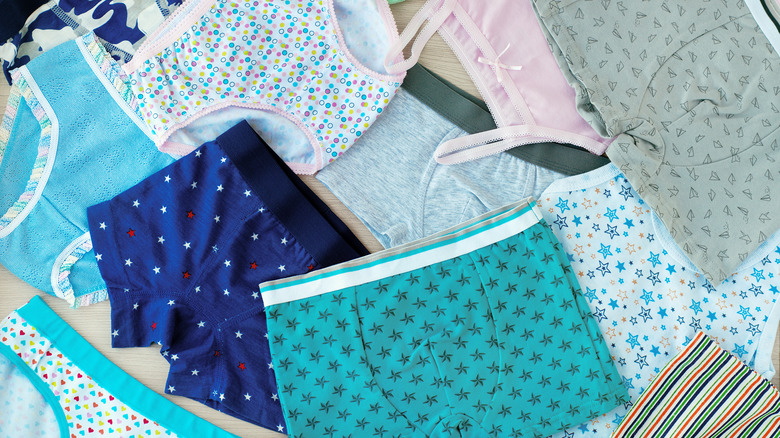 Evgeniya369/Shutterstock
While there are no rules to say you can't go commando — this is what happens when you stop wearing undies — women wear underwear for plenty of reasons. Some are the same reasons health professionals suggest wearing undergarments every day: They help protect against friction from rough materials such as denim, can help reduce acne down there, and help keep leaks contained and less visible on outer clothing. Undies may even help reduce your risk of certain infections in your nether regions.
Advertisement
Underwear is available in a plethora of style options and fabrics. Why so many? Well, everyone prefers a different type of fabric, which we'll dive more into in a moment. Different styles of underwear offer support or visibility, as well as comfort, to various degrees. While some folks find thongs comfortable, others may prefer a style that covers their entire derriere. Some underwear styles are more modest, while others have a specific purpose, whether to be sexy in the bedroom or somewhere else.
Without further ado, let's dive into the ultimate guide to women's underwear, from fabrics to fits.
Let's look at panty fabrics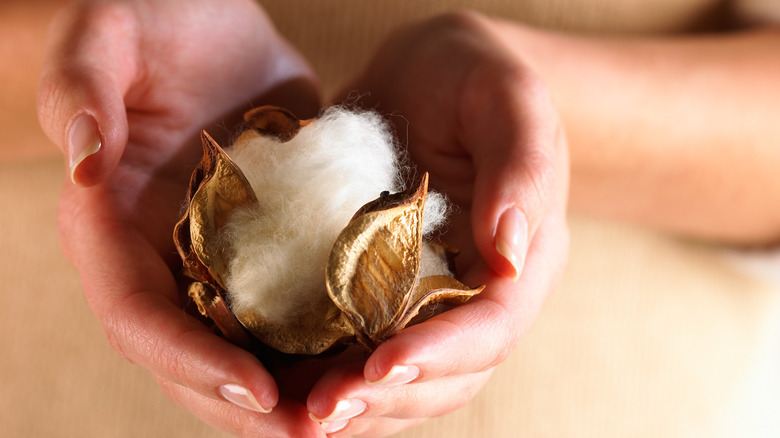 Burke/triolo Productions/Getty Images
Undergarments come in all sorts of fabric options though most health professionals recommend wearing undies in natural fibers such as cotton. This is because materials including cotton and bamboo (yes, bamboo is used to make fabric) are more breathable, so they're better for our skin. Cotton isn't always the stretchiest or lightest option, which is why some people prefer underwear made with lycra or spandex, which gives it extra stretchiness, or modal, which is partially synthetic but is a lighter option like nylon.
Advertisement
If you're looking for sexy or silky options, you can look at lace undies or any made from satin or silk. Lace underwear tends to start snagging and fall apart sooner than other materials if you're not caring for them per the care instructions tag. While silky-feeling underwear feels cool on the skin, it may, however, make your pants slip around, leaving you adjusting your bottom area throughout the day.
Briefs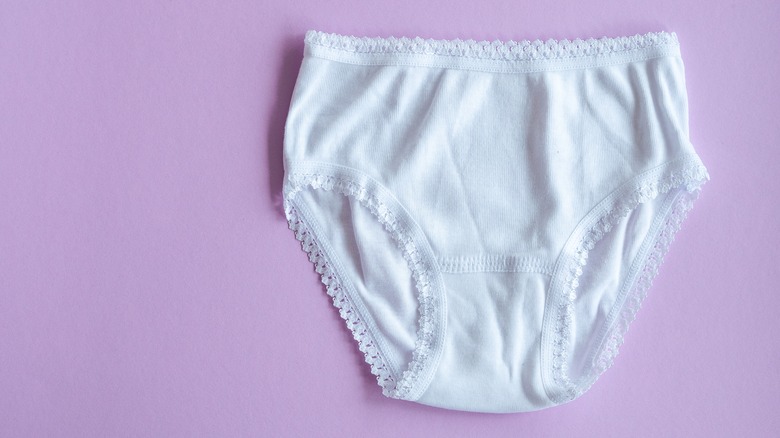 Natazanchik/Shutterstock
Often found in cotton or stretchy fabrics, briefs are one of the most common styles of women's underwear. Most kids' undies are available in briefs, and, for adults, there are several options just in this one style. Briefs can be regular, mid-, or high-waisted and can have a high rise at the hips (great if you're wearing a dress with a deep slit). Bikinis are often referred to as briefs as well (as in "bikini briefs"), but we gave them their own category.
Advertisement
Briefs can be found in lacy options and silky ones, too. They give you more coverage, no matter how low- or high-rise, making briefs a great option for those who want their buns fully covered. Briefs are also an excellent choice for ladies wearing pads, as the base part of the panties is wider than some other choices, such as thongs. They allow wings to wrap around easily, unlike the boyshorts-style underwear that covers a small part of the leg, similar to short shorts.
High waist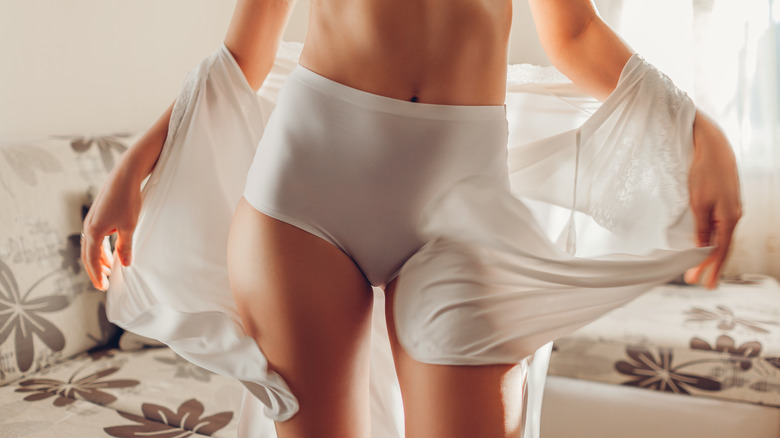 Maryviolet/Getty Images
We're giving high-waisted underwear its own section because most other types of undies, including briefs, boyshorts, and bikinis, are available in high-waisted options. Like briefs, you can find high-waisted undies in all sorts of fabrics, so there is a huge selection. This type of underwear is often purchased because it tends to roll down less often than styles that sit lower on the tummy. 
Advertisement
High-waisted undies rise high on your waist for full tummy coverage. They may still sit below your navel, or they could cover it, depending on your torso length. While high-waisted panties are great for keeping your tummy looking smoother, they don't play nicely with low-rise or even mid-rise pants, unless you want to have your underwear peeking out or you tend to tuck your shirts into your pants. Of course, if you like high-waisted pants, these undies will totally suit your personal style.
High cut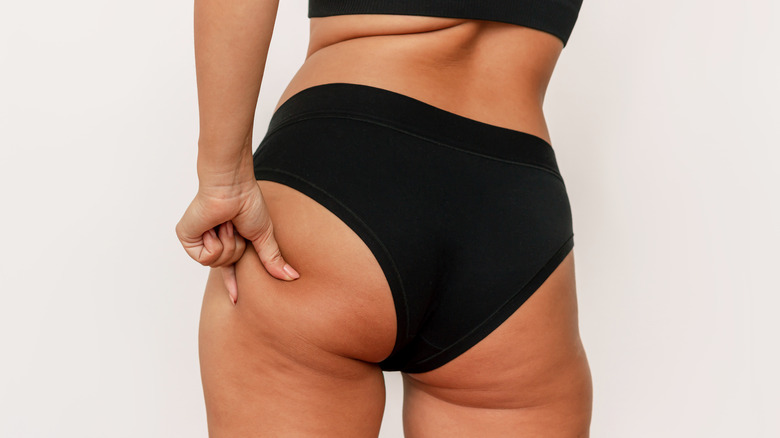 Marina Demeshko/Getty Images
Not to be confused with high-waisted undies, the high-cut version actually sits higher up on the hip, so they show more leg. Of course, this also means, because of the cut, that they won't fully cover your butt (a defining characteristic of cheeky panties, which we'll discuss later).
Advertisement
Whatever your preferred underwear type, from briefs to boyshorts, you can find high-cut styles as an option, though they're typically found in briefs and referred to as a French style of panties. You can find them in high-waisted styles, a.k.a. high-rise underwear, and in ones that only seem to rise high on the hip, leaving your belly cutely exposed. Apparently, the biggest reason to opt for this style is to give the illusion of a longer leg — these are great if you're petite — so they may be geared toward bedroom wear. They may also bunch less than other panties in the thigh area for more comfort when you're not wearing them for the sex appeal.
Seamless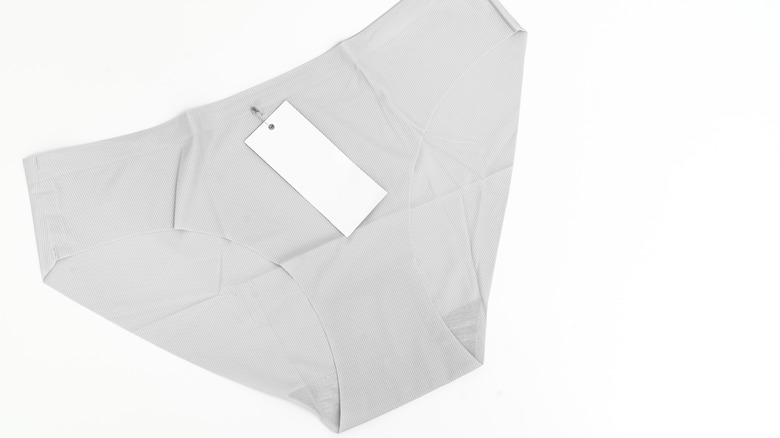 Maria Saifutdinova/Getty Images
Seamless underwear is just what it sounds like — underwear with no seams. To get this specific style, the panties are cut from one solid piece of cloth so no stitching is needed.
Wearing underwear with no seams has some magnificent benefits beginning with comfort. Seams add more opportunities for friction to become an issue. They rub on the inner thighs, so the seams in the crotch area of panties can be uncomfortable to some people as well. These undies tend to be made with a stretchy synthetic material and may also be made of a thinner fabric than your basic cotton panties. You also may not want to wear them daily, as synthetic fabrics are known to lead to more yeast infections. However, feel free to grab them up when wearing something snug and want the illusion of not wearing panties underneath.
Advertisement
Since there is no waistband or seams around the leg area, these undies may stretch out sooner than other undergarments, which can make them loose, leading to rolling and slipping down — so, despite the comfort of this style, they may have a shorter lifespan.
Bikini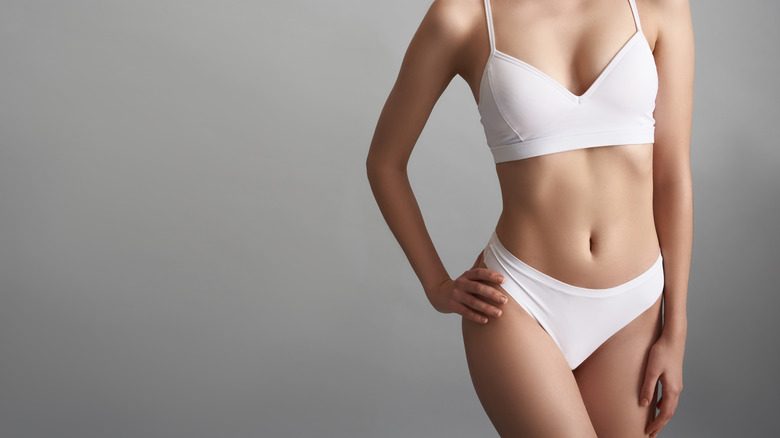 Yakobchukolena/Getty Images
First, we want you to know that bikinis lead to the creation of both hipster and cheeky styles of panties, and some folks confuse bikinis with those cheeky panties of today, even though they're not the same thing — just because a little cheek is showing, this doesn't make them cheeky. If you've been shopping for underwear for a while, you may have seen the term "bikini brief," which leads us to explain bikini panties by comparing them to briefs.
Advertisement
The biggest differences between bikini underwear and briefs are that bikinis have less fabric, show more tummy, and don't cover your entire butt (hence the cheeky nickname). If you like the basic style of briefs but want less coverage, bikini panties may be the right choice for you. They still cover all of the most important bits and pair well with low-rise bottoms, so you don't have to worry about your undies peeking out above your pants all day.
Hipster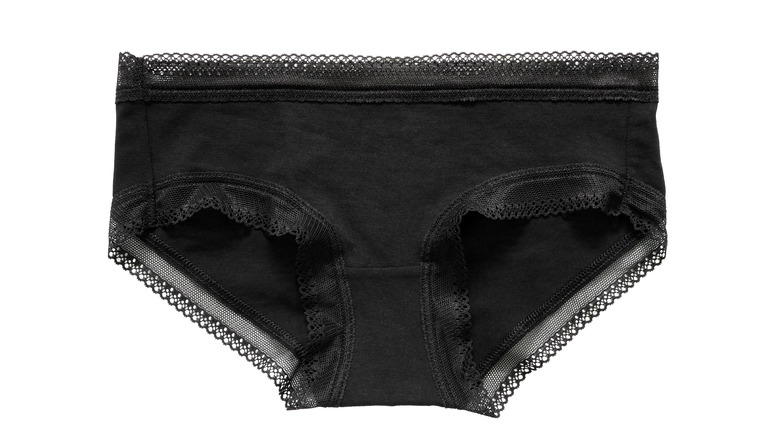 P_saranya/Getty Images
Where bikinis may dip in the waist or go straight across the hip area, hipster panties always sit across the lower part of your hip, which is how they got their name. Hipsters also differ in that they cover more of your butt, so they're like a brief in the butt area and a bikini in the hips. They also somewhat resemble boyshorts, though they show a little more thigh. Another difference is that hipsters come in all sorts of styles and fabrics, whereas boyshorts attempt to mimic the style of boys' or men's underwear.
Advertisement
Hipsters offer another great option for people who like lower-rise bottoms. They offer a comfortable fit and are less likely to roll because they sit lower on the hips. However, there's no tummy tucking happening with hipsters, so if you want to smooth your belly at all, stick with your briefs or some shapewear.
Boyshorts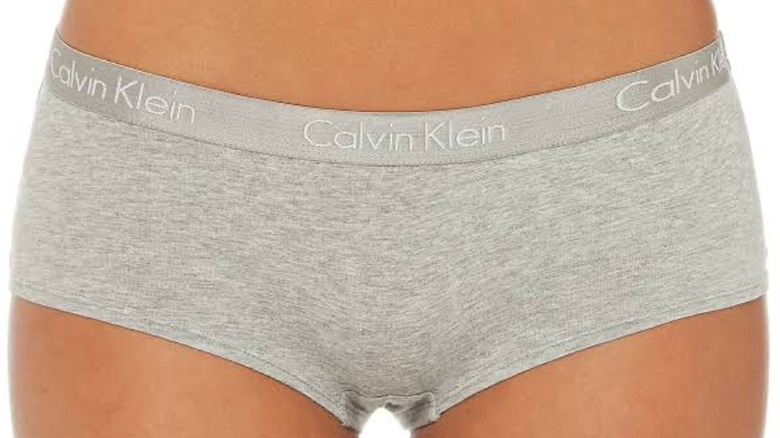 Instagram
Boyshorts are the playful and fun style of women's underwear. They copy the look of men's boxer briefs with a shorter leg. Sometimes they even come with a faux opening in front to give the illusion that you stole them from a guy, but they fit the shape of a woman. They sit low-to-mid-rise in the waist but offer tons of coverage if you want your cheeks fully covered. In fact, they give you even more cheeky coverage than briefs do.
Advertisement
While you can find bikinis and briefs with brand names along the waist, this is even more common with boyshorts. You can also find fun boyshorts with TV, cartoon, and comic book characters on them that are reminiscent of children's Underoos underwear that were extremely popular in the '80s. Whether you pick solid, basic patterns, or fun designs, boyshorts offer the total package of both comfort and coverage.
Cheeky
Cheeky panties look a lot like hipsters, but they show a little more cheek. And, with cheeky panties, there are definitely different levels of cheekiness. From something that shows an inch of cheek to a pair of panties that is just short of being considered a thong, if you like your butt to feel freer and have less coverage, shop for cheeky undies. They offer comfort without the string in your bum.
Advertisement
Cheeky panties can be found in a plethora of fabrics as well — whether you want something sexy, so you opt for a lacy little number, or you want comfort and look to something made of cotton or a stretchy partial synthetic. Whether you're looking for the low waist to go with certain bottoms or you want to rock a pair of Daisy Dukes and keep your undies hidden, cheeky panties are a great choice, especially if you're not a fan of thongs.
Butt lifter
Not everyone is blessed with a butt that sits lifted and perky in their pants and skirts, but invention has made it so everyone can look this way. Whether you've always had a flat butt or it came with age, butt-lifter underwear can turn things around for you.
Advertisement
This is another pair of underwear that comes in different styles, although they are all made of stretchy materials and have a way of lifting your bum. Some of them contain padding that gives the illusion of a bigger derriere, and some have cushioning at the base to push things up a notch. You can also find butt-lifting undies that have no material on your cheeks at all, just a waist piece and straps that go below your butt for the lift — pair those with your usual undies. Butt lifters are available in briefs and boyshort styles, among others.
Shapewear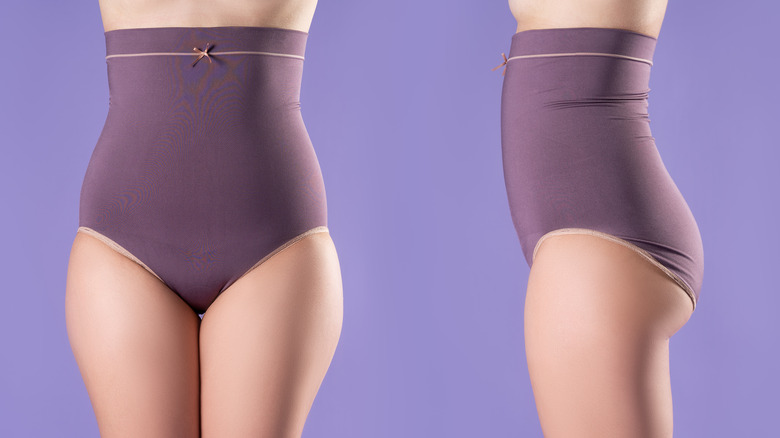 Staras/Getty Images
If you need shaping in more areas than just your butt, take a look at shapewear underwear. Of course, you can find butt-lifting shapewear pieces that tuck other bits in while still boosting your bottom. These are commonly worn when you need to wear a tighter-fitting or fancy dress because they suck in cellulite and offer a smoother form to the body. Shapewear is made with stretchy synthetic fabric that tucks you in in all the right areas.
Advertisement
Shapewear underwear is high-waisted so you get the most coverage and tummy tucking. You can find them with a boyshort-style leg or a longer leg as well. This helps with tucking in the thighs and making them appear smoother. Because shapewear is made to hold you in, some people find it can feel restrictive and may cause an upset stomach if you wear them for too many hours in a row and need to eat a meal!
Activewear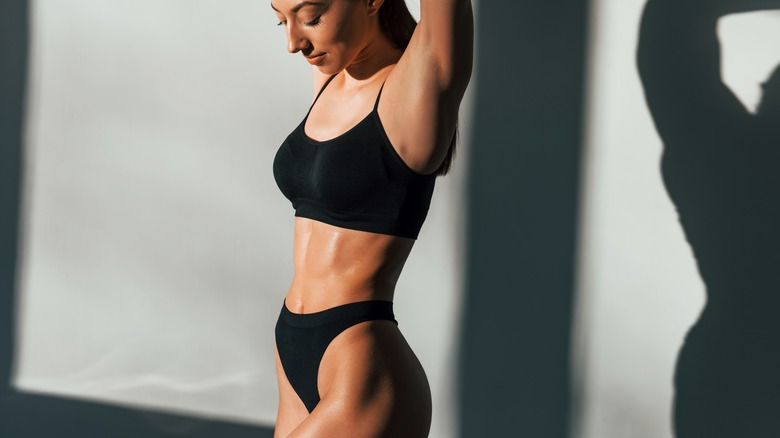 Standret/Shutterstock
Comfort is key when you're exercising. Cotton is a great option when it comes to underwear for working out, as is bamboo, but you also want to pick panties that will stay put when you're stretching, jumping, and lifting. Luckily, you can find activewear underwear, not just sports bras, to assist in keeping your undergarments where they need to be while you're jogging on the treadmill or running from zombies. 
Advertisement
Activewear undergarments are generally made in natural fabrics that help minimize sweat, which may help you stay cooler while you're working out. No matter your preferred fit, you can find activewear undies in briefs, bikinis, and other basic styles so you can feel comfortable while getting fit. While not always the case, you can find activewear panties in a seamless variety, which is great for keeping chafing and rashes down while you're doing yoga poses or lifting heavy weights.
Thong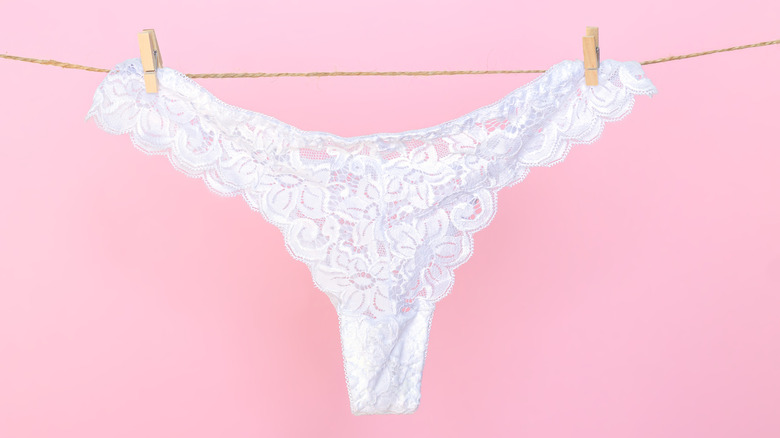 Dmitriy Sidor/Getty Images
There's a song about thong underwear, but we won't put that earworm in your head. For some, thongs are the epitome of discomfort, and, for others, they're the perfect choice for panties. Whether you want to wear short shorts or you simply prefer to wear panties with as little fabric as possible, thongs are a great choice, as they provide minimal coverage. 
Advertisement
Thongs are more slender in the crotch area than other panty types, but they can often still pair okay with special pantiliners and pads made to fit them. Their discomfort, for some, comes from the strip of fabric in the back that wedges into the crack of your butt with every step you take. Aside from potential discomfort, one other negative about thongs is that, because they ride higher on your hip, they often show out of pants, unless you wear a high-rise pair. This bit of showy thong has a nickname of "whale tail" — and it's trending once again. Thongs come in all sorts of fabrics, from cotton to lace.
G-string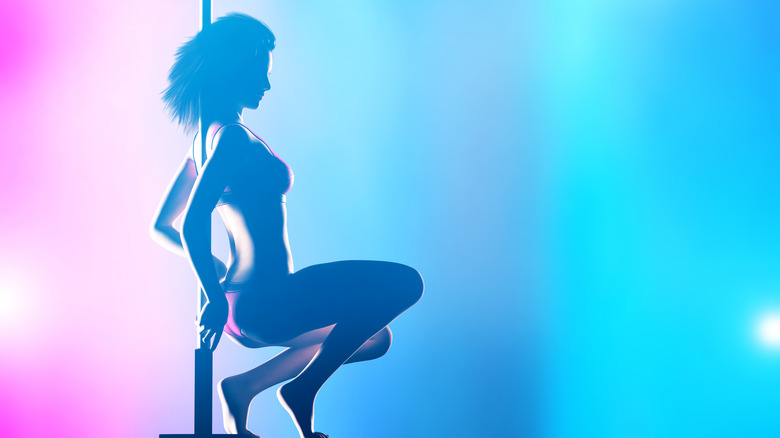 Niserin/Getty Images
There's a good chance you've never worn a G-string and never will unless you order lingerie from Shein and wear the not-so-much-a-thong G-strings that come with them or you're working professionally as an exotic dancer. Where thongs have about a half-inch of fabric in the butt area, G-strings are just a string in that area, which is why they're great for dancing on a stage in as little clothing as possible. And, where some don't quite floss the buttcrack, these absolutely do. When you're wearing a G-string, your entire rear end shows.
Advertisement
G-strings have a small triangle of fabric in the front — just enough to cover that area — but offer absolutely no support of any kind. They are underwear created to wear just for show and probably won't be on your shopping list when you head out to buy new panties. They're also not the best at keeping your vaginal area clean and infection free. If the G-string slides around, this can spread bacteria from your butt to your other private area — ick.
Crotchless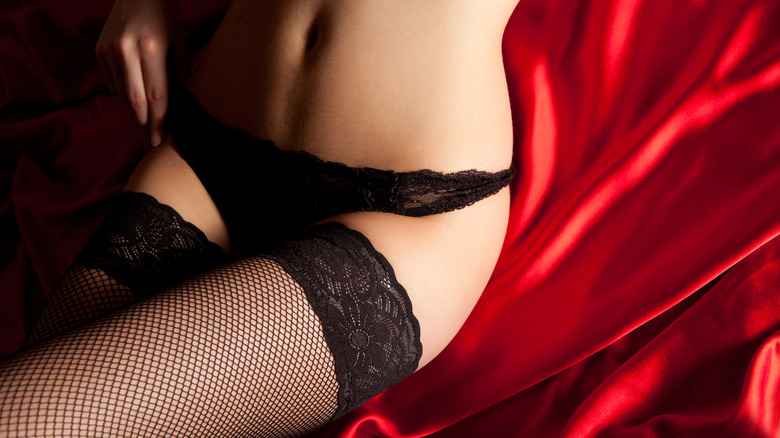 Vadimrysev/Getty Images
Ahem, while there is a purpose to the crotch of panties — that pocket that most basic undies have in the crotch area is there for a reason — there are some sexy knickers that come with no crotch at all. These naughty little numbers are definitely meant for the bedroom only, as they don't offer much protection down there. They won't protect you from friction when you wear them with jeans, and they may even pose the same risks as going commando (a.k.a. yeast infections). Crotchless panties are kind of what they sound like — undergarments with a slit in the crotch area for, umm, easy access. They aren't usually fully crotchless, though you can find some styles with a hole instead of a slit.
Advertisement
Crotchless panties are usually of the silky or lacy variety because they're meant to be fancy, sexy, and tantalizing. They don't typically come in patterns, but, rather, in solid colors.