Exposed Underwear Is 2023's Riskiest Trend. Here's How To Pull It Off
In an age where the internet can still feel like a source of abject terror, it only makes sense that 2023 fashion trends would revert to a Y2K mindset. The enduring popularity of thrifting content and the success of online resellers have made recycling trends fashionable and accessible, meaning that fashionistas of all tax brackets are hopping on the bandwagon. From Katie Holmes' controversial red carpet get-up, which landed her a spot on CNN's "Look of the Week," to everyday TikTok creators, it would appear that the naughty '90s and early 2000s have returned with a vengeance. 
Given all the recent discourse surrounding clothing waste and fast fashion, previous styles coming back en vogue could only seem like a good thing. It's never too late to rock a '90s-inspired bubble hem. However, some were less than eager to welcome back the era. The Guardian noted concerns over a return to "heroin chic" — a startling term that references the '90s preference for ultra-thin body types. Another Twitter user pleaded for the once-popular low-rise jean trend to remain in the past. But perhaps the most shocking blast from the past to return to red carpets is the exposed underwear trend. From whale tails to saggy slacks, there are endless ways to embrace the risky get-up. Here's how to make it work for you. 
Ease into the trend with a peek-a-boo
If you're not ready to hard-launch your Hanes to the world, the peek-a-boo style of this trend may be the right fit for you. Allowing the waistband or textured top of your underwear to poke out from the top of your jeans can add a new layer of intrigue to an outfit, without making you feel too exposed. If you show off the logo or brand name of a recognizable style, you can make it clear that the sagging is intentional, and add an aura of high fashion to your get-up.
Pair high-rise and low-rise pieces
With this style, you can conquer two Y2K trends at once. Grab some low-rise jeans and, to make up for the lack of coverage, pair them with underwear that sits higher on your waist. This could show off a nice waistband, or send fabric creeping up your side via a high-cut pantry. 
Experiment with patterns and textures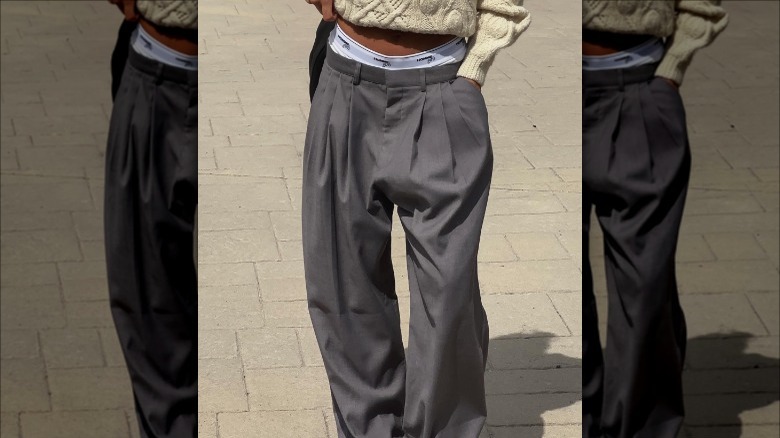 The red carpets have made it clear that the popularity of this trend is not up for debate. But what's the draw? For one, you can experiment with patterns and textures to take your 'fit to a whole new dimension. A flash of silky underwear paired under denim or a boxer-type paired with dress pants can elevate an ordinary look into something worth talking about. 
Embrace the whale tail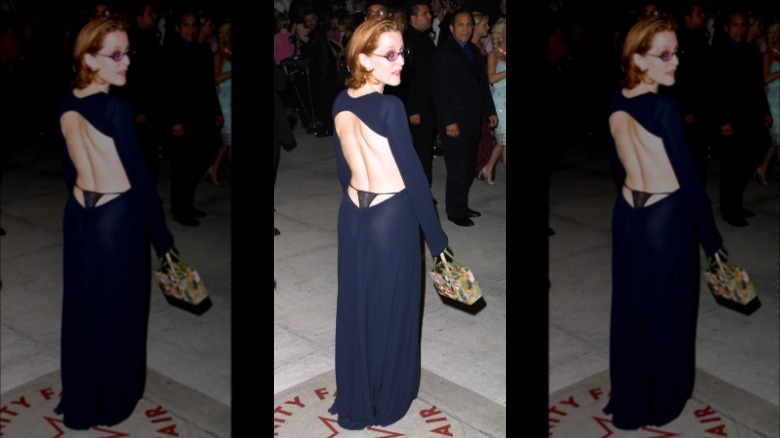 Jason Kirk/Getty Images
Thongs, typically enjoyed for their ability to create a sleek, seamless look, are now once again becoming the focal point of some outfits. With the back of the piece (said to resemble a whale's tail) poking out above low-cut jeans, leggings, or skirts, you can embrace the exposed underwear trend by going back to basics. 
Take the plunge
If you're not ready to pull your underwear up higher, consider letting your clothes lay lower. Kim Kardashian quickly became the queen of this trend, with The U.S. Sun covering her iconic Skims dress, which featured a keyhole cutout at the butt. Whether you prefer cutouts or a deep plunging back, experimenting with different shapes can put your outfit a cut above standard styles. 
Experiment with your layers
Laying is another great way to experiment with this style without going too far. Full lingerie bodysuits can be shown off underneath jackets or sheer tops. For a more subtle alternative, having a flash of underwear visible when your bottoms, top, and outer layer shift just right also adds an air of mystery and a new dimension to any Y2K look. 
Crop things short
If you're feeling extra bold, you can show off your undergarments by leaving them poking out at the bottom. Mini skirts, micro dresses, and sheer fabrics and your friend when fully embracing this sexy style. These looks have already made their way to the red carpet, so if you have an appropriate venue, go for it! 
Get inspired by red carpet icons
When in doubt, keep an eye on the red carpet and your favorite fashion influencers. Their looks can easily be toned down and recreated, helping you to stay on top of the latest trends without going outside of your budget. And, if you need an extra push to take on this risky trend, seeing your favorite icons try it first may be the extra confidence boost you need.