12 Things You Didn't Know About Ulta Beauty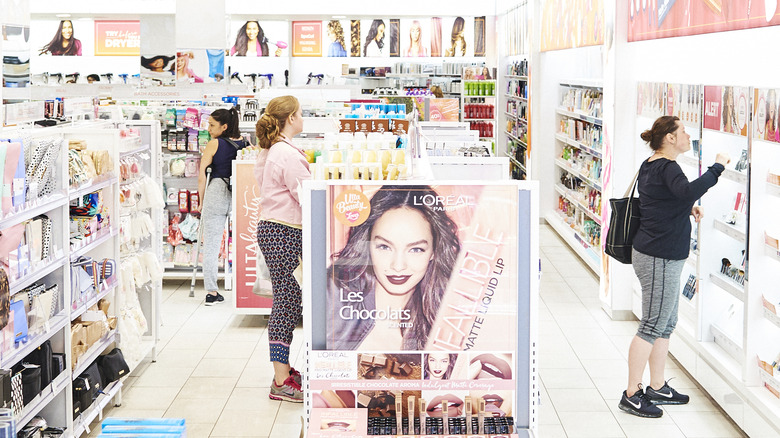 Bloomberg/Getty Images
We may receive a commission on purchases made from links.
Just call it the ultimate beauty mecca — or would that be "ulta"-mate? Ulta Beauty is a retailer that carries thousands of products in the cosmetics, skin, hair, and fragrance categories — with many brands that are actually worth the money — and some locations are even salons, making it a true one-stop shop for all things beauty. With over 1,200 locations across the U.S., Ulta Beauty has become a household name for beauty enthusiasts.
In addition to its vast selection of beauty products and salon services, Ulta Beauty is also known for its commitment to customer service. The company offers a range of services to help customers find the products that are right for them, including personalized consultations, virtual try-on tools, and expert advice from beauty professionals. Ulta Beauty also has a loyalty program that offers exclusive perks and rewards to members, including points-based rewards and access to special events and promotions.
Since its inception in 1990, Ulta has grown into one of the largest beauty retailers in the country, offering both high-end and drugstore products. Ulta Beauty prides itself on its inclusive approach to beauty, offering a wide range of products for all skin tones and types. Whether you're in the market for a new foundation, a bold lipstick, or a little "me" time at the salon, Ulta Beauty has you covered. With its extensive selection of products and knowledgeable staff, Ulta Beauty has become a go-to destination for anyone looking to elevate their beauty game.
Ulta has experienced a few name changes over the years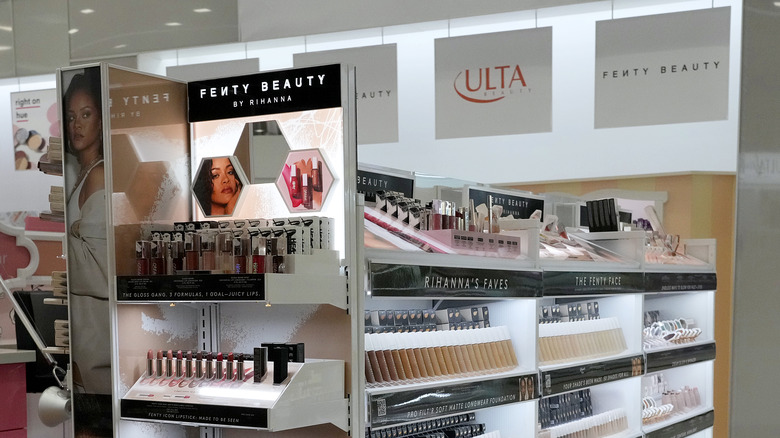 Kevin Mazur/Getty Images
Touted as a "new retail breed" by Women's Wear Daily in 1995, Ulta3 Cosmetics & Salon was an early standout from the day its doors opened in Chicago. The company expanded throughout the city quickly, offering customers affordable beauty products across a wide range of categories. Though the company had competitive outlets located throughout the U.S., the retailer focused on improving upon itself in the hopes of eventually outdoing the competition.
Over time, the company expanded its offerings to include hair and fragrance products, as well as its own in-house salon services. As the company continued to grow and expand, it became apparent that the name "Ulta3" no longer accurately reflected their full range of products and services. Additionally, a store called Ulta3 in Australia could have been a source of confusion to some customers. As a result, in 1999, the company changed its name to Ulta Salon, Cosmetics & Fragrance Inc.
The name only stuck around for a while, though. In 2010, the company once again changed its name to simply Ulta Beauty in an effort to better reflect its expanded offerings and its commitment to providing a full-service beauty experience for its customers.
Ulta was founded by two men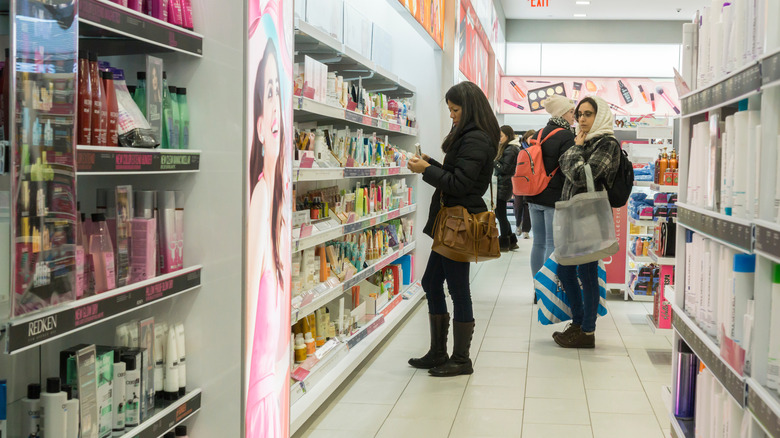 rblfmr/Shutterstock
Ulta Beauty was founded in 1990 by Richard E. George and Terry Hanson. George was a former president of Osco Drug Inc., a chain of retail drugstores, and Terry Hanson was a merchandising executive for the drugstore chain. The two men combined their retail experience and expertise to create Ulta Beauty, a store that would offer customers a unique shopping experience focused on beauty products and services at a variety of price points.
George was the company's CEO, helping the company grow rapidly from a small dream to a powerhouse in the industry. Hanson, meanwhile, served as the vice president of merchandising, responsible for building the store's product selection and procurement capabilities. He worked closely with beauty brands across the board to source and select products that would resonate with the target audience.
When George left the company, Hanson assumed the role of CEO. As he told WWD, "We're really trying to create a total beauty experience." The team at Ulta had a vision of creating a store that was a little bit of everything all at once — a drugstore with economical products, a department store with high-end items, and a salon with curated and pampering services.
Some Ulta locations are placed inside select Target stores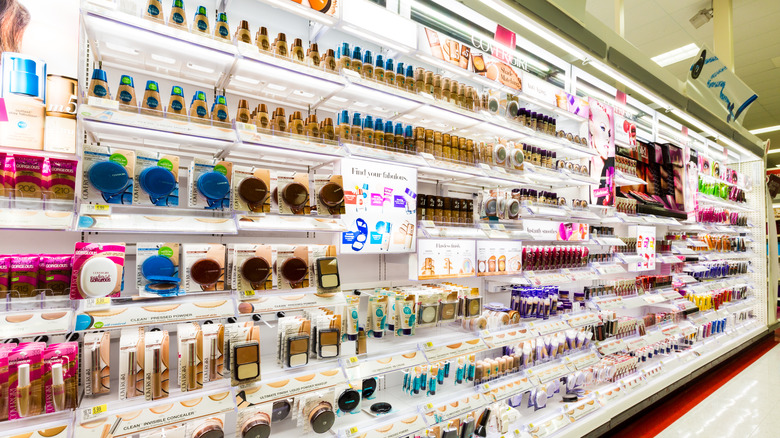 Mihai_Andritoiu/Shutterstock
In a move that surprised some shoppers and delighted just about everyone who loves to shop for beauty products, Ulta Beauty announced a partnership with Target in late 2020. Dubbed Ulta Beauty at Target, the announcement launched a dynamic "shop-in-shop" experience for Target visitors who could browse offerings from Ulta Beauty within the Target store itself. It's also possible to purchase items from the shop-within-a-shop via the Target app.
Over 100 Target stores feature an Ulta Beauty store inside. The existing Ulta Beauty at Target locations mirror the Ulta Beauty retail footprint, featuring at least 1,000 square feet of space devoted to the store's eclectic range of both mid-range and high-end beauty products under one umbrella. While not all of the products found within an Ulta Beauty retail store are available at Ulta Beauty at Target, at least 50 of the company's best-selling and most beloved brands are available at any given time.
The advantage of shopping Ulta Beauty at Target is that visitors can take advantage of Target's unique offerings, such as same-day drive-up and delivery services as well as in-store order pickup. Products from the shop-within-a-shop are also available via the Target app.
Ulta is committed to uplifting Black voices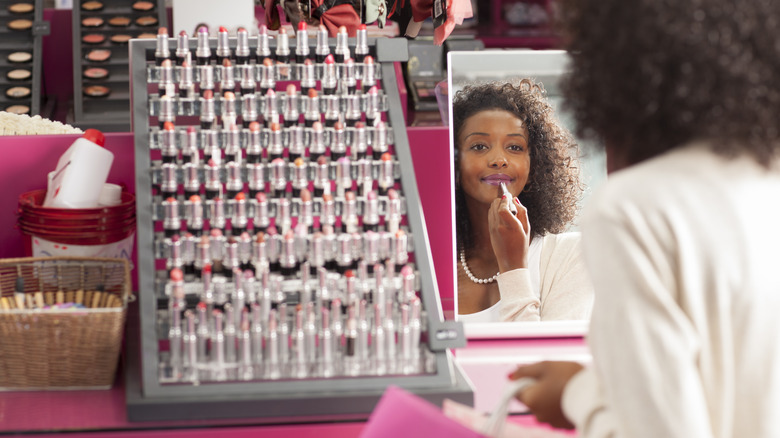 Ruslandashinsky/Getty Images
Ulta Beauty has made a visible and impressive commitment to uplift Black voices in the beauty space. In 2021, the retailer announced the launch of MUSE 100, which celebrated the vast landscape of 100 influential Black voices in beauty. MUSE, or Magnify, Uplift, Support, and Empower, supports diversity and inclusion while promoting the legions of champions whose stories inspire and foster change and growth.
Those recognized as among the 100 influential Black voices received a $10,000 grant and included makeup artists, hairstylists, wellness professionals, mental health specialists, beauty business entrepreneurs, editors, activists, media professionals, content creators, influencers, and style icons, among others.
The strength behind MUSE is one of the most important and notable ways that Ulta Beauty has committed to supporting both Black-owned and Black-founded beauty businesses. The company also devotes a specific section of its website and app to these companies, championing the unique formulas and stories of each one.
The beauty retailer has significant philanthropic interests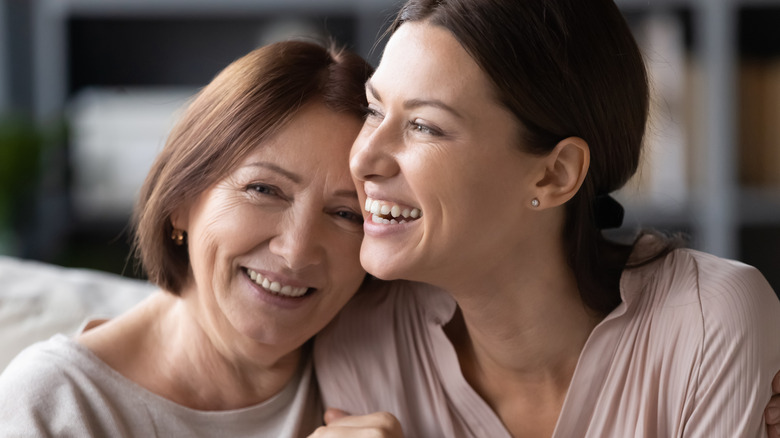 fizkes/Shutterstock
Just as important to the Ulta Beauty ethos is its commitment to philanthropic interests. The company has taken significant steps in its mission to do good for others, beginning with the inception of the Ulta Beauty Charitable Foundation (UBCF) in 2016. The core purpose of UBCF is to help women and families make strides in improving their lives.
In these efforts, Ulta Beauty has partnered with both Dress for Success Worldwide and Save the Children. The retailer provides both organizations with a combination of financial donations and volunteering services. The company has also donated millions of dollars to several LGBTQ+ and BIPOC non-profit organizations. Additionally, store associates have the opportunity to take advantage of learning and volunteering opportunities for these groups.
Among Ulta Beauty's most impressive endeavors is its commitment to the Breast Cancer Research Foundation (BCRF). The retailer aims to donate a minimum of $50 million to the organization by 2024 largely through its Gorgeous Way to Give campaign. The program also includes an annual campaign called "Donate with a Kiss," which encourages customers to donate to the BCRF during Breast Cancer Awareness Month by purchasing select beauty products that feature a pink ribbon.
Its popular loyalty program launched in 2003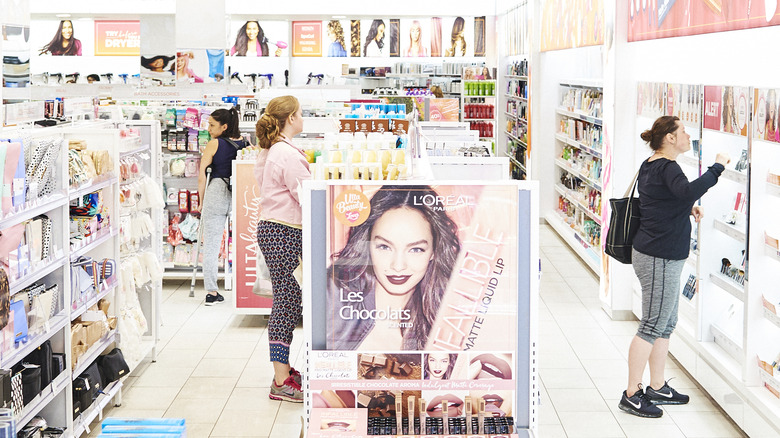 Bloomberg/Getty Images
A key reason shoppers remain loyal to Ulta Beauty is, unsurprisingly, due to its massively popular loyalty program. The company's initial offering, The Club at Ulta, was developed in 1995 when the business was in its earliest stages. At the time, shoppers had the opportunity to earn annual certificates, which they could then redeem for products.
As the business grew, so, too, did the need for a more rewarding and interesting program that held meaningful value for Ulta Beauty's consumers. Enter Ultamate Rewards, an industry-leading initiative developed in 2003. At the time, the program was limited to a handful of stores, which allowed the company to perfect it. By 2014, Ultamate Rewards was made available at all store locations.
The loyalty program is completely free at its main Member tier. Guests who spend $500 or more per year become Platinum members and earn more points per dollar spent. At the Diamond level, visitors who spend $1,200 or more each year earn even more points per dollar, along with a variety of other perks. At every tier, guests are eligible to earn double points during their birthday month and receive a birthday gift. There's no expiration date for the points earned by Platinum and Diamond members, but those who are part of the main tier will have at least one full year to redeem their points.
Ulta offers regular free gifts with purchases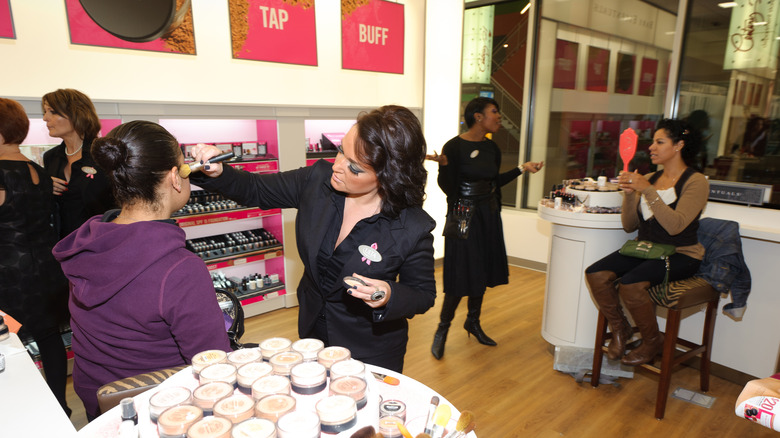 Dave Kotinsky/Getty Images
Another big reason for the popularity of Ulta Beauty is its generosity. Free gift opportunities abound, especially for those who shop online or through the Ulta Beauty app. For this reason alone, it's worth subscribing to the company's email newsletter and text messages to stay informed of free-gift announcements. 
Shoppers can browse current offerings by navigating to the "Gifts with Purchase" section of the website, categorized under the "Gifts & Value Sets" banner. Gifts may be single products offered with the purchase of a specific brand or with the purchase of a specific dollar amount.
The company also offers its popular gift bags, which are typically given with the purchase of a specific amount. Reusable cosmetic bags are filled with a generous combination of sample-sized, deluxe-sized, and full-sized beauty products. Often, the gifts are themed. One example is a "best of" gift featuring hair care, skin care, or fragrance samples, offered with a purchase of $60 or more. Another type of gift, the "after hours" offer, sometimes hits inboxes in the evening, with a time limit of about four hours to purchase a specific dollar amount or brand to qualify for the offer. These gifts often go quickly, which is where it comes in handy to receive alerts via email — you'll find out about them right away and be notified when they're gone.
Ulta's app offers a virtual try-on tool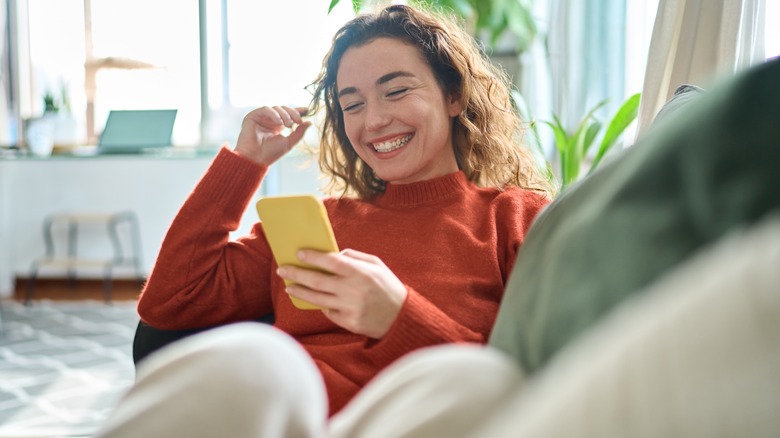 insta_photos/Shutterstock
If you've ever shopped for beauty products online, you can relate to the uncertainty that accompanies the purchase of certain items. Buying foundation, eyeshadow, lipstick, blush, bronzer, or virtually any other color cosmetic sight-unseen can be a tricky proposition, since you're forced to eyeball it and determine to the best of your abilities whether the product will suit your complexion and skin tone.
Thanks to the virtual try-on tool on the Ulta Beauty app, though, it's easier than ever to choose colors from the comfort of your own home. While the tool isn't compatible with every product on the app, it is possible to use it to try on a number of popular products, from lipstick and gloss to blush and eyeliner.
Using the tool is simple: You can upload a photograph of yourself directly to the app, or you can take a picture via the app. Then, just select the product you want and "apply" it to your face for a clear and realistic visual of how well the item works for you.
The app is intuitive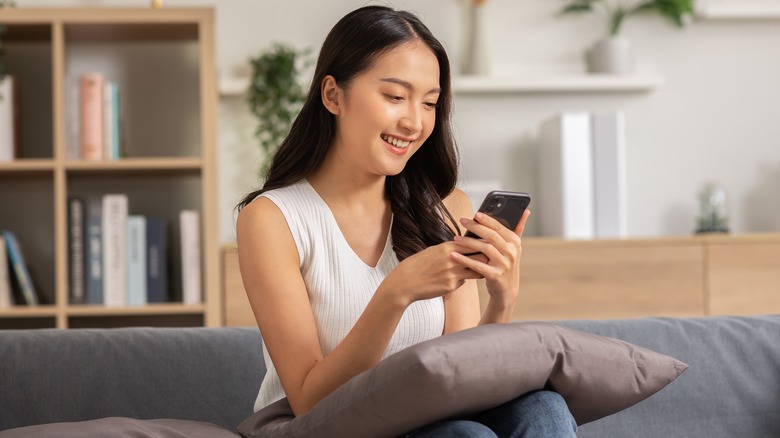 220 Selfmade studio/Shutterstock
The app itself is a vibrant addition to the Ulta Beauty retail experience. It provides users with opportunities to take advantage of every facet of shopping at the store — and, in many cases, it offers even more benefits, as many brands and gifts with purchase are available exclusively through the app.
In addition to this and the aforementioned try-on tool, the app gives shoppers the full Ulta Beauty shopping experience. It's easy to reach out for help whenever you need a hand (just send a message through the app), and it's equally easy to browse every single brand available at Ulta Beauty.
Plus, the app is simple to navigate. You can search by brand, search strictly for new items in specific categories, or look for items within your preferred categories in specific colors. Signing up for text notifications also gives you first dibs on many special offers, including free gifts and one-day-only sales.
Ulta offers a professional makeup artist program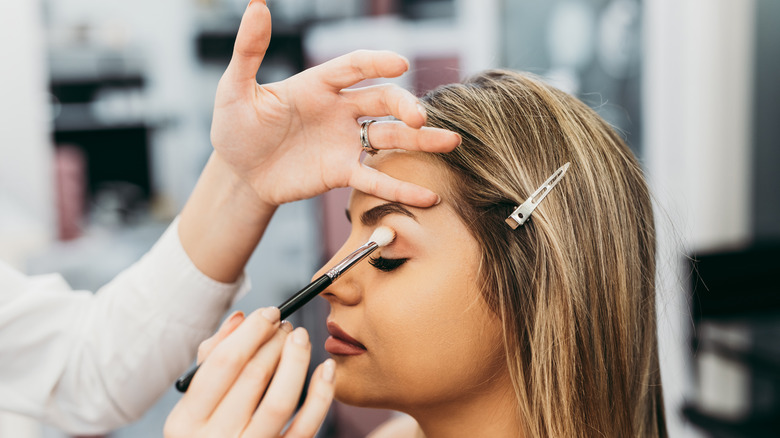 Group4 Studio/Getty Images
The Ulta Beauty Pro Team was developed in 2017. Consisting of beauty industry experts across multiple categories, including hair, grooming, and makeup, the team members offer their own unique skills and specialties. The mission of the group is to inspire, educate, and offer product recommendations to both consumers and fellow professionals.
The Pro Team members use their expertise to generate valuable content, including videos shared on YouTube that teach users all kinds of beauty tips and tricks. Viewers can watch anything from secrets to applying Halloween makeup, tips for wearing bright eyeliner, and tutorials for using innovative new products in skin care and hair care.
Diversity is king where the Ulta Beauty Pro Team is concerned. By involving professionals across a spectrum of specialties, the company can be certain it's reaching the widest and most diverse audience possible — all while ensuring they remain at the forefront of the industry by providing new solutions and experiences to customers.
The retailer is invested in eco-friendly practices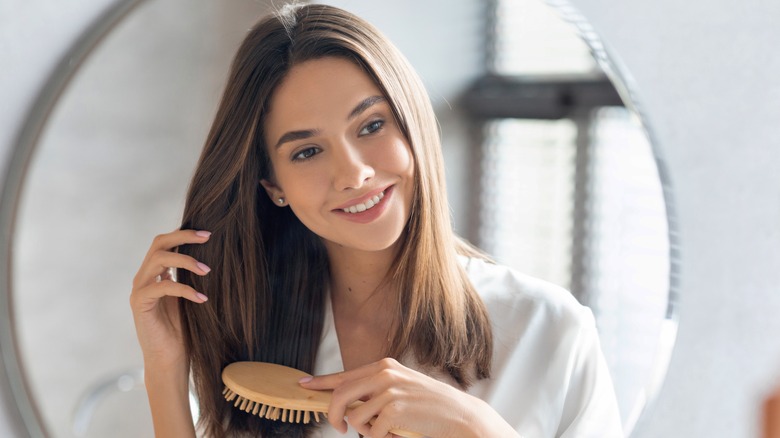 Prostock-studio/Shutterstock
Pledging its commitment to the environment, Ulta Beauty offers a range of programs designed to support the future of the planet. Specifically, they focus on the impact of environmental, social, and governance (ESG), which influences the decisions the company makes in support of its people, stores, customers, and products — for example, adding sustainable beauty products to its large roster of product lines.
Their environmental goals include minimizing their carbon footprint by taking steps toward reduced energy consumption. They've upgraded to more advanced energy management solutions in nearly 100 of their stores, and that number is expected to grow. Many stores also have LED lighting, which has a longer shelf life and is, therefore, less likely to require replacement. They've also upgraded to better quality, more efficient heating and cooling systems in several stores.
Additionally, the company offers the Ulta Beauty Green Group initiative, in which associates are invited to volunteer their time and services and take steps to improve the company's sustainability, one step at a time. For example, they might encourage the use of ceramic mugs instead of paper cups or make the switch from paper documentation to digital documentation in an effort to conserve paper.
It focuses on an immersive in-store experience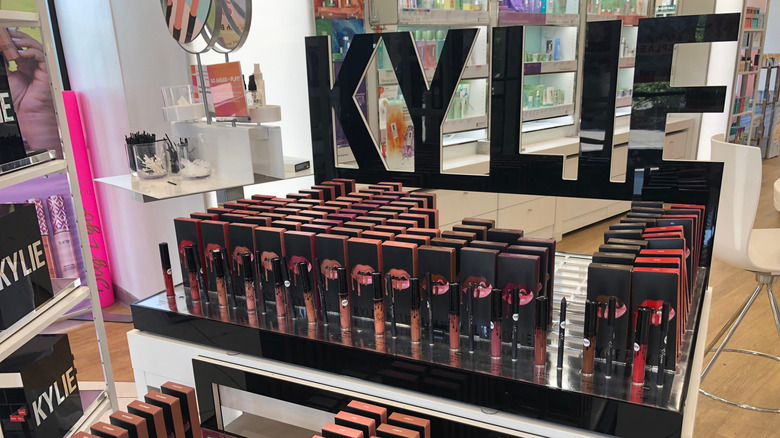 melissamn/Shutterstock
Ulta Beauty stores are unique in that they aim to tell a story to their shoppers. According to Ulta Beauty's chief merchandising officer, Monica Arnaudo, the stores are laid out in such a way that fosters a sense of connection and excitement for consumers. She explained to Drugstore News that the front of the store features helpful tutorial displays and an assortment of new arrivals, all strategically placed to greet visitors and leave them hungry for more.
Also at the front of the store are skin care products in both the mass and prestige categories. Adjacent to this are wellness and bath and body products. This leads to products for the hair, along with makeup and the salon. Even the checkout area is thoughtfully conceived, with a series of carrels featuring travel- and trial-sized items that may entice shoppers for a further look before they check out.
The store's layout has a certain seamless flow, which is precisely what the company aimed for when designing the concept. It's bright, open, and airy, with a welcoming quality evident from the minute you step inside. The "editorial" angle lends the store a cohesive feel that is both appealing to the eye and pleasant for guests to shop.