10 Refillable Beauty Products That Prove Sustainability Is In Style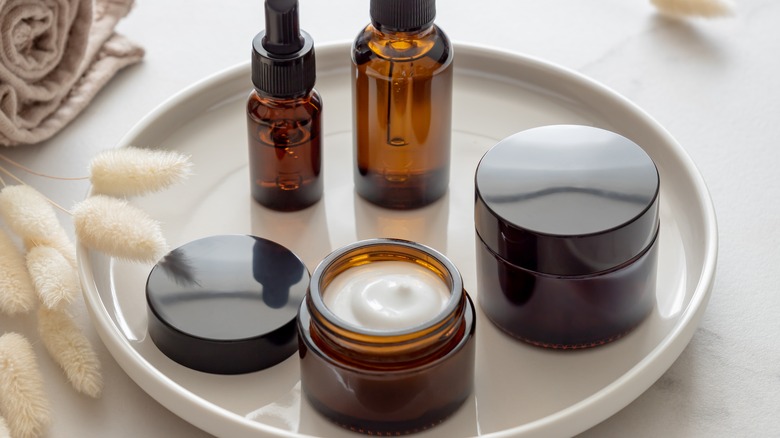 Irina Kvyatkovskaya/Shutterstock
We may receive a commission on purchases made from links.
Toxin-free. Vegan. Biodegradable. These beauty buzzwords have been circulating for years. But the latest trends in beauty have more to do with the packaging than what's inside. According to Harvard Health, many women use "12 different beauty products" on a daily basis. All those products come in some sort of container, ultimately contributing to the 120 billion units of beauty industry waste per year, per Zero Waste. Once those little bottles, jars, and tubes are empty, they go in the trash or recycle bins, and that's where the trouble starts. Sadly, just 9% of plastic worldwide is successfully recycled, according to the Organisation for Economic Co-operation and Development. That means 91% of plastic ends up in landfills or back in the environment, fueling the prediction that there will be more plastic in the ocean than fish by 2050 (via The World Wildlife Fund).
So, what can you do about it? Thankfully, the beauty industry has caught on to the problem, and many brands are doing their part to help consumers reduce waste. There are many ways beauty brands embrace sustainability, including implementing and/or offering recycling programs, sustainable packaging, and cleaner production practices. Below, find some of our favorite beauty products that reduce waste by offering refills.
How we selected the refillable products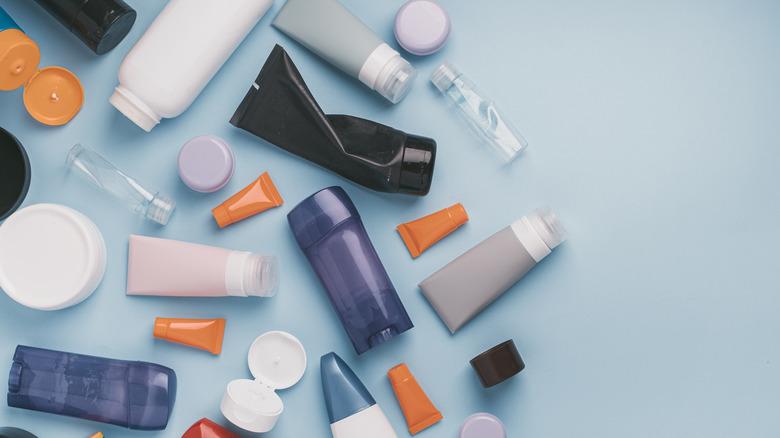 HalynaRom/Shutterstock
Great news: many of the brands we know and love offer refills, so for many shoppers, the switch to more sustainable products will be simple. The other great news is that many of the big beauty brands have chosen their bestsellers to pave the way into refill territory, with many promising more products to come.
Of course, we took a peek at user reviews, and the star rating (out of five) was considered as well. But as mentioned above, nearly every product was already a fan favorite, even before product refills were being offered. After all, let's be honest: if Big Beauty is going to make a dent in the post-consumer plastics problem, its bestsellers are the place to start. 
Also considered were a brand's environmental and sustainability efforts, even beyond the product refills. The use of sustainable ingredients, biodegradable packaging, carbon offsets, and ethical practices were all factored into what brands were highlighted. After all that research, we're happy to report that there are effective, luxurious products with a conscience out there. Now we just have to do our part.
Best Luxury Cream
Leave it to Chanel to pave the way. Not only does the luxury brand offer product refills but also a whole line — that would be N°1 de Chanel — devoted to eco-friendly formulas. The secret ingredient is red camellia flower, which is in all the formulations, including the N°1 de Chanel Revitalizing Cream. Inside the jar, find 95% natural ingredients. Outside the jar, the bio-based packaging includes camellia husks and wood by-products. The refill pods are designed to pop easily into the original glass jar for infinite refills. But the brand estimates that refilling only twice reduces the product's greenhouse gas emissions by half. Smoother, younger-looking skin — you know, for the environment.
The N°1 de Chanel Revitalizing Cream refill is available at Chanel for $95.
Best Celebrity-Owned Skincare
Hydra Vizor Invisible Moisturizer SPF 30 refill from Fenty Beauty has star power — 4.9 out of 5 stars, to be precise, at the time of writing. Not to mention that Rihanna herself has given this powerful hydrator her seal of approval (it's a "Rihanna's Fave"). So, what's all the fuss about? Some of our favorite ingredients are inside, including niacinamide, hyaluronic acid, sunscreen, and aloe. Plus, a few delicious-sounding extras: baobab and Kalahari melon for skin-saving antioxidants and extra hydration. Once you have the original outer holster, you can refill it to your heart's content (and we're sure you will, again and again).
The Hydra Vizor Invisible Moisturizer SPF 30 refill is available at Fenty Beauty for $34.
Best Too-Cute-to-Toss Packaging
This pretty purple jar promises all-day hydration thanks to a one-two punch of hyaluronic acid and polyglutamic acid, which work together to quench thirsty skin. Dehydrated skin will love the Plum Plump Hyaluronic Cream refill, but It's also great for those with combination skin, as plum extract and ice willowherb help balance skin and keep greasiness at bay. To refill your original jar, just pop in a new refill pod and glow with the knowledge that you're reducing consumer waste and CO2 emissions. Even the pods themselves are made with 50% post-consumer recycled materials. It's a bestseller for a reason.
The Glow Recipe Plum Plump Hyaluronic Cream refill is available at Glow Recipe for $33.
Best Cult-Favorite Product
If you know, you know. (And if you don't know, we're here to fill you in.) The aptly-named Magic Cream was developed backstage by makeup artist Charlotte Tilbury to transform models' complexions before they stepped out on the catwalk. Soon, she was getting so many requests for the moisturizer that she decided she'd better bottle it. This skin primer includes hyaluronic acid, peptides, and a combination of rosehip oil, camellia oil, aloe vera, and shea butter that keeps celebrities like Sienna Miller, Zendaya, and Amal Clooney fresh-faced and radiant. Now you can pop a brand new capsule into your original 50 ml glass jar to keep the glow going — and reduce environmental waste. Plus, you save around 10% when you buy the refill over a brand-new jar. Boom, magic!
The Charlotte Tilbury Magic Cream refill is available at Charlotte Tilbury for $90.
Best City-of-Lights Scent
This almond-scented shower oil may be made in France, but it has found fame the world over. It's a one-stop shop: a cleanser, moisturizer, and shaving balm all in one bottle. It's infused with almond oil, grapeseed oil, and omega-9 fatty acids for smooth, soothed skin. To top up your original bottle of shower oil, just pick up a handy refill pouch (similar to other soap refills you may use) to save 78% of the packaging used on a brand-new bottle. Plus, this bathing beauty uses 95% biodegradable ingredients and sustainably sourced almonds. The manufacturers even reduce waste by using all parts of the almond — even broken pieces that would normally be tossed. This is one daily ritual that you can really feel good about.
The L'Occitane Almond Shower Oil refill is available at L'Occitane for $40.
Best Zero-Waste Mascara
Mascara is a must-have in any beauty arsenal, but those little tubes have a short shelf life. Keep them out of the landfill with Izzy's zero-waste option. The refill process is a little different from creams and soaps because of mascara's risk of bacteria buildup. Simply subscribe, and then every 90 days a new sterilized mascara will arrive in a reusable shipper. Send the original back to Izzy (where it continues its zero-waste journey) and open your brand-new bottle to continue enjoying sky-high lashes. The mascara itself comes with no outer packaging (besides the shipping package), but a scannable QR code gives you all the info you need without all the garbage. Plus, it's ethical, sustainable, eco-friendly, and even gluten-free. Clean and convenient? Sign us up.
The Izzy Zero Waste Mascara is available at Izzy for $39 (less if you subscribe).
Best Budget Buy
Can we talk about how cute these little stick deodorants are? They should be — according to Dove's website, the brand spent two years perfecting the refillable design. Both the base and the cap are made of stainless steel, so they're ready to be reused again and again. Even the way the refill clicks into place is satisfying. The end result is sleek, simple, and much kinder to the planet. The refills themselves are made from 98% recycled plastic, and the reusable case comes with a lifetime guarantee. Inside, the deodorant we already know and love is free of cruelty (PETA-certified), aluminum, and alcohol. Your underarms, and the planet, will thank you.
The Dove Refillable Deodorant Starter Kit is available at Walmart starting from $17.93.
Best Green Skincare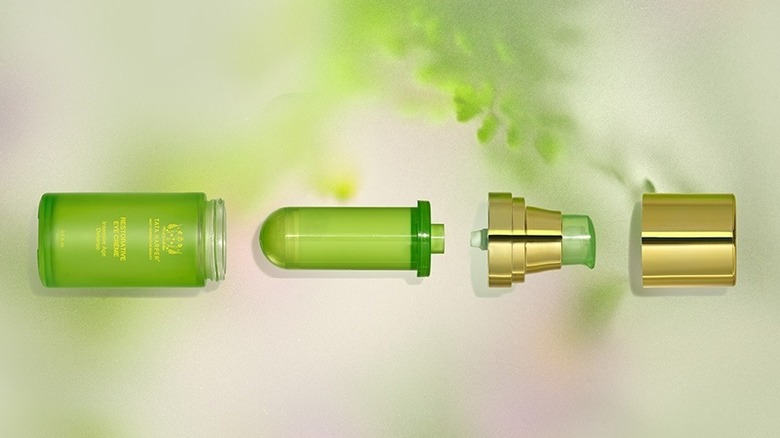 Tata Harper
No list that focuses on beauty and sustainability would be complete without Tata Harper. The eponymous label was started by the queen of green skincare and is known for its clean beauty products that embrace the power of the planet's natural resources. Now, those little green bottles are doing their part to keep the planet green, too. The Restorative Eye Crème refill pod clicks right into the original bottle, keeping the product airtight so there are no worries about whether all those natural ingredients are kept fresh. Each bottle of eye cream should last approximately two months. By using the refill system, up to six bottles a year are kept out of the landfill. Is that a halo giving you that glow or just a botanical-rich eye cream?
The Tata Harper Restorative Eye Crème refill pod is available at Tata Harper for $110.
Best Multi-Use Beauty Balm
We love a good double- or triple-duty product. This blush balm can be used on eyes, cheeks, and lips but includes skincare ingredients like evening primrose, bamboo stem extract, and fatty acids that combat pollutants, moisturize, and even heal acne. We also love that it's minimally packaged in aluminum that can magnetically snap into any of Elate's choose-your-own-adventure palettes. The palettes are crafted from sustainably-sourced bamboo, and the brand's aluminum cosmetics trays can be tossed in the recycle bin once they're empty. The ingredients are vegan, fair-trade, and cruelty-free, too. Beauty emergency? Not with this multi-use wonder in your pocket.
The Elate Beauty Blush Balm is available at Elate for $25.
Best Vegan Skincare
It's like a Jamba Juice for your skin. Packed with cold-pressed kale, spinach, and alfalfa, this superfood cleanser and our green juice order have a lot of the same ingredients. This fan-favorite cleanser is also rich with vitamins and antioxidants, like green tea, that balance pH and clear pores. Clear your conscience, too: the sustainably-sourced ingredients won't harm the ocean once they're rinsed down the drain, and the formulations are all cruelty-free and vegan. The bottles are glass, and the large 16-oz size of the Superfood Cleanser is meant for refills. The brand itself is active in environmental initiatives and is working towards net-zero emissions. Squeaky clean skin, and one day a squeaky clean planet, too.
The Youth to the People Refill Size Superfood Cleanser is available at Youth to the People for $64.