Dolly Parton's 2023 ACM Awards Look Throws Spring's Naked Jewelry Trend Out The Window (As It Should)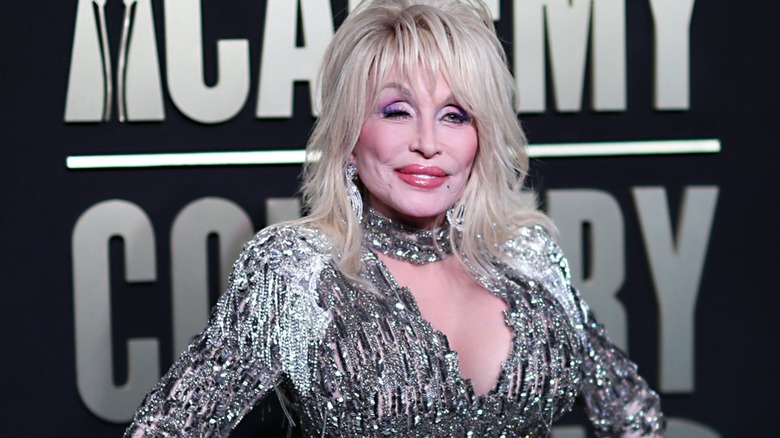 Omar Vega/Getty
Dolly Parton once again proves that God herself doesn't have to follow the trends – her ACM Awards look is a quintessential Dolly Parton masterpiece, featuring big hair, dramatic fringe, and a generous dose of rhinestones. While the rest of us are coasting into summer on the naked jewelry trend, Dolly Parton is once again proving that no ensemble is complete without a little bit of glamour.
Advertisement
The Queen of Country is co-hosting the 2023 ACM Awards (along with Garth Brooks), so it's no surprise that she's gone all out with her outfit. The metallic jumpsuit ensemble included a top emblazoned with rectangular rhinestones, a lengthy fringe, and a bold choker piece. Similarly, the sparkly pants had fringe laced down the legs and a smattering of large rhinestones — a vibe that would be tacky on an average person but is somehow perfectly angelic when paired with Parton's familiar smile.
The sparkle is in the details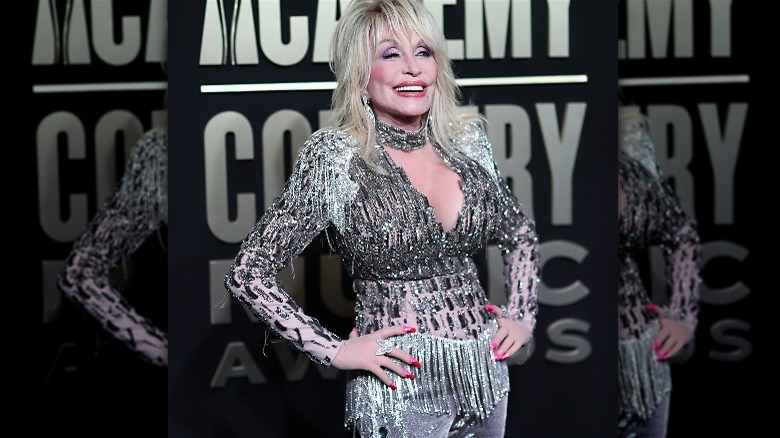 Omar Vega/Getty Images
What makes rhinestones look so good on Dolly Parton, despite all current fashion signs pointing toward minimalist, delicate jewelry? Well, part of it is simply that she's Dolly. An icon like Dolly Parton has a signature look, and it doesn't matter what other people are doing. Rhinestones are part of her beloved brand, so they're here to stay.
Advertisement
However, there are elements to Parton's fashion choices that ensure she can pull off all those sparkles, and we could all take notes from her ACM look. Firstly, there's the commitment: Rather than having a small splash of gems on the shoulder that screams high school prom, Dolly Parton goes all in. In the Dolly Parton school of fashion, rhinestones aren't an experimental decoration — they're an entire lifestyle.
Furthermore, as cheap as "rhinestone" may sound, Dolly Parton's outfit is anything but. All the small details of her silver jumpsuit help support the visual weight of all that glitter and shine. The broad, padded shoulders and thick choker anchor the piece to her petite frame, while her adorable peep-toe heels give her a helpful lift. And the intricate layers of mirrored bars and high-end rhinestones aren't haphazardly sewn on — each piece is carefully arranged to flatter her figure and work in harmony with the silhouette of the fringe. Thus, the Dolly Parton rhinestone aesthetic is far from gauche and is perhaps a greater example of precise, thoughtful craftsmanship than the naked jewelry that's currently on-trend. Brava, Ms. Parton.
Advertisement