Does The Order You Apply Your Hair Products Matter? Yep, Here's Why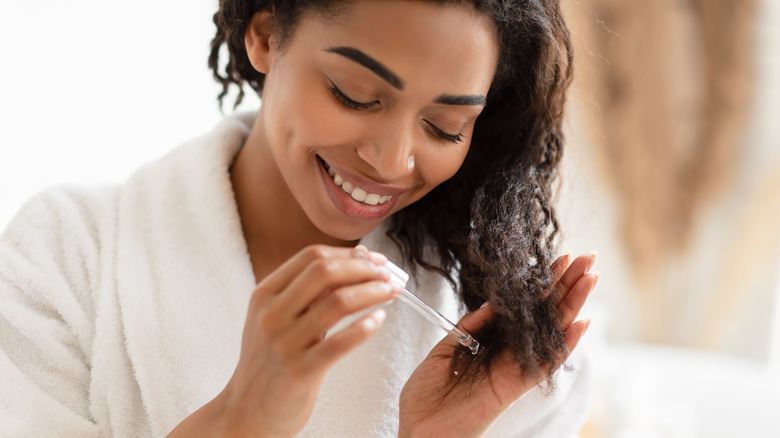 Prostock-studio/Getty Images
Our skincare routine depends on a collection of items that work together to tackle common issues like acne, excess oil, or sensitivity. The key to the correct skincare routine is applying your products in the proper order. This same principle applies to your haircare ritual. 
Just like your skin, it's important to methodically apply your hair products in a way that will result most effectively without counteracting each other. The order you place your hair products will also affect how heavy or oily your hair gets over time. If you put on your products in the incorrect order, you risk your hair becoming greasy, dry, or damaged.
The correct order of your hair products not only matters for the health of your hair, but it's essential if you want your strands to look and feel great. For a hairstyle to last all day, you'll need healthy hair that isn't weighed down by hair products that haven't been absorbed into the strands properly. If you're tired of feeling a film every time you apply hair products, you're likely using them in the wrong order. Increasing the efficiency of your hair routine will help your products work better and longer, saving you plenty of time and money.
The right order of your hair products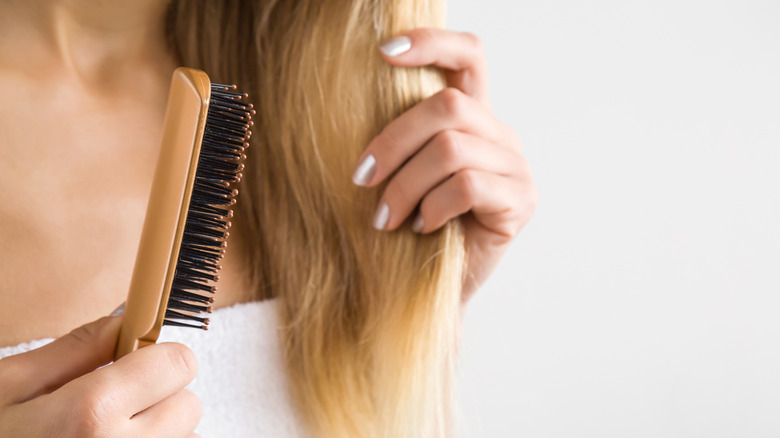 Fotoduets/Getty Images
Applying your hair products in the right order will help them to absorb into your scalp better. To get the most out of your haircare routine, you'll want to start with a hydrating shampoo that will give some nutrients back into strands. We recommend chasing your shampoo with a hair treatment or mask. These products will help give you more shine and smoothness, as well as give you more nutrients back to your hair. If you aren't using a hair treatment or mask, use a hair conditioner that can give you the same effect on a lower scale.
After your shower products, you can follow up with a series of products that will take care of your hair post-shower. The first you'll want to put on is a leave-in product. This can come in the form of a leave-in conditioner or oil. These products help repair your hair while making it ready for styling. If you want to use a hot tool, make sure to use a heat protectant spray beforehand. This product is vital for your hair's health as heat can cause considerable damage to your locks. After, add a mousse product to your hair to add some volume and height. Hair oils and serums are next as these products will help get your hair shiny and frizz-free throughout the day. The last product you should be applying is a hairspray, to help keep your hairstyle in place all day.
Why does the correct order matter?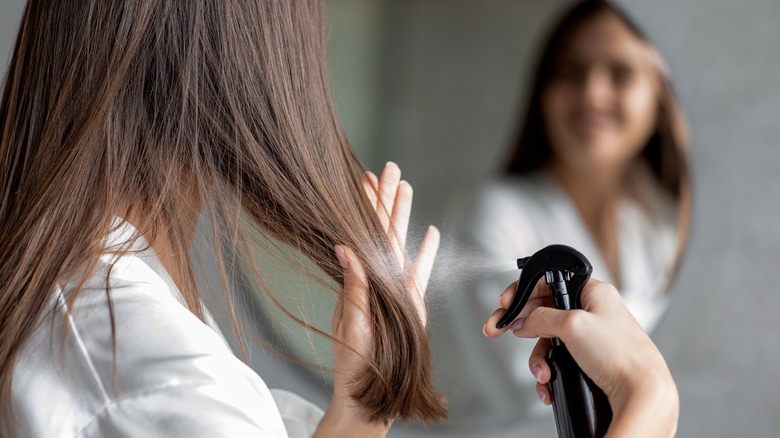 Prostock-studio/Shutterstock
Using hair products in the right order consists of more than just following steps in a routine. This order is made to help keep your hair looking and feeling healthy and shiny. While the order can differ based on your hair needs, you should always consider following the correct way each time. Better Not Younger suggests taking a moment to read the labels on newer products to ensure that they have different directions on when to use them.
Because your hair products will depend on the type of hair you have, it's important to layer your products in an order that corresponds with your hair type. Having the correct layering, despite the products you use, will ensure that oily hair gets rid of excess oil and dry hair gets extra hydration. Regardless of the hair, you should always finish with a product that seals up the moisture and holds your hair in place. The order will also change depending on the condition of your hair, which can change over time. While it may change, this makes the correct order even more important, as it can normalize any imbalance in your hair.