This Is The Most Important Place To Use Shampoo And You're Probably Missing It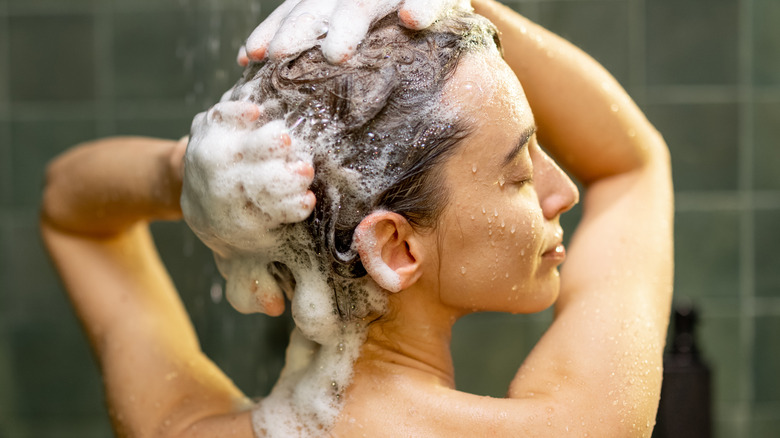 RossHelen/Shutterstock
We all want a good hair day every day, and while some of us like to go a little extra with hair color and hair tools to style our hair, some keep it pretty simple with just a wash-and-go routine. Whatever your hair type, it's important to keep it clean and hydrated; for that, we have an array of shampoos and conditioners. While how often we shampoo our hair can depend on our hair type, weather, and activity level, we can all agree that we need to wash our hair to keep it clean.
 Nowadays, you have shampoos for all hair types to address any concerns you may have. According to Healthline, shampoo is a cleansing agent for the hair with surfactants and detergents to get rid of "oil, sweat, dirt, product build-up, and environmental pollutants from your hair." While most people shampoo their hair first, people also reverse wash their hair where they use the conditioner first if they are prone to "flat, or greasy (hair) after conditioning." There is no set rule on what to use first; you simply need to do what works best for your hair type.
While the actual process of shampooing hair seems like common sense, people still make mistakes in the basics of cleansing their hair. For instance, some use too much shampoo or don't rinse it properly, leading to more build-up, per Byrdie. You might shampoo your hair and rinse it off well, but many people forget to shampoo one of the most vital parts of their head.
Why the scalp needs cleansing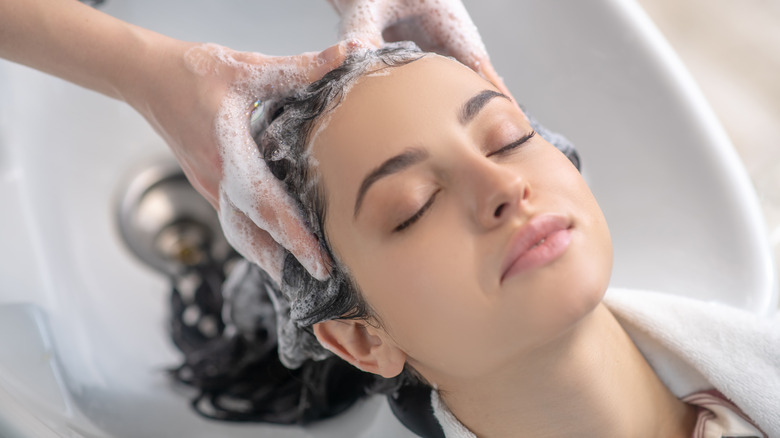 Dmytro Zinkevych/Shutterstock
We all love a good shampoo at the salon, where they give us a relaxing massage on the scalp, and most of us skip it when shampooing at home. According to Byrdie, "scrubbing the scalp" is very important because that's the only way you can get rid of all the "dirt, sebum, and build-up" that accumulates over time. The outlet recommends you give a little massage to your scalp for three minutes as you shampoo irrespective of your hair type and length. Now, how many of you normally spend that time giving a little TLC to your scalp?
Allure notes that it's important to wash your scalp the way you wash your face because that's how you get rid of dead skin blocking your hair follicles, which could cause inflammation if left for too long. Furthermore, Connecticut-based hair restoration expert Dr. Rae Lynne Kinler told Vogue, "The scalp environment can become too acidic due to the environment, specifically our shower water as well as product chemical interactions," adding that choosing a good hydrating shampoo that can balance your scalp's pH is key to a healthy scalp that will promote "better, stronger healthier hair growth." 
Next time you shampoo your hair, don't just dump the product on your head, lather, rinse and be done. Instead, spend a couple of minutes giving a relaxing little massage to your scalp not only for its health but also for healthy, clean hair. Don't just wait for a salon trip for this little indulgence!