How To Choose The Sunglasses Best Suited For You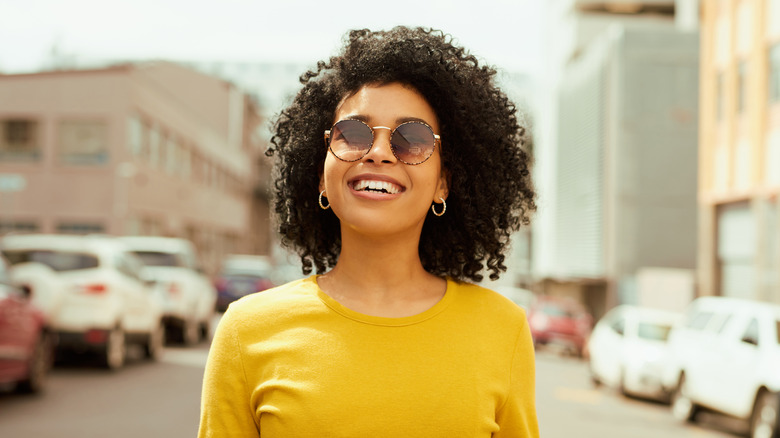 Laylabird/Getty Images
Sunglasses are an accessory that can instantly add a bit of fun to any outfit, but they're also a necessary investment that protects your eyes from the bright rays of the sun. Not wearing sunglasses when you're out and about, especially if you frequently work or do activities outdoors, can lead to short-term eye sunburns and injuries as well as long-term major risks, such as cataracts, cancer, and cornea damage. It might not seem to be a serious issue at first, but, similar to the skin, sun damage can add up over time and leave you wishing you would've been smarter about UV protection.
Advertisement
Of course, any pair of sunglasses that protects your eyes is better than nothing, but if you're looking for a pair that will leave you feeling confident and safe for years to come, narrowing down your choices can be a bit intimidating. After learning a bit more about what goes into this decision, however, you should be able to wade through the thousands of options on the market and find your perfect pair of sunnies in no time.
Determine your face shape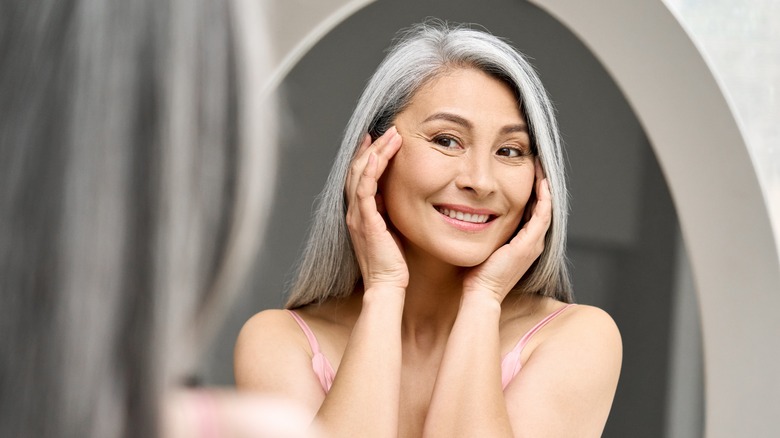 Ground Picture/Shutterstock
The first step in finding a pair of sunglasses that you actually want to wear is figuring out the most flattering shape to suit your face shape. Of course, if you're buying sunglasses for a specialized use such as winter sports or outdoor work, function trumps aesthetics, but your daily wearers should be something you feel confident wearing. Most people's faces fall into one of six different generalized shapes — round, square, diamond, heart, triangle, and oval — so start off by determining which shape you are by looking in the mirror, taking a selfie, or asking a friend to give you a better perspective.
Advertisement
From there, it's all about creating harmony and balance. Round face shapes look best with angular lines; square shapes complement curves; diamond faces shine with balanced, thinner frames; heart shapes stand out with wider-topped styles like aviators; and triangular face shapes look best with heavier detailing and thick lines at the brow. Oval face shapes work well with most frames, depending on which features you want to play up. Of course, this is a guide, not a rule book, but it's a good place to start if you're still working on finding your perfect style.
Factor in your head size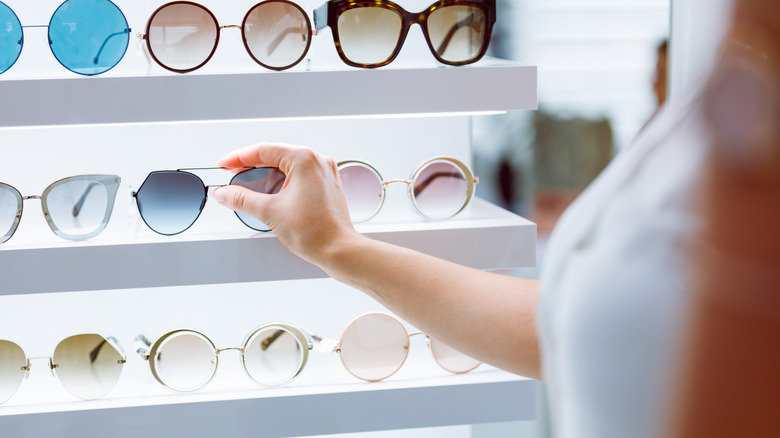 Zoranm/Getty Images
The next thing to do to find the right pair of sunglasses for your face is to determine your head size, both for aesthetic and fit reasons. Most frames, especially less expensive options, are built with fairly universal sizing, but if your sunglasses are giving you a headache or sliding around your face, you should try out a different style or brand. It's also important to cater your lens size to the size of your face — smaller lenses will be more flattering and not dwarf your features on a more angular or slim face, and larger lenses are necessary to provide adequate sun protection and coverage on a larger face.
Advertisement
If you're going to an optometrist for prescription sunglasses, they'll likely take care of a lot of this sizing for you and point you in the right direction when it comes to frames, but if you're buying a less expensive pair of sunglasses, you might have to hunt a bit more. If the offerings in the section of the store where you usually shop don't seem to fit correctly, don't be afraid to try out other aisles — men's glasses tend to fit a bit looser than women's and vice-versa.
Look to the rest of your closet for inspiration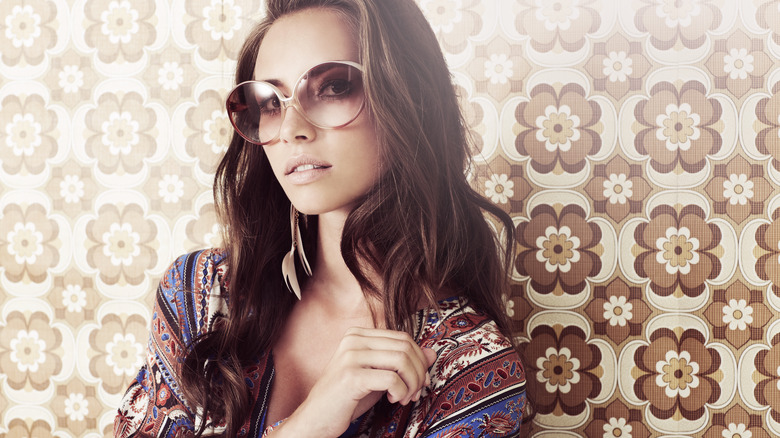 Sanneberg/Getty Images
If you're still having a hard time nailing down the exact style of sunglasses you're looking for, look to the rest of your closet. It can be easy to discount your personal style when it comes to choosing something more utilitarian like sunglasses, but you want to pick something that will both fit comfortably on your face and flow with the rest of your outfits.
Advertisement
If you're a fan of vintage aesthetics, factor your time period of choice into your final decision. Fans of '90s minimalism will feel at home in simple round frames, while devotees of the '70s might enjoy a large, geometric option that brings some grooviness to their daily outfits. Additionally, look to the typical color of your accessories. If your daily purse and favorite shoes are brown, go for brown-toned frames. The same goes for metal — silver might look great in the product photos, but if you routinely wear gold jewelry, you'll likely prefer gold-toned frames on your face.
Take your daily activities into account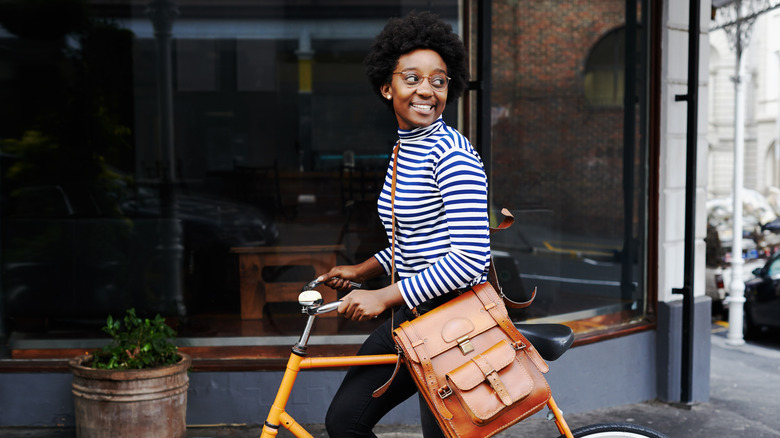 Nks_imagery/Getty Images
Once you narrow down your ideal look, it's time to get a bit more specific with what you're looking for. Sunglasses come in a myriad of different styles, but there are also frame and lens materials to take into consideration. Think about your day-to-day life, your durability needs, and how much you're willing to spend for something slightly longer-lasting.
Advertisement
Sunglass frames generally fall into two main categories: plastic and metal, though there are individual varieties of each that promise more or less durability for the wearer. Plastics, especially flexible nylon, are great for durability while still maintaining a fairly low price point, though cheaper plastic frames tend to snap and scratch. Metal, however, has a more classic look and is a solid option for those who want something simple and low-profile. When it comes to lenses, your options are either plastic or glass. Most casual sunglasses have plastic lenses, though higher-end brands often offer an option to choose between glass or durable polycarbonate for your lens type.
Try on in-person if possible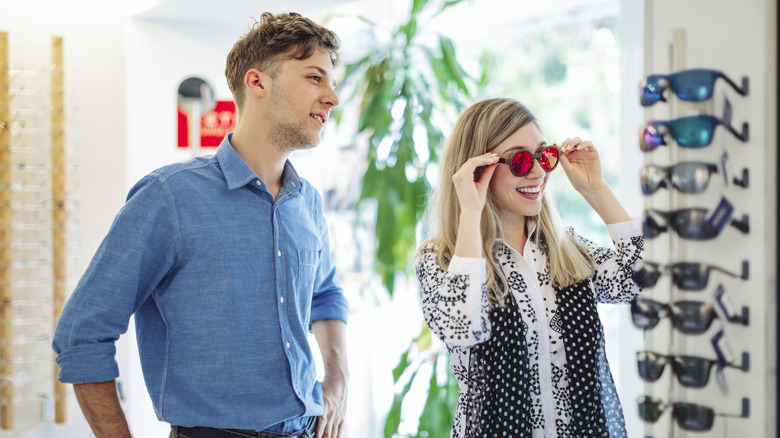 Eva-katalin/Getty Images
If it's an option for you, trying on the sunglasses you've been eyeing in-person rather than biting the bullet and buying them online is a much better option. It can be difficult to gauge how something will fit and look on you, especially for something that rests on your face, and shopping in-store can give you a better gauge of this. Even something like a virtual try-on or providing more specific measurements can be helpful, though nothing beats a more tangible experience.
Advertisement
If your desired sunglasses are only available online, your next best option is to try on a pair in a similar style to get an idea of how the shape complements your features. This isn't an exact science — different brands will likely have slight differences, but it's better than going in completely blind. As a last resort, make sure the brand or store from which you're ordering has a solid return policy, especially if you plan to drop more money later on a pair of sunglasses that will last you for years.
Decide if you need any extra technology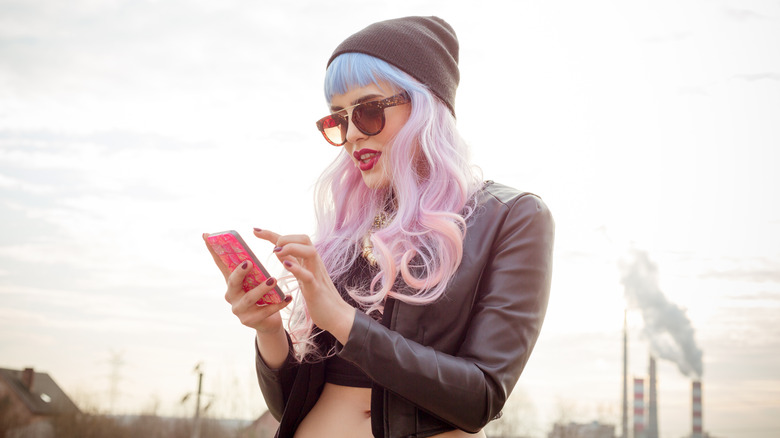 Izusek/Getty Images
Most lower-end sunglasses are pretty basic — just plastic frames with tinted acrylic lenses — but, if you're planning to shell out more money on a pair, take a look at what technology is available for lenses. A common feature is polarization, a special coating that filters light and works to reduce glare off of reflective surfaces such as water, ice, and bright sidewalks. The view from polarized glasses is typically a bit darker than typical lenses, but they're a necessity if you want to be able to see smaller details without interference.
Advertisement
If you are looking for prescription sunglasses, you can also consider transitional lens options that allow you to go from day to night without having to switch frames. Additionally, you might prefer graduated lenses that fade from dark on top to light at the bottom. These lenses allow you to protect your eyes from bright sunshine above while still being able to see regularly while looking down or straight ahead.
Invest in something you'll love for years to come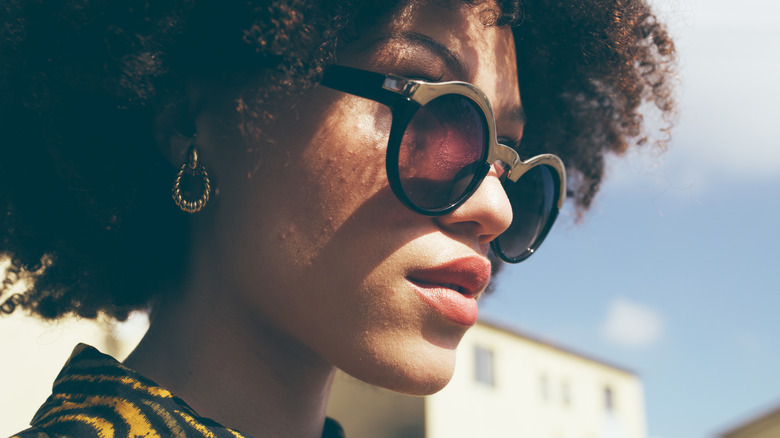 Cecilie_arcurs/Getty Images
If you're buying sunglasses with the intention of making them last for years, you have to also ensure that the style is one you'll love for years. This doesn't mean you have to go for something boring — if your dream shades are bright red, cat-eye frames may suit your style — just be sure to check in with yourself to decide if you like these lenses because they're your style or because they're a microtrend. Sunglasses are both fashionable and utilitarian, so don't be afraid to experiment. Just do your best to avoid picking something you'll inevitably dislike in a few months.
Advertisement
By finding a pair of shades that fits you, your style, and your budget, you'll be more likely to actually wear and style them. Eye protection might be the last thing you consider when you go about your day, but your future self will thank you for being diligent in protecting you from UV damage.