The Eyeshadow Trick Giving Your Brows A Natural Look Sans Pencils
Jupiterimages/Getty Images
Gone are the days when we were all rocking pencil-thin eyebrows — now, it's all about how natural you can make them look. Whether your brows grow thick or consist of fine hairs, there is a plethora of products you can use to create the appearance you desire. Best of all, you don't need to wax or pluck them to align with today's trends.
If you made it through the days of excessive brow shaping, however, you likely already know how hard it can be to restore your lush brows. In some cases, you might feel the need to fill in patches where there isn't enough hair, using a brow pomade or pencil. However, shading your entire eyebrow can result in some unwanted consequences — namely blocky, artificial-looking eyebrows. Luckily, this can be avoided by taking a few different steps.
To begin, you'll want to have a brow brush on hand that has a spoolie on one end — this part is essential for shaping your hairs and creating the look you desire. Next, pull out an eyeshadow that matches your eyebrow shade. In this situation, your makeup will be doing double duty as a filler for your brows. Now is finally the time to put away your brow pencil and stop shading in those areas that could use some color. With these tools, you can develop a more natural look.
How to create a flawless thick brow look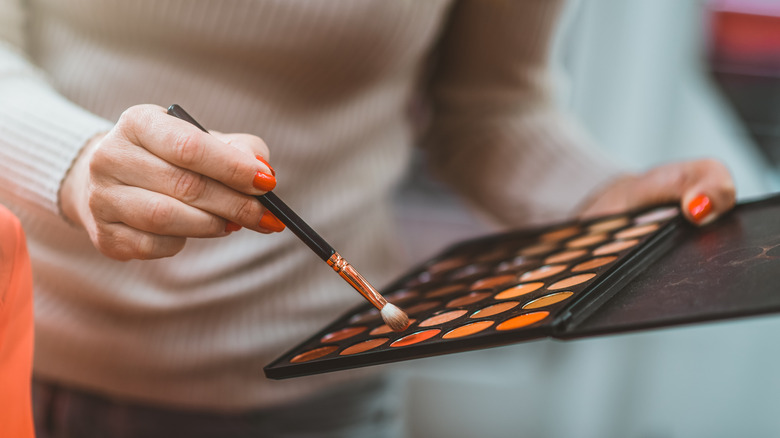 Ljubaphoto/Getty Images
The re-emergence of the thick eyebrow has taught us all one lesson — there is a stark difference between luscious brows and blocky, heavy ones. Unfortunately, not everyone can grow out the brows of their dreams, which is where makeup comes into play. With eyeshadow that matches the tone of your natural brow color, you can create any look you want. "To fill in your brows, use an angled eye shadow brush and [an] eye shadow matched to your brow shade," makeup artist Lan Nguyen-Grealis told Who What Wear. "Take the brush and apply upwards feathery strokes to mimic individual hairs."
Ultimately, the goal is to create a natural look by avoiding the use of too much pigment. By drawing on your eyeshadow in strokes, you can develop a softer appearance. With the spoolie end of your eyebrow brush, you can comb through any excess eyeshadow. Additionally, it can be used to create the shape you want. Once you've achieved a look you're satisfied with, seal it in place with your brow gel of choice. Although it can be a bit sticky and messy to use, it's a necessary step if you want your brows to look flawless all day long. To limit the cleanup, put the spoolie end of your brush to work — just give it a good cleaning before using it again.
Getting the perfect brows every time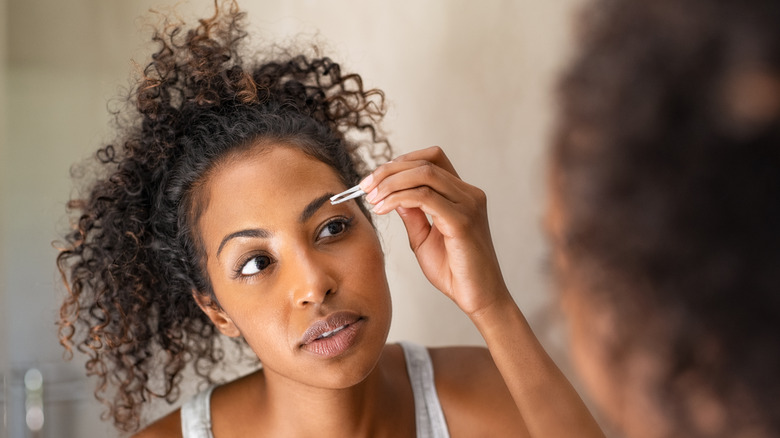 Ridofranz/Getty Images
If you don't consider yourself to be a brow pro, there are still a few tricks you can use to make your eyebrows look like a million bucks, regardless of thickness. Shaping your brows begins with a good pair of angled tweezers. With this type of tip, you can remove any stray hairs to shape your brows before you begin applying any makeup.
Once you have the shape you desire, you can start to fill in the area with your brow shadow, pomade, or pencil. If you intend to use an eyebrow pencil, try to use one that has a fine tip. This will give you maximum control while you're drawing strokes, and more precision means less time spent polishing your look at the end. As you're drawing faux hairs, start at the base of your brow. Flick your hand upward while creating the strokes for a more natural result. While there's no limit to how much drawing you need to do, keep in mind that the more pigment you add, the heavier your eyebrows will appear.
If you want to rehab your brows to put less effort into your makeup game, steer clear of your tweezers and waxing for a bit. Over-plucking is one of the worst moves you can make if you desire thick, luscious brows. While it might take some restraint during the growing process, the end result will be worth it.