No-Maintenance Brow Trend Ditches Ultra-Groomed Looks For Natural Beauty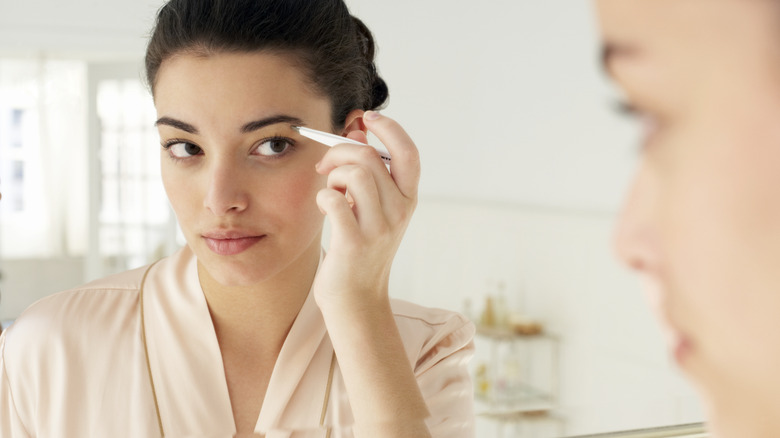 Christopher Robbins/Getty Images
If you got into makeup during the 2010s, you understand how much work can go into doing your eyebrows. The routine starts before you even get out your makeup bag. With monthly or bi-weekly trips to groom your eyebrows, the goal was to get the best eyebrow shape based on your face. From there, you had to fill in any sparse areas, often adding a myriad of gels, pencils, and pomades for a thicker brow. By the time you were done with that, you probably felt like you barely had any time to do the rest of your makeup.
Right now, however, we are entering a new era when it comes to doing our eyebrows. The eyebrow trend you'll be seeing everywhere involves barely touching them. Instead of adding a bunch of products, we are seeing more people embrace what they naturally have for a fresh look. With a few simple steps, here's how to get no-maintenance brows in no time.
How to get the no-maintenance brows look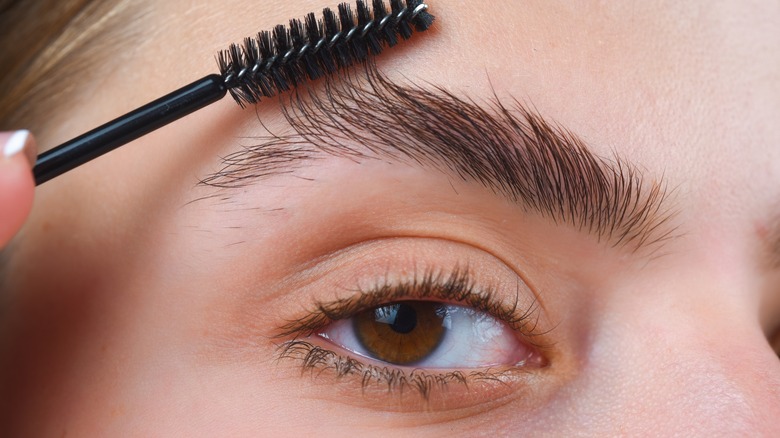 Volodymyr TVERDOKHLIB/Shutterstock
This is going to be the easiest brow routine you ever had! All you'll need is a clear brow gel of your choice. From there, swipe on the gel, creating an easy look for yourself. This looks great because it embraces your natural brow shape. If you would like to embrace the fluffy brow look, make sure to brush the hairs up instead of horizontally. However, if you feel your look needs a little more, a pencil or concealer should do the trick. 
For sparse areas, take a pencil and gently create light strokes where you feel you could use the extra help. If you want the appearance of neater brows, take concealer that matches your skin tone, and lightly apply it under your brows to clean up the look. Plus, this will help to define your brows a little more. For added coverage, wait a minute before blending out the concealer.
How to take your brows to the next level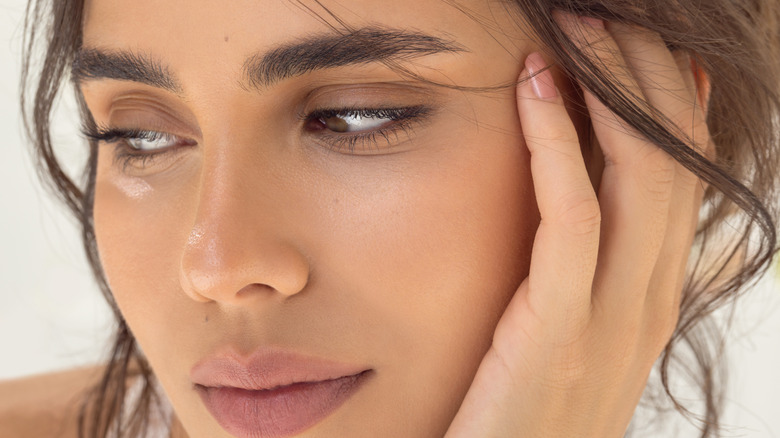 Svetikd/Getty Images
If you want to wake up with the best-looking eyebrows, the first thing to do is incorporate an eyebrow serum, which will help your brows grow thicker and fuller over time. Not only does using a serum work to moisturize your brow hair, but it also stimulates new follicles. This helps lessen any sparse spaces that we normally fill in with a pencil or any other brow-specific product.
Also, while you're at it, put the tweezers down! While it is fine to shape our eyebrows either at the salon or by ourselves, we might be doing more harm than good if we are not careful. In addition to shaping our brows in a way that doesn't naturally suit us, we may be causing some long-term damage to the hair follicle. The best option may be to let your brows grow out and embrace what they naturally want to do.