Lace Slip Dresses: The Flirtier Option For Warm Days (& Warmer Nights)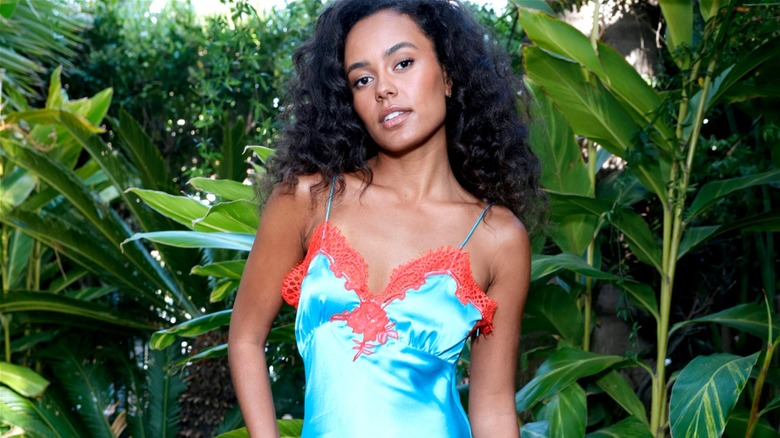 Stefanie Keenan/Getty Images
When warm weather hits, certain fashion staples always leap to the fore. White tee? Check. Denim shorts? Check. Sweet summer dresses? You know it. From classic cuts like cami, babydoll, and shift dresses to newer fads like trendy puffy-sleeve sundresses, that first touch of sunshine seems to scream for lightweight frocks. But if you're looking for a flirty and fashion-forward alternative to the usual suspects, don't overlook the dreamy, versatile potential of a gorgeous lace slip dress.
Lace slip dresses feature sleek silhouettes that are sensual and curve-hugging without turning into a second skin. The sheen of their satiny fabric is eye-catching without being gaudy, and adding a sweet touch of lace gives these garments a fun, girly finish. Best of all, you can mix and match pieces and accessories to elevate a slip dress for any occasion.
Still, many fashionistas find that lace slip dresses can be intimidating to pull off. With details that nod toward a sexy nighty, how can you ensure that your silky ensemble reads flirty fashion rather than bedtime wear? To get in on this booming trend, here are a few surefire ways to rock a lace slip dress without veering into nightgown territory.
Provide structure with a tailored jacket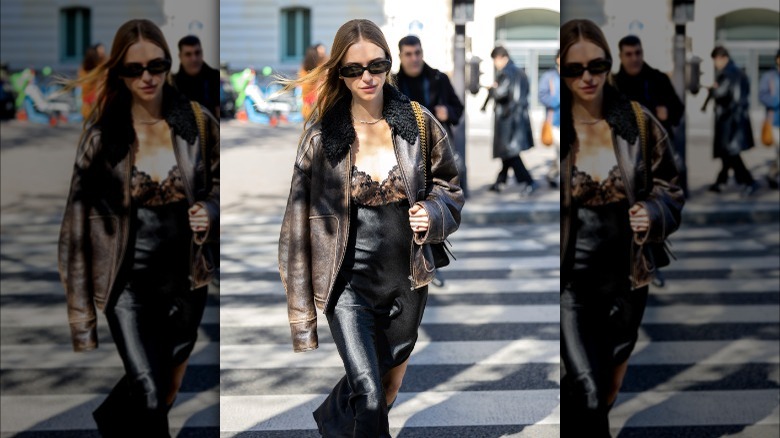 Christian Vierig/Getty Images
Part of the appeal of lace slip dresses is their slinky, form-fitting silhouette. But that doesn't mean your whole outfit has to rely on drapey curves. To really emphasize the sleekness of any slip dress, consider contrasting it with a more structured piece. Bringing in something with sharp lines, like a tailored blazer, or hefty weight, like a leather jacket, makes the femininity of your lace slip dress read even flirtier.
Keep it classy in all black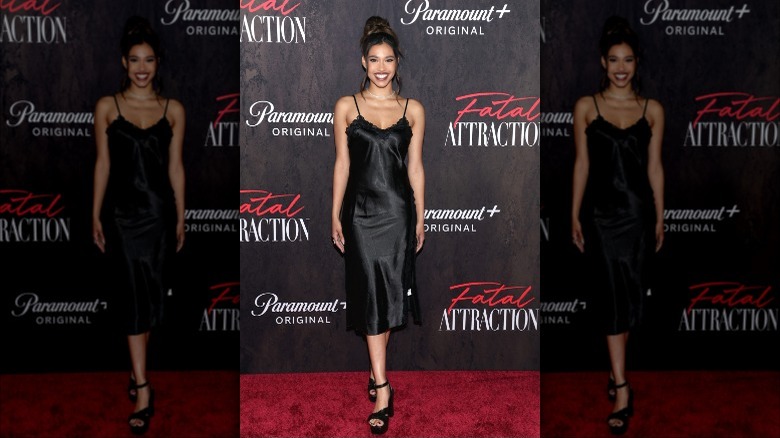 Phillip Faraone/Getty Images
When in doubt, one of the best ways to incorporate a new style into your wardrobe is to go understated with a monochromatic approach. And what could be more classic than a chic black ensemble? Choosing a lustrous black slip dress with inky lace helps flatter the curves on any body type. Just match it with equally jet accessories like a pair of strappy black heels to complete the timeless look.
Create interest with contrasting colors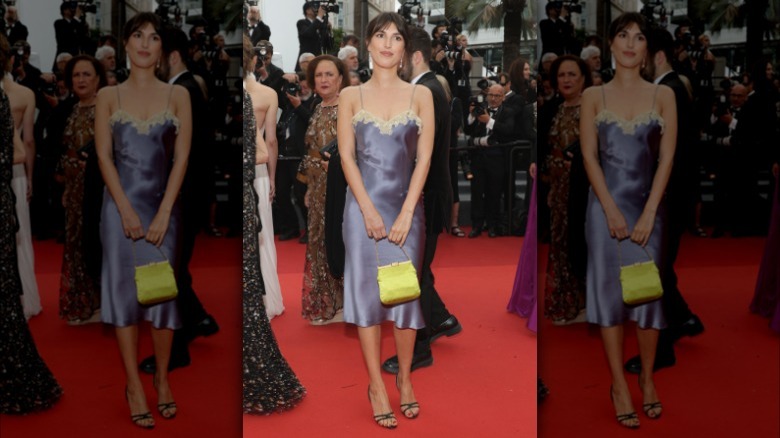 Pascal Le Segretain/Getty Images
If you're feeling a little adventurous, you can also embrace vivid colors in your slip dress outfit. Start by considering a contrasting lace. Black or white lace are easy options to offset any dress shade from periwinkle to puce, but you can also consult the classic color wheel to find a complementary hue. Want to take things further? Dial the effect up a notch with a vibrant accent color among your accessories, such as a brightly colored purse or statement heels.
Add texture and volume with pleats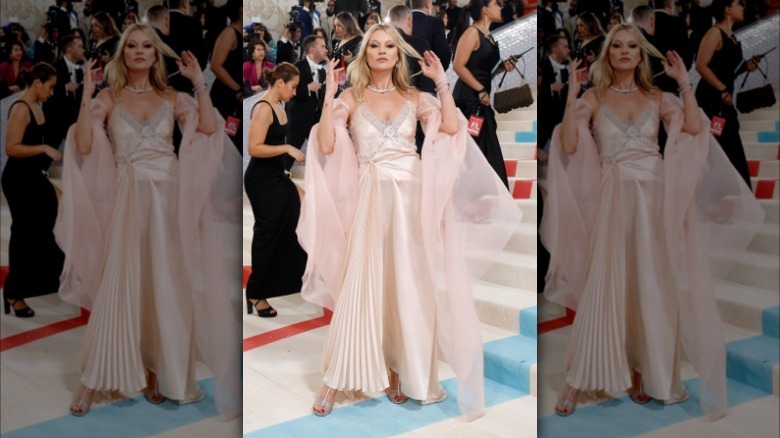 Taylor Hill/Getty Images
When you look at a slip dress, you can practically feel the texture with your eyes: smooth, cool, and silky. Lace trim adds visual interest and a little extra flirtiness by bringing some intricacy to the garment. But you can also experiment with slip dresses that go beyond the usual statuesque silhouette. For instance, architectural details like pleats offset the flowing beauty of a lace slip dress with clean, straight lines that add the glorious impression of height. And while the slick fabric may make tailoring a slip dress challenging, you can still find dresses that also toy with other fabric techniques like ruching and gathering.
Have fun with matching separates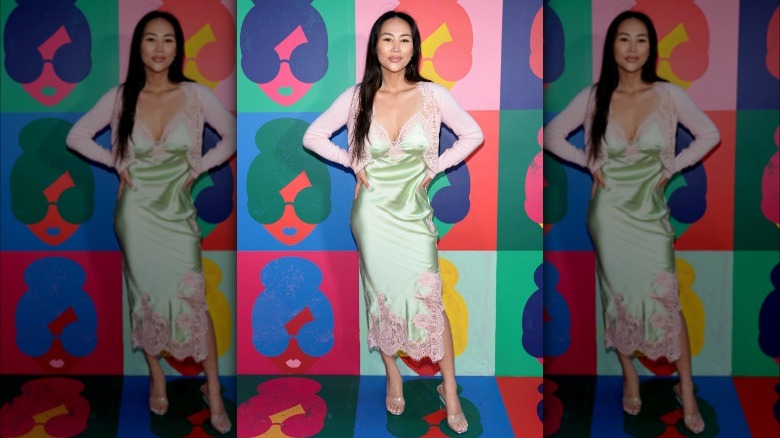 Dimitrios Kambouris/Getty Images
It's true that slip dresses walk a fine line between evening wear and pajamas. But if you're willing to have fun with the look, why not steer into the skid by embracing playful separates? Top your lace slip dress with a cute cardigan trimmed in matching lace for a vibe that's adorably bedroom chic. Any cardigan length works here — a bolero will show off your dress and perfectly draped curves, while a lacy longline cardigan will cheekily evoke the feel of an airy robe.
Add romance with a gauzy layer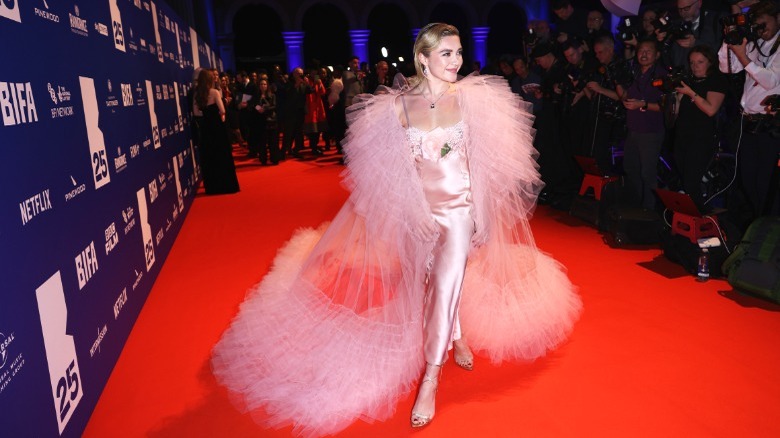 David M. Benett/Getty Images
If you want to double down on the flirty, romantic vibe of your lace slip dress, consider topping it with something light and gauzy like a sheer kimono. Both layers will serve a sweet and feminine effect, but where the dress is form-fitting, your top layer will add an element of breezy volume. Remember, contrast doesn't always have to manifest in color or structure, so feel free to experiment with contrasting silhouettes, instead!
Ground the look with chunky boots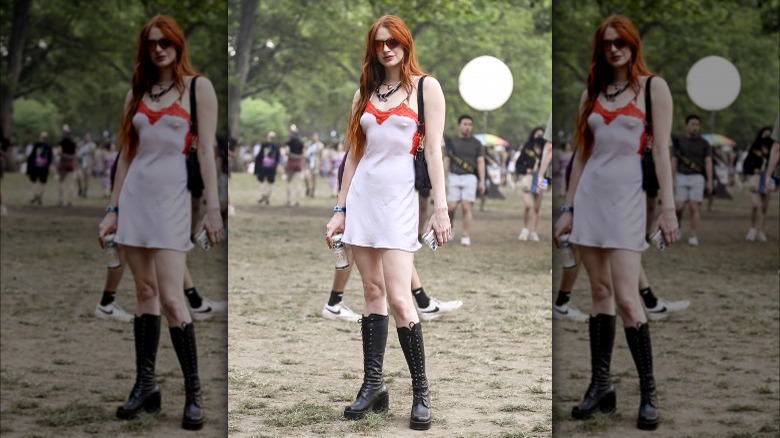 Taylor Hill/Getty Images
If soft-on-soft is not the look for you, lace slip dresses also provide a perfect way to create a stark juxtaposition between girly and edgy. All you need to do is offset the gentle lines of your slip dress with hard accessories, like a pair of chunky black boots. Their heavy appearance will bring your airy-fairy slip dress down to earth for a punky yet flirty aesthetic that shows off the different facets of your personality. And this trick works with any dress length. Don a pair of fierce knee-highs with a short lace slip dress, or let the toes of your sturdy Doc Martens peep out beneath a floor-length hemline.