Tips To Elevate A Slip Dress For Any Occasion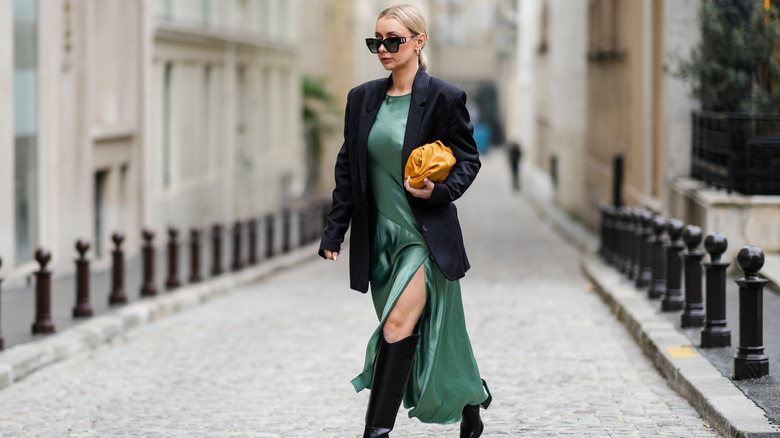 Edward Berthelot/Getty Images
Want to get in on the most versatile trend of the summer? We're convinced the slip dress is it, and there's an excellent reason for our conclusion. A slip dress is sort of like a fresh, unmarked artist's canvas; it demands your artistry before it will realize its full potential. 
There are unlimited ways you can embellish a slip dress to show off your style and creativity, and you can wear a slip dress just about anywhere. Will you dress it up to wear as formalwear, or will you adapt it to become your default everyday style like Kate Moss did in the 1990s? Would you prefer to accessorize your slip dress with stilettos, or will you style it with a comfortable pair of flat sandals? Will you wear it with pearls, diamonds, gold, silver, or no jewelry at all?
You have many decisions to make, and settling on each detail of your ensemble can be as much fun as actually wearing your dress out and about. Before you get dressed for your next evening out, you're invited to gather ideas on how to style a slip dress for every occasion this summer.
Choose a bias-cut slip dress for a glamorous evening look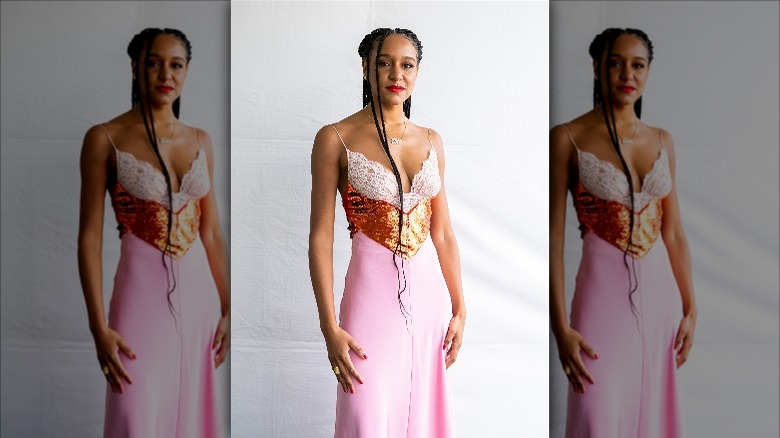 Amanda Edwards/Getty Images
Want your slip dress to fit you as well as director Rebeca Huntt's slip dress, pictured above, fits her? Our best tip is to look for a dress that's cut on the bias. This means the manufacturer tilted the fabric at an angle before cutting the pattern pieces. This makes a difference because bias-cut clothing drapes more elegantly than clothing that has been cut on the straight grain of the fabric. If you're hoping the fabric of your dress will float gracefully over your curves and flow like magic, a bias-cut dress is your best option for making that happen.
Slip into satin for an evening of drinks and dancing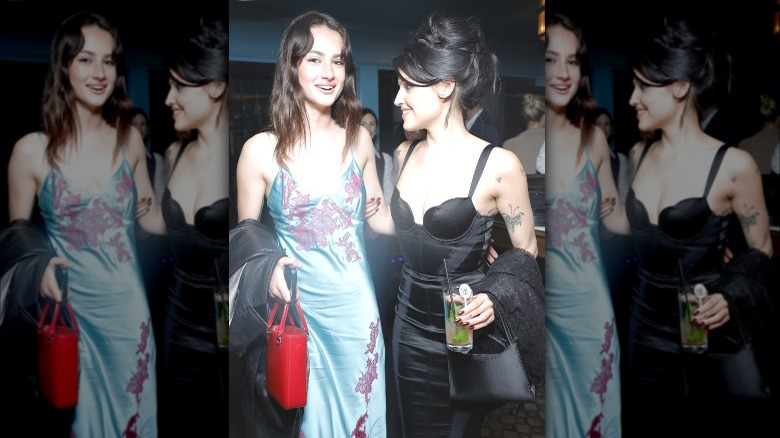 Stefanie Keenan/Getty Images
In the past, women wore slips as lingerie, concealing them under skirts and dresses. These undergarments were frequently made from silk or silky synthetic fibers like nylon, acetate, or polyester that had been woven using a satin weave structure. These fabrics, collectively known as "satin," are still the most typical materials used for making slip dresses. To get the look that entertainers Grace Van Patten and Gabbriette Bechtel are showing off here, choose an up-to-date satin slip dress; carry your favorite dressy jacket in case it gets cold and a chic mini purse for stashing a few essentials.
Pair your slip dress with Mary Janes for a day in the city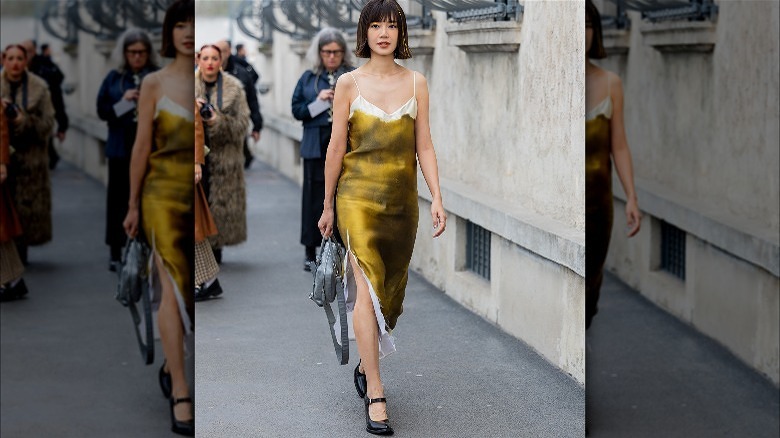 Christian Vierig/Getty Images
Mary Janes, those sensible but pretty shoes with a strap across the instep, were trendy in the 1920s and the late 1990s to early 2000s. Since slip dresses were also a top 1990s fashion trend, it makes sense to reunite these two former wardrobe staples as the fashion cycle brings them both back into the spotlight. To mimic entertainer Elva Ni's fabulous ensemble pictured here, choose a silky midi-length slip dress with a leg slit opening in a color somewhere in between brown, gold, and green. Pair it with high-heeled black Mary Janes and a gray satchel.
Wrap it up with black and white hearts for dinner and a movie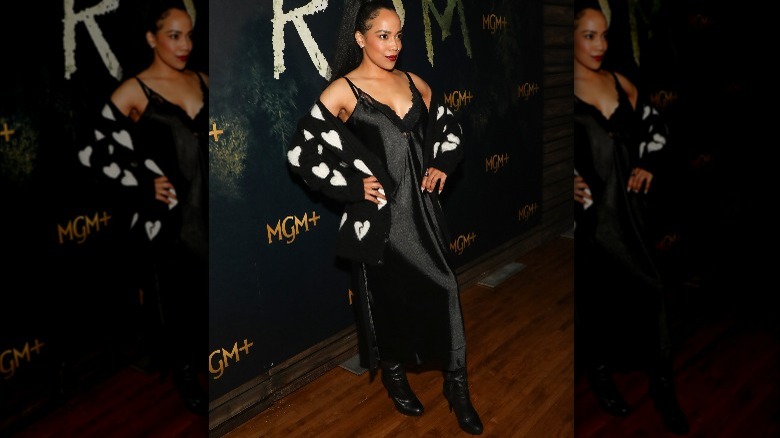 Paul Archuleta/Getty Images
A black satin slip dress looks stylish paired with boots and a sweater or wrap. This photo raises an important question: What should you wear under a slip dress? To get entertainer Elia Cantu's look, wear a bra the same color as your slip dress, and layer a wrap or sweater over it. Don't worry about it if your bra straps show. If you'd rather not show your bra straps, be aware that the best bras for a thin strap or strapless dress include strapless bras or adhesive silicone nipple covers.
Look lovely in leopard for a wild party ensemble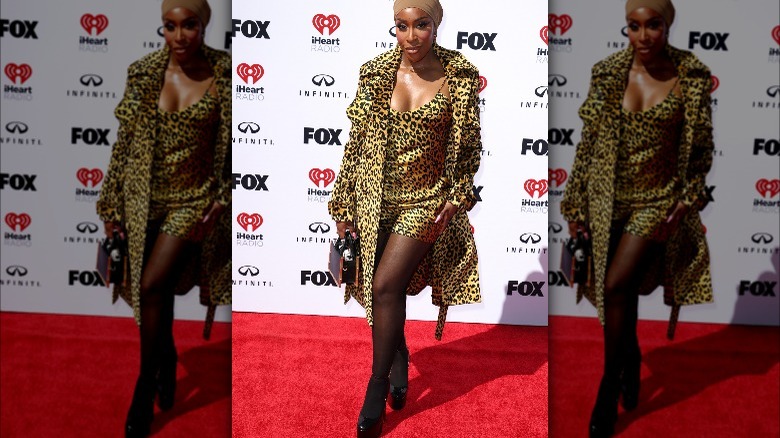 Joe Scarnici/Getty Images
Feeling wild? American influencer Jackie Aina's coordinating leopard print ensemble provides you with inspiration for styling a slip dress or its close cousin, a romper, with a fierce animal print. You can wear a matching long jacket or leave it at home, depending on the evening's weather forecast. Accessories that complement this look include sheer black tights, high-heeled black platform shoes, hoop earrings, and a sophisticated head wrap. A structured black purse makes an exquisite finishing touch to the outfit.
Belt your slip dress for formal occasions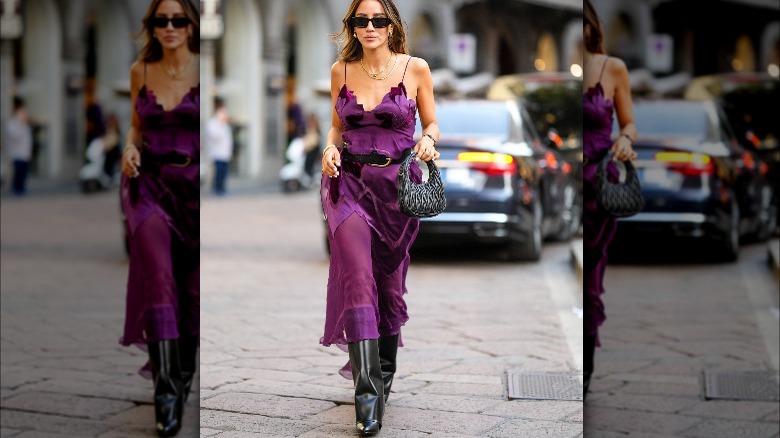 Edward Berthelot/Getty Images
Lately, we've lost count of how many celebrities and fashion influencers we've seen choosing to wear slip dresses as their formal attire. Another one of the latest formalwear trends is accessorizing gorgeous gowns with interesting belts. If you need a stunning formal dress to wear for a special event, the look pictured above offers amazing inspiration to duplicate or adapt. To get this look, put on a ruffled silk slip dress and a pair of tall black boots. Grab a black embossed handbag, and choose the right belt for pulling the ensemble together.
Rock it with ankle boots to differentiate your cocktail dress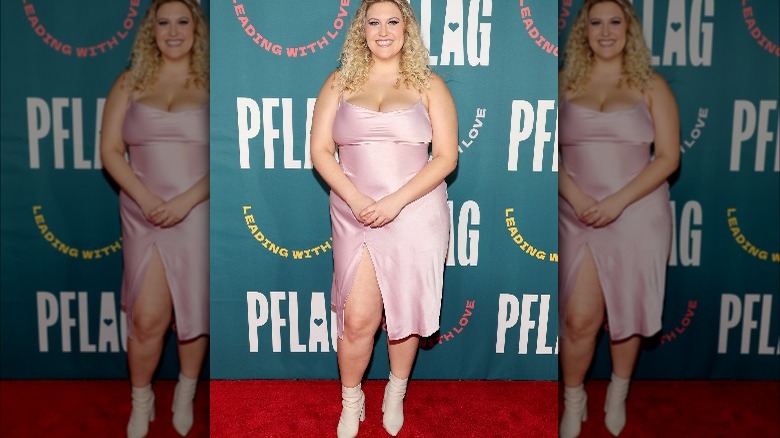 Cindy Ord/Getty Images
Theatrical performer Bella Coppola gives us an example of how slip dresses can stand on their own, supported by only some coordinating footwear and a smile. When you don't feel like getting fussy with jewelry, hair accessories, layering pieces, or hosiery, just put on your slip dress with a simple pair of ankle boots, and you're on your way.
Top it off with a crocheted bucket hat for a fun, summery look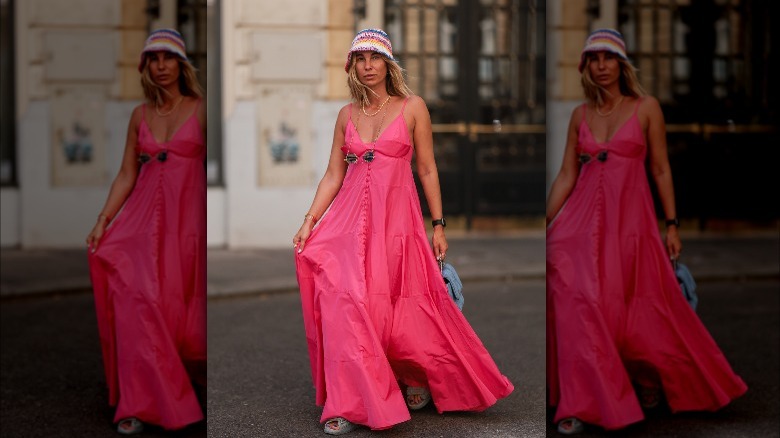 Jeremy Moeller/Getty Images
We're taking notes on all the innovative details fashion blogger-slash-social media influencer Karin Teigl included when she customized this head-turning slip dress outfit. If you want to copy Teigl's look, accessorize a floor-length pink slip dress with distinctive bracelets, a roomy denim blue designer handbag, and a pair of denim sandals. Wear your shades on a chain around your neck like a necklace. Top off the look with a bucket hat crocheted in a playful, vibrant color combination.
Dress it down with casual sandals for an everyday style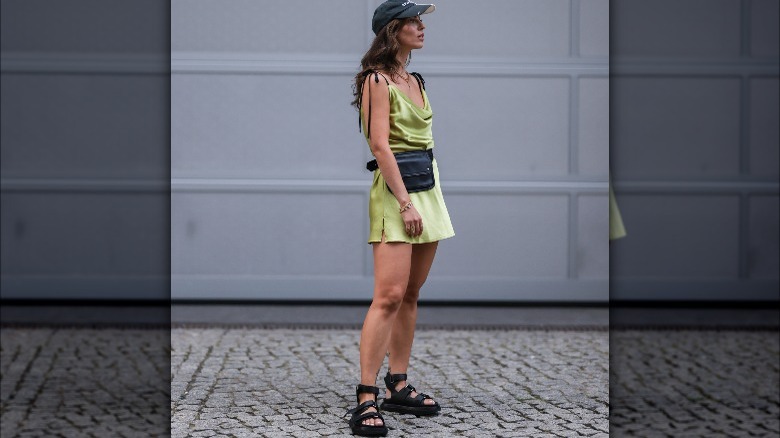 Jeremy Moeller/Getty Images
Although we love the look of strappy high-heeled sandals with a slip dress, high heels don't provide a comfortable everyday wearing experience. Sometimes you have to choose between comfort and style, and we wouldn't ever blame you for going with comfort. When you want to wear a cowl-neck slip dress instead of shorts or other casual clothes, reach for comfy flat black sandals, a laid-back black and white baseball cap, and a black belt bag so you can keep your hands free while carrying sundries with you.
Headed to a concert? Pair a slip dress with combat boots
You can style combat boots with almost any outfit, and there's an extra special synergy between combat boots and slip dresses. If you want to inject extra attitude into your look, start with a long neon slip dress and add combat boots, a black leather jacket to match, a brightly-colored clutch, statement earrings, and chunky bracelets. 
Get creative with your layering when you're hanging out with friends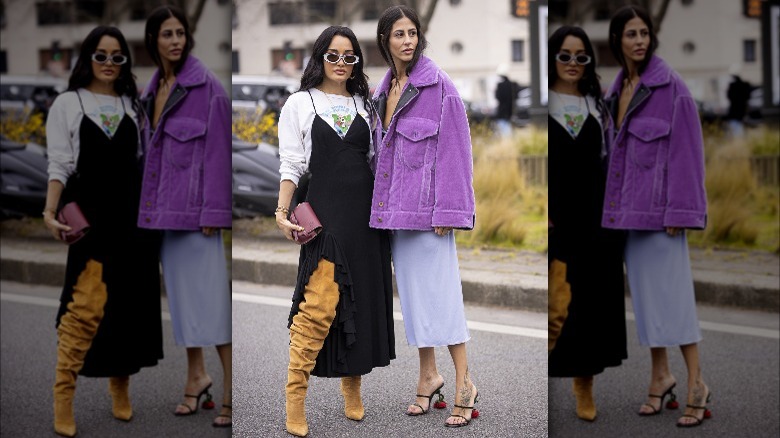 Claudio Lavenia/Getty Images
Keep in mind that you can layer a bodysuit, shirt, camisole, or top under your slip dress; you can also layer a shirt, jacket, coat, wrap, or shawl overtop. To emulate fashion and shoe designer Amina Muaddi's quirky slip dress outfit, pictured at left, layer a printed long-sleeved T-shirt under a black slip dress and accessorize with camel-colored over-the-knee boots. If you'd prefer to reproduce social media influencer Gilda Ambrosio's look, pictured right, style a purple jacket over a lavender cowl-neck slip dress and step into transparent high-heeled slide sandals with interesting details on the heels.
Glam it up with faux fur for a birthday party or evening out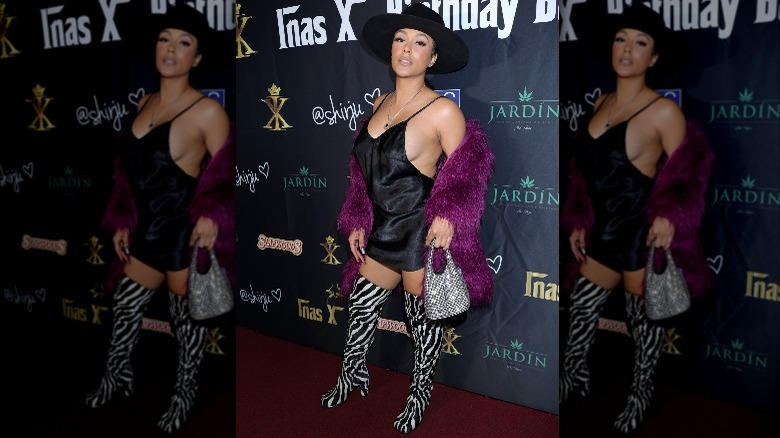 Arnold Turner/Getty Images
As summer winds down and transitions to fall, the nights can get chilly. When the weather turns cooler, accessorize your slip dress with a wrap or jacket if you want to avoid ruining your evening with a bad case of the shivers. Shantel Jackson's combination of dramatic purple faux fur jacket, zebra-striped tall boots, and sophisticated black hat provides inspiration for one way you could keep from freezing when you style a black slip dress for a late summer birthday party or evening out.
Wear a mini tie-dyed slip dress for festivals or running errands
If you attended festivals or Grateful Dead concerts in the 1990s, you might remember how tie-dyed slip dresses were what many of the popular girls were wearing. If you want to revisit the tie-dye trend in 2023, this inspo photo gives you an idea for an updated version to try. To achieve a similar style, buy or dye a white slip dress patterned with soft pastel swirls and accessorize it with a crochet bag and chunky nude heels. 
Rock it with socks for shopping and brunch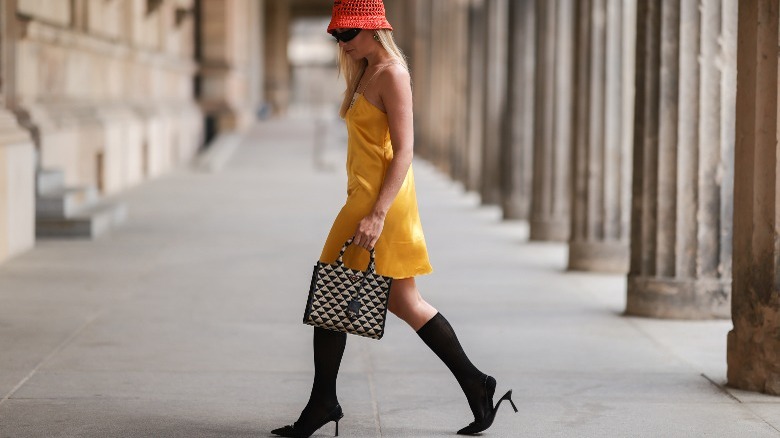 Jeremy Moeller/Getty Images
Social media influencer Sonia Lyson is inspiring us to experiment with bold accessories that'll showcase a sunshiny yellow slip dress to its best advantage. If you want to echo this style, pull on a pair of black knee-high socks and add low-heeled, pointy-toed mules. Grab a jacquard-weave handbag with an all-over abstract black-and-white triangle pattern. Wear shades to shield your eyes from the sun and protect your scalp from sunburn by wearing an orange crocheted bucket hat.