The Ultimate Guide To Buying The Right Belt For You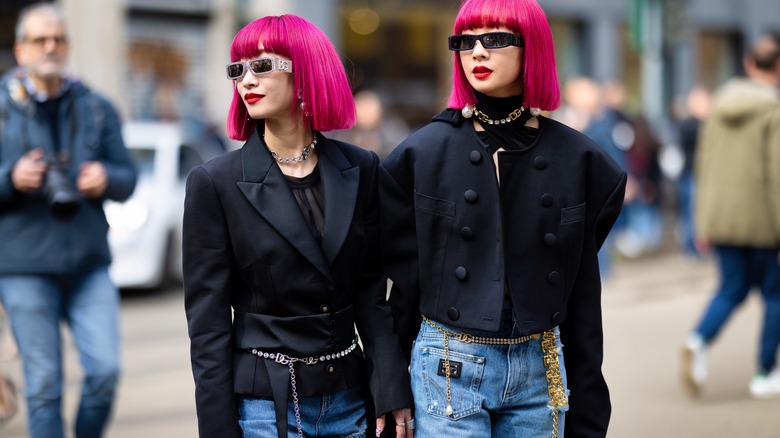 Valentina Frugiuele/Getty Images
In the 1950s, trendsetters accessorized their poodle skirts and day dresses with thick belts typically measuring between 2 and 5 inches wide. Thanks to Christian Dior's influence on 1950s fashion, narrow belts accentuating slim waistlines and flared skirts were also fashionable. Fabric sash belts were also a thing at that time. In the 60s and 1970s, chain belts were popular, as were hippie-style gaucho belts worn with navel-baring, hip-hugger bell-bottoms. In the '80s, celebrities like Madonna and Cyndi Lauper influenced the generation's youth when they performed on stage wearing unique belts. Fashionistas worldwide still mimic Madonna's wide belts and Cyndi Lauper's corset belts from that era. 
Advertisement
Some of 2023's most popular belt styles draw inspiration from former trends, but designers are putting up-to-date twists on these old favorites. No matter what your current style preferences are, you are sure to find a belt that suits your tastes and integrates effortlessly into your wardrobe. Let's take a look at some of the details you might want to keep in mind if you're hoping to buy a belt soon. 
Assess the intended function and style for the belt you'll choose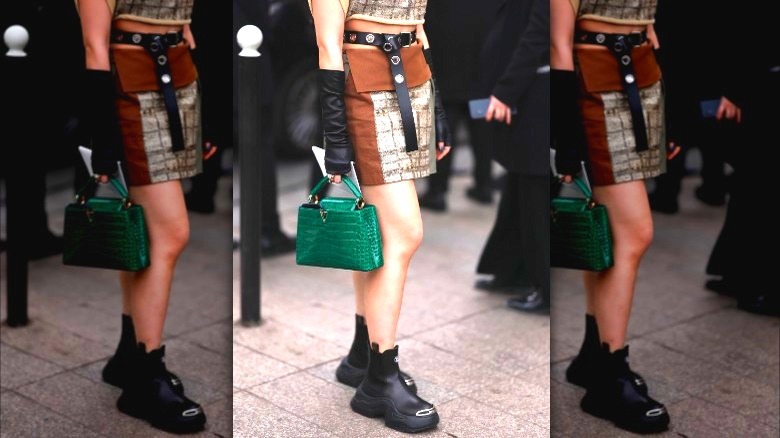 Jeremy Moeller/Getty Images
Some belts are sturdy workhorses you can count on to keep your pants from falling. Others are merely decorative, with their main purpose being to highlight the wearer's abs. A prominent and recent example of this arose at the Louis Vuitton 2023 Cruise Show, where some of the runway models wore eyelet belts secured over otherwise-bare midriffs. That's a possibility you might want to emulate if you're inclined to style your belt with cropped tops or low-rise jeans, skirts, or shorts. If you'd rather cover your midsection, you could skip the cropped top, wear a longer shirt, and position the belt lower on your hips.
Advertisement
In any case, before you buy a new belt, it's beneficial to give some consideration to what function(s), exactly, you want your purchase to serve in your wardrobe. If you want to buy one belt that works to accessorize most of the clothing in your closet, you'll probably end up choosing a drastically different style than you would if your main focus is choosing a belt to accessorize your favorite little black dress. Also, think about whether you'd prefer to invest in a classic belt style that will remain wearable years from now or a timely belt like the ones the top trendsetters are currently wearing. 
Should you go monochromatic or select a contrasting belt?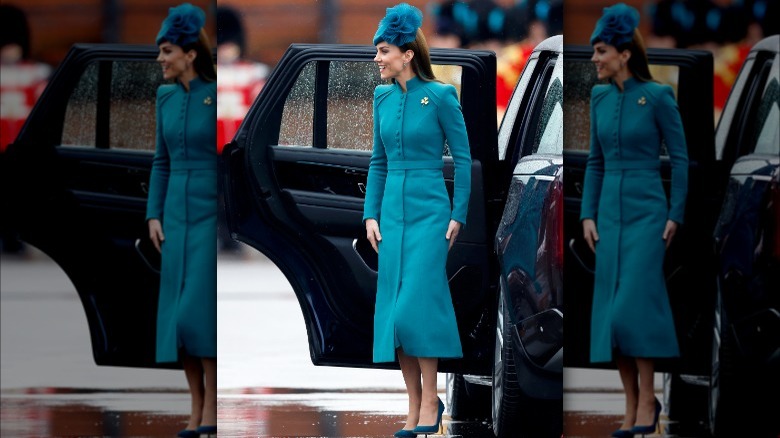 Max Mumby/indigo
Both options are fantastic, but there are specific instances when you might want to choose one way over the other. Some dresses, jackets, and coats come with belts made from the same fabric. In cases where your garment comes with a perfectly matching belt, the easiest option is to wear it that way, although you do have the opportunity to replace it with a contrasting belt. Ann Reinten, a professional stylist and AICI-certified image professional, has made a case for choosing the monochromatic look. "Do wear the same color of belt as your dress. It'll make your look more streamlined," Reinten tells Style Clinic. Catherine, Princess of Wales, often gives us examples of how tasteful and elegant a monochromatic ensemble with the same color belt can appear. 
Advertisement
There's an important exception: If you are petite but have a relatively long torso and lower waistline, Reinten suggests that you might be better off choosing a contrasting belt to avoid drawing too much attention to your torso. If neither of the above-mentioned scenarios applies and you're intuitively drawn to one option over the other, follow your heart and go with the option that speaks to you.
How to determine the optimum belt width for your situation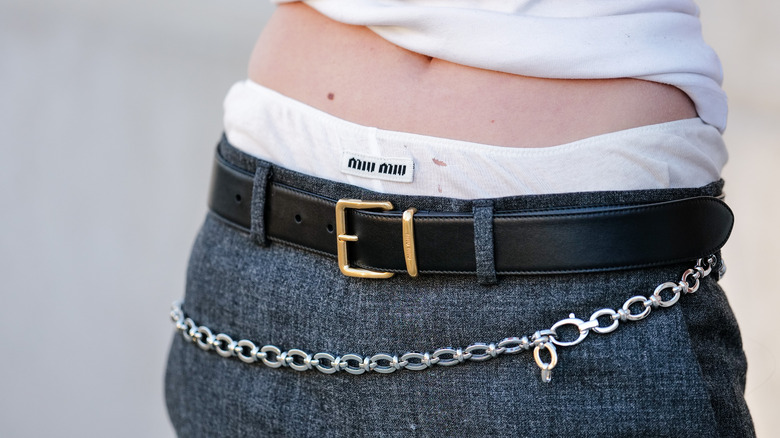 Edward Berthelot/Getty Images
If belt loops are present on the garment you plan to wear, the belt you choose should fill them comfortably; you don't want your belt to fit too loosely or too tightly within its loops. If no belt loops are present on your garment, you can feel free to either omit a belt or include one. If you decide you'd like to wear a belt, you can choose whichever width of belt suits your sense of style. 
Advertisement
It's also prudent to keep your unique proportions, specifically your height and torso length, in mind. Tia Stankova, a fashion stylist with 17 years of experience in the fashion industry, says that "thick waist belts are great for women with longer torsos because they help shorten their upper body and make them look more proportional." Stankova recommends pairing sweaters, jackets, or outerwear pieces with belts measuring between ¾ of an inch and 2 inches wide.
The ultra-skinny belt trend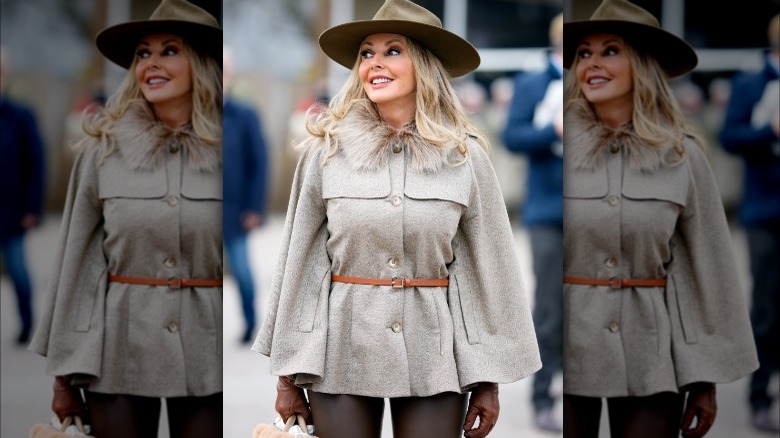 Max Mumby/indigo
Numerous celebrities, including prominent actresses Carol Vorderman, Pamela Anderson, Keira Knightley, and Rose Byrne, have been spotted in the recent past wearing skinny belts. Here, you can see how Vorderman has used a skinny belt to cinch the waist on a shapeless jacket; the belt adds an appealing focal point to her outfit where none existed previously. 
Advertisement
There are several important keys to pulling off a skinny belted look. One important consideration is the proportions of the garments you'll be accessorizing; the other is the proportions of your body. You're safe choosing a skinny belt to pair with an oversized top and fitted bottoms like leggings, formfitting jeans, or a pencil skirt. Stylist Tia Stankova thinks skinny belts also make a fantastic complement to dresses. Stankova explains that "short-waisted women ... look better with narrow belts because they don't cover up their midsection and make it look like they go straight from boobs to legs." 
When to choose a wide belt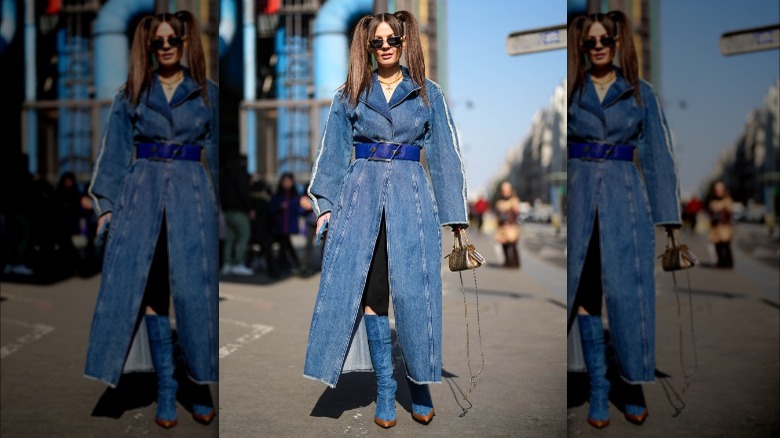 Edward Berthelot/Getty Images
Wide belts were ubiquitous on the runways at Milan's fall/winter 2023 fashion week. Designers are using them to cinch the waistlines on a variety of pieces including jackets, blazers, coats, and dresses. You might want to accessorize similar outfits with a wide belt in cases where you'd like to accentuate your waistline, and your garment either has wide belt loops or no belt loops at all. If you have a dress, coat, blazer, or jacket that looks a bit shapeless and want to nip it in a bit to show off your figure or add a focal point to your look, you might want to fasten a wide belt around your midsection. Large belt buckles are stylish right now, and a big buckle makes a satisfying focal point for a wide belt. 
Advertisement
There aren't any special considerations for who can successfully wear a wide belt. The wide-belted look is one that people of any height and weight can emulate successfully. In fact, Ann Reinten tells Style Clinic that "a wide belt is perfect for creating an amazing hourglass shape and will work wonders for most waistlines."
When you need a casual belt to wear with jeans, khakis and cargo pants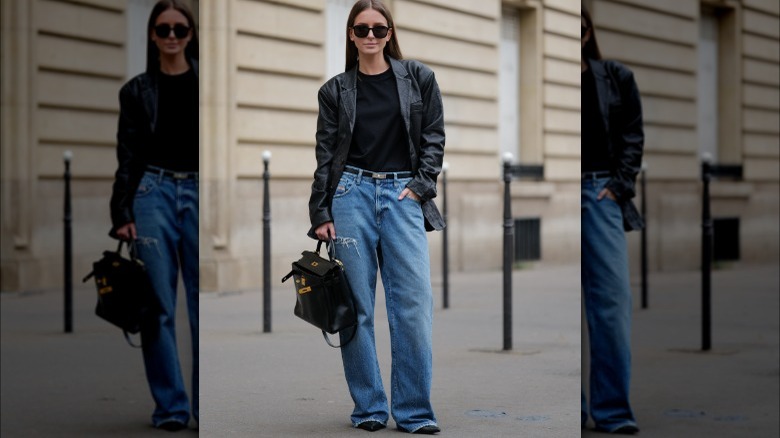 Edward Berthelot/Getty Images
If you frequently wear jeans or casual pants, it's worth having at least one corresponding casual belt in your closet that you can wear with them. Although it isn't a strict necessity to wear a belt with your jeans, a belt does help to pull your look together and provide a more polished, cohesive appearance. If your style leans towards being preppy or traditional, you might prefer to select a classic leather belt in a basic color like black. 
Advertisement
Since jeans are so versatile, you can go as colorful, wild, or edgy as you like when you make your belt choice. If you're into cowgirl couture, a Western-style belt might be the right choice for accessorizing your jeans; you could go with an embossed leather belt that has a metal buckle and embellishments like star designs or embroidery. 
Choosing the perfect belt to wear to work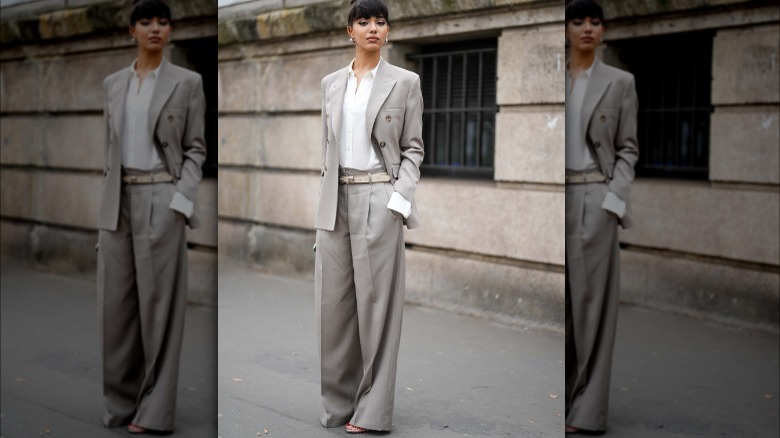 Edward Berthelot/Getty Images
When you're choosing a belt to wear with a suit to the office, it's important to pay attention to the level of formality that both your belt and your suit evoke. It would be a major faux pas to wear a casual belt with a formal suit. To assess whether your belt is a casual style or a dress belt, consider the material it's made from and the design of the belt buckle. 
Advertisement
A dress belt will typically be made from high-quality materials such as calfskin leather, lambskin leather, or synthetic material that resembles either of these fabrications. Alligator or crocodile embossed leather can be formal enough to wear with a dress suit, although those options can also be dressed down for less formal occasions. Dress belts tend to have understated buckles; if your belt buckle has obvious ornaments such as rhinestones, studs, or beads attached, it's likely not a dress belt.
Choosing the right belt for your dresses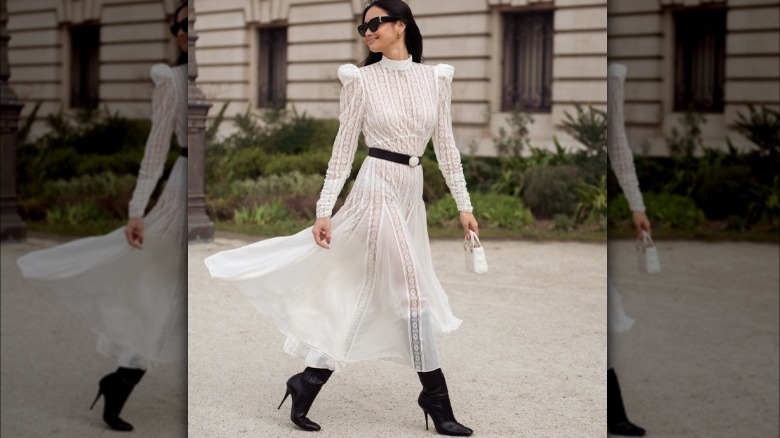 Raimonda Kulikauskiene/Getty Images
It isn't mandatory to wear a belt with your dresses, but you can make an excellent case for doing so in certain circumstances. An unstructured dress can sometimes be enhanced by adding a belt at the waist to give it more of a defined shape. In cases where a monochromatic dress looks a bit boring on its own, you can liven it up by adding a contrasting belt with an interesting buckle or unique details. If you want to accent a bland dress with colorful accessories, your belt is one viable place to introduce the color. 
Advertisement
Certain dress silhouettes are particularly well suited for wearing with belts. Merrick White, the fashion blogger, stylist, and clothing designer behind Merricksart.com, advises people to experiment with wearing a belt overtop of several specific types of dress silhouettes. According to White, these include "dresses with a swing shape (A-line or very full), dresses with a straight shape, sweater dresses, and dresses with a waist tie." White reveals that a structured belt can sometimes be an improvement over the waist tie that comes standard with your dress.  
To ensure your belt is a pleasing match for your dress, assess the color, style, and fabric of both pieces. If your dress is casual, you're safe in choosing a casual belt style. If your dress is formal, you'll want to select a dress belt with a corresponding level of formality. The belt color should harmonize well with the dress colors. 
Advertisement
Understanding the belting trend in formalwear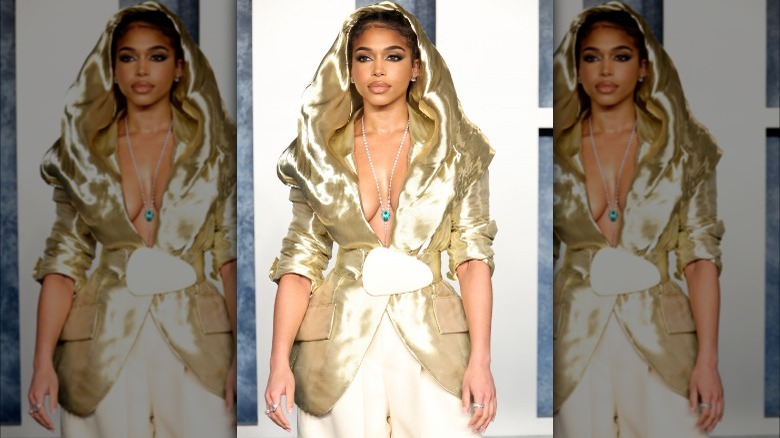 Daniele Venturelli/Getty Images
Many celebrities are accessorizing their formal attire with belts. Beyond that, there isn't currently a solid consensus on what belt styles are trendy for formalwear. Celebs are attempting to outdo each other by making their belts look as unique and distinctive as possible, and there doesn't seem to be any single, remarkable belt silhouette that trendsetters are gravitating toward at this time. 
Advertisement
Lori Harvey wore a dazzling, shimmery belted jacket with a large geometric embellishment to the 2023 Vanity Fair Oscar Party. At the same event, Este Haim was spotted wearing a wide Louis Vuitton belt with eyelets and a massive buckle fastened over her sequined dress. When Heidi Klum recently attended the Fashion Trust Awards, she wore a silver metallic belt that looked more like a piece of sculpture than a fashion accessory. Following their lead, if you decide to buy a new belt to wear with your party dresses, you might want to seek out an unusual or avant-garde belt style to add to your wardrobe.
Selecting one general-purpose belt for your capsule wardrobe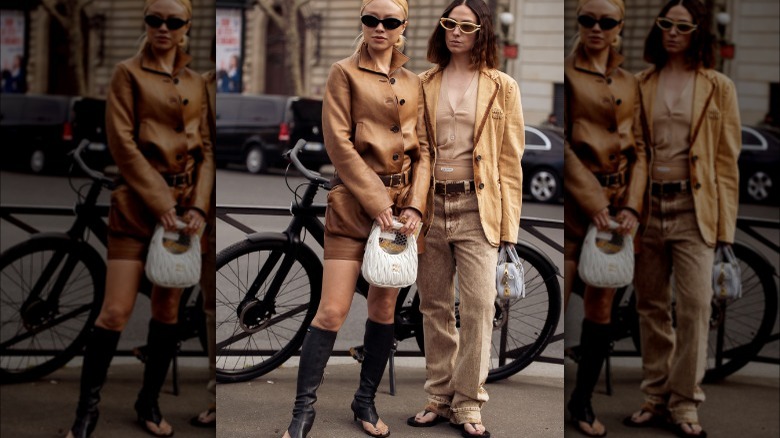 Raimonda Kulikauskiene/Getty Images
Perhaps you want to select one belt that you can wear with many of the garments in your existing wardrobe. This is a simple task if you have consciously built a capsule wardrobe with a unified color palette. To choose your belt color, draw inspiration from the existing pieces in your wardrobe. A dark brown belt would be a smart choice if your wardrobe consists largely of khaki, beige, tan, and brown clothing. A black belt is the way to go if your wardrobe consists mostly of black or gray pieces. Navy blue is another workable choice if your wardrobe was designed with many foundational pieces that are navy or light blue. If you have a hard time narrowing it down to just one belt color, you could choose a reversible belt that offers one color on one side and a different color on the other side. 
Advertisement
You'll be safe if you follow the old-fashioned rule to ensure your belt is an exact match for your shoes. However, strict adherence to that rule is outdated. It is still important to make sure that your belt and shoes enhance each other rather than detract from each other. 
When to choose a studded belt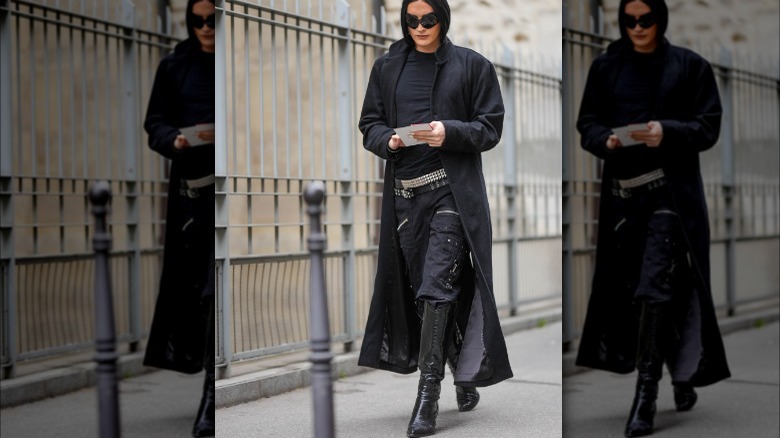 Edward Berthelot/Getty Images
Studded belts are typically ornamented with three-dimensional, angular bits of shiny metal, plastic, or other materials. The studs can sometimes be sharp and spiky, or they might vaguely resemble jewels. Studded belts have historically been associated with music subcultures, including the punk, heavy metal, goth, and emo scenes. Rock stars from the 1970s, '80s, and '90s like Michael Jackson, Kiss' Paul Stanley, Poison's Brett Michaels, and Bon Jovi's Richie Sambora have all been photographed wearing studded belts. In 2012, noteworthy pop singer Madonna wore a spectacular studded belt by Givenchy to perform at the Super Bowl halftime show. 
Advertisement
Along with the 1980s fashion revival, studded belts are once again in the limelight, but you don't have to be a rock star to incorporate a studded belt into your wardrobe. 2023's studded belts can be edgy, or they can assume a more theatrical mood. Some versions head in a Westerncore direction and can be styled with cowgirl-style clothing such as jeans, bandannas, Western-style boots, and cowgirl hats. 
This type of belt could be the right choice for you if you are hoping to make a distinctive style statement. Studded belts would be a worthwhile purchase for accessorizing a broad variety of pieces ranging from shorts to jeans to formalwear. If you frequently attend concerts, festivals, and other events, you're likely to enjoy many opportunities for wearing a studded belt.
Advertisement
When to accessorize with a rhinestone belt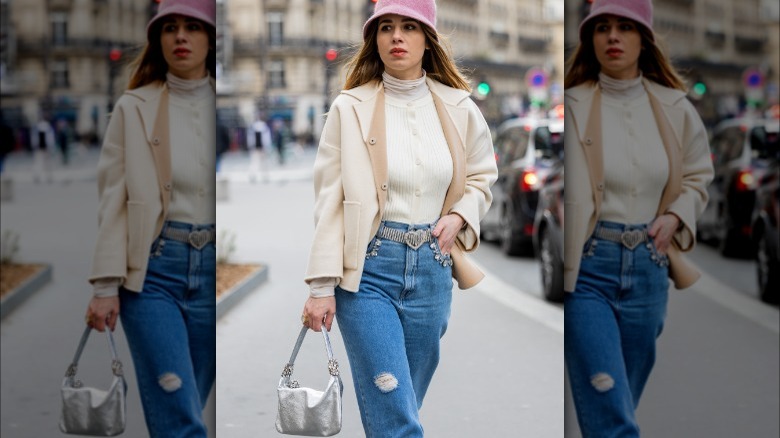 Christian Vierig/Getty Images
In the 1920s, Gabrielle "Coco" Chanel influenced the popularization of statement belts, some of which were decorated with rhinestone accents. According to Chanel's philosophy, it was acceptable to wear rhinestones on either formal or informal occasions. Chanel's legacy lingers on, and fashionable people are still drawing inspiration from her influential rhinestone belt designs. Rhinestone belts are currently popular for accessorizing formal wear, cocktail dresses, and bridal gowns, but they don't strictly have to be reserved for dressing up. You could also accessorize your favorite jeans with a rhinestone belt. Rhinestone belts with fringe are currently popular for wearing to concerts, clubs, parties, and festivals. 
Advertisement
A rhinestone belt could be the right choice for you if you are interested in choosing a belt that is eye-catching and attention-grabbing, yet still tasteful. This type of belt would be a fantastic choice if your wardrobe includes many nondescript pieces that need livening up. Plain turtlenecks, little black dresses, oversized shirts, and T-shirt dresses could all benefit from the addition of a chic rhinestone belt. This is a wardrobe piece you can have fun styling creatively.
When to wear a chain belt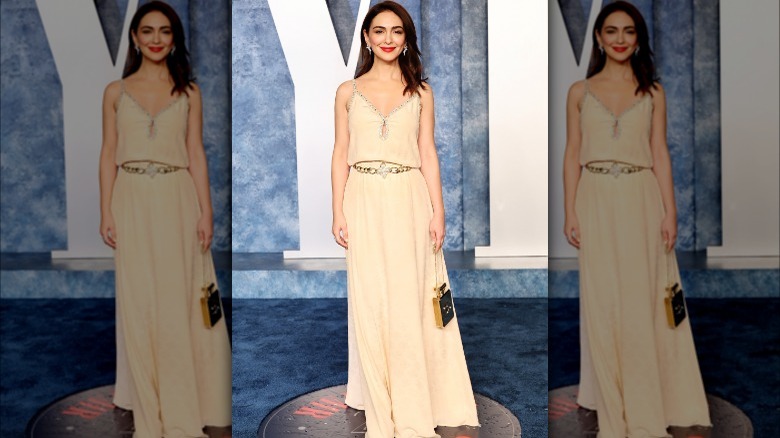 Amy Sussman/Getty Images
Chain belts are a carryover trend from previous seasons, and interest in this belt style seems to be building rather than waning, as evidenced by a sizable number of fashion A-listers who have been spotted wearing chain belts around. Guests at New York Fashion Week recently rocked a variety of innovative belt styles; chain belts were frequently seen among them. 
Advertisement
Chain belts can provide a creative means for dressing up nondescript jeans. Like rhinestone belts, chain belts can be styled to look either casual or dressy, but they lean towards the dressy side. If you decide to wear one of these belts with jeans, it's ideal to choose a dressy top or jacket to pair it with. Chain belts can also provide a feminine accent for dresses ranging from casual T-shirt dresses to bridal gowns and formal attire. Pictured here, you can see an example of how a chain belt makes a simple butter-yellow gown look more remarkable. You might want to choose a chain belt for your wardrobe if you're looking for a versatile belt that resembles jewelry for your waistline.