The Essentials You Need To Build A Capsule Wardrobe In 2023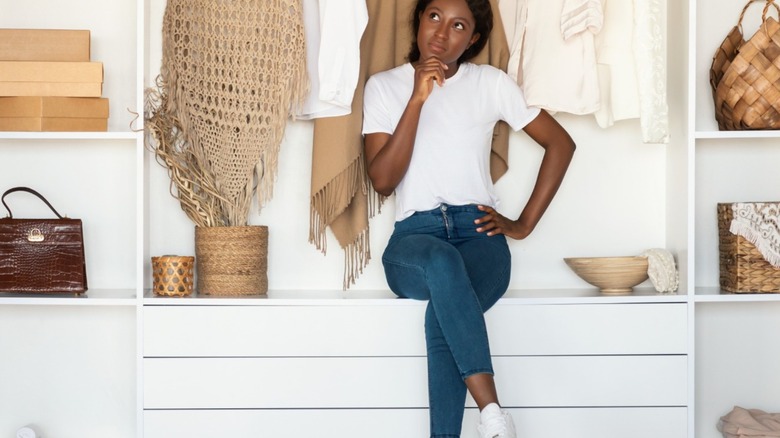 Prostock-studio/Shutterstock
Many people buy their clothing helter-skelter, acquiring pieces on impulse. Frequently, these same people find themselves rummaging through a closet packed full of clothing, yet they come away empty-handed and feeling as if they own nothing that's quite right to actually wear.
 When you create a capsule wardrobe, you do the opposite of this. You choose each piece in your collection with intention. Each garment will serve a vital function in your wardrobe and complement the others. A well-curated capsule wardrobe will result in a collection of indispensable garments that each serves to enchant their wearer. 
Now it's time to get down to specifics. Let's discuss some realistic examples of actual garments you might want to consider using as the cornerstone pieces for your capsule wardrobe. This checklist to build a capsule wardrobe is intended to help you assemble an all-purpose wardrobe. Please remember that you'll probably need to adapt these ideas to your lifestyle and one-of-a-kind sense of style. Here are our suggestions for the essentials you need to build a capsule wardrobe in 2023:
Basic T-shirts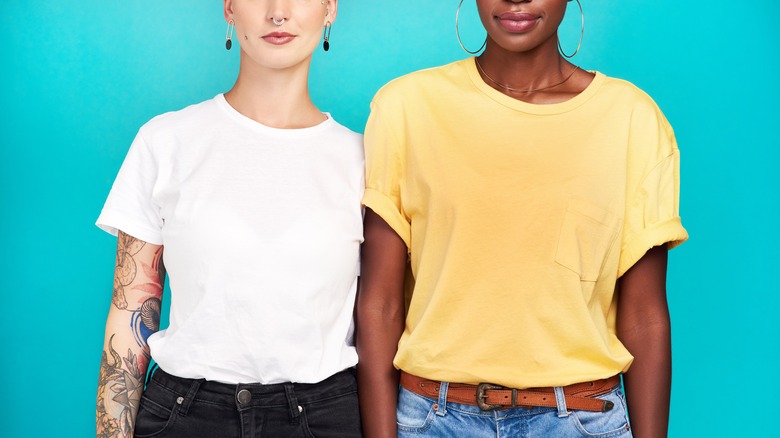 PeopleImages.com - Yuri A/Shutterstock
Humble T-shirts are likely to become some of the most important foundation pieces in your capsule wardrobe. Although you could choose any style of t-shirt, it's beneficial to have at least a few basic, solid-colored T-shirts in your wardrobe to use as layering pieces. 
When building a capsule wardrobe, it makes sense to pay attention to the quality and construction of your T-shirt fabrics. If you want to buy cotton t-shirts, we suggest paying a bit more to buy ones that are knitted using combed ringspun cotton. T-shirts constructed of carded open-end cotton tend to be cheaper, but they also tend to be less durable and less comfortable to wear against your skin. Assuming you'll be wearing these T-shirts often, you're likely to get your money's worth from spending a little bit extra to have the more comfortable, longer-lasting fabric. It's also possible to buy high-quality T-shirts made of rayon, silk, blends, and other fibers. 
Interlock fabric is a fantastic choice for T-shirts because the construction of the fabric is smooth, firm, durable, and stable. Ribbed fabrics make wearable T-shirts, but they tend to shrink; if you buy a ribbed T-shirt, it's prudent to choose a design that's a bit wider than you'd like to allow for the shrinkage. We recommend avoiding T-shirts made from jersey fabric if you're buying from fast-fashion brands because cheaply-made jersey fabrics frequently have problems; they might distort, curl up, or have unevenly dyed spots. 
At least one oversized button-up shirt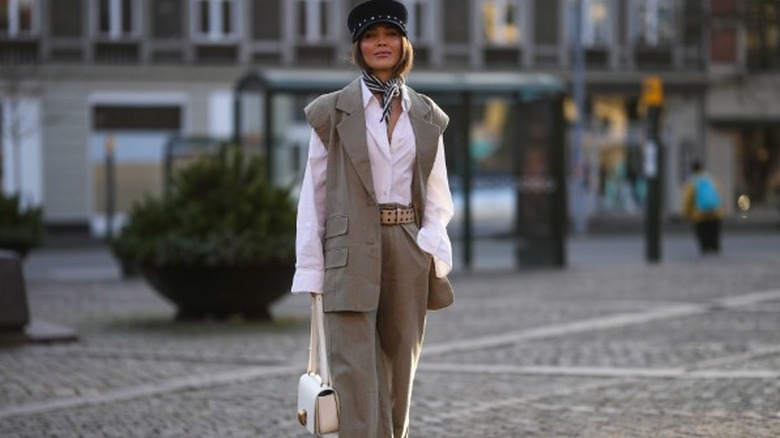 Edward Berthelot/Getty Images
Considering there are so many unique ways to style a button-up shirt, it's a no-brainer to include these versatile pieces in your capsule wardrobe. If you want to create a capsule wardrobe for work, you'll want to consider choosing a shirt style that will combine well with the other career-friendly pieces you'll select. It should ideally be long enough for tucking in and layering underneath vests and jackets. If your daily routine doesn't require businesslike clothing, you might prefer a more casual button-up shirt instead. A 1990s grunge-style flannel shirt would be both comfortable and on-trend for 2023.
"'When looking for the right button-up shirt, we recommend looking for three key garment benefits: a flattering fit, fabric quality, and garment care," wardrobe stylist Carolyn Wang tells Today. Such an important foundation piece in your wardrobe will preferably be machine washable, dryable, and easy to care for. 
Solid-colored pants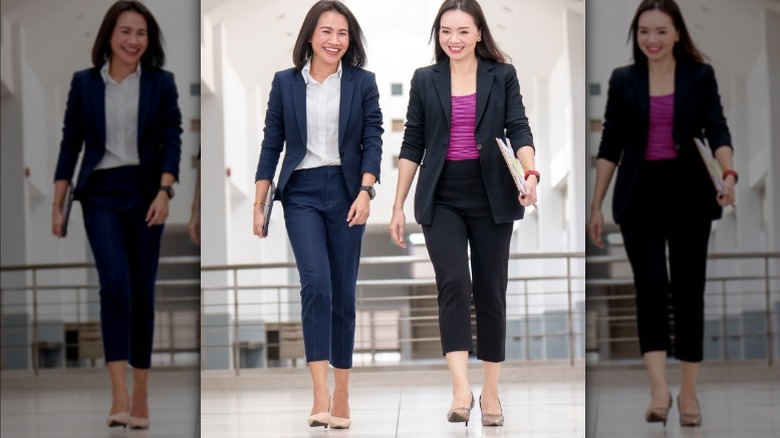 Nirat.pix/Shutterstock
Most people must include multiple pairs of solid-colored pants in their capsule wardrobe. Colors and styles will vary depending on your lifestyle and fashion preferences. It would make sense to choose pants that exactly match the blazer or other items you'll choose for the core pieces in your wardrobe.
For 2023, some of the trendiest color choices are some of the most classic ones. If you aren't sure which pants colors to prioritize in your capsule wardrobe color palette, you can't go wrong with neutrals. In fact, New York Fashion Week's guests wore many go-with-anything shades of khaki, brown, and off-white. Black and white also made the list of trendy colors. Some unexpected, non-neutral color choices include red and Barbiecore pink.
If you're wondering what pants styles to choose, one option would be to opt for classic cropped, tapered pants. Other possibilities include tailored, straight-legged pants; pleated, high-waisted trousers; or relaxed, baggy pants. If your workplace requires it, choose some businesslike pairs of pants that work well for the office. Also include a few casual pairs of pants for occasions when you want to dress down.
Neutral-colored cargo pants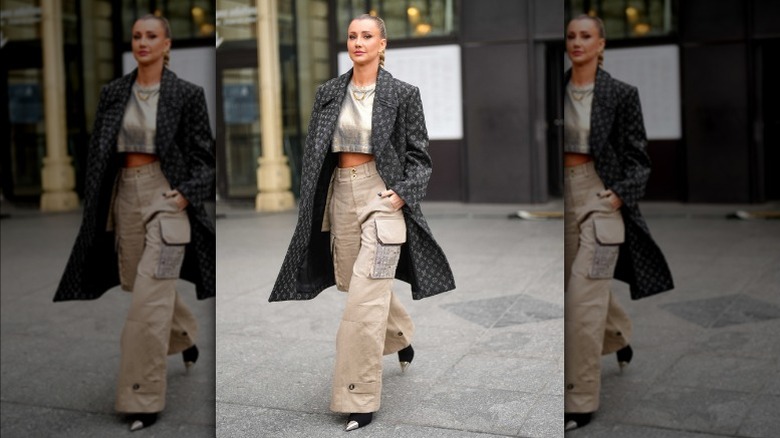 Edward Berthelot/Getty Images
If you want to be sure of including some trendy items in your capsule wardrobe for 2023, cargo pants are worth considering. Per Business of Fashion, sales data from Levi Strauss and some specialty apparel merchants indicate that denim bottoms have stagnated. However, consumers have been lining up to buy pants styles in other fabrications, including cargo pants and corduroys.
Neutral-colored cargo pants are desirable additions to one's capsule wardrobe because of their practicality, versatility, and durability. Most cargo pants silhouettes qualify as casual styles rather than dressy ones. Despite this, it is possible to dress them up a bit if you pair them with high-heeled shoes, an eye-catching top, pretty jewelry, and a stylish jacket. They also tend to match well with various sweater styles. Alternatively, you can wear them with a T-shirt in situations where low-key attire is acceptable. 
At least one pair of on-trend jeans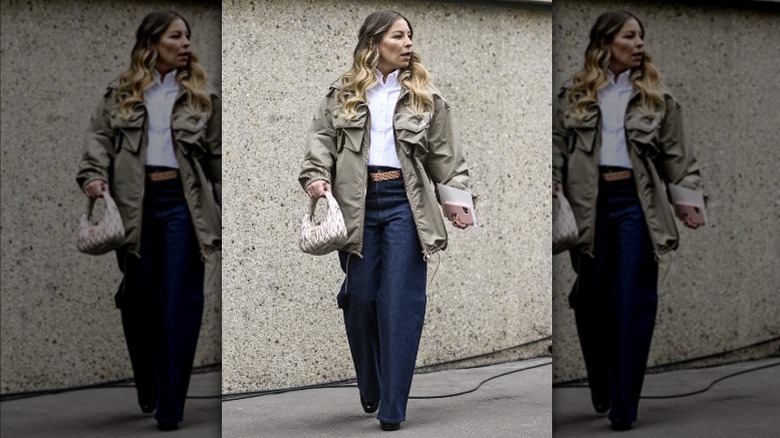 Daniel Zuchnik/Getty Images
Not everyone is abandoning denim. If you're not planning on trading in all your jeans for cargo pants or corduroys, some up-to-date denim pieces will make the perfect additions to your capsule wardrobe. Here you can see an example of how you could style jeans with a few other items you might want to include in your capsule wardrobe; jeans look fantastic with a solid white button-up shirt, a statement handbag, and a neutral-colored, lightweight jacket. On colder days, you could wear a heavier coat instead of a jacket. A cable-knit sweater would also work well with this look. On warmer days, you could skip the outerwear altogether.
Some of the denim styles trendsetters gravitate towards in 2023 include wide-legged jeans, dark washes, flared legs, high-waisted jeans, and pleated denim skirts. These styles offer something unique outside of the traditional realm we see jeans in, so why not try something new this year?
A classic trench coat or other lightweight jacket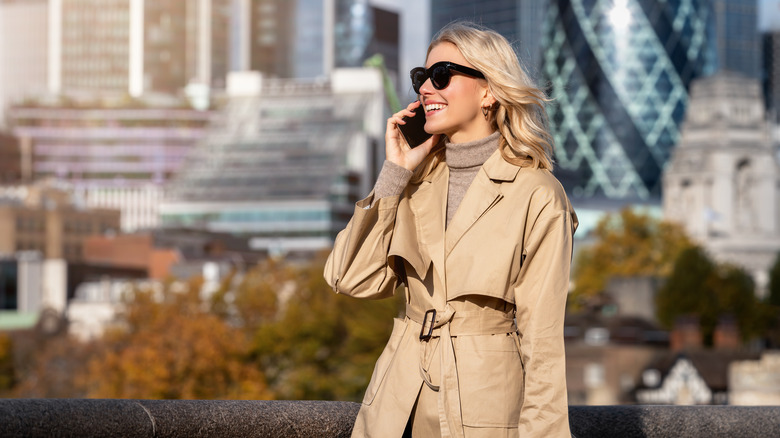 Sven Hansche/Shutterstock
Everyone's wardrobe should include some versatile outerwear pieces. When selecting these, you'll want to ensure you have options suitable for every likely weather situation in your region. If you live in an area where chilly days or rainy days are possibilities, you'll want to include at least one lightweight jacket, raincoat, or trench coat in your capsule wardrobe. 
Although any of these styles would be beneficial, we suggest a trench coat because it is both classic and on-trend for 2023. Numerous Paris Fashion Week guests wear a broad variety of trench coat fabrications and styles. We saw multiple trench coat styling suggestions, even that a knitted sweater and trench coat can be layered over classic jeans and a belted button-front shirt for the ultimate casual outfit to wear out to eat with friends. Who would have thought that this combo would work so well?
A warm winter jacket or coat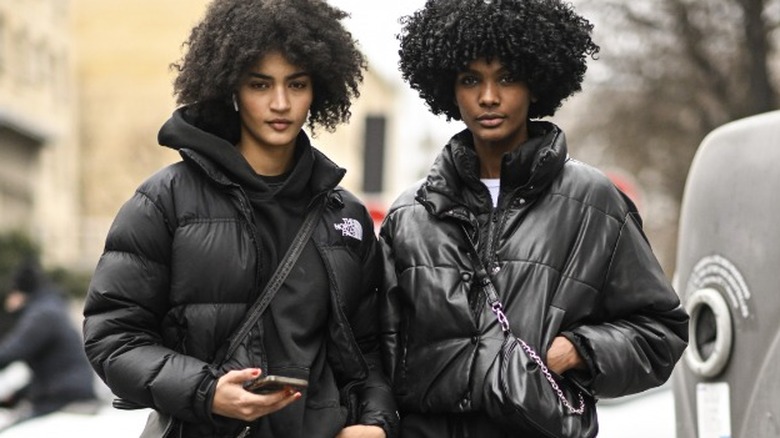 Daniel Zuchnik/Getty Images
Unless you live in a warm location, you'll want to include some practical cold-weather gear in your capsule wardrobe for winter. At a minimum, you're likely to need a warm winter coat or jacket. If you live in an area with extremely cold winters, you might want to also include a ski bib or pair of snow pants to match your jacket or coat.  
Some of the most practical coat and jacket styles are either padded or insulated. The type of insulation in the product is one of the most important things to keep in mind when shopping for an insulated style of coat or jacket. If you want an extra toasty jacket, down-filling is ideal because of its superior warmth. If you live in an area where winters tend to be wet and rainy, you might wish to choose a coat with synthetic insulation instead. This is because saturation with water can render down's insulating properties ineffective. 
A cozy sweater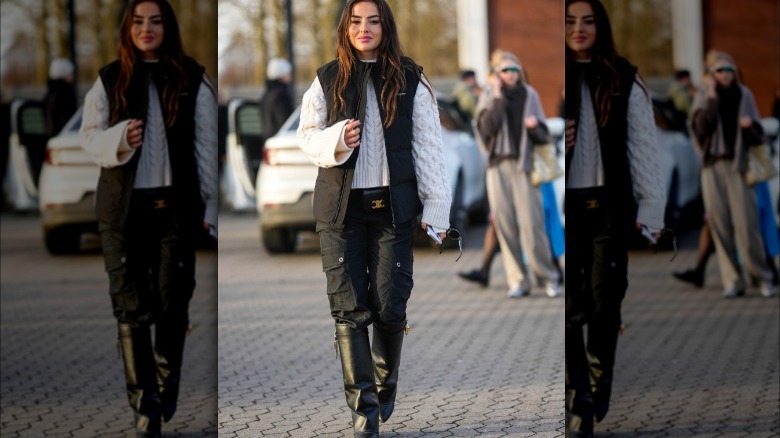 Edward Berthelot/Getty Images
Multi-season knitwear is one of 2023's top trends in women's knitted clothing. We suggest paring your capsule wardrobe down to less than 50 garments and incorporating some lighter-weight, monochromatic knitted pieces into the grouping. The main takeaway is that these lighter-weight pieces are desirable for your core capsule wardrobe because they are wearable all year round. At the other extreme are chunky knits, which are another popular item they've featured on their 2023 trend report. Color blocking and interesting knitted stitch patterns are other 2023 knitwear trends to take note of.
When choosing a sweater for your capsule wardrobe, it could work well to select either a lightweight or a chunky sweater. Your local climate would be an important consideration to keep in mind when you decide which way to go. If you live in a cold climate, a chunkier sweater might provide a better value; otherwise, a lightweight, all-season sweater could be ideal.
A businesslike blazer or vest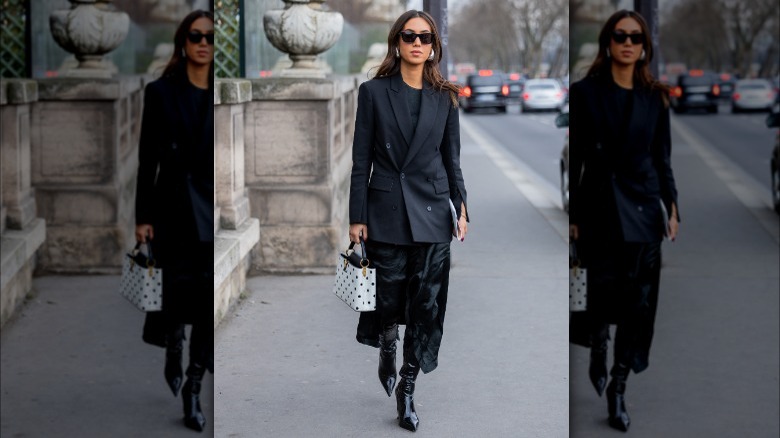 Christian Vierig/Getty Images
You'd be wrong if you were to guess that a little black dress is the star performer in your wardrobe. It's actually a black blazer that merits that distinction. Because of its versatility, a tailored black blazer is exactly the type of piece you'll want to consider including as a cornerstone of your capsule wardrobe. 
You can style your blazer to look formal by pairing it with bottoms that are an exact match for it. You can take it in a more casual direction by matching it with complementary pieces. One possibility could be to wear it with a pair of pants in a contrasting color. When it comes to blazer styles, there are possibilities ranging from ultra-conservative to wildly edgy. If you're only planning to include one blazer in your capsule wardrobe, we suggest making it a classic, multi-functional, businesslike style that you could wear to work, out to dinner, or just about anywhere else. 
Leggings or bike shorts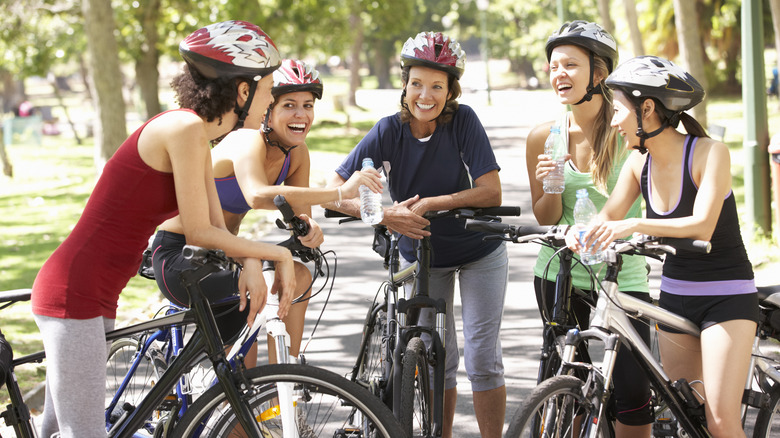 Monkey Business Images/Shutterstock
The ideal capsule wardrobe will include some comfortable dress-down pieces that empower you to look stylish while playing sports, working out, or hanging out. If you lead a relatively sedentary life, you might be able to get by with a few of these items. If you practically live at the gym, you'll want to own enough activewear to get you through at least a week's worth of workouts.
Your routine activities will play a primary role in determining which pieces you need to complete this portion of your capsule wardrobe. If you're a serious cyclist, consider investing in several pairs of dedicated bike shorts, which are specifically made for comfortable bike riding. One differentiator between bike shorts and ordinary shorts is a tendency toward longer lengths. Another is the presence of a padded chamois that helps to minimize the amount of chafing you'll endure on a long bike ride. Hardcore long-distance cyclists will want to consider investing in three or more pairs of these shorts, while more casual cyclists might prefer bibs, skorts, or bike shorts without a chamois.
When you choose which activewear garments to add to your capsule wardrobe, it's also worth considering all the other creative ways you can style your bike shorts. You can get more mileage from them if you don't think of them as strictly being gym wear; give some thought to how they'd look if you were to pair them with other pieces you're selecting for your wardrobe.
A party dress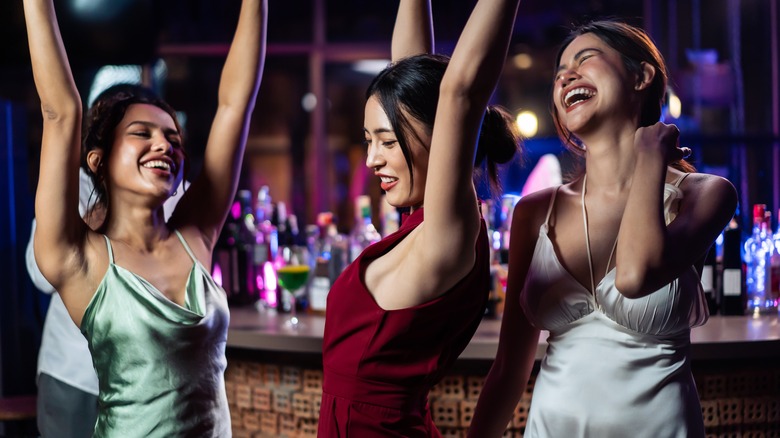 Hananeko_Studio/Shutterstock
Shopbop's fashion director Carolyn Maguire tells Women's Wear Daily to avoid overcomplicated party dresses that require excessive amounts of tugging at or readjusting. Instead, go for a fuss-free dress style that allows you to focus on having fun. Although Maguire mentions a preference for glamorous embellished dresses, we urge caution when selecting a beaded or sequined style because those embellishments tend to be fragile. Since you'll want this dress to last a long time, it's ideal to avoid any fabrics or embellishments that could be easily damaged.
When you shop for the party dress that will become a foundation piece in your capsule wardrobe, you'll want to choose a classic style you could wear for different occasions. You might need to wear your dress to weddings, parties, restaurants, or special events. If you aren't much of a social butterfly, you might be able to find a single dress that could meet all of these needs. If you spend every weekend of every week going out to parties or clubs, you'll probably need multiple dresses for your capsule wardrobe.
The color of your dress is another important consideration. A little black dress can be styled for many different occasions, but your dress doesn't have to be black. You might prefer to choose a more colorful option.
A statement handbag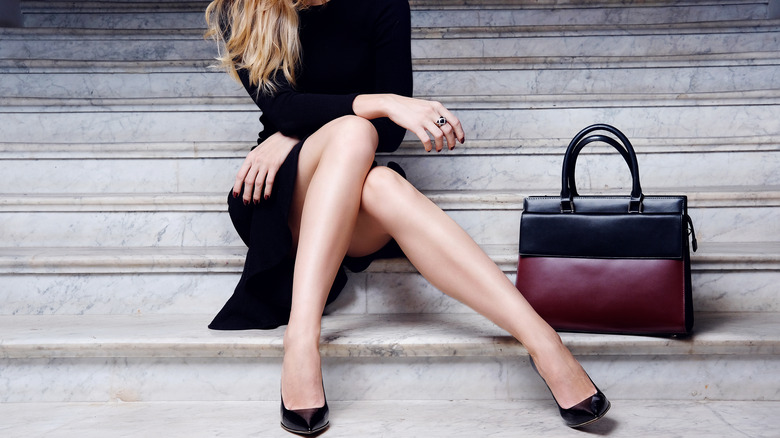 Viktoria Minkova/Shutterstock
You might want to give some thought to whether you'd rather own one truly impressive handbag or own bunches of cheaper, less spectacular handbags. Beyond just the "wow" factor you get from carrying a more expensive bag, it could greatly simplify your life if you were to settle on one bag to use all the time; you could stop having to continually move all your essentials from one purse to another. This is a viable possibility if you are able to decide on a coordinating color palette and general styling direction for your capsule wardrobe.
Choosing that one special handbag could be a bit of a challenge considering all the amazing styles and fabrications that are available. You'll want to choose a businesslike bag if you're focusing on creating a career-friendly capsule wardrobe. You could choose a more casual bag style if you're not typically commuting to an office. Why not grab a hobo bag, moon-shaped bag, and shoulder bag, since they're on-trend handbag styles to carry in 2023?
Shapewear
Oleg Romanko/Shutterstock
A successful capsule wardrobe is at least as much about having the correct undergarments as it is about which garments you choose. Prisca recommends shapewear for your capsule wardrobe foundation because shapewear will enhance the look of whatever else you decide to wear over it. This is especially true when you're wearing form-fitting clothing. Well-chosen shapewear can help you camouflage small imperfections and achieve an enhanced silhouette, so what's not love?  
What's more, shapewear can take many forms. There are camisoles, thigh slimmers, bodysuits, slip dresses, and a seemingly endless array of other variations on these. You don't need them all, but you're likely to benefit by choosing at least a couple of these items to include in your capsule wardrobe. We suggest giving some consideration to which of these pieces would be likeliest to flatter your unique figure and enhance the other items you've selected for your wardrobe.
A no-frills, skin-colored bra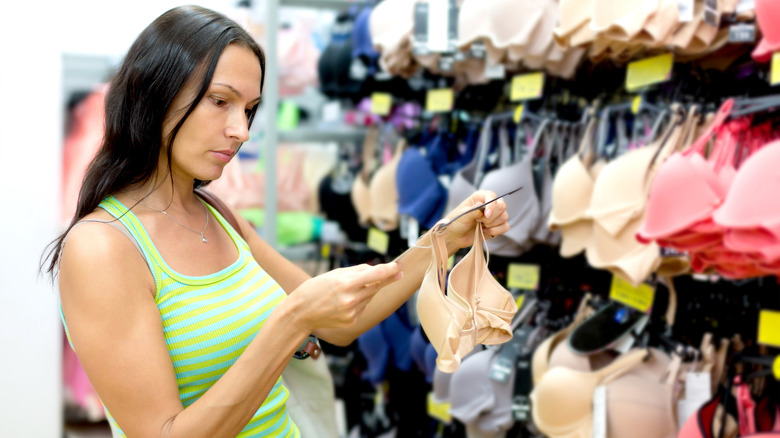 Tony Thiethoaly/Shutterstock
When we say "skin-colored," we mean that you'll want to consider choosing a bra that matches your own skin tone as precisely as possible. For example, if your skin is dark ebony, you'll want to look for a dark ebony-colored bra. If your skin is a golden olive color, choose a similar golden olive-colored bra. We make this recommendation because a bra that matches your skin tone is likely to be unobtrusive underneath just about any top. A skin-colored bra tends to be a more versatile choice than a plain white bra, which will often be more visible under some tops and thus more limiting. 
Furthermore, you should avoid any lace or extra embellishments when you choose the core bras and undergarments for your capsule wardrobe. After all, they can often be too noticeable under our clothing, which can lead you to not wear them much anyway. Instead, if you find bras that are neutral or match your skin tone, you won't have an issue with the distracting from the clothing you're wearing.
A basic sports bra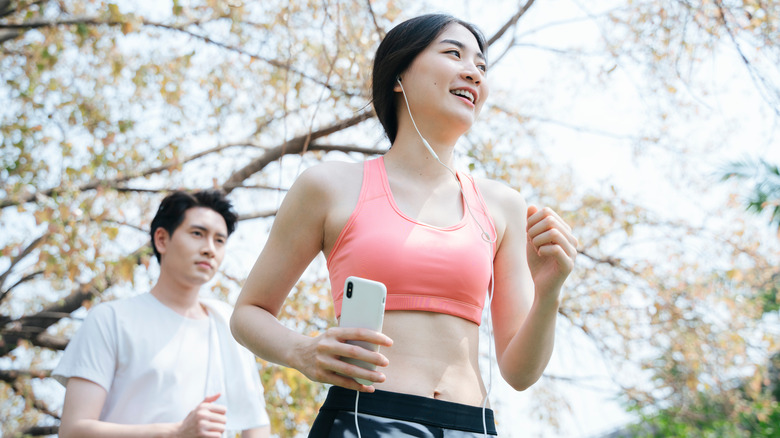 theshots.co/Shutterstock
When choosing a sports bra to add to your capsule wardrobe, color, fit, fabric, and style are some of the most important considerations to keep in mind. If you plan to wear the sports bra as your workout top, you can choose any fabric color you like. If you'd prefer to wear a T-shirt or other shirt over your sports bra — and you don't want your bra to be glaringly obvious under your shirt — we repeat the advice from above to select a bra that matches the color of your skin.
The ideal sports bra will be stretchy, comfortable, and form-fitting. For a sports bra with the optimum amount of stretch, we suggest finding a style with a cotton-Lycra blend fabric where the Lycra content is around 10% or slightly higher. The style is up to you. Tank style, racerback style, or zip-up front are a few of your options, and these are all stylish, up-to-date choices for 2023.