Here's How To Choose The Right Sports Bra For You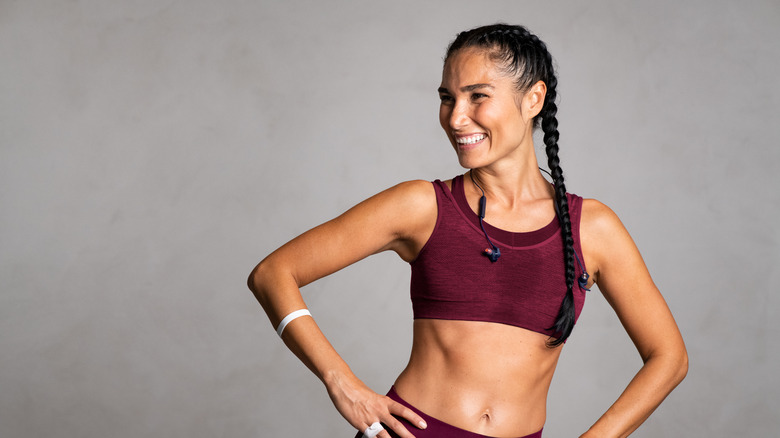 Rido/Shutterstock
We may receive a commission on purchases made from links.
Choosing the right sports bra may seem inconsequential, but it's an important factor in your regular workout routine. According to Women's Health, without properly supporting the connective tissue that holds the breast to the chest, "[the tissue] could stretch up to 2 cm during high-intensity workouts." An ill-fitting sports bra can also lead to chafing, neck, back, and shoulder pain, stretch marks, and bad posture (via University of Portsmouth).
Advertisement
Many people go through the same process of buying a sports bra as they do a regular bra, but as reported by AModrn, research from Bandier and Nike shows that 80% of women are wearing the wrong size in the first place. And there are different factors to consider when choosing a sports bra, such as the activity you will be doing while you wear it. But with just a little bit of research, you can find the right sports bra for you.
Find your perfect sports bra size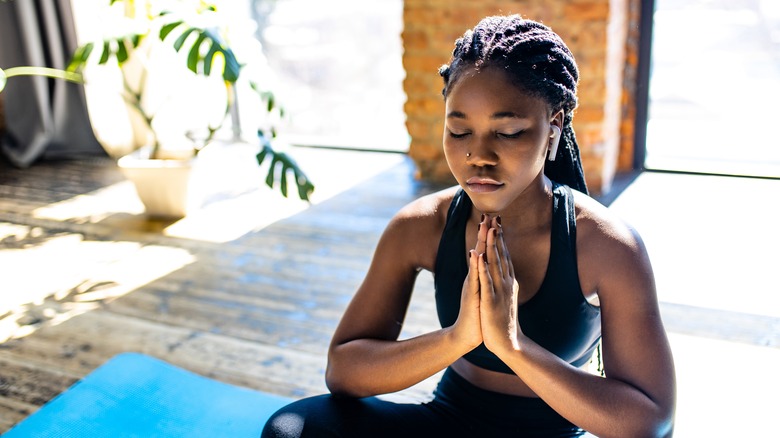 yurakrasil/Shutterstock
Just like the bras you wear every day, you want to ensure your sports bras fit properly. Typically, your sports bra will be the same size as your everyday bra, so there's usually no need to size up or down.
Advertisement
According to Rei Co-op, to get the perfect fit you want to consider four things: band size, straps, cup size, and support. To test the band size, put two fingers between the band and your body, and also check that the back of the band doesn't rise when you raise your arms. Straps shouldn't dig in or slide off, so always go for adjustable straps, if possible, for a customized fit. For cup size, you want your breasts to be completely covered. If you are spilling out, it's the wrong size. Finally, jump or run in place to test the bra's support. If all checks out, you're good to go.
Some other key features to look for, according to Healthshots, include breathable, moisture-wicking fabrics, and bands and panels.
Advertisement
The best sports bra for your activity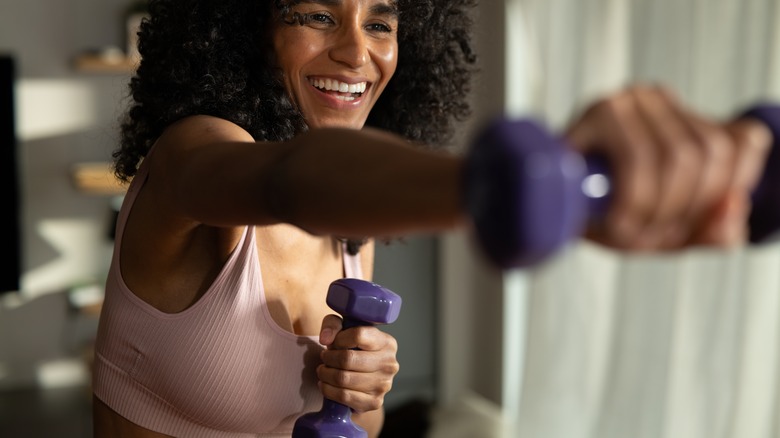 HQuality/Shutterstock
According to Nike, the three levels of support when it comes to sports bras are high-level, medium-level, and light-level. High-level support is typically best for high-intensity workouts that include running or jumping. Medium-level sports bras are perfect for light-impact activities such as aerobics, power walking, and strength training. Lastly, low-level support sports bras are designed for more leisurely activities like yoga or walking.
Advertisement
Once you know the level of support you need, decide between compression and encapsulation bras. According to The Sports Edit, compression bras typically have a snugger fit. And while they are a good option for those with larger chests to use for low-impact activities, they are best suited for those with smaller chests. In comparison, encapsulation bras have two separate cups to support each breast individually. They are ideal for those with larger chests during high-intensity training.
Sports bras have a lifespan of nine to 15 months, according to Healthshots. To help them last, Nike recommends washing them after every wear and laying them flat to air-dry.