How To Elevate Your Bike Shorts Style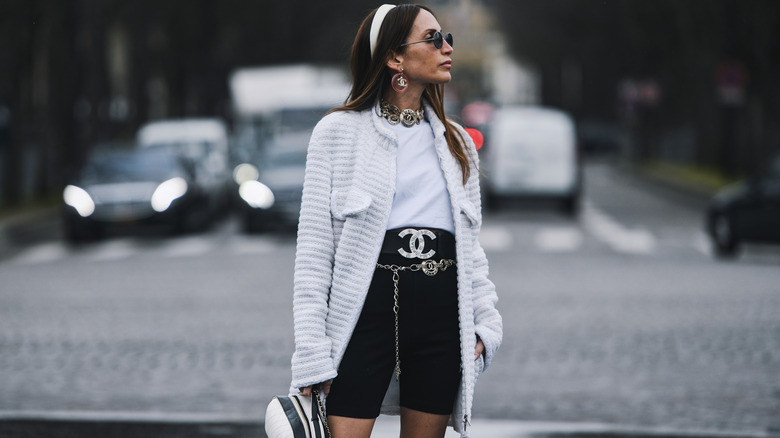 Creative Lab/Shutterstock
Back in the '80s and '90s, bike shorts were a closet staple — and not just for those who loved cycling. Celebs like Sarah Jessica Parker and Princess Diana were often spotted rocking them, and soon enough, everyone had a pair. In the late 2010s, bike shorts had a huge revival, most notably thanks to reality television queen Kim Kardashian. Since then, the look has been going strong, and for a good reason. "They've lasted this long as a trend because they are not only comfortable, but they are also easy to style in various ways," Stephanie Arant, influencer and freelance marketing consultant, tells CNN. "They really do look good on everyone."
If you have a pair of bike shorts but always find yourself styling them the same way — we've got you. From preppy to casual, there are countless ways to wear bike shorts this year, and we've gathered our favorite ones!
Wear bike shorts with an oversized button-up
The easiest way to dress up a simple pair of bike shorts is to combine them with an oversized button-up shirt. The button-up will immediately make the outfit more formal, and with the right accessories, you'll be perfectly dressed for lunch. If you want the outfit to be slightly more casual, wear a tank top underneath the button-up and leave it unbuttoned.
Pair bike shorts with a fun-colored blazer
Another way to make bike shorts more glamorous is to combine them with an oversized blazer. Pick an oversized blazer in a vibrant or pastel color for spring, and cinch your waist with a statement belt. Bike shorts are also perfect to wear underneath actual blazer dresses if you think they're too short or you're worried they might slide up.
Rock bike shorts with a white button-up and a corset top
An oversized button-up is a super comfortable option, but you can quickly look boxy in it. To enhance your waist more, pair your bike shorts and oversized button-up with a corset top over it. This makes the outfit super edgy, and while you can rock it during the day, a pair of boots or heels will take this look into the night.
Opt for a matching bike short set
Perhaps the easiest way to make bike shorts into an outfit is to pair them with a matching top. While black is always a safe color for a set, springtime is perfect for exploring bright shades and funky patterns. Drape a crewneck over your shoulders, and finish the look off with sneakers and a cute bag!
Wear bike shorts with a trench coat
To offset the sportiness of bike shorts, pair them with a trench coat — a combo that is very unexpected but works incredibly well! To finish the outfit, use a combination of sporty and elegant accessories, like sneakers and a more elevated bag and necklace. Even though any color trench coat will work, we recommend opting for a classic beige one.
A graphic tee and bike shorts are the perfect laid-back option
While you can dress bike shorts up, you might not always be in the mood for that or the occasion doesn't call for it. A classic way to wear them on days when you don't feel like dressing up too much is paired with a fun graphic tee. If you want to spice it up, you can tie the front of the tee in a knot, showing off a bit of your midriff.
Pick bike shorts in a vibrant color
We already established that black ones are a classic, but hot pink bike shorts are unexpected and super on-trend. Barbiecore has been an aesthetic that many can't get enough of, and a pair of pink bike shorts combined with a fun top, white button-up, and beige accessories is a great way to explore it!
Bike shorts and combat boots look ultra-edgy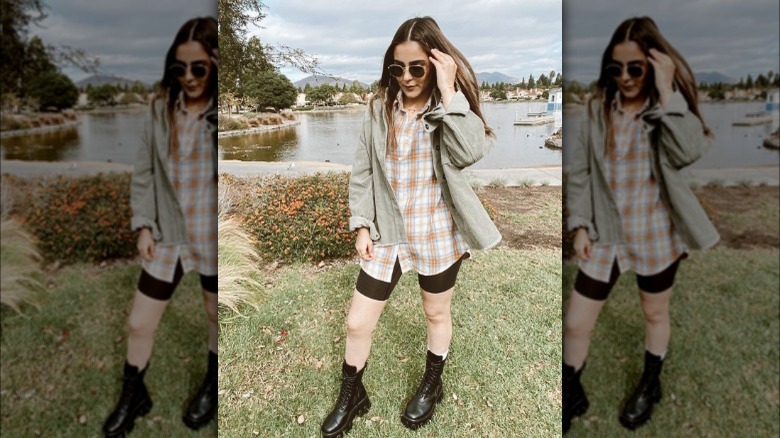 The most common type of shoes paired with bike shorts are undoubtedly sneakers. However, if you are willing to experiment and want to create an edgier outfit, pair bike shorts with some combat boots. For the perfect seasonal transition outfit, pick a plaid button-up and a jacket to wear with them. The look works well for sunny spring days with some wind.
Pair bike shorts with a tiny bralette
Since bike shorts tend to sit very high on your waist, they are the perfect choice when you want to wear dainty crop tops or bralettes. For a night out, consider wearing black bike shorts with a black bralette and a fun-colored unbuttoned shirt on top! A pair of black heels will perfectly finish off the look.
Sheer bike shorts are unexpected and fun
Sheer bike shorts may not be everyone's cup of tea, but there's no denying that when styled well, they look ultra cool. Of course, with shorts like these, it's best to let them be the statement piece, leaving the rest of the outfit simple. A black top, white button-up, fun tote bag, and comfy sneakers will allow the mesh shorts to have the spotlight.
A simple oversized tee is always a safe choice for bike shorts
A graphic tee is fun, but an oversized monochromatic t-shirt paired with bike shorts of the same or a similar color will exude that clean girl aesthetic. Pair the outfit with sneakers, a big claw clip, and some dainty gold jewelry to add some more texture to the look!
Bike shorts look great with chunky sneakers and a fanny pack
Bike shorts had their late-2010s revival around the same time that fanny packs did — which is why the two are often paired together. To give the look some elegance, wear a thin white button-up with it. And while you can wear the fanny pack as a crossbody bag, securing it around your waist will give a throwback nod to the '80s, when it reigned supreme.
Bike shorts are the perfect choice for an oversized jacket
It's already clear that bike shorts are perfect for any oversized top — and an oversized jacket is no different. While you can play around with materials, we recommend sticking to the same color to create a cohesive monochromatic look. This way, you will immediately look more dressed up than you actually are.
Pair bike shorts with a pair of fun heeled booties
We already established that bike shorts pair well with boots, but if you want to add some height, heeled boots work even better. Pair the boots and shorts with a simple top and fun jacket — and voilà, you're left with an ultra-chic outfit. And while some may not agree, your bag can actually be a different color from your boots. In fact, that will make the whole outfit a bit more unique and unpredictable!
Rock bike shorts with a statement blouse and heels
Because they are simple and effortless, bike shorts will rarely draw any attention away from statement pieces. If you have a fun blouse you struggle styling, consider pairing it with black bike shorts. And if you want to take things a step further — complete the look with a pair of brightly colored statement heels.