Nostalgia Is Having A Moment With The Barbiecore Fashion Trend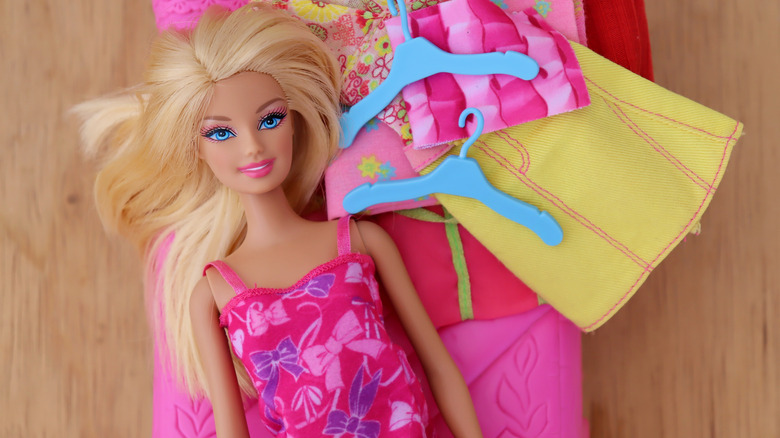 Brenda Rocha - Blossom/Shutterstock
We all can't wait to see the new "Barbie" movie when it comes out next year. Inspired by the beloved doll, this upcoming film will feature the beautiful Margot Robbie and the dashing Ryan Gosling as Barbie and Ken (via IMDb). Of course, countless former and current Barbie doll owners have eagerly awaited this movie and are excited to see it in the theaters.
The upcoming "Barbie" movie has sparked so much excitement and nostalgia in our society that it even inspired the current Barbiecore aesthetic trend in the fashion world. According to Today, the Barbiecore trend is all about wearing lots of adorable pink 80s-inspired pieces. This ultra-feminine style goes along with a few other prominent 2022 trends, such as upbeat dopamine dressing and even the chic metallic shoe trend. After all, who couldn't imagine Barbie wearing a shiny pair of pink heels? The Barbiecore aesthetic is as fun as it is nostalgic, and we're almost as excited about this fashion trend as we are for the movie.
Barbiecore is everywhere
There's nothing subtle about the Barbiecore aesthetic, especially considering how many iconic fashion designers and celebrities have been flaunting the look. For instance, look at Valentino's PP Fall/Winter 2022 to 2023 collection. This bold collection is the epitome of the Barbiecore look, as the outfits consistently feature only bright pink hues with no other colors. The collection features many unique designs and silhouettes, all in pink.
Plus, the one and only Anne Hathaway turned heads as she embraced the Barbiecore aesthetic, wearing a sparkly, long-sleeved bright pink Valentino mini dress with sky-high neon pink platform block heels. But Hathaway isn't the only celebrity jumping on board the trend. The gorgeous and talented Zendaya flaunted an edgier spin on the Barbiecore look, wearing dark, smokey, shimmery pink eyeshadow with reddish-pink false tears and an ultra-glossy pink lip (via Instagram).
Furthermore, the famously stunning Megan Fox rocked her variation of the Barbiecore aesthetic more than once. For example, the gorgeous movie star recently flaunted long pastel pink hair with sexy pink outfits in New York City, as seen in an Instagram post. Moreover, we're still not over her infamous "Daddy Issues Barbie" post from May 2021 when she wore a Barbie-inspired monochromatic look to the iHeartRadio Music Awards.
Our favorite pieces for rocking the Barbie look
If you're ready to start embracing the Barbiecore fashion trend with some Barbie-inspired clothing, Forever 21's F21 x Barbie collection is the perfect place to begin your search. For instance, the Barbie Graphic Cropped Raglan Tee gives a girly, retro vibe and is available at Forever 21 for just below $20. It even has a perfect rating of five out of five stars. Are you looking for a cutesy skirt to wear with your Barbiecore crop top? The Barbie Floral Print Mini Skirt is made of 80% cotton and 20% polyester and is available at Forever 21 for just under $25. But believe it or not, you don't have to love bright pink to rock the Barbiecore trend. You can buy the 100% cotton Barbie Floral Denim Trucker Jacket for around $55 at Forever 21, which has an impressive review of 4.7 out of five stars.
Meanwhile, anyone looking for a super sexy spin on Barbiecore should check out the SHEIN BAE Solid PU Leather Bodycon Dress. Available at Shein for only $12, this short and tight pink dress is perfect for a wild night out with its glowing 4.76-star rating. And last but not least, you should complete any Barbie-inspired outfit with the Charlize Pink Satin chunky block heels. Available at Steve Madden for about $140, these bright pink heels have 4.3 stars and look like they were made for the Barbiecore aesthetic.