Style A Button-Up Shirt In Unique Ways With Our Inspo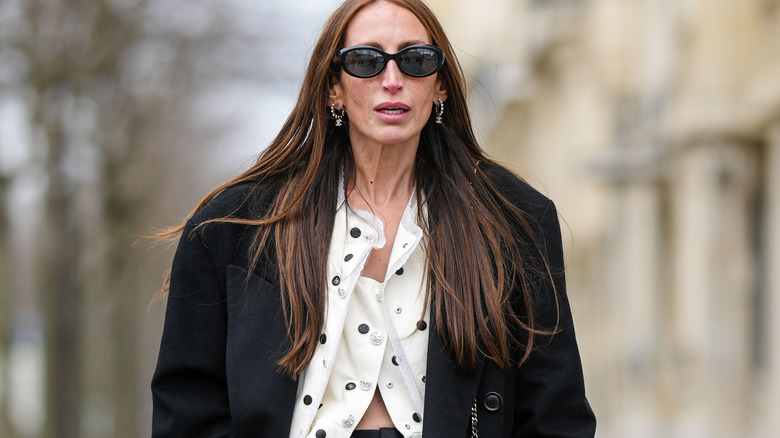 Edward Berthelot/Getty Images
Wondering what to wear with a button-up shirt? This versatile wardrobe staple offers you unlimited styling possibilities ranging from ultra-casual to dramatically glamorous. You could take the same button-up shirt and style it to look either classic and preppy or rockstar grungy; the choice is yours, and it all just depends on what other pieces you want to pair it with.
Advertisement
You're no doubt already aware that a button-up shirt with a collar is the ultimate career wardrobe staple; it pairs well with blazers, jackets, and suits. Furthermore, you surely already knew that you could throw on a button-up shirt over a pair of everyday khakis or leggings. It's also a no-brainer to wear your favorite button-up shirt with jeans or corduroy pants. Those are all failsafe looks that you can always turn to when you need to quickly grab something out of your closet and head out the door.
But perhaps you're hoping to discover some styling ideas that are somewhat more creative, interesting, and daring than those simple tried-and-true options. If you're interested in seeing some inspiration for button-up shirt outfits that are a bit more innovative, we invite you to check out the following photos and ideas:
Advertisement
Dress it up with shimmery pants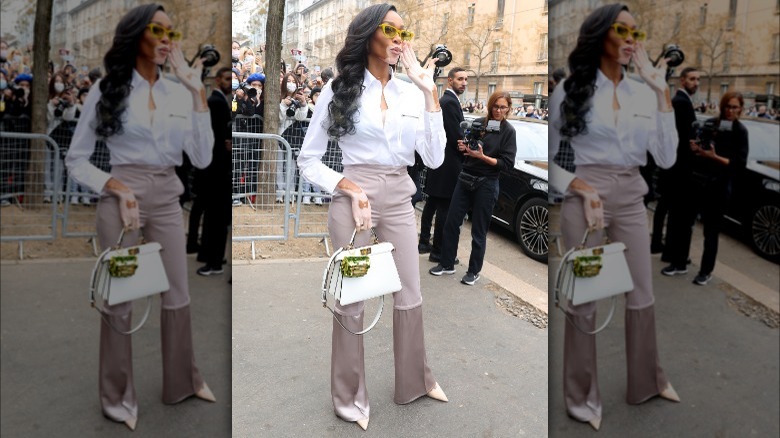 Jacopo M. Raule/Getty Images
Winnie Harlow wore a fitted white button-up shirt to a recent runway fashion show, styling it with eye-catching flared slacks constructed partly of shimmery fabric. To achieve a similar on-trend look, you could pair a tailored white button-up shirt with any silky or shimmery pants. One option would be to choose a pair of silver-coated denim or leather trousers, which are popular right now. You could complete the look with a structured white handbag similar to Winnie's, or you could opt for a trendy silver metallic bag instead.
Advertisement
Dramatize it for special occasions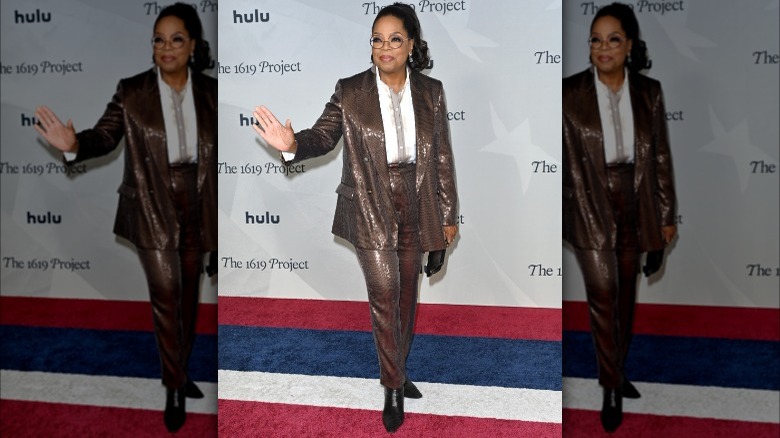 Featureflash Photo Agency/Shutterstock
If you're attending a wedding, cocktail party, or a different dressy event, you might not think of a button-up shirt as being the most appropriate attire for the occasion. Before you rule it out as a possibility, check out the dramatic sequined ensemble, complete with a pleated button-up shirt, Oprah Winfrey wore when she made a red carpet appearance at the premiere of "The 1619 Project." Next time you're dressing up to go out, you could follow Oprah's example; skip the little black dress and wear a stylish button-up shirt with dazzling sequined separates instead.
Advertisement
Downplay it with an oversized blazer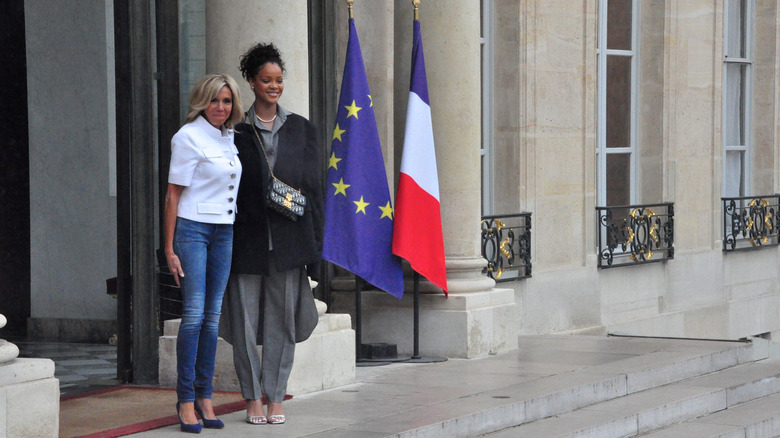 Florence Gallez/Shutterstock
When noteworthy pop singer Rihanna met French President Emmanuel Macron and his wife, Bridgette, she styled an ensemble that was low-key but still classy. This is a look you might want to replicate on occasions when a formal suit would be too much, but you still want to make just the right impression. To achieve a similar style, you could start with a long, loose button-up shirt; layer it over loose-fitting pants and top it off with an oversized jacket. Then, accessorize with a classic handbag and a gold necklace. 
Advertisement
Make it summer friendly with a sun hat and sunglasses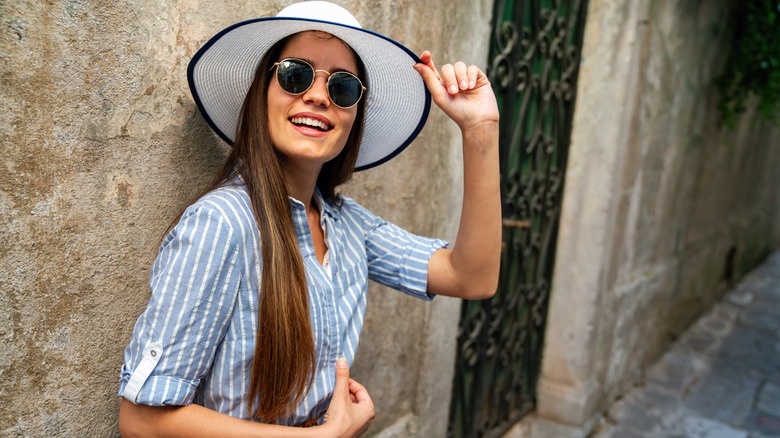 NDAB Creativity/Shutterstock
You can style your button-up shirts to be wearable in any season. When the weather turns warm, you might want to start by choosing a button-up shirt with short sleeves or half sleeves and then adding summer-friendly accessories. You can shade your face with a pretty sun hat. This look could work well with shorts, cargo pants, a skirt or even a patterned sarong. Your favorite sunglasses would make the perfect functional accessory to tie the outfit together. 
Advertisement
Take it to the pool or beach as a cover up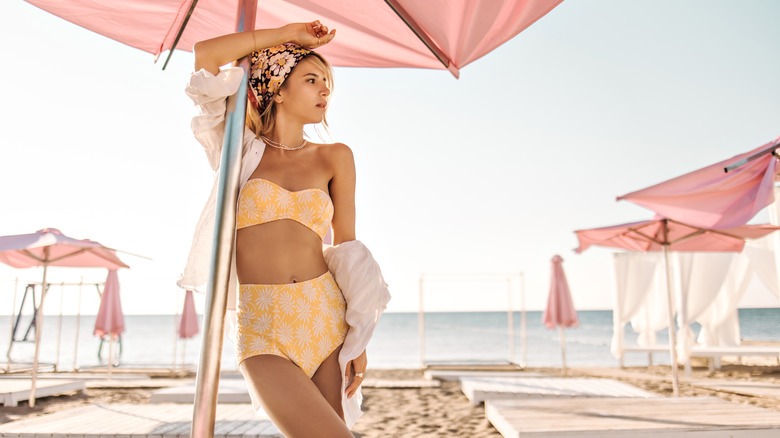 Look Studio/Shutterstock
Although there are numerous interesting styles of swimsuit coverups you could be wearing, an oversized button-up shirt is one of the simplest choices. You could throw a shirt on over your bikini and then put on a triangle-shaped head scarf or bandanna to keep your scalp from getting sunburned. Add your favorite jewelry and a pair of sandals as finishing touches.
Advertisement
Wear it with a pair of shorts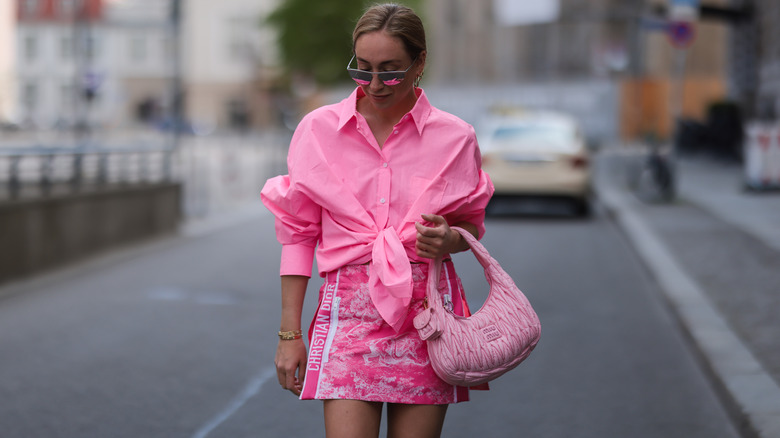 Jeremy Moeller/Getty Images
For another look, you could wear on casual occasions all spring and summer long, try styling your button-up shirt with a pair of shorts. High-waisted denim culottes are a fantastic choice. Another possibility would be to match your shirt up with a pair of classic Bermuda shorts. You can further accessorize with your favorite jewelry, a pretty designer bag, and a pair of sandals, espadrilles, or chunky shoes.
Advertisement
Pair it with trendy cargo pants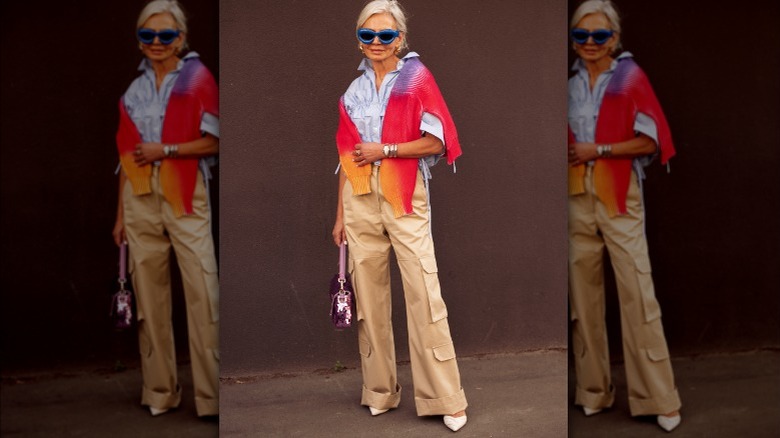 Raimonda Kulikauskiene/Getty Images
Popular fashion influencer Grece Ghanem gives you an example of how you could style a button-up shirt with the latest cargo pants. She's accessorized the look with a vibrantly colored sweater, a sparkling handbag, and a pair of bold blue sunglasses. Cream-colored pointed-toe pumps complete the outfit. You could make this look your own by grabbing your signature accessories including your favorite bag, cozy sweater, and sunglasses.
Advertisement
Tuck it in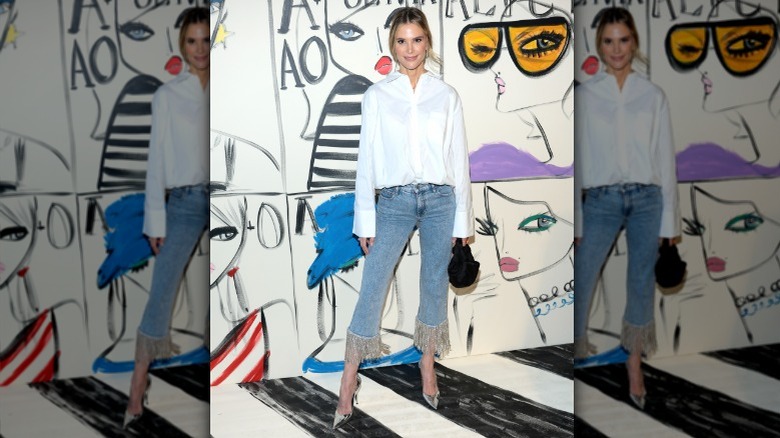 Dimitrios Kambouris/Getty Images
You didn't need us to tell you that button-up shirts match well with jeans. If you're hoping to style a look that's a bit more creative than just plain Levis plus a white shirt, the key is to be sure you choose jeans with an on-trend silhouette. These skinny jeans incorporate fringe, which is fashionable right now. Alternatively, you could go for wide-legged jeans or a denim skirt instead. If your button-up shirt has a long, lean silhouette, tucking it in is one of the au courant ways to style it.
Advertisement
Tuck it in and put a belt on it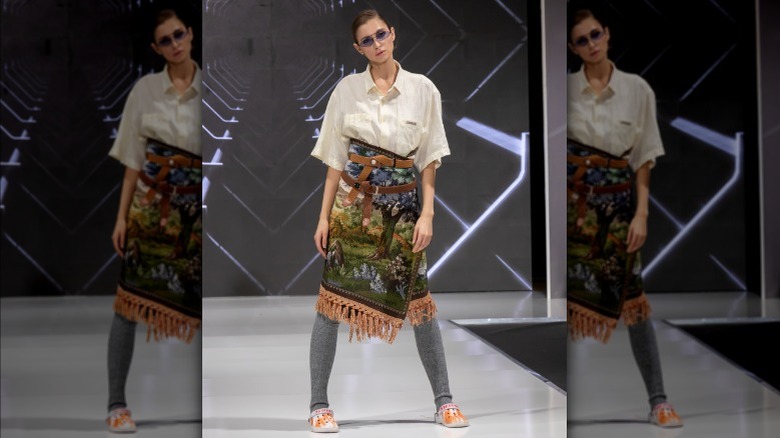 Aleksey Demin/Shutterstock
A belt can really enhance the look of a tucked-in shirt. If you're searching for just the right items to use as a foundation when you experiment with the double-belting fashion trend, we suggest trying it out with a button-up shirt and the bottoms of your choice. Here you can see an example of how this looks when paired with a patterned, fringed skirt. Another possibility would be to skip the double belt and instead settle on one big, bold belt buckle to use for accentuating your waistline.
Advertisement
Leave it untucked and belt it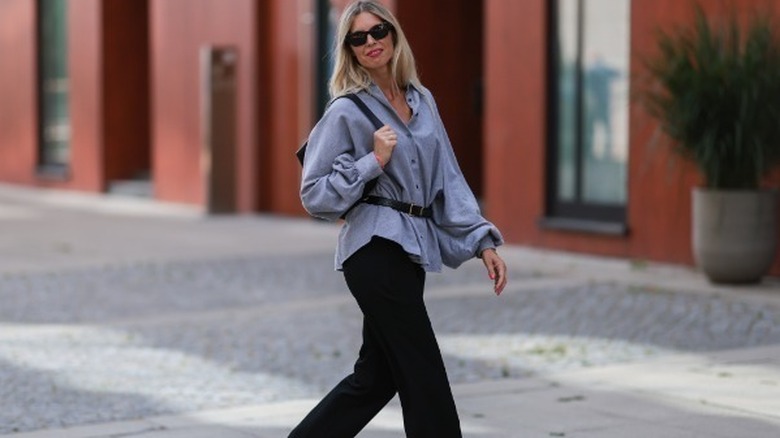 Jeremy Moeller/Getty Images
If you want to leave your button-up shirt untucked, you could style it by cinching the waist with a sophisticated belt. Possible ways to complete the look include adding sunglasses, a classic handbag, solid-colored pants, and matching chunky shoes or loafers. This same style of untucked, belted shirt could also be paired with a miniskirt, slim pencil skirt, or midi skirt. In that case, you might want to opt for a more feminine style of footwear such as sandals, ballet flats, or metallic heels. 
Advertisement
Team it up with a pretty tulle skirt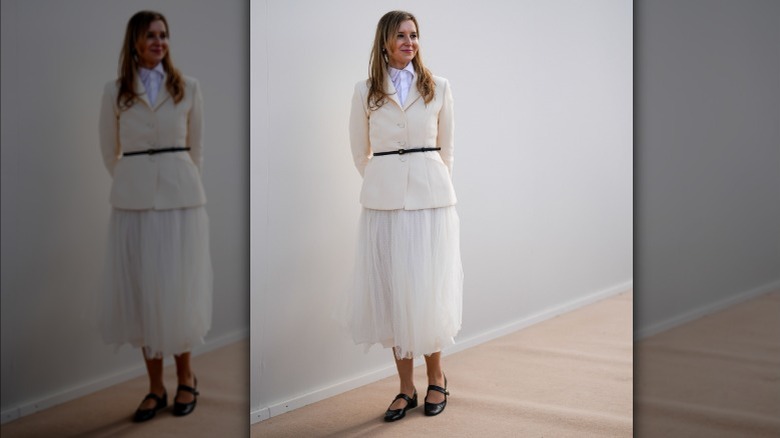 Edward Berthelot/Getty Images
If you were to take your favorite button-up shirt, layer it under a cinched-waist blazer and pair it with a balletcore-style tulle skirt plus ballet flats, you would end up with a more stylish, feminine update on the classic skirt suit. If tulle isn't your thing, there are many other possible midi skirt styles you could substitute. 
Advertisement
Accessorize it in Westerncore style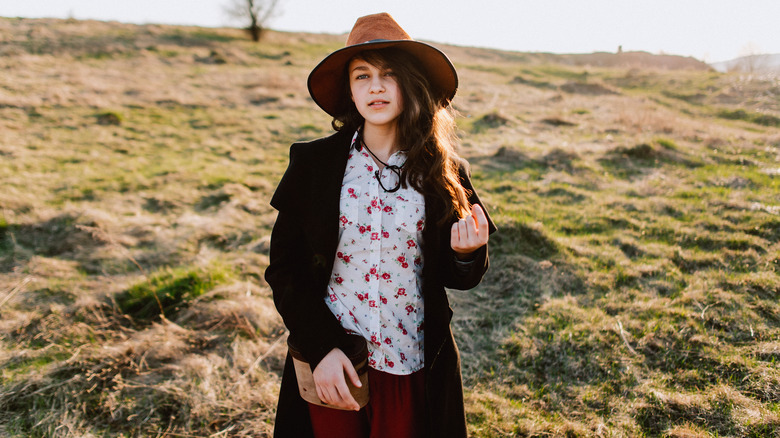 bondart/Shutterstock
In some regions, Westerncore style is always fashionable. (We're looking at you, Texas.) Cowgirl couture is a current widespread trend that has been ongoing for multiple seasons and is still going strong. There are many ways that you can style a Western-inspired ensemble, but one possibility is to start with a printed button-up shirt and then add a jacket, pants, cowgirl hat, Western-style boots, and other complementary accessories. 
Advertisement
Winterize it with a long coat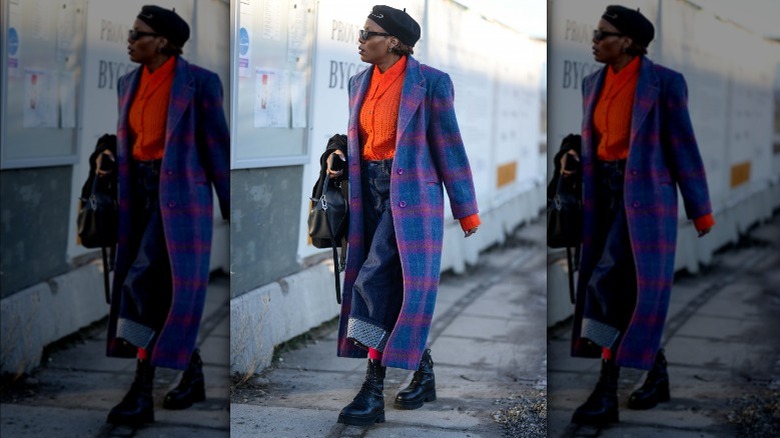 Edward Berthelot/Getty Images
A button-up shirt makes the ideal layering piece during the cold-weather months of the year. To style your shirt for winter, you could pair it with a dramatic long coat and accessorize it with fashionable items that will look fantastic while also keeping you warm. Possibilities include a black felted wool hat, vibrantly colored tights, and boots. If you choose a fitted shirt, roomy pants give you one up-to-the-minute option for balancing out your look. Another alternative would be a flowing maxi skirt. Eye-catching details like a hat pin and a spacious handbag could complete the look.  
Advertisement
Super-size it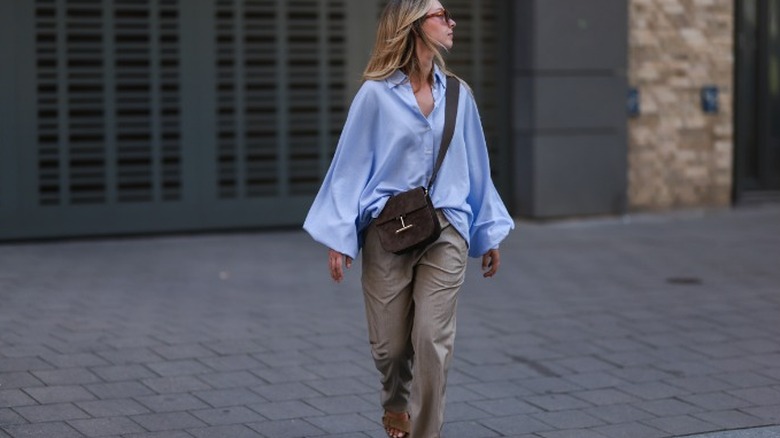 Jeremy Moeller/Getty Images
If you want to give classic khakis a stylish update, you can try pairing them with an oversized button-up shirt. If it's warm outside, comfortable sandals are the perfect footwear to wear with this outfit. In fall or winter, it would be ideal to choose close-toed shoes or boots instead. An understated brown leather handbag makes the perfect accessory, but you have many other options for trendy handbag silhouettes that would work well with this type of outfit. Considering the simplicity of these pieces, you might want to consider choosing one of this season's embellished handbags to give your look a bit more pizzazz. 
Advertisement
Choose an eye-popping print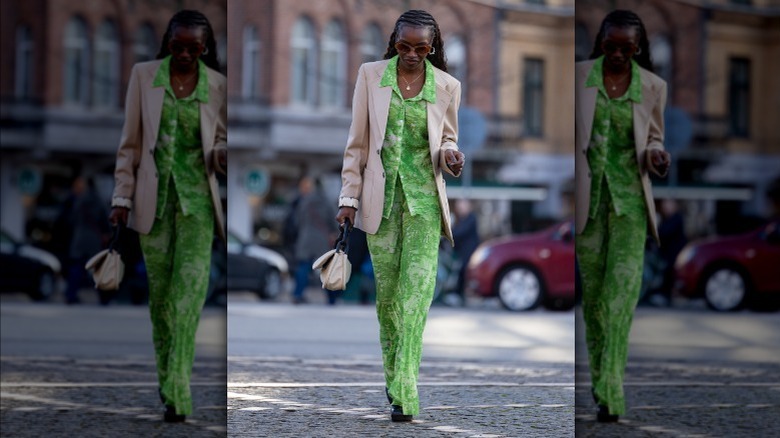 Olga Kuleva/Shutterstock
There's no rule that says you need to stick with plain black, white, or solid-colored button-up shirts. Fun prints give you many more creative styling options. If you need business casual attire, but you want to give it a playful twist, you could pair a printed button-up shirt with matching printed pants and a solid-colored tailored jacket. A few possibilities for complementary accessories include hoop earrings, a gold pendant necklace, chunky sunglasses, and a handbag that matches the color of your jacket. 
Advertisement